A novel stimulus-responsive temozolomide supramolecular vesicle based on host–guest recognition
Abstract
Temozolomide is a potent chemotherapeutic agent for glioblastoma multiforme treatment. However, its low aqueous solubility and short half-life (only about 1.8 h) in plasm limit its clinical therapeutics. Herein, a supramolecular vesicle based on hydroxypropyl-β-cyclodextrin and temozolomide was firstly constructed by elaborate design and preparation, which can load temozolomide into membranous layer of vesicle effectively. The morphologies and diameters of this temozolomide-loaded vesicle were characterized through transmission electron microscope, scanning electron microscope, and dynamic light scattering. The possible vesicle formation mechanism was further studied by X-ray diffraction, Fourier transform infrared spectrum, ultraviolet-visible spectroscopy, 1H nuclear magnetic resonance, and 2D nuclear magnetic resonance (ROSEY). Finally, the stimulus responsiveness of this vesicle was studied. Temozolomide can be released from the membrane of the vesicle once copper ions were dropped into the vesicle solution.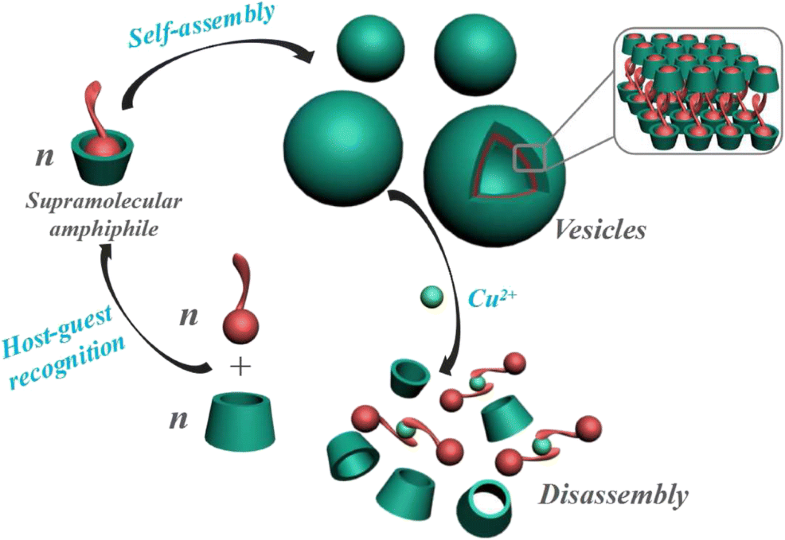 Keywords
Temozolomide 
Vesicle 
Hydroxypropyl-β-cyclodextrin 
Drug delivery 
Notes
Funding information
This study received financial support by the Support Funds for Teachers' Scientific Research of Jining Medical University (NO. JYFC2018KJ045), PhD Start-up Scientific Research Foundation of Jining Medical University (NO. 2017JYQD03), National Natural Science Foundation of China (NO. 21872087), Shandong Science and Technology Development Plan (NO. 2016GGX107004), and Projects of Medical and Health Technology Development Program in Shandong Province (NO. 2017WS653).
Compliance with ethical standards
Conflict of interest
The authors declare that they have no conflict of interest.
Copyright information
© Springer-Verlag GmbH Germany, part of Springer Nature 2019