Abstract
Aim
The aim of this study was to compare demographic characteristics, disease activity, functional status, and quality of life between ankylosing spondylitis (AS) with neuropatic pain (NP) and AS without NP (Non-NP).
Methods
The MEDLINE via PubMed, Cochrane, Scopus, and Embase database, from the earliest available date of indexing through December 20, 2018, were searched for comparative studies evaluating NP in AS patients. Two authors performed the data extraction independently. Any discrepancies were resolved by consensus.
Results
Four comparative studies were identified. There was no statistically significant difference in terms of age, body mass index, symptom duration, and inflammatory markers, such as erythrocyte sedimentation rate and C‑reactive protein between NP and Non-NP. The sex ratios (F/M) were approximately 1/1 in NP and 1/2 in Non-NP and the proportion of human leukocyte antigen (HLA) B27-positive patients in NP and Non-NP was 65.7% and 83.0%, respectively. NP patients had significantly higher visual analogue scale pain scores, higher Bath Ankylosing Spondylitis Disease Activity Index, higher Bath Ankylosing Spondylitis Functional Index, and lower SF-Item Short Form physical component scores compare to Non-NP patients.
Conclusion
The current meta-analysis showed that NP patients had significantly higher pain severity, higher disease activity and lower quality of life than Non-NP patients. The sex ratio (F/M) and proportion of HLA-B27 positive patients were different between the two groups. Further well-designed studies are needed to substantiate our results.
Zusammenfassung
Zielsetzung
Ziel der vorliegenden Studie war es, demografische Eigenschaften, die Krankheitsaktivität, den funktionellen Status und die Lebensqualität bei ankylosierender Spondylitis (AS) mit neuropathischem Schmerz (NP) und ohne NP (Non-NP) zu vergleichen.
Methoden
In der MEDLINE- (über PubMed), Cochrane‑, Scopus- und Embase-Datenbank wurde von den ältesten verfügbaren Indexdaten bis 20. Dezember 2018 nach vergleichenden Studien zu NP bei Patienten mit AS gesucht. Zwei Autoren führten unabhängig voneinander die Datenextraktion durch. Jegliche Unstimmigkeiten wurden im Konsens ausgeräumt.
Ergebnisse
Vier vergleichende Studien wurden gefunden. Zwischen NP und Nicht-NP fanden sich keine statistisch signifikanten Unterschiede in Bezug auf Alter, Body-Mass-Index, Symptomdauer und Entzündungsmarker wie Blutkörperchensenkungsgeschwindigkeit und C‑reaktives Protein. Das Geschlechtsverhältnis (weiblich/männlich) betrug ungefähr 1/1 bei NP und 1/2 bei Nicht-NP, der Anteil der Patienten mit Human-leukocyte-antigen(HLA)-B27-Positivität belief sich bei NP auf 65,7% und bei Nicht-NP auf 83,0%. Patienten mit NP hatten im Vergleich zu Patienten ohne NP signifikant höhere Schmerzwerte auf einer visuellen Analogskala, höhere Werte auf dem Bath Ankylosing Spondylitis Disease Activity Index und Bath Ankylosing Spondylitis Functional Index sowie geringere Werte bezüglich der körperlichen Komponente von SF-Item Short Form.
Schlussfolgerung
Gemäß dieser aktuellen Metaanalyse weisen Patienten mit NP eine signifikant höhere Schmerzintensität, höhere Krankheitsaktivität und geringere Lebensqualität auf als Patienten ohne NP. Hinsichtlich des Geschlechtsverhältnisses (weiblich/männlich) und des Anteils HLA-B27-positiver Patienten fanden sich Unterschiede zwischen den beiden Gruppen. Weitere gut konzipierte Studien sind erforderlich, um diese Ergebnisse zu bestätigen.
This is a preview of subscription content, log in to check access.
Access options
Buy single article
Instant access to the full article PDF.
US$ 39.95
Price includes VAT for USA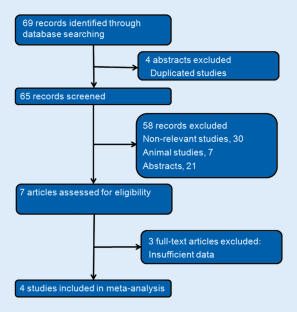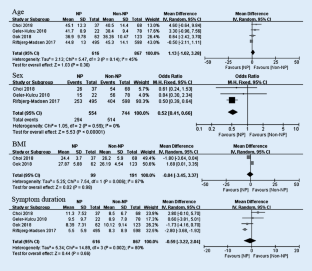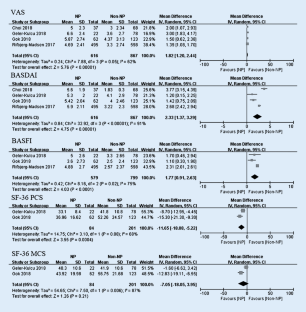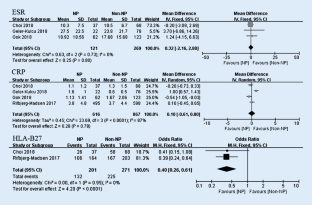 References
1.

Zochling J, van der Heijde D, Burgos-Vargas R et al (2006) ASAS/EULAR recommendations for the management of ankylosing spondylitis. Ann Rheum Dis 65:442–452

2.

Rudwaleit M, van der Heijde D, Khan MA et al (2004) How to diagnose axial spondyloarthritis early. Ann Rheum Dis 63:535–543

3.

Hassan AE, Saleh HA, Baroudy YM et al (2004) Prevalence of neuropathic pain among patients suffering from chronic low back pain in Saudi Arabia. Saudi Med J 25:1986–1990

4.

Kaki AM, El-Yaski AZ, Youseif E (2005) Identifying neuropathic pain among patients with chronic low-back pain: use of the leeds assessment of neuropathic symptoms and signs pain scale. Reg Anesth Pain Med 30:422–428

5.

Freynhagen R, Baron R, Gockel U et al (2006) painDETECT: a new screening questionnaire to identify neuropathic components in patients with back pain. Curr Med Res Opin 22:1911–1920

6.

Freynhagen R, Baron R, Tölle T et al (2006) Screening of neuropathic pain components in patients with chronic back pain associated with nerve root compression: a prospective observational pilot study (MIPORT). Curr Med Res Opin 22:529–537

7.

Beith ID, Kemp A, Kenyon J et al (2011) Identifying neuropathic back and leg pain: a cross-sectional study. Pain 152:1511–1516

8.

Fishbain DA, Cole B, Lewis JE et al (2014) What is the evidence that neuropathic pain is present in chronic low back pain and soft tissue syndromes? An evidence-based structured review. Pain Med 15:4–15

9.

Treede RD, Jensen TS, Campbell JN et al (2008) Neuropathic pain: redefinition and a grading system for clinical and research purposes. Neurology 70:1630–1635

10.

Woolf CJ (2010) What is this thing called pain? J Clin Invest 120:3742–3744

11.

Amris K, Jespersen A, Bliddal H (2010) Self-reported somatosensory symptoms of neuropathic pain in fibromyalgia and chronic widespread pain correlate with tender point count and pressure-pain thresholds. Pain 151:664–669

12.

Rehm S, Koroschetz J, Gockel U (2010) A cross-sectional survey of 3035 patients with fibromyalgia: subgroups of patients with typical comorbidities and sensory symptom profiles. Rheumatology 49:1146–1152

13.

Hochman JR, French MR, Bermingham SL, Hawker GA (2010) The nerve of osteoarthritis pain. Arthritis Care Res 62:1019–1023

14.

Hochman JR, Gagliese L, Davis AM, Hawker GA (2011) Neuropathic pain symptoms in a community knee OA cohort. Osteoarthr Cartil 19:647–655

15.

Ahmed S, Magan T, Vargas M, Harrison A, Sofat N (2014) Use of the painDETECT tool in rheumatoid arthritis suggests neuropathic and sensitization components in pain reporting. J Pain Res 14:579–688

16.

Koop SM, ten Klooster PM, Vonkeman HE, Steunebrink LM, van de Laar MA (2015) Neuropathic-like pain features and crosssectional associations in rheumatoid arthritis. Arthritis Res Ther 3:237

17.

Choi JH, Lee SH, Kim HR, Lee KA (2018) Association of neuropathic-like pain characteristics with clinical and radiographic features in patients with ankylosing spondylitis. Clin Rheumatol 37:3077–3086

18.

Geler-Külcü D, Batıbay S, Öztürk G, Mesci N (2018) The association of neuropathic pain and disease activity, functional level, and quality of life in patients with ankylosing spondylitis: a cross-sectional study. Turk J Med Sci 48:257–265

19.

Gok K, Cengiz G, Erol K, Ozgocmen S (2018) Neuropathic pain component in axial spondyloarthritis and the influence on disease burden. J Clin Rheumatol 24:324–327

20.

Rifbjerg-Madsen S, Christensen AW, Christensen R et al (2017) Pain and pain mechanisms in patients with inflammatory arthritis: a Danish nationwide cross-sectional DANBIO registry survey. PLoS ONE 12:e180014

21.

Ji Y, He Y, Nian X, Sun E, Li L (2018) Inflammatory or neuropathic pain: characteristics and their relationships with disease activity and functional status in axial spondyloarthritis patients. Pain Med. https://doi.org/10.1093/pm/pny138

22.

Freynhagen R, Baron R, Gockel U, Tölle TR (2006) painDETECT: a new screening questionnaire to detect neuropathic components in patients with back pain. Curr Med Res Opin 22:1911–1920

23.

Garrett S, Jenkinson T, Kennedy LG, Whitelock H, Gaisford P, Calin A (1994) A new approach to defining disease status in ankylosing spondylitis: the Bath Ankylosing Spondylitis Disease Activity Index. J Rheumatol 21:2286–2291

24.

Calin A, Garrett S, Whitelock H et al (1994) A new approach to defining functional ability in ankylosing spondylitis: the development of the Bath Ankylosing Spondylitis Functional Index. J Rheumatol 21:2281–2285

25.

Ware JE Jr, Sherbourne CD (1992) The MOS 36-item short-form health survey (SF-36). I. Conceptual framework and item selection. Med Care 30:473–483

26.

Stang A (2010) Critical evaluation of the Newcastle-Ottawa scale for the assessment of the quality of nonrandomized studies in meta-analyses. Eur J Epidemiol 25:603–605

27.

Thompson SG (1994) Why sources of heterogeneity in meta-analysis should be investigated. BMJ 309:1351–1355

28.

Deeks JJ, Macaskill P, Irwig L (2005) The performance of tests of publication bias and other sample size effects in systematic reviews of diagnostic test accuracy was assessed. J Clin Epidemiol 58:882–893

29.

Rudwaleit M, Landewe R, Sieper J (2016) Ankylosing spondylitis and axial spondyloarthritis. N Engl J Med 375:1302–1303

30.

Wu Q, Inman RD, Davis KD (2013) Neuropathic pain in ankylosing spondylitis a psychophysics and brain imaging study. Arthritis Rheum 65:1494–1503

31.

Guyatt GH, Oxman AD, Kunz R et al (2011) GRADE guideline 6. Rating the quality of evidence-imprecision. J Clin Epidemiol 64:1283–1293
Ethics declarations
Conflict of interest
T.W. Kim, S.M. Son, and J.S. Lee declare that they have no competing interests.
For this article no studies with human participants or animals were performed by any of the authors. All studies performed were in accordance with the ethical standards indicated in each case.
Additional information
Redaktion
U. Müller-Ladner, Bad Nauheim
U. Lange, Bad Nauheim
About this article
Cite this article
Kim, T.W., Son, S.M. & Lee, J.S. Neuropathic pain in ankylosing spondylitis: a meta-analysis. Z Rheumatol 79, 95–102 (2020). https://doi.org/10.1007/s00393-019-0654-3
Keywords
Ankylosing spondylitis

Neuropathic pain

Quality of life

Disease activity

Meta-analysis
Schlüsselwörter
Ankylosierende Spondylitis

Neuropathischer Schmerz

Lebensqualität

Krankheitsaktivität

Metaanalyse