Abstract
Introduction
Obstructive sleep apnea (OSA) may have prothrombotic effects.
Objective
To investigate the effect of OSA on disease severity, pulmonary artery thrombus load, and prognosis in patients with acute pulmonary embolism (PE).
Methods
In 101 PE patients, disease severity was determined by the simplified PE severity index (sPESI) score, pulmonary artery thrombus load was quantified by the pulmonary artery obstruction index (PAOI), and sleep-disordered breathing was evaluated by nocturnal polygraphy.
Results
Obstructive sleep apnea patients with an apnea–hypopnea index (AHI) ≥ 15/h cohort were significantly older (p < 0.001) and had significantly lower oxygen saturations (p = 0.008) when acute PE was diagnosed. The sPESI scores (p < 0.001), the PAOI (p = 0.005) and the N-terminal pro-brain-type natriuretic peptide (NT-proBNP) values (p = 0.009), were significantly higher in the AHI ≥ 15/h subgroup. In a multivariate regression analysis, the AHI remains a significant predictor for sPESI scores ≥ 1 (p = 0.003), increased NT-proBNP levels (p = 0.047), and elevated PAOI (p = 0.032). During the median follow-up time of 53 (interquartile range 38–70) months, all-cause and cardiovascular-related mortality was significantly higher in the AHI ≥ 15/h cohort (p = 0.004 and p = 0.015, respectively).
Conclusions
Obstructive sleep apnea is associated with pulmonary artery thrombus load, disease severity, and survival in acute PE possibly due to its prothrombotic effects.
This is a preview of subscription content, log in to check access.
Access options
Buy single article
Instant unlimited access to the full article PDF.
US$ 39.95
Price includes VAT for USA
Subscribe to journal
Immediate online access to all issues from 2019. Subscription will auto renew annually.
US$ 199
This is the net price. Taxes to be calculated in checkout.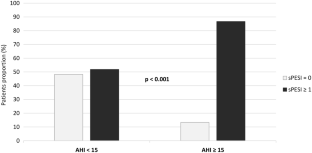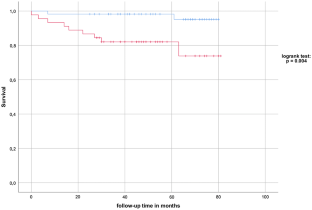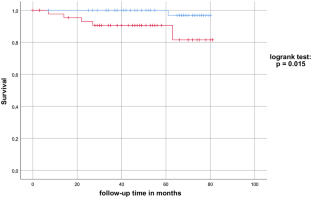 References
1.

Lévy P, Kohler M, McNicholas WT, Barbé F, McEvoy RD, Somers VK, Lavie L, Pépin JL (2015) Obstructive sleep apnoea syndrome. Nat Rev Dis Primers. 1:15015. https://doi.org/10.1038/nrdp.2015.15

2.

Bosanquet JP, Bade BC, Zia MF, Karo A, Hassan O, Hess BT, Dabbagh O (2011) Patients with venous thromboembolism appear to have higher prevalence of obstructive sleep apnea than the general population. Clin Appl Thromb Hemost 17(6):E119–E124

3.

Durán J, Esnaola S, Rubio R, Iztueta A (2001) Obstructive sleep apnea-hypopnea and related clinical features in a population-based sample of subjects aged 30 to 70 yr. Am J Respir Crit Care Med 163(3):685–689

4.

Lippi G, Mattiuzzi C, Franchini M (2015) Sleep apnea and venous thromboembolism. A systematic review. Thromb Haemost 114(5):958–963. https://doi.org/10.1160/TH15-03-0188

5.

Liak C, Fitzpatrick M (2011) Coagulability in obstructive sleep apnea. Can Respir J. 18(6):338–348

6.

García-Ortega A, Mañas E, López-Reyes R, Selma MJ, García A, Oscullo G, Jiménez D, Martínez-García MÁ (2018) Obstructive sleep apnoea and venous thromboembolism: pathophysiological links and clinical implications. Eur Respir J. https://doi.org/10.1183/13993003.00893-2018

7.

Berghaus TM, Faul C, von Scheidt W, Schwaiblmair M (2016) The prevalence of sleep-disordered breathing among survivors of acute pulmonary embolism. Sleep Breath 20(1):213–218

8.

Alonso-Fernández A, Suquia AG, de la Peña M, Casitas R, Pierola J, Barceló A, Soriano JB, Fernández-Capitán C, Martinez-Ceron E, Carrera M, García-Río F (2016) OSA Is a risk factor for recurrent VTE. Chest 150(6):1291–1301. https://doi.org/10.1016/j.chest.2016.07.011

9.

Xie J, Wei YX, Liu S, Zhang W, Zhang XF, Li J (2015) Obstructive sleep apnea hypopnea syndrome as a reason for active management of pulmonary embolism. Chin Med J 128(16):2147–2153. https://doi.org/10.4103/0366-6999.162498

10.

Konnerth D, Schwarz F, Probst M, Seidler M, Wagner T, Faul C, von Scheidt W, Schwaiblmair M, Berghaus TM (2018) Is acute pulmonary embolism more severe in the presence of obstructive sleep apnea? Results from an observational cohort study. J Thromb Thrombolysis 46(2):253–259. https://doi.org/10.1007/s11239-018-1665-7

11.

van der Meer RW, Pattynama PMT, van Strijen MJL, van den Berg-Huijsmans AA, Hartmann IJC, Putter H, de Roos A, Huisman MV (2005) Right ventricular dysfunction and pulmonary obstruction index at helical CT: prediction of clinical outcome during 3-month follow-up in patients with acute pulmonary embolism. Radiology 235(3):798–803

12.

Qanadli SD, El Hajjam M, Vieillard-Baron A, Joseph T, Mesurolle B, Oliva VL, Barré O, Bruckert F, Dubourg O, Lacombe P (2001) New CT index to quantify arterial obstruction in pulmonary embolism: Comparison with angiographic index and echocardiography. AJR Am J Roentgenol 176(6):1415–1420

13.

American Academy of Sleep Medicine (2012) The AASM manual for scoring of sleep and associated events: rules, terminology and technical specifications, version 2.1., Westchester, IL

14.

Berro LF, Andersen ML, Tufik S (2015) Prevalence and classification of sleep-disordered breathing. Lancet 3(4):263–264

15.

Johns MW (1991) A new method for measuring daytime sleepiness: the Epworth Sleepiness Scale. Sleep 14(6):540–545

16.

Jiménez D, Aujesky D, Moores L, Gómez V, Lobo JL, Uresandi F, Otero R, Monreal M, Muriel A, Yusen RD, RIETE Investigators (2010) Simplification of the pulmonary embolism severity index for prognostication in patients with acute symptomatic pulmonary embolism. Arch Intern Med 170(15):1383–1389

17.

Konstantinides SV, Torbicki A, Agnelli G, Danchin N, Fitzmaurice D, Galiè N, Gibbs JS, Huisman MV, Humbert M, Kucher N, Lang I, Lankeit M, Lekakis J, Maack C, Mayer E, Meneveau N, Perrier A, Pruszczyk P, Rasmussen LH, Schindler TH, Svitil P, Vonk Noordegraaf A, Zamorano JL, Zompatori M (2014) Task force for the diagnosis and management of acute pulmonary embolism of the european society of cardiology 2014 ESC guidelines on the diagnosis and management of acute pulmonary embolism. Eur Heart J 35(43):3033–3069

18.

Aujesky D, Obrosky DS, Stone RA, Auble TE, Perrier A, Cornuz J, Roy P-M, Fine MJ (2005) Derivation and validation of a prognostic model for pulmonary embolism. Am J Respir Crit Care Med 172(8):1041–1046

19.

Quan SF, O'Connor GT, Quan JS, Redline S, Resnick HE, Shahar E, Siscovick D, Sherrill DL (2007) Association of physical activity with sleep-disordered breathing. Sleep Breath 11(3):149–157

20.

Kasai T, Floras JS, Bradley TD (2012) Sleep apnea and cardiovascular disease: a bidirectional relationship. Circulation 126(12):1495–1510. https://doi.org/10.1161/CIRCULATIONAHA.111.070813

21.

Jeebun V, Doe SJ, Singh L, Worthy SA, Forrest IA (2010) Are clinical parameters and biomarkers predictive of severity of acute pulmonary emboli on CTPA? QJM 103(2):91–97. https://doi.org/10.1093/qjmed/hcp162

22.

Wu AS, Pezzullo JA, Cronan JJ, Hou DD, Mayo-Smith WW (2004) CT pulmonary angiography: quantification of pulmonary embolus as a predictor of patient outcome-initial experience. Radiology 230(3):831–835

23.

Hall C (2004) Essential biochemistry and physiology of (NT-pro)BNP. Eur J Heart Fail 6(3):257–260

24.

Klok FA, Mos IC, Huisman MV (2008) Brain-type natriuretic peptide levels in the prediction of adverse outcome in patients with pulmonary embolism: a systematic review and meta-analysis. Am J Respir Crit Care Med 178(4):425–430. https://doi.org/10.1164/rccm.200803-459OC

25.

García Suquia A, Alonso-Fernández A, de la Peña M, Romero D, Piérola J, Carrera M, Barceló A, Soriano JB, Arque M, Fernández-Capitán C, Lorenzo A, García-Río F (2015) High d-dimer levels after stopping anticoagulants in pulmonary embolism with sleep apnoea. Eur Respir J 46(6):1691–1700. https://doi.org/10.1183/13993003.02041-2014

26.

Romero-Corral A, Somers VK, Pellikka PA, Olson EJ, Bailey KR, Korinek J, Orban M, Sierra-Johnson J, Kato M, Amin RS, Lopez-Jimenez F (2007) Decreased right and left ventricular myocardial performance in obstructive sleep apnea. Chest 132(6):1863–1870

27.

Akyol S, Cortuk M, Baykan AO, Kiraz K, Borekci A, Seker T, Gur M, Cayli M (2016) Biventricular myocardial performance is impaired in proportion to severity of obstructive sleep apnea. Tex Heart Inst J 43(2):119–125. https://doi.org/10.14503/THIJ-14-4868

28.

Shivalkar B, Van de Heyning C, Kerremans M, Rinkevich D, Verbraecken J, De Backer W, Vrints C (2006) Obstructive sleep apnea syndrome: more insights on structural and functional cardiac alterations, and the effects of treatment with continuous positive airway pressure. J Am Coll Cardiol 47(7):1433–1439

29.

Sajkov D, McEvoy RD (2009) Obstructive sleep apnea and pulmonary hypertension. Prog Cardiovasc Dis 51(5):363–370. https://doi.org/10.1016/j.pcad.2008.06.001

30.

Lobo JL, Zorrilla V, Aizpuru F, Uresandi F, Garcia-Bragado F, Conget F, Monreal M (2006) Clinical syndromes and clinical outcome in patients with pulmonary embolism: findings from the RIETE registry. Chest 130(6):1817–1822
Acknowledgments
The authors gratefully acknowledge the excellent assistance of Mrs. Tanja Wagner and Mrs. Sabine Siedka during the preparation and execution of the study. Mrs. Yvonne Eglinger provided most valuable support in proof reading the manuscript.
Ethics declarations
Conflict of interest
All authors certify that they have no affiliations with or involvement in any organisation or entity with any financial interest (such as honoraria; educational grants; participation in speakers' bureaus; membership, employment, consultancies, stock ownership, or other equity interest; and expert testimony or patent-licensing arrangements) or non-financial interest (such as personal or professional relationships, affiliations, knowledge, or beliefs) in the subject matter or materials discussed in this manuscript.
Ethical standards
All study participants gave informed consent and the trial was approved by our institutional review boards (project number 080-11 with an amendment BKF 2017-3). All procedures performed in this study were in accordance with the 1964 Helsinki declaration and its later amendments.
About this article
Cite this article
Geissenberger, F., Schwarz, F., Probst, M. et al. Obstructive sleep apnea is associated with pulmonary artery thrombus load, disease severity, and survival in acute pulmonary embolism. Clin Res Cardiol 109, 13–21 (2020). https://doi.org/10.1007/s00392-019-01479-x
Received:

Accepted:

Published:

Issue Date:
Keywords
Pulmonary embolism

Obstructive sleep apnea

Coagulation disorder

Pulmonary artery obstruction

Prognosis