This is a preview of subscription content, log in to check access.
We're sorry, something doesn't seem to be working properly.
Please try refreshing the page. If that doesn't work, please contact support so we can address the problem.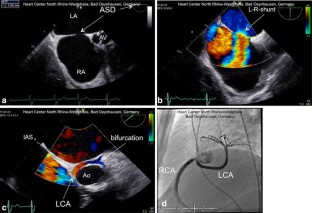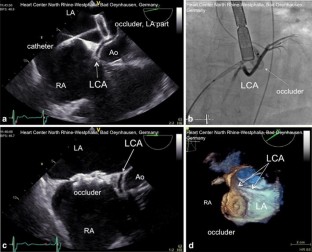 References
1.

Yamanaka O, Hobbs RE (1990) Coronary artery anomalies in 126,595 patients undergoing coronary arteriography. Cathet Cardiovasc Diagn 21:28–40

2.

Williams DA, Ootaki Y, Quartermain MD (2012) Coronary anomaly preventing transcatheter closure of an atrial septal defect. Circ Cardiovasc Interv 5:e61–e62

3.

Scholtz W, Jategaonkar S, Faber L, Horstkotte D (2008) Unusual complication with transcatheter closure of an atrial septal defect prevented by adequate imaging. Circulation 117:e181–e183

4.

Bijulal S, Krishnamoorthy KM, Sivasankaran S (2011) Retroaortic coronary artery: possible contraindication for device closure of atrial septal defect. Pediatr Cardiol 32:1001–1003

5.

Casolo G, Gensini GF, Santoro G, Rega L (2003) Anomalous origin of the circumflex artery and patent foramen ovale: a rare cause of myocardial ischemia after percutaneous closure of the defect. Heart 89:e23

6.

Aikpokpo N, Hill S, Sechtem U (2012) Case report: acute coronary artery spasm in a patient in the setting of non-cardiac surgery. Clin Res Cardiol 101:683–686

7.

Peirone A, Contreras A, Zangroniz P, Pedra C (2014) Percutaneous closure of atrial septal defects in patients with an aberrant retroaortic coronary artery: is it safe? Congenit Heart Dis 9:E163–E168

8.

Herren T, Schwanda M, Genoni M, Eberli FR (2015) Very late cardiac tamponade following successful transcatheter closure of an atrial septal defect with the Amplatzer septal occluder. Clin Res Cardiol 104:530–533

9.

Jategaonkar SR, Bogunovic N, Horstkotte D, Scholtz W (2014) Patent foramen ovale closure challenged by left atrial chord. J Am Coll Cardiol 63:490

10.

Schubert S, Kainz S, Peters B, Berger F, Ewert P (2012) Interventional closure of atrial septal defects without fluoroscopy in adult and pediatric patients. Clin Res Cardiol 101:691–700

11.

Seiffert M, Ojeda F, Müllerleile K, Zengin E, Sinning C, Waldeyer C, Lubos E, Schäfer U, Sydow K, Blankenberg S, Westermann D (2015) Reducing radiation exposure during invasive coronary angiography and percutaneous coronary interventions implementing a simple four-step protocol. Clin Res Cardiol 104:500–506

12.

Bogunovic N, Horstkotte D, Faber L, Bogunovic L, van Buuren F (2015) Radiation protection during cardiac catheterization: development of an improved lead apron for periinterventional echocardiography. Minerva Cardioangiol. [Epub ahead of print]
Ethics declarations
Conflict of interest
No author has conflicts of interests to disclose.
Electronic supplementary material
Below is the link to the electronic supplementary material.
Supplementary material 1 (MOV 26249 kb)
About this article
Cite this article
Bogunovic, N., Scholtz, W., Horstkotte, D. et al. Interventional ASD II closure in the presence of an abnormally localized left main coronary artery. Clin Res Cardiol 105, 182–185 (2016). https://doi.org/10.1007/s00392-015-0923-3
Received:

Accepted:

Published:

Issue Date:
Keywords
Right Coronary Artery

Left Main Coronary Artery

Right Bundle Branch Block

Interatrial Septum

Transoesophageal Echocardiography