Abstract
Osteoporotic bones heal more slowly and ineffectively than normal bones. A combination of antibodies against sclerosing protein (Scl-Ab), and parathyroid hormone 1–34 (PTH 1–34) may improve healing. A standard osteoporotic rat model was established 12 weeks after bilateral ovarian resection (OVX). Bone defects were created in the right femora of 80 rats, which were randomly divided into 4 groups: control, Scl-Ab (25 mg/kg twice weekly), PTH (60 μg/kg of PTH 1–34 three times a week) and PTH plus Scl-Ab. After 12 weeks of treatment the rats were sacrificed and blood and the distal femora were harvested for biochemical evaluation, histology, microcomputed tomography and biomechanical testing. Compared to the control group, monotherapy and combination therapy with PTH and/or Scl-Ab promoted the formation of new bone, enhanced maximum femoral loading and increased the levels of procollagen type I N‑terminal propeptide (PINP) and osteocalcin. The administration of PTH + Scl-Ab maximally enhanced bone defect healing. Combination treatment was better than either treatment alone, indicating a synergistic effect.
Zusammenfassung
Osteoporotische Knochen heilen langsamer und unwirksamer als normale Knochen. Eine Kombination von Antikörpern gegen Sklerosierungsprotein (Scl-Ab) und Parathormon 1‑34 (PTH 1‑34) kann die Heilung verbessern. Ein standardisiertes osteoporotisches Rattenmodell wurde 12 Wochen nach der bilateralen Ovarialresektion (OVX) etabliert. Knochendefekte wurden in den rechten Oberschenkelknochen von 80 Ratten erzeugt, die nach dem Zufallsprinzip in 4 Gruppen eingeteilt wurden: Kontrolle, Scl-Ab (25mg/kg zweimal pro Woche), PTH (60μg/kg PTH 1–34 dreimal pro Woche) und PTH plus Scl-Ab. Nach 12 Wochen Behandlung wurden die Ratten geopfert und Blut sowie die distalen Femora für biochemische Untersuchungen, Histologie, Mikrocomputertomographie und biomechanische Untersuchungen entnommen. Im Vergleich zur Kontrollgruppe förderten die Mono- und Kombinationstherapie mit PTH und/oder Scl-Ab die Bildung von neuem Knochen, eine erhöhte maximale Oberschenkellast und die Erhöhung der Konzentration von Gesamt-Prokollagen Typ I N‑Propeptid (PINP) und Osteocalcin. Die Verabreichung von PTH + Scl-Ab brachte eine maximale Verbesserung der Heilung von Knochendefekten. Die Kombinationsbehandlung war besser als jede der beiden Behandlungen allein, was auf einen synergistischen Effekt hinweist.
This is a preview of subscription content, log in to check access.
Access options
Buy single article
Instant unlimited access to the full article PDF.
US$ 39.95
Price includes VAT for USA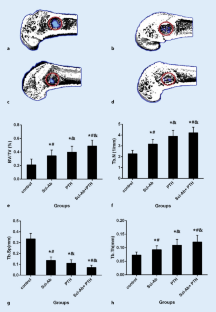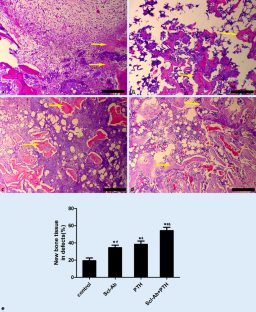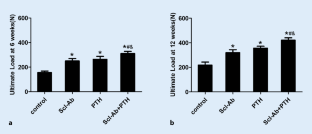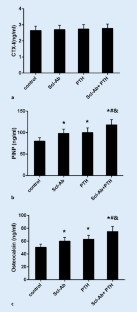 References
1.

Andreassen TT, Fledelius C, Ejersted C, Oxlund H (2001) Increases in callus formation and mechanical strength of healing fractures in old rats treated with parathyroid hormone. Acta Orthop Scand 72(3):304–307

2.

Bone HG, Greenspan SL, Mckeever C, Bell N, Davidson M, Downs RW, Emkey R, Meunier PJ, Miller SS, Mulloy AL (2000) Alendronate and estrogen effects in postmenopausal women with low bone mineral density. Alendronate/Estrogen Study Group. J Clin Endocrinol Metab 85(2):720–726

3.

Comelekoglu U, Bagis S, Yalin S, Ogenler O, Yildiz A, Sahin NO, Oguz I, Hatungil R (2007) Biomechanical evaluation in osteoporosis: ovariectomized rat model. Clin Rheumatol 26(3):380–384

4.

Hoeppner LH, Secreto FJ, Westendorf JJ (2009) Wnt signaling as a therapeutic target for bone diseases. Expert Opin Ther Targets 13(4):485–496

5.

Kamiya N, Ye L, Kobayashi T, Mochida Y, Yamauchi M, Kronenberg HM, Feng JQ, Mishina Y (2008) BMP signaling negatively regulates bone mass through sclerostin by inhibiting the canonical Wnt pathway. Development 135(22):3801–3811

6.

Merlotti D, Falchetti A, Chiodini I, Gennari L (2019) Efficacy and safety of abaloparatide for the treatment of post-menopausal osteoporosis. Expert Opin Pharmacother 20(7):805

7.

Komatsu DE, Mary MN, Jason SR, Robling AG, Turner CH, Warden SJ (2010) Modulation of Wnt signaling influences fracture repair. J Orthop Res 28(7):928–936

8.

Komrakova M, Stuermer EK, Werner C, Wicke M, Kolios L, Sehmisch S, Tezval M, Daub F, Martens T, Witzenhausen P (2010) Effect of human parathyroid hormone hPTH (1–34) applied at different regimes on fracture healing and muscle in ovariectomized and healthy rats. Bone 47(3):480–492

9.

Krishnan V, Bryant HU, Macdougald OA (2006) Regulation of bone mass by Wnt signaling. J Clin Invest 116(5):1202–1209

10.

Li X, Ominsky MS, Warmington KS, Morony S, Gong J, Cao J, Gao Y, Shalhoub V, Tipton B, Haldankar R (2009) Sclerostin antibody treatment increases bone formation, bone mass, and Bbone strength in a rat model of postmenopausal osteoporosis † ‡. J Bone Miner Res 24(4):578–588

11.

Li X, Warmington KS, Niu QT, Asuncion FJ, Barrero M, Grisanti M, Dwyer D, Stouch B, Thway TM, Stolina M (2010) Inhibition of sclerostin by monoclonal antibody increases bone formation, bone mass, and bone strength in aged male rats † ‡. J Bone Miner Res 25(12):2647–2656

12.

Meganck JA, Koh AJ, Keller ET (2008) Parathyroid hormone mediates bone growth through the regulation of osteoblast proliferation and differentiation. Bone 42(4):806–818

13.

Nakajima A, Shimoji N, Shiomi K, Shimizu S, Moriya H, Einhorn TA, Ph DMYMD (2002) Mechanisms for the Enhancement of Fracture Healing in Rats Treated With Intermittent Low-Dose Human Parathyroid Hormone (1–34) †. J Bone Miner Res 17(11):2038–2047

14.

Nozaka K, Miyakoshi N, Kasukawa Y, Maekawa S, Noguchi H, Shimada Y (2008) Intermittent administration of human parathyroid hormone enhances bone formation and union at the site of cancellous bone osteotomy in normal and ovariectomized rats. Bone 42(1):90–97

15.

Ominsky MS, Li C, Li X, Tan HL, Lee E, Barrero M, Asuncion FJ, Dwyer D, Han CY, Vlasseros F (2011) Inhibition of sclerostin by monoclonal antibody enhances bone healing and improves bone density and strength of nonfractured bones †. J Bone Miner Res 26(5):1012–1021

16.

Ominsky MS, Vlasseros F, Jolette J, Smith SY, Stouch B, Doellgast G, Gong J, Gao Y, Cao J, Graham K (2010) Two doses of sclerostin antibody in cynomolgus monkeys increases bone formation, bone mineral density, and bone strength. J Bone Miner Res 25(5):948–959

17.

Padhi D, Jang G, Stouch B, Fang L, Posvar E (2011) Single-dose, placebo-controlled, randomized study of AMG 785, a sclerostin monoclonal antibody. J Bone Miner Res 26(1):19–26

18.

Tao ZS, Bai BL, He XW, Liu W, Li H, Zhou Q, Sun T, Huang ZL, Tu KK, Lv YX, Cui W, Yang L (2016) A comparative study of strontium-substituted hydroxyapatite coating on implant's osseointegration for osteopenic rats. Med Biol Eng Comput. https://doi.org/10.1007/s11517-016-1494-9

19.

Tao ZS, Zhou WS, Tu KK, Huang ZL, Zhou Q, Sun T, Lv YX, Cui W, Yang L (2015) Effect exerted by Teriparatide upon Repair Function of beta-tricalcium phosphate to ovariectomised rat's femoral metaphysis defect caused by osteoporosis. Injury 46(11):2134–2141

20.

Tao ZS, Zhou WS, He XW, Liu W, Bai BL, Zhou Q, Huang ZL, Tu KK, Li H, Sun T, Lv YX, Cui W, Yang L (2016) A comparative study of zinc, magnesium, strontium-incorporated hydroxyapatite-coated titanium implants for osseointegration of osteopenic rats. Mater Sci Eng C Mater Biol Appl 62:226–232

21.

Tao ZS, Tu KK, Huang ZL, Zhou Q, Sun T, Xu HM, Zhou YL, Lv YX, Cui W, Yang L (2016) Combined treatment with parathyroid hormone (1–34) and beta-tricalcium phosphate had an additive effect on local bone formation in a rat defect model. Med Biol Eng Comput 54(9):1353–1362

22.

Zhang Y, Cheng N, Miron R, Shi B, Cheng X (2012) Delivery of PDGF‑B and BMP‑7 by mesoporous bioglass/silk fibrin scaffolds for the repair of osteoporotic defects. Biomaterials 33(28):6698–6708

23.

Tao ZS, Qiang Z, Tu KK, Huang ZL, Xu HM, Sun T, Lv YX, Cui W, Yang L (2015) Treatment study of distal femur for parathyroid hormone (1–34) and Î2-tricalcium phosphate on bone formation in critical size defects in rats. J Biomater Appl 43(10):2136–2143

24.

Yao W, Dai W, Jiang L, Lay YA, Zhong Z, Ritchie RO, Li X, Ke H, Lane NE (2015) Sclerostin-antibody treatment of glucocorticoid-induced osteoporosis maintained bone mass and strength. Osteoporos Int 27(1):283–294

25.

Yang N, Cui Y, Tan J, Fu X, Han X, Leng H, Song C (2014) Local injection of a single dose of simvastatin augments osteoporotic bone mass in ovariectomized rats. J Bone Miner Metab 32(3):252–260

26.

Emery C, Gourmelen J, Fagnani F, Suzan F, Desamericq G, Fardellone P (2019) Profile of women initiated on denosumab and pattern of use in a restricted postmenopausal osteoporosis indication: a French database analysis over the period 2013–2014. Adv Ther. https://doi.org/10.1007/s12325-019-00919-4

27.

Xiaoyan T, Jee WSS, Xiaodong L, Chris P, Zhu KH (2011) Sclerostin antibody increases bone mass by stimulating bone formation and inhibiting bone resorption in a hindlimb-immobilization rat model. Bone 48(2):197–201
Funding
This study was supported by the Zhejiang Provincial Medicine and Health Technology Project (grant no. 2017KY472 to Kailiang Zhou); Wenzhou Science and Technology Bureau Foundation (no. Y2017044 to Xiaolong Shui).
Ethics declarations
Conflict of interest
J. Lin, J. Wu, S. Sun, K. Chen, H. Wu, R. Lin, C. Zhou, J. Kong, K. Zhou and X. Shui declare that they have no competing interests.
Ethical standards
This institution has agreed to publication of the manuscript. All authors gave their consent to publication of the animal experimental data; the ethics committee has given the required permission. All procedures performed were in accordance with the ethical standards of the institutional and/or national research committee and with the 1975 Helsinki declaration and its later amendments or comparable ethical standards. All animal experiments met all international standards on animal welfare and those of the Animal Research Committee of the Wenzhou Medical University.
Additional information
The authors Jinti Lin, Jun Wu and Shuaibo Sun contributed equally to the manuscript.
About this article
Cite this article
Lin, J., Wu, J., Sun, S. et al. Combined antisclerostin antibody and parathyroid hormone (1–34) synergistically enhance the healing of bone defects in ovariectomized rats. Z Gerontol Geriat (2020). https://doi.org/10.1007/s00391-019-01685-2
Received:

Accepted:

Published:
Keywords
Antisclerostin antibody

Parathyroid hormone

Bone defect

Osteoporosis

Experimental animal model
Schlüsselwörter
Antisklerostin-Antikörper

Parathormon

Knochendefekt

Osteoporose

Experimentelles Tiermodell