Abstract
Purpose
Nonsteroidal anti-inflammatory drugs (NSAIDs) have been shown to block tumor-associated inflammation in rectal cancer. However, the perioperative use of NSAIDs remains controversial. This study was designed to investigate whether the perioperative use of NSAIDs influences outcomes and to provide a predictive marker to identify patients who would benefit from NSAIDs.
Methods
We enrolled 515 patients with stage I to III rectal cancer in this retrospective study. Patients were classified into the NSAID and non-NSAID groups according to their perioperative use of NSAIDs. The whole cohort was stratified by platelet-to-lymphocyte ratio (PLR). The primary endpoints were disease-free survival (DFS) and overall survival (OS).
Results
The NSAID group had a 12.6% lower risk of recurrence than the non-NSAID group (P = 0.015), while the association with survival was nonsignificant. In the high-PLR subset, the NSAID group had a 17.3% lower risk of recurrence (P = 0.003) and a better DFS (P = 0.033) outcome than the non-NSAID group. Multivariate analysis confirmed this independent significant association with DFS (P = 0.023). In the low-PLR subset, the association of NSAID use with survival was nonsignificant.
Conclusion
Perioperative use of NSAIDs was associated with improved survival outcomes in rectal cancer patients with high PLR.
This is a preview of subscription content, log in to check access.
Access options
Buy single article
Instant access to the full article PDF.
US$ 39.95
Price includes VAT for USA
Subscribe to journal
Immediate online access to all issues from 2019. Subscription will auto renew annually.
US$ 199
This is the net price. Taxes to be calculated in checkout.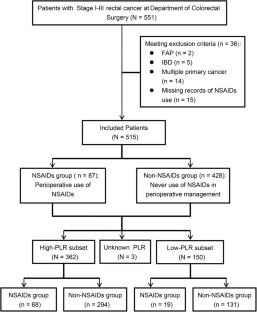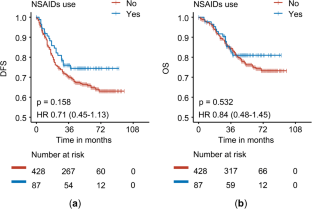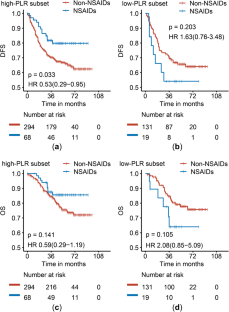 References
1.

Siegel RL, Miller KD, Jemal A (2019) Cancer statistics, 2019. CA Cancer J Clin 69:7–34

2.

Arnold M, Sierra MS, Laversanne M, Soerjomataram I, Jemal A, Bray F (2017) Global patterns and trends in colorectal cancer incidence and mortality. Gut 66:683–691

3.

Horowitz M, Neeman E, Sharon E, Ben-Eliyahu S (2015) Exploiting the critical perioperative period to improve long-term cancer outcomes. Nat Rev Clin Oncol 12:213–226

4.

Chen Z, Zhang P, Xu Y et al (2019) Surgical stress and cancer progression: the twisted tango. Mol Cancer 18:132

5.

Hiller JG, Perry NJ, Poulogiannis G, Riedel B, Sloan EK (2018) Perioperative events influence cancer recurrence risk after surgery. Nat Rev Clin Oncol 15:205–218

6.

Tuomisto AE, Makinen MJ, Vayrynen JP (2019) Systemic inflammation in colorectal cancer: underlying factors, effects, and prognostic significance. World J Gastroenterol 25:4383–4404

7.

Greten FR, Grivennikov SI (2019) Inflammation and cancer: triggers, mechanisms, and consequences. Immunity 51:27–41

8.

Panigrahy D, Gartung A, Yang J, Yang H, Gilligan MM, Sulciner ML, Bhasin SS, Bielenberg DR, Chang J, Schmidt BA, Piwowarski J, Fishbein A, Soler-Ferran D, Sparks MA, Staffa SJ, Sukhatme V, Hammock BD, Kieran MW, Huang S, Bhasin M, Serhan CN, Sukhatme VP (2019) Preoperative stimulation of resolution and inflammation blockade eradicates micrometastases. J Clin Invest 129:2964–2979

9.

Sekandarzad MW, van Zundert AAJ, Lirk PB, Doornebal CW, Hollmann MW (2017) Perioperative anesthesia care and tumor progression. Anesth Analg 124:1697–1708

10.

Thun MJ, Jacobs EJ, Patrono C (2012) The role of aspirin in cancer prevention. Nat Rev Clin Oncol 9:259–267

11.

Friis S, Riis AH, Erichsen R, Baron JA, Sorensen HT (2015) Low-dose aspirin or nonsteroidal anti-inflammatory drug use and colorectal cancer risk: a population-based, case-control study. Ann Intern Med 163:347–355

12.

Desmedt C, Demicheli R, Fornili M et al (2018) Potential benefit of intra-operative administration of ketorolac on breast cancer recurrence according to the patient's body mass index. J Natl Cancer Inst 110:1115–1122

13.

Lee BM, Rodriguez A, Mena G, Gottumukkala V, Mehran RJ, Rice DC, Feng L, Yu J, Cata JP (2016) Platelet-to-lymphocyte ratio and use of NSAIDs during the perioperative period as prognostic indicators in patients with NSCLC undergoing surgery. Cancer Control 23:284–294

14.

Schack A, Oho AUID, Fransgaard T, Klein MF, Gogenur I (2019) Perioperative use of nonsteroidal anti-inflammatory drugs decreases the risk of recurrence of cancer after colorectal resection: a cohort study based on prospective data. Ann Surg Oncol

15.

Cata JP, Guerra CE, Chang GJ, Gottumukkala V, Joshi GP (2017) Non-steroidal anti-inflammatory drugs in the oncological surgical population: beneficial or harmful? A systematic review of the literature. Br J Anaesth 119:750–764

16.

Rossi S, Basso M, Strippoli A, Schinzari G, D'Argento E, Larocca M, Cassano A, Barone C (2017) Are markers of systemic inflammation good prognostic indicators in colorectal cancer. Clin Colorectal Cancer 16:264–274

17.

Koh CH, Bhoo-Pathy N, Ng KL, Jabir RS, Tan GH, See MH, Jamaris S, Taib NA (2015) Utility of pre-treatment neutrophil-lymphocyte ratio and platelet-lymphocyte ratio as prognostic factors in breast cancer. Br J Cancer 113:150–158

18.

Zhao QT, Yuan Z, Zhang H, Zhang XP, Wang HE, Wang ZK, Duan GC (2016) Prognostic role of platelet to lymphocyte ratio in non-small cell lung cancers: a meta-analysis including 3,720 patients. Int J Cancer 139:164–170

19.

Wang X, Ni X, Tang G (2019) Prognostic role of platelet-to-lymphocyte ratio in patients with bladder cancer: a meta-analysis. Front Oncol 9:757

20.

Huang XZ, Chen WJ, Zhang X et al (2017) An elevated platelet-to-lymphocyte ratio predicts poor prognosis and clinicopathological characteristics in patients with colorectal cancer: a meta-analysis. Dis Markers 2017:1053125

21.

Wittekind C (2010) 2010 TNM system: on the 7th edition of TNM classification of malignant tumors. Pathologe 31:331–332

22.

Raffetti E, Donato F, Casari S et al (2017) Systemic inflammation-based scores and mortality for all causes in HIV-infected patients: a MASTER cohort study. BMC Infect Dis 17:193

23.

Ren DL, Li J, Yu HC, Peng SY, Lin WD, Wang XL, Ghoorun RA, Luo YX (2019) Nomograms for predicting pathological response to neoadjuvant treatments in patients with rectal cancer. World J Gastroenterol 25:118–137

24.

Deng Y, Chi P, Lan P, Wang L, Chen W, Cui L, Chen D, Cao J, Wei H, Peng X, Huang Z, Cai G, Zhao R, Huang Z, Xu L, Zhou H, Wei Y, Zhang H, Zheng J, Huang Y, Zhou Z, Cai Y, Kang L, Huang M, Peng J, Ren D, Wang J (2016) Modified FOLFOX6 with or without radiation versus fluorouracil and leucovorin with radiation in neoadjuvant treatment of locally advanced rectal cancer: initial results of the Chinese FOWARC multicenter, open-label, randomized three-arm phase III trial. J Clin Oncol 34:3300–3307

25.

Modasi A, Pace D, Godwin M, Smith C, Curtis B (2019) NSAID administration post colorectal surgery increases anastomotic leak rate: systematic review/meta-analysis. Surg Endosc 33:879–885

26.

Kverneng HD, Angenete E, Lydrup ML, Rutegård J, Matthiessen P, Rutegård M (2017) Nonsteroidal anti-inflammatory drugs and the risk of anastomotic leakage after anterior resection for rectal cancer. Eur J Surg Oncol 43:1908–1914

27.

Kuo CN, Pan JJ, Huang YW, Tsai HJ, Chang WC (2018) Association between nonsteroidal anti-inflammatory drugs and colorectal cancer: a population-based case-control study. Cancer Epidemiol Biomark Prev 27:737–745

28.

Coghill AE, Newcomb PA, Campbell PT, Burnett-Hartman AN, Adams SV, Poole EM, Potter JD, Ulrich CM (2011) Prediagnostic non-steroidal anti-inflammatory drug use and survival after diagnosis of colorectal cancer. Gut 60:491–498

29.

Cao Y, Nishihara R, Qian ZR et al (2016) Regular aspirin use associates with lower risk of colorectal cancers with low numbers of tumor-infiltrating lymphocytes. Gastroenterology 151:879–892.e4

30.

Hua X, Phipps AI, Burnett-Hartman AN, Adams SV, Hardikar S, Cohen SA, Kocarnik JM, Ahnen DJ, Lindor NM, Baron JA, Newcomb PA (2017) Timing of aspirin and other nonsteroidal anti-inflammatory drug use among patients with colorectal cancer in relation to tumor markers and survival. J Clin Oncol 35:2806–2813

31.

Restivo A, Cocco IM, Casula G, Scintu F, Cabras F, Scartozzi M, Zorcolo L (2015) Aspirin as a neoadjuvant agent during preoperative chemoradiation for rectal cancer. Br J Cancer 113:1133–1139

32.

Cata JP, Wang H, Gottumukkala V, Reuben J, Sessler DI (2013) Inflammatory response, immunosuppression, and cancer recurrence after perioperative blood transfusions. Br J Anaesth 110:690–701

33.

Redmond HP, Neary PM, Jinih M et al (2018) RandomiSed clinical trial assessing Use of an anti-inflammatoRy aGent in attenUating peri-operatiVe inflAmmatioN in non-meTastatic colon cancer - the S.U.R.G.U.V.A.N.T. trial. BMC Cancer 18:794

34.

Gurpinar E, Grizzle WE, Piazza GA (2014) NSAIDs inhibit tumorigenesis, but how. Clin Cancer Res 20:1104–1113
Funding
This study was funded by the National Basic Research Program of China (973 Program, 2015CB554001), the National Natural Science Foundation of China (81972245 and 81902877), the Natural Science Fund for Distinguished Young Scholars of Guangdong Province (2016A030306002), the Tip-top Scientific and Technical Innovative Youth Talents of Guangdong Special Support Program (2015TQ01R454), the Project 5010 of Clinical Medical Research of Sun Yat-sen University-5010 Cultivation Foundation (2018026), the Natural Science Foundation of Guangdong Province (2016A030310222 and 2018A0303130303), the Program of Introducing Talents of Discipline to Universities, and the National Key Clinical Discipline (2012).
Ethics declarations
Conflict of interest
The authors declare that they have no conflict of interest.
Ethical approval
All procedures performed in studies involving human participants were in accordance with the ethical standards of the institutional Medicine Ethics Committee of The Sixth Affiliated Hospital, Sun Yat-sen University, and with the 1964 Helsinki Declaration and its later amendments or comparable ethical standards.
Informed consent
Informed consent was obtained from all individual participants included in the study.
Data transparency
All data and materials as well as software application or custom code support published claims and comply with field standards.
Additional information
Publisher's note
Springer Nature remains neutral with regard to jurisdictional claims in published maps and institutional affiliations.
About this article
Cite this article
Huang, Z., Wang, X., Zou, Q. et al. High platelet-to-lymphocyte ratio predicts improved survival outcome for perioperative NSAID use in patients with rectal cancer. Int J Colorectal Dis (2020). https://doi.org/10.1007/s00384-020-03528-8
Keywords
Nonsteroidal anti-inflammatory drugs

Rectal cancer

Systemic inflammatory marker

Disease-free survival

Platelet-to-lymphocyte ratio