Abstract
Background
Endoscopic tattooing is considered to be a safe procedure to mark a lesion for subsequent surgical resection, and the reported complications are relatively minor. However, here the present case shows tumor traveling through needle tract with tumor inoculation following endoscopic tattooing.
Methods and Results
A 68-year-old female who had a clinical stage I rectal cancer underwent laparoscopic rectal low anterior resection. The pathologic examination of the surgical specimen showed a pathologic stage pT1 invasive adenocarcinoma with a 3-mm focus of tumor cells traveling through a transmural tract and a 0.5-mm tumor inoculation in the peri-colonic fat tissue. These two foci of tumor cells were mixed with pigmented substance convincing its association with the endoscopic tattooing.
Conclution
This present case raises the awareness of a severe complication as tumor inoculation by inappropriate endoscopic tattooing which may cause tumor stage upgrading and tumor spreading.
This is a preview of subscription content, log in to check access.
Access options
Buy single article
Instant access to the full article PDF.
US$ 39.95
Price includes VAT for USA
Subscribe to journal
Immediate online access to all issues from 2019. Subscription will auto renew annually.
US$ 199
This is the net price. Taxes to be calculated in checkout.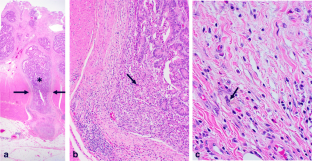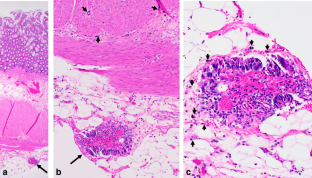 References
1.

Nizam R, Siddiqi N, Landas SK, Kaplan DS, Holtzapple PG (1996) Colonic tattooing with India ink: benefits, risks, and alternatives. Am J Gastroenterol 91(9):1804–1808

2.

Trakarnsanga A, Akaraviputh T (2011) Endoscopic tattooing of colorectal lesions: is it a risk-free procedure? World J Gastrointest Endosc 3(12):256–260

3.

Tutticci N, Cameron D, Croese J, Roche E (2010) Peritoneal deposits with carbon pigmentation associated with endoscopic submucosal tattooing of a rectal cancer. Endoscopy 42:E136

4.

Sakurai M, Okamura J, Seki K, Kuroda C (1983) Needle tract implantation of hepatocellular carcinoma after percutaneous liver biopsy. Am J Surg Pathol 7(2):191–195

5.

Kusukawa J, Suefuji Y, Ryu F, Noguchi R, Iwamoto O, Kameyama T (2000) Dissemination of cancer cells into circulation occurs by incisional biopsy of oral squamous cell carcinoma. J Oral Pathol Med 29(7):303–307

6.

Shyamala K, Girish HC, Murgod S (2014) Risk of tumor cell seeding through biopsy and aspiration cytology. J Int Soc Prev Community Dent 4(1):5–11

7.

Sauntry JP, Knudtson KP (1958) A technique for marking the mucosa of the gastrointestinal tract after polypectomy. Cancer 11(3):607–610

8.

Knoernschild HE (1962) The use of a tattooing instrument for marking colonic mucosa. Am J Surg 103:83–85

9.

Hyman N, Waye JD (1991) Endoscopic four quadrant tattoo for the identification of colonic lesions at surgery. Gastrointest Endosc 37(1):56–58

10.

Fennerty MB, Sampliner RE, Hixson LJ, Garewal HS (1992) Effectiveness of India ink as a long-term colonic mucosal marker. Am J Gastroenterol 87(1):79–81
Additional information
Publisher's note
Springer Nature remains neutral with regard to jurisdictional claims in published maps and institutional affiliations.
About this article
Cite this article
Sun, B. Endoscopic tattooing: a risk for tumor implantation. Int J Colorectal Dis 35, 571–574 (2020). https://doi.org/10.1007/s00384-019-03495-9
Accepted:

Published:

Issue Date:
Keywords
Endoscopic tattooing

Complication

Tumor implantation