Abstract
Purpose
The goal of this study was to evaluate the long-term oncologic outcomes after laparoscopic converted surgery for patients with colon cancer.
Methods
Retrospective database of consecutive curative-intent laparoscopic-assisted surgery for primary stage I–III colon cancer was reviewed from 2000 to 2013. The patients were divided into non-conversion and conversion groups. The patient characters, operative features, perioperative parameters, pathologic features, and oncologic outcomes were compared.
Results
A total of 4010 patients were included in the study: 3929 in the non-conversion group and 81 (2%) in the conversion group. The median follow-up period was 63.9 months. There were significant differences in age, preoperative clinical T-stage, and tumor size between the groups. In operative details between the two groups, there were also significant differences in access to surgery, tumor location, cancer obstruction, cancer perforation, and estimated blood loss (P < 0.001). The two most common reasons for conversion were adhesion (n = 37, 46%) and bleeding (n = 21, 26%). Multivariate analysis showed that conversion was an independent predictor of both overall survival (OS) (P < 0.001) and disease-free survival (P = 0.003). The 5-year OS rate of the conversion group was 79.6%, and that of the non-conversion group was 96.2% (P < 0.001). The multivariate predictors of conversion were age, type of surgery, cancer obstruction, cancer perforation, and clinical T-stage.
Conclusion
Conversion to open surgery may affect patient survival and recurrence after laparoscopic-assisted surgery for colon cancer. Our data suggest that conversion is associated with poor outcomes, but we should not hesitate to convert it to patients who have difficulty in laparoscopic surgery.
This is a preview of subscription content, log in to check access.
Access options
Buy single article
Instant access to the full article PDF.
US$ 39.95
Price includes VAT for USA
Subscribe to journal
Immediate online access to all issues from 2019. Subscription will auto renew annually.
US$ 199
This is the net price. Taxes to be calculated in checkout.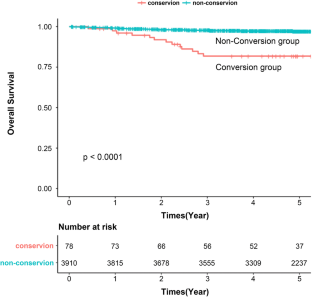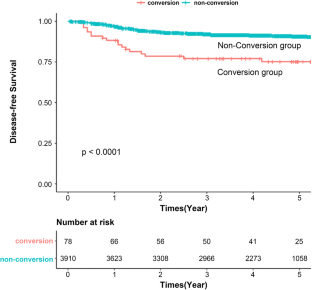 References
1.

Gorgun E, Benlice C, Abbas MA, Stocchi L, Remzi FH (2016) Conversion in laparoscopic colorectal surgery: are short-term outcomes worse than with open surgery? Tech Coloproctol 20:845–851

2.

Martinez-Perez A, de'Angelis N (2018) Oncologic results of conventional laparoscopic TME: is the intramesorectal plane really acceptable? Tech Coloproctol 22:831–834

3.

Spanjersberg WR, van Sambeeck JD, Bremers A, Rosman C, van Laarhoven CJ (2015) Systematic review and meta-analysis for laparoscopic versus open colon surgery with or without an ERAS programme. Surg Endosc 29:3443–3453

4.

van der Pas MH, Haglind E, Cuesta MA, Furst A, Lacy AM, Hop WC, Bonjer HJ (2013) Laparoscopic versus open surgery for rectal cancer (COLOR II): short-term outcomes of a randomised, phase 3 trial. Lancet Oncol 14:210–218

5.

Negoi I, Hostiuc S, Negoi RI, Beuran M (2017) Laparoscopic vs open complete mesocolic excision with central vascular ligation for colon cancer: a systematic review and meta-analysis. World J Gastrointest Oncol 9:475–491

6.

Bonjer HJ, Deijen CL, Abis GA, Cuesta MA, van der Pas MH, de Lange-de Klerk ES, Lacy AM, Bemelman WA, Andersson J, Angenete E, Rosenberg J, Fuerst A, Haglind E (2015) A randomized trial of laparoscopic versus open surgery for rectal cancer. N Engl J Med 372:1324–1332

7.

(2018) The impact of conversion on the risk of major complication following laparoscopic colonic surgery: an international, multicentre prospective audit. Colorectal Dis 20 Suppl 6:69–89

8.

Scheidbach H, Garlipp B, Oberlander H, Adolf D, Kockerling F, Lippert H (2011) Conversion in laparoscopic colorectal cancer surgery: impact on short- and long-term outcome. J Laparoendosc Adv Surg Tech A 21:923–927

9.

Wu B, Wang W, Hao G, Song G (2018) Effect of cancer characteristics and oncological outcomes associated with laparoscopic colorectal resection converted to open surgery: a meta-analysis. Medicine (Baltimore) 97:e13317

10.

Yerokun BA, Adam MA, Sun Z, Kim J, Sprinkle S, Migaly J, Mantyh CR (2016) Does conversion in laparoscopic colectomy portend an inferior oncologic outcome? Results from 104,400 patients. J Gastrointest Surg 20:1042–1048

11.

Allaix ME, Furnee EJ, Mistrangelo M, Arezzo A, Morino M (2016) Conversion of laparoscopic colorectal resection for cancer: what is the impact on short-term outcomes and survival? World J Gastroenterol 22:8304–8313

12.

Yun JA, Yun SH, Park YA, Huh JW, Cho YB, Kim HC, Lee WY (2016) Oncologic outcomes of single-incision laparoscopic surgery compared with conventional laparoscopy for colon cancer. Ann Surg 263:973–978

13.

Pyo DH, Huh JW, Park YA, Cho YB, Yun SH, Kim HC, Lee WY, Chun HK (2016) A comparison of hand-assisted laparoscopic surgery and conventional laparoscopic surgery in rectal cancer: a propensity score analysis. Surg Endosc 30:2449–2456

14.

Oh BY, Park YA, Huh JW, Yun SH, Kim HC, Chun HK, Kim SH, Ha SY, Lee WY, Cho YB (2018) Prognostic impact of tumor-budding grade in stages 1-3 colon cancer: a retrospective cohort study. Ann Surg Oncol 25:204–211

15.

Allaix ME, Furnee E, Esposito L, Mistrangelo M, Rebecchi F, Arezzo A, Morino M (2018) Analysis of early and long-term oncologic outcomes after converted laparoscopic resection compared to primary open surgery for rectal cancer. World J Surg 42:3405–3414

16.

Kang SB, Park JW, Jeong SY, Nam BH, Choi HS, Kim DW, Lim SB, Lee TG, Kim DY, Kim JS, Chang HJ, Lee HS, Kim SY, Jung KH, Hong YS, Kim JH, Sohn DK, Kim DH, Oh JH (2010) Open versus laparoscopic surgery for mid or low rectal cancer after neoadjuvant chemoradiotherapy (COREAN trial): short-term outcomes of an open-label randomised controlled trial. Lancet Oncol 11:637–645

17.

White I, Greenberg R, Itah R, Inbar R, Schneebaum S, Avital S (2011) Impact of conversion on short and long-term outcome in laparoscopic resection of curable colorectal cancer. JSLS 15:182–187

18.

Petrucciani N, Memeo R, Genova P, Le Roy B, Courtot L, Voron T, Aprodu R, Tabchouri N, Saleh NB, Berger A, Ouaissi M, Pezet D, Mutter D, Brunetti F, de'Angelis N (2019) Impact of conversion from laparoscopy to open surgery in patients with right colon cancer. Am Surg 85:177–182

19.

Keller DS, Khorgami Z, Swendseid B, Champagne BJ, Reynolds HL Jr, Stein SL, Delaney CP (2014) Laparoscopic and converted approaches to rectal cancer resection have superior long-term outcomes: a comparative study by operative approach. Surg Endosc 28:1940–1948

20.

Lu KC, Cone MM, Diggs BS, Rea JD, Herzig DO (2011) Laparoscopic converted to open colectomy: predictors and outcomes from the nationwide inpatient sample. Am J Surg 201:634–639
Ethics declarations
This study was reviewed and approved by the appropriate institutional review board at Samsung Medical Center.
Conflict of interest
The authors declare that they have no conflicts of interest.
Additional information
Publisher's note
Springer Nature remains neutral with regard to jurisdictional claims in published maps and institutional affiliations.
About this article
Cite this article
Lee, S.C., Huh, J.W., Lee, W.Y. et al. Long-term oncologic outcome and risk factors after conversion in laparoscopic surgery for colon cancer. Int J Colorectal Dis 35, 395–402 (2020). https://doi.org/10.1007/s00384-019-03489-7
Accepted:

Published:

Issue Date:
Keywords
Colon cancer

Laparoscopic-assisted surgery

Conversion

Long-term outcome