Abstract
Purposes
The incidence of postoperative complication is higher in Crohn's disease (CD) compared with other intestinal disease. There is less published data yet on the comparison of risk factors to predict postoperative complications in CD exposed and unexposed to previous infliximab therapy. Also the relationship between infliximab and postoperative infectious complications is still controversial. Our aim is to compare the risk factors to predict infectious complications in CD with and without preoperative infliximab and to clarify relationship between infliximab and infectious complications.
Methods
This retrospective study included 390 patients from June 2014 to June 2018. Postoperative complications were compared in patients with and without preoperative infliximab. Univariate and multivariable analyses were performed to identify risk factors.
Results
Eighty-five patients received infliximab within 8 weeks of surgery. A total of 129 patients had postoperative complications, with 35 receiving infliximab. No significant differences of whole postoperative complications were found in CD with and without infliximab (p = 0.073). However, patients receiving infliximab suffered more infectious complications (p = 0.010). Preoperative infliximab was confirmed to be an independent risk factor in infectious complications (p = 0.042). Multivariate analysis suggested that increased erythrocyte sedimentation rate (ESR) was an independent risk factor for infectious complications in patients receiving preoperative infliximab (p = 0.022), and increased C-reactive protein was an independent risk factor in patients not receiving preoperative infliximab (p = 0.019).
Conclusions
Preoperative use of infliximab ≤ 8 weeks was independently associated with infectious complications in CD. Risk factors were different in predicting postoperative complications in CD with and without infliximab, and preoperative ESR and C-reactive protein were risk factors, respectively.
This is a preview of subscription content, log in to check access.
Access options
Buy single article
Instant access to the full article PDF.
US$ 39.95
Price includes VAT for USA
Subscribe to journal
Immediate online access to all issues from 2019. Subscription will auto renew annually.
US$ 199
This is the net price. Taxes to be calculated in checkout.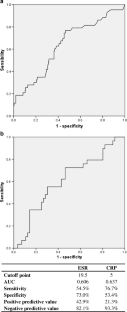 References
1.

Torres J, Mehandru S, Colombel JF et al (2017) Crohn's disease. Lancet 389(10080):1741–1755

2.

Masaki T, Kishiki T, Kojima K, Asou N, Beniya A, Matsuoka H (2018) Recent trends (2016-2017) in the treatment of inflammatory bowel disease. Ann Gastroenterol Surg 2(4):282–288

3.

Jouvin I, Lefevre JH, Creavin B, Pitel S, Chafai N, Tiret E, Beaugerie L, Parc Y, Saint-Antoine IBD Network (2018) Postoperative morbidity risks following ileocolic resection for Crohn's disease treated with anti-TNF alpha therapy: a retrospective study of 360 patients. Inflamm Bowel Dis 24(2):422–432

4.

Limketkai BN, Parian AM, Shah ND, Colombel JF (2016) Short bowel syndrome and intestinal failure in Crohn's disease. Inflamm Bowel Dis 22(5):1209–1218

5.

Syed A, Cross RK, Flasar MH (2013) Anti-tumor necrosis factor therapy is associated with infections after abdominal surgery in Crohn's disease patients. Am J Gastroenterol 108(4):583–593

6.

Kaymak T, Moriconi F, Niess JH, Beglinger C, Hruz P (2018) Low discontinuation rate of infliximab treatment in steroid-dependent/refractory Crohn's disease patients. Inflamm Intest Dis 2(3):171–179

7.

Xu Y, Yang L, An P et al (2018) Meta-analysis: the influence of preoperative infliximab use on postoperative complications of Crohn's disease. Inflamm Bowel Dis 25(2):261–269

8.

Kotze PG, Saab MP, Saab B, da Silva Kotze LM, Olandoski M, Pinheiro LV, Martinez CA, Ayrizono ML, Magro DO, Coy CS (2017) Tumor necrosis factor alpha inhibitors did not influence postoperative morbidity after elective surgical resections in Crohn's disease. Dig Dis Sci 62(2):456–464

9.

Gomollon F, Dignass A, Annese V et al (2017) 3rd European Evidence-based Consensus on the Diagnosis and Management of Crohn's Disease 2016: part 1: diagnosis and medical management. J Crohns Colitis 11(1):3–25

10.

Dindo D, Demartines N, Clavien PA (2004) Classification of surgical complications: a new proposal with evaluation in a cohort of 6336 patients and results of a survey. Ann Surg 240(2):205–213

11.

Allegranzi B, Bischoff P, de Jonge S, Kubilay NZ, Zayed B, Gomes SM, Abbas M, Atema JJ, Gans S, van Rijen M, Boermeester MA, Egger M, Kluytmans J, Pittet D, Solomkin JS, WHO Guidelines Development Group (2016) New WHO recommendations on preoperative measures for surgical site infection prevention: an evidence-based global perspective. Lancet Infect Dis 16(12):e276–e287

12.

Shwaartz C, Fields AC, Sobrero M, Cohen BD, Divino CM (2016) Effect of anti-TNF agents on postoperative outcomes in inflammatory bowel disease patients: a single institution experience. J Gastrointest Surg 20(9):1636–1642

13.

Kunitake H, Hodin R, Shellito PC et al (2008) Perioperative treatment with infliximab in patients with Crohn's disease and ulcerative colitis is not associated with an increased rate of postoperative complications. J Gastrointest Surg 12(10):1730–1736 discussion 1736-7

14.

Billioud V, Ford AC, Tedesco ED, Colombel JF, Roblin X, Peyrin-Biroulet L (2013) Preoperative use of anti-TNF therapy and postoperative complications in inflammatory bowel diseases: a meta-analysis. J Crohns Colitis 7(11):853–867

15.

Sandborn WJ, Hanauer SB (1999) Antitumor necrosis factor therapy for inflammatory bowel disease: a review of agents, pharmacology, clinical results, and safety. Inflamm Bowel Dis 5(2):119–133

16.

Cornillie F, Shealy D, D'Haens G, Geboes K, van Assche G, Ceuppens J, Wagner C, Schaible T, Plevy SE, Targan SR, Rutgeerts P (2001) Infliximab induces potent anti-inflammatory and local immunomodulatory activity but no systemic immune suppression in patients with Crohn's disease. Aliment Pharmacol Ther 15(4):463–473

17.

Ge X, Dai X, Ding C et al (2017) Early postoperative decrease of serum albumin predicts surgical outcome in patients undergoing colorectal resection. Dis Colon Rectum 60(3):326–334

18.

Zuo L, Li Y, Wang H, Zhu W, Zhang W, Gong J, Li N, Li J (2015) A practical predictive index for intra-abdominal septic complications after primary anastomosis for Crohn's disease: change in C-reactive protein level before surgery. Dis Colon Rectum 58(8):775–781

19.

Zhu Y, Zhou W, Qi W, Liu W, Chen M, Zhu H, Xiang J, Xie Q, Chen P (2017) Body mass index is a practical preoperative nutritional index for postoperative infectious complications after intestinal resection in patients with Crohn's disease. Medicine (Baltimore) 96(23):e7113

20.

Magro F, Rodrigues-Pinto E, Santos-Antunes J et al (2014) High C-reactive protein in Crohn's disease patients predicts nonresponse to infliximab treatment. J Crohns Colitis 8(2):129–136

21.

Boyle MP, Moss AC, O'Toole AM, Vaughn B, Cheifetz AS (2017) C-reactive protein as a predictor of low trough infliximab concentrations in patients who lose response to infliximab. J Dig Dis 18(12):678–683

22.

Hyams JS, Mandel F, Ferry GD, Gryboski JD, Kibort PM, Kirschner BS, Griffiths AM, Katz AJ, Boyle JT (1992) Relationship of common laboratory parameters to the activity of Crohn's disease in children. J Pediatr Gastroenterol Nutr 14(2):216–222

23.

Ganesan V, Brown RD, Jimenez JA et al (2017) C-reactive protein and erythrocyte sedimentation rate predict systemic inflammatory response syndrome after percutaneous nephrolithotomy. J Endourol 31(7):638–644

24.

Barnes BH, Borowitz SM, Saulsbury FT, Hellems M, Sutphen JL (2004) Discordant erythrocyte sedimentation rate and C-reactive protein in children with inflammatory bowel disease taking azathioprine or 6-mercaptopurine. J Pediatr Gastroenterol Nutr 38(5):509–512

25.

Zlonis M (1993) The mystique of the erythrocyte sedimentation rate. A reappraisal of one of the oldest laboratory tests still in use. Clin Lab Med 13(4):787–800

26.

Amos RS, Constable TJ, Crockson RA et al (1977) Rheumatoid arthritis: relation of serum C-reactive protein and erythrocyte sedimentation rates to radiographic changes. Br Med J 1(6055):195–197
Acknowledgements
The authors gratefully acknowledge all of the investigators for their contributions to the trial.
Funding
This study is supported by grants from the National Natural Science Foundation of China (81800474), the Zhejiang Natural Science Foundation (LY18H030006), and the Zhejiang Province Education Department Foundation (Y201738056).
Ethics declarations
The institutional review board of Sir Run Run Shaw Hospital approved the project.
Conflict of interest
The authors declare that they have no conflict of interests.
Additional information
Publisher's note
Springer Nature remains neutral with regard to jurisdictional claims in published maps and institutional affiliations.
About this article
Cite this article
Tang, S., Dong, X., Liu, W. et al. Compare risk factors associated with postoperative infectious complication in Crohn's disease with and without preoperative infliximab therapy: a cohort study. Int J Colorectal Dis (2020). https://doi.org/10.1007/s00384-019-03481-1
Keywords
Infliximab

Crohn's disease

Infectious complications

Risk factors