Abstract
Purpose
The term "lateral rectal ligament" in surgery for rectal cancer has caused confusion regarding its true existence and contents. In previous studies, investigators claimed the existence of the ligament and described its topographical features as neurovascular structures and their surrounding connective tissues located at the anterolateral aspect of the distal rectum or the posterolateral aspect of the middle rectum. The purpose of this study is to evaluate the structure of the so-called "lateral rectal ligament" in cadaver dissections.
Methods
Dissection was performed in nine cadavers (eight males and one female, aged 73 to 94 years) in accordance with typical total mesorectal excision techniques. During dissection, structures related to "the ligament" were examined and images recorded.
Results
At the anterolateral aspect of the distal rectum, the middle rectal artery was noted to be crossing the fusion of Denonvilliers' fascia and the proper rectal fascia. At the posterolateral aspect of the middle rectum, there was a structure which consisted of the rectal nerves running through the fusion of the pelvic fasciae. Although called "ligaments," neither structure contained discrete strong connective tissue fixing the rectum to the pelvic wall.
Conclusions
The proper rectal fascia and surrounding pelvic fasciae fuse firmly anterolaterally and posterolaterally where neurovascular structures course toward the rectum. During a total mesorectal excision, the surgical dissection plane coincides with the fused part of the fasciae, which had long been considered the "lateral rectal ligament."
This is a preview of subscription content, log in to check access.
Access options
Buy single article
Instant unlimited access to the full article PDF.
US$ 39.95
Price includes VAT for USA
Subscribe to journal
Immediate online access to all issues from 2019. Subscription will auto renew annually.
US$ 199
This is the net price. Taxes to be calculated in checkout.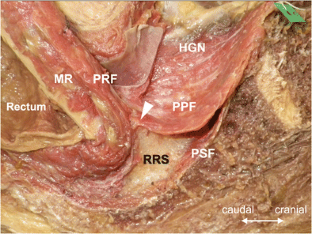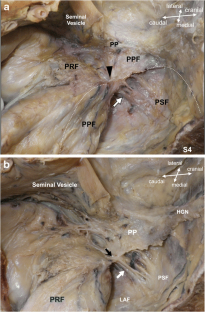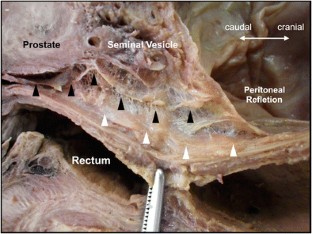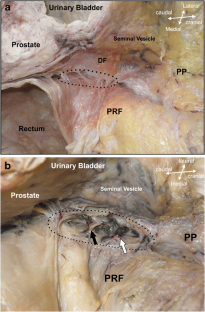 References
1.

Heald RJ, Ryall RD (1986) Recurrence and survival after total mesorectal excision for rectal cancer. Lancet 28:1479–1482

2.

Heald RJ, Husband EM, Ryall RD (1982) The mesorectum in rectal cancer surgery—the clue to pelvic recurrence? Br J Surg 69:613–616

3.

MacFarlane RRD, Heald RJ (1993) Mesorectal excision for rectal cancer. Lancet 341:457–460

4.

Bissett IP, Hill GL (2000) Extrafascial excision of the rectum for cancer: a technique for the avoidance of the complications of rectal mobilization. Semin Surg Oncol 18:207–215

5.

Nano M, Dal Corso HM, Lanfranco G, Ferronato M, Hornung JP (2000) Contribution to the surgical anatomy of the ligaments of the rectum. Dis Colon Rectum 43:1592–1597

6.

Takahashi T, Ueno M, Azekura K, Otha H (2000) Lateral ligament: its anatomy and clinical importance. Semin Surg Oncol 19:386–395

7.

Jones OM, Smeulders N, Wiseman O, Miller R (1999) Lateral ligaments of the rectum: an anatomical study. Br J Surg 86:487–489

8.

Havenga K, Deruiter MC, Enker WE, Welvaart K (1996) Anatomical basis of nerve-preserving total mesorectal excision for rectal cancer. Br J Surg 83:384–388

9.

Asoglu O, Matlin T, Karanlik H et al (2009) Impact of laparoscopic surgery on bladder and sexual function after total mesorectal excision for rectal cancer. Surg Endosc 23:296–303

10.

Jayne DG, Brown JM, Thorpe HC, Quirke P, Brown JM, Guillou PJ (2005) Bladder and sexual function following resection for rectal cancer in a randomized clinical trial of laparoscopic versus open technique. Br J Surg 92:1124–1132

11.

Runkel N, Reiser H (2013) Nerve-oriented mesorectal excision (NOME): autonomic nerves as landmarks for laparoscopic rectal resection. Int J Color Dis 28:1367–1375

12.

Zhou H, Ruan C, Sun Y, Zhang J, Wang Z, Hu Z (2015) Nerve-guided laparoscopic total mesorectal excision for distal rectal cancer. Ann Surg Oncol 22:550–551

13.

Clausen N, Wolloscheck T, Konerding MA (2008) How to optimize autonomic nerve preservation in total mesorectal excision: clinical topography and morphology of pelvic nerves and fasciae. World J Surg 32:1768–1775

14.

Pak-art R, Tansatit T, Mingmalairaks C, Pattana-arun J, Tansatit M, Vajrabukka T (2005) The location and contents of the lateral ligaments of the rectum: a study in human soft cadavers. Dis Colon Rectum 48:1941–1944

15.

Lin M, Chen W, Huang L, Ni J, Yin L (2010) The anatomy of lateral ligament of the rectum and its role in total mesorectal excision. World J Surg 34:594–598

16.

Muntean V (1999) The surgical anatomy of the fasciae and the fascial spaces related to the rectum. Surg Radiol Anat 21:319–324

17.

Zhang C, Ding ZH, Li GX, Yu J, Wang YN, Hu YF (2010) Perirectal fascia and spaces: annular distribution pattern around the mesorectum. Dis Colon rectum 53:1315–1322

18.

Fernandez-Represa JA, Mayol JM, Garcia-Aguilar J (2004) Total mesorectal excision for rectal cancer: the truth lies underneath. World J Surg 28:113–116

19.

Keighley M, Williams NA (2008) Management of carcinoma of the rectum. In: Houston M (ed) Surgery of the anus, rectum and colon, 3rd edn. Elsevier, Philadelphia, pp 1146–1149

20.

Walsh PC (1983) Radical prostatectomy with preservation of sexual function: anatomical and pathological considerations. Prostate 4:473–485

21.

Sato K, Sato T (1991) The vascular and neuronal composition of the lateral ligament of the rectum and the rectosacral fascia. Surg Radiol Anat 13:17–22

22.

García-Armengol J, García-Botello S, Martinez-Soriano F, Roig JV, Lledó S (2008) Review of the anatomic concepts in relation to the retrorectal space and endopelvic fascia: Waldeyer's fascia and the rectosacral fascia. Color Dis 10:298–302

23.

Jin ZM, Peng JY, Zhu QC, Yin L (2011) Waldeyer's fascia: anatomical location and relationship to neighboring fasciae in retrorectal space. Surg Radiol Anat 33:851–854

24.

Church JM, Raudkivi PJ, Hill GL (1987) The surgical anatomy of the rectum—a review with particular relevance to the hazards of rectal mobilisation. Int J Color Dis 2:158–166

25.

Diop M, Parratte B, Tatu L, Vuillier F, Brunelle S, Monnier G (2003) "Mesorectum": the surgical value of an anatomical approach. Surg Radiol Anat 25:290–304

26.

Kraime AC, West NP, Treanor D, Magee DR, Rutten HJ, Quirke P, DeRuiter MC, van de Velde CJH (2015) Understanding the surgical pitfalls in total mesorectal excision: investigating the histology of the perirectal fascia and the pelvic autonomic nerves. Eur J Surg Oncol 41:1621–1629

27.

Kinugasa Y, Murakami G, Suzuki D, Sugihara K (2007) Histological identification of fascial structures posterolateral to the rectum. Br J Surg 94:620–626

28.

Imai K, Furuya K, Kawada M (2006) Human pelvic extramural ganglion cells: a semiquantitative and immunohistochemical study. Surg Radiol Anat 28:596–605

29.

Wiig JN, Heald JR (1997) Rectal and pelvic anatomy with emphasis on anatomical layers. In: Søreide O, Norstein J (eds) Rectal cancer surgery. Springer, Berlin, pp p117–p122

30.

Kusunoki M, Inoue Y, Yanagi H (2008) Simplification of total mesorectal excision with colonic J-pouch anal anastomosis for middle and lower rectal cancer: one surgeon's experience. Surg Today 38:691–699

31.

Takenaka A, Murakami G, Soga H, Han SH, Arai Y, Fujisawa M (2004) Anatomical analysis of the neurovascular bundle supplying penile cavernous tissue to ensure a reliable nerve graft after radical prostatectomy. J Urol 172:1032–1035

32.

Costello AJ, Dowdle BW, Namdarian B, Pedersen J, Murphy DG (2011) Immunohistochemical study of the cavernous nerves in the periprostatic region. BJU Int 107:1210–1215

33.

Walsh PC, Donker PJ (1982) Impotence following radical prostatectomy: insight into etiology and prevention. J Urol 128:492–497

34.

Kiyoshima K, Yokomizo A, Yoshida T, Tomita K, Yonemasu H, Nakamura M, Oda Y, Naito S, Hasegawa Y (2004) Anatomical features of periprostatic tissue and its surroundings: a histological analysis of 79 radical retropubic prostatectomy specimens. Jpn J Clin Oncol 34:463–468

35.

Tewari A, Takenaka A, Mtui E, Horninger W, Peschel R, Bartsch G, Vaughan ED (2006) The proximal neurovascular plate and the tri-zonal neural architecture around the prostate gland: importance in the athermal robotic technique of nerve-sparing prostatectomy. BJU Int 98:314–323

36.

Ganzer R, Blana A, Gaumann A, Stolzenburg JU, Rabenalt R, Bach T, Wieland WF, Denzinger S (2008) Topographical anatomy of periprostatic and capsular nerves: quantification and computerised planimetry. Eur Urol 54:353–560

37.

Eichelberg C, Erbersdobler A, Michl U et al (2007) Nerve distribution along the prostatic capsule. Eur Urol 51:105–110
Ethics declarations
Conflict of interest
The authors declare that they have no conflict of interest.
Ethical approval
All procedures performed in this study were in accordance with the ethical standards of the Jichi Medical University Institutional Review Board and with the 1964 Helsinki declaration and its later amendments.
Informed consent
Informed consent for cadaver donation was obtained from every family of the cadaver.
About this article
Cite this article
Ishii, M., Shimizu, A., Lefor, A.K. et al. Reappraisal of the lateral rectal ligament: an anatomical study of total mesorectal excision with autonomic nerve preservation. Int J Colorectal Dis 33, 763–769 (2018) doi:10.1007/s00384-018-3010-1
Accepted:

Published:

Issue Date:
Keywords
Lateral rectal ligament

Total mesorectal excision

Autonomic nerve preservation

Pelvic anatomy