Abstract
Background
Total splenectomy is the most effective surgical treatment for hereditary spherocytosis (HS). Nevertheless, post-splenectomy sepsis and hypoimmunity can pose a great risk to children. Some alternative treatments have been proposed to avoid the post-splenectomy complications. In this study, we propose such a procedure (laparoscopic ligation of splenic vessels, L-LSV) for the treatment of HS in children and investigate its effectiveness and feasibility.
Materials and methods
A total of 17 children with HS who underwent the L-LSV at our hospital between May 2015 and Apr 2018 were enrolled in the current study. All patients were followed-up for 3–38 months (mean 19.8 months). The volume of spleen was preoperatively and postoperatively measured using the AW VolumeShare5. The size of functional spleen and the condition of splenic infarction were evaluated using ultrasound and computed tomography (CT) after surgery. The routine blood, biochemistry and coagulation tests were carried out after surgery.
Results
The L-LSV was successfully performed in all patients. The average operative time was 115 min (range 60–180 min). No patients underwent blood transfusion during surgery, and the length of hospital stay varied 5–9 days after surgery (mean 7 days). Postoperatively, the red blood cells, platelet and hemoglobin were significantly increased (P < 0.05). The postoperative volume of functional spleen was significantly smaller than preoperative volume of spleen (307.393 ± 177.634 cm3 vs. 581.242 ± 270.260 cm3, P = 0.000). The recent volume of functional spleen was significantly bigger than the postoperative 1 month volume of functional spleen in ten children who were followed-up for more than 1 year (P = 0.004). The index of splenic infarction (the proportion of the postoperative 1-month volume of splenic infarction in the preoperative volume of spleen) was 0.31–0.99 (mean 0.53). There were no patients undergoing the blood transfusion after surgery.
Conclusions
The L-LSV is an effective treatment for HS in children; however, future studies should re-evaluate the long-term prognosis.
This is a preview of subscription content, log in to check access.
Access options
Buy single article
Instant access to the full article PDF.
US$ 39.95
Price includes VAT for USA
Subscribe to journal
Immediate online access to all issues from 2019. Subscription will auto renew annually.
US$ 199
This is the net price. Taxes to be calculated in checkout.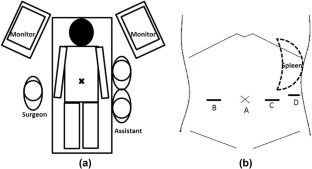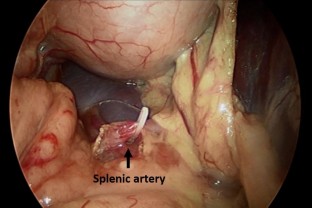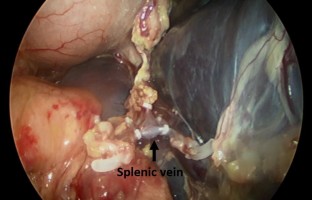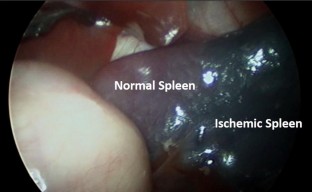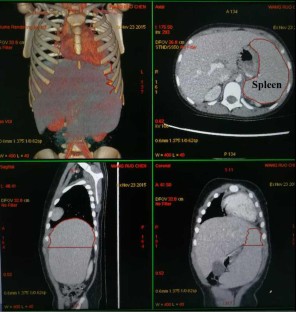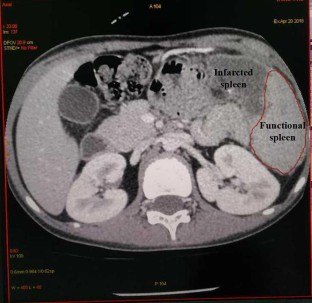 References
1.

Iolascon A, Avvisati RA, Piscopo C (2010) Hereditary spherocytosis. Transfus Clin Biol 17(3):138–142

2.

Zhang JS, Li L, Li Q, Cheng W (2016) Laparoscopic splenic vessels ligation as a treatment of hypersplenism and thrombocytopenia in children. Surg Endosc 30(9):3916–3921

3.

Leonard AS, Giebink GS, Baesl TJ, Krivit W (1980) The overwhelming postsplenectomy sepsis problem. World J Surg 4(4):423–432

4.

Boyer TD, Habib S (2015) Big spleens and hypersplenism: fix it or forget it? Liver Int 35(5):1492–1498

5.

Machado NO, Chopra PJ, Sankhla D (2010) Portal vein thrombosis postlaparoscopic splenectomy presenting with infarction of gut: review of risk factors, investigations, postoperative surveillance, and management. Surg Laparosc Endosc Percutan Tech 20(4):273–277

6.

Kristinsson SY, Gridley G, Hoover RN, Check D, Landgren O (2014) Long-term risks after splenectomy among 8149 cancer-free American veterans: a cohort study with up to 27 years follow-up. Haematologica 99(2):392–398

7.

Brigden ML, Pattullo AL (1999) Prevention and management of overwhelming postsplenectomy infection—an update. Crit Care Med 27(4):836–842

8.

Rice HE, Oldham KT, Hillery CA, Skinner MA, O'Hara SM, Ware RE (2003) Clinical and hematologic benefits of partial splenectomy for congenital hemolytic anemias in children. Ann Surg 237(2):281–288

9.

Vasilescu C, Stanciulea O, Tudor S (2012) Laparoscopic versus robotic subtotal splenectomy in hereditary spherocytosis. Potential advantages and limits of an expensive approach. Surg Endosc 26(10):2802–2809

10.

Svarch E, Vilorio P, Nordet I, Chesney A, Batista JF, Torres L et al (1996) Partial splenectomy in children with sickle cell disease and repeated episodes of splenic sequestration. Hemoglobin 20(4):393–400

11.

Manciu S, Matei E, Trandafir B (2017) Hereditary spherocytosis—diagnosis, surgical treatment and outcomes. A literature review. Chirurgia (Bucur) 112(2):110–116

12.

Pincez T, Guitton C, Gauthier F, de Lambert G, Picard V, Feneant-Thibault M et al (2016) Long-term follow-up of subtotal splenectomy for hereditary spherocytosis: a single-center study. Blood 127(12):1616–1618

13.

Bader-Meunier B, Gauthier F, Archambaud F, Cynober T, Mielot F, Dommergues JP et al (2001) Long-term evaluation of the beneficial effect of subtotal splenectomy for management of hereditary spherocytosis. Blood 97(2):399–403

14.

Tchernia G, Gauthier F, Miélot F, Dommergues JP, Yvart J, Chasis JA et al (1993) Initial assessment of the beneficial effect of partial splenectomy in hereditary spherocytosis. Blood 81(8):2014–2020

15.

de Buys Roessingh AS, de Lagausie P, Rohrlich P, Berrebi D, Aigrain Y (2002) Follow-up of partial splenectomy in children with hereditary spherocytosis. J Pediatr Surg 37(10):1459–1463

16.

Huang DJ, Huang JZ, Yang Y, Luo YC, He HY, Song WL et al (2018) Clinical application of kelp micro gelation (KMG) in partial splenic embolization. Eur Rev Med Pharmacol Sci 22(6):1776–1781

17.

Alzen G, Basedow J, Luedemann M, Berthold LD, Zimmer KP (2010) Partial splenic embolization as an alternative to splenectomy in hypersplenism, single center experience in 16 years. Klin Padiatr 222(6):368–373

18.

Kumpe DA, Rumack CM, Pretorius DH, Stoecker TJ, Stellin GP (1985) Partial splenic embolization in children with hypersplenism. Radiology 155:357–362

19.

Huang JH, Gao F, Gu YK, Li WQ, Lu LW (2007) Combined treatment of hepatocellular carcinoma with partial splenic embolization and transcatheter hepatic arterial chemoembolization. World J Gastroenterol 13(48):6593–6597

20.

Harned RK, Thompson HR, Kumpe DA, Narkewicz MR, Sokol RJ (1998) Partial splenic embolization in five children with hypersplenism: Effects of reduced-volume embolization on efficacy and morbility. Radiology 209(3):803–806

21.

Rice HE, Crary SE, Langer JC et al (2012) Comparative effectiveness of different types of splenectomy for children with congenital hemolytic anemias. J Pediatr 160:684–689
Funding
This study has received funding from National Nature Science Foundation of China (Code: 81770595).
Ethics declarations
Conflict of interest
The authors declare no conflicts of interest.
Additional information
Publisher's Note
Springer Nature remains neutral with regard to jurisdictional claims in published maps and institutional affiliations.
About this article
Cite this article
Zhang, J., Li, L. Laparoscopic ligation of splenic vessels for the treatment of hereditary spherocytosis in children. Pediatr Surg Int 36, 365–371 (2020). https://doi.org/10.1007/s00383-020-04623-1
Accepted:

Published:

Issue Date:
Keywords
Laparoscopic surgery

Ligation of splenic vessels

Children

Hereditary spherocytosis