Abstract
Purpose
Pancreatic tumors are rare in children and limited data are available regarding incidence, treatment, and outcomes. We aim to describe patient and tumor characteristics and to report on survival of these diseases.
Methods
Children with pancreatic tumors were queried from the National Cancer Database (2004–2014). The association between treatment and hazard of death was assessed using Kaplan–Meier method and Cox regression model.
Results
We identified 109 children with pancreatic tumors; 52% were male and median age at diagnosis was 14 years. Tumors were distributed as follows: pseudopapillary neoplasm (30%), endocrine tumors (27%), pancreatoblastoma (16%), pancreatic adenocarcinoma (16%), sarcoma (6%) and neuroblastoma (5%). Seventy-nine patients underwent surgery, of which 76% achieved R0 resection. Most patients (85%) had lymph nodes examined, of which 22% had positive nodes. Five-year overall survival by tumor histology was 95% (pseudopapillary neoplasm), 75% (neuroblastoma), 70% (pancreatoblastoma), 51% (endocrine tumors), 43% (sarcoma), and 34% (adenocarcinoma). On multivariable analysis, surgical resection was the strongest predictor of survival (HR 0.26, 95% CI 0.10–0.68, p < 0.01).
Conclusion
Overall survival of children with pancreatic tumors is grim, with varying survival rates among different tumors. Surgical resection is associated with improved long-term survival.
This is a preview of subscription content, log in to check access.
Access options
Buy single article
Instant access to the full article PDF.
US$ 39.95
Price includes VAT for USA
Subscribe to journal
Immediate online access to all issues from 2019. Subscription will auto renew annually.
US$ 199
This is the net price. Taxes to be calculated in checkout.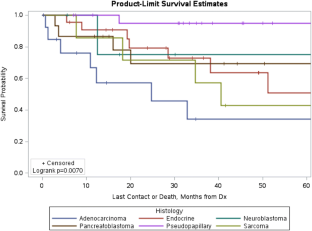 References
1.

Perez EA, Gutierrez JC, Koniaris LG, Neville HL, Thompson WR, Sola JE (2009) Malignant pancreatic tumors: incidence and outcome in 58 pediatric patients. J Pediatr Surg 44(1):197–203

2.

Brecht IB, Schneider DT, Kloppel G, von Schweinitz D, Barthlen W, Hamre MR (2011) Malignant pancreatic tumors in children and young adults: evaluation of 228 patients identified through the Surveillance, Epidemiology, and End Result (SEER) database. Klin Padiatr 223(6):341–345

3.

Shorter NA, Glick RD, Klimstra DS, Brennan MF, Laquaglia MP (1967) Malignant pancreatic tumors in childhood and adolescence: the Memorial Sloan-Kettering experience, 1967 to present. J Pediatr Surg 37(6):887–892

4.

Rojas Y, Warneke CL, Dhamne CA, Tsao K, Nuchtern JG, Lally KP et al (2012) Primary malignant pancreatic neoplasms in children and adolescents: a 20 year experience. J Pediatr Surg 47(12):2199–2204

5.

Yu DC, Kozakewich HP, Perez-Atayde AR, Shamberger RC, Weldon CB (2009) Childhood pancreatic tumors: a single institution experience. J Pediatr Surg 44(12):2267–2272

6.

Jaksic T, Yaman M, Thorner P, Wesson DK, Filler RM, Shandling B (1992) A 20-year review of pediatric pancreatic tumors. J Pediatr Surg 27(10):1315–1317

7.

Nasher O, Hall NJ, Sebire NJ, de Coppi P, Pierro A (2015) Pancreatic tumours in children: diagnosis, treatment and outcome. Pediatr Surg Int 31(9):831–835

8.

Sacco Casamassima MG, Gause CD, Goldstein SD, Abdullah F, Meoded A, Lukish JR et al (2016) Pancreatic surgery for tumors in children and adolescents. Pediatr Surg Int 32(8):779–788

9.

Muller CO, Guerin F, Goldzmidt D, Fouquet V, Franchi-Abella S, Fabre M et al (2012) Pancreatic resections for solid or cystic pancreatic masses in children. J Pediatr Gastroenterol Nutr 54(3):369–373

10.

Marchegiani G, Crippa S, Malleo G, Partelli S, Capelli P, Pederzoli P et al (2011) Surgical treatment of pancreatic tumors in childhood and adolescence: uncommon neoplasms with favorable outcome. Pancreatology 11(4):383–389

11.

National Cancer Data Base Participant User File Data Dictionary (2014) https://www.facs.org/~/media/files/quality%20programs/cancer/ncdb/puf%20data%20dictionary%20version%20puf%202014.ashx. Accessed 26 Jan 2020

12.

Mylonas KS, Nasioudis D, Tsilimigras DI, Doulamis IP, Masiakos PT, Kelleher CM (2018) A population-based analysis of a rare oncologic entity, malignant pancreatic tumors in children. J Pediatr Surg 53(4):647–652

13.

Choi SH, Kim SM, Oh JT, Park JY, Seo JM, Lee SK (2006) Solid pseudopapillary tumor of the pancreas: a multicenter study of 23 pediatric cases. J Pediatr Surg 41(12):1992–1995

14.

van den Akker M, Angelini P, Taylor G, Chami R, Gerstle JT, Gupta A (2012) Malignant pancreatic tumors in children: a single-institution series. J Pediatr Surg 47(4):681–687

15.

Wright MJ, Javed AA, Saunders T, Zhu Y, Burkhart RA, Yu J et al (2019) Surgical resection of 78 pancreatic pseudopapillary tumors: a 30-year single institutional experience. J Gastrointest Surg. https://doi.org/10.1007/s11605-019-04252-7

16.

Lin MY, Stabile BE (2010) Solid pseudopapillary neoplasm of the pancreas: a rare and atypically aggressive disease among male patients. Am Surg 76(10):1075–1078

17.

Kim MJ, Choi DW, Choi SH, Heo JS, Sung JY (2014) Surgical treatment of solid pseudopapillary neoplasms of the pancreas and risk factors for malignancy. Br J Surg 101(10):1266–1271

18.

Peranteau WH, Palladino AA, Bhatti TR, Becker SA, States LJ, Stanley CA et al (2013) The surgical management of insulinomas in children. J Pediatr Surg 48(12):2517–2524

19.

Martin RC, Klimstra DS, Brennan MF, Conlon KC (2002) Solid-pseudopapillary tumor of the pancreas: a surgical enigma? Ann Surg Oncol 9(1):35–40
Funding
This research did not receive any specific grant from funding agencies in the public, commercial, or not-for-profit sectors.
Ethics declarations
Conflict of interest
The authors declare that they have no conflict of interest in this work.
Additional information
Publisher's Note
Springer Nature remains neutral with regard to jurisdictional claims in published maps and institutional affiliations.
About this article
Cite this article
Picado, O., Ferrantella, A., Zabalo, C. et al. Treatment patterns and outcomes for pancreatic tumors in children: an analysis of the National Cancer Database. Pediatr Surg Int 36, 357–363 (2020). https://doi.org/10.1007/s00383-020-04617-z
Accepted:

Published:

Issue Date:
Keywords
Pancreatic tumors

Pediatric

Children

Survival

Treatment