Abstract
Purpose
The objective of this study was to examine the long-term outcomes of pediatric patients who underwent surgical resection for lipoblastoma and lipoblastomatosis (LB/LBM).
Methods
A single-center retrospective study of pediatric patients with LB/LBMs seen between 1991 and 2015 was conducted. A systematic review, including studies published prior to late August 2018, was performed. Using a random effect meta-analysis, pooled weighted proportions and unadjusted odds ratios (OR) with 95% confidence intervals (CI) were calculated.
Results
The retrospective study included 16 patients, while the systematic review included 19 published studies consisting of 381 patients. Among 329 (82%) patients with follow-up information, the pooled recurrence rate was 16.8% (95% CI 10.9–23.5%; I2 = 59%). The reported time to recurrence ranged from < 1 to 8 years. Recurrence risk was greater for incomplete (n = 34) than complete resection (n = 150): OR 11.4 (95% CI 3.0–43.6; I2 = 43%). LBMs (n = 35) had a greater recurrence risk than LBs (n = 116): OR 5.5 (95% CI 1.9–15.9; I2 = 0%). Recurrences were higher for studies with approximately ≥ 3 years of follow-up versus studies with < 3 years of follow-up.
Conclusion
Recurrences are more likely to occur with LBMs and/or incomplete resection. Follow-up beyond 3–5 years should be considered given that the recurrence risk appears to be greater in the long-term.
This is a preview of subscription content, log in to check access.
Access options
Buy single article
Instant unlimited access to the full article PDF.
US$ 39.95
Price includes VAT for USA
Subscribe to journal
Immediate online access to all issues from 2019. Subscription will auto renew annually.
US$ 199
This is the net price. Taxes to be calculated in checkout.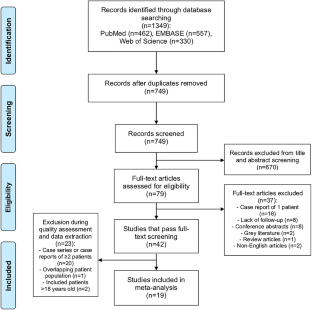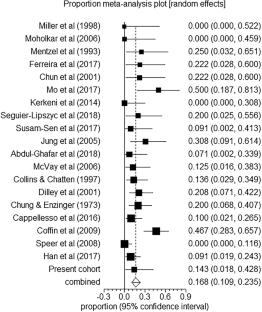 References
1.

Shen LY, Amin SM, Chamlin SL, Mancini AJ (2017) Varied presentations of pediatric lipoblastoma: case series and review of the literature. Pediatr Dermatol 34:180–186

2.

Kamal NM, Jouini R, Yahya S, Haiba M (2011) Benign intrascrotal lipoblastoma in a 4-month-old infant: a case report and review of literature. J Pediatr Surg 46:e9–e12

3.

Bancroft LW, Kransdorf MJ, Peterson JJ, O'Connor MI (2006) Benign fatty tumors: classification, clinical course, imaging appearance, and treatment. Skelet Radiol 35:719–733

4.

Yoshida H, Miyachi M, Ouchi K, Kuwahara Y, Tsuchiya K, Iehara T et al (2014) Identification of COL3A1 and RAB2A as novel translocation partner genes of PLAG1 in lipoblastoma. Genes Chromosome Cancer 53:606–611

5.

Nitta Y, Miyachi M, Tomida A, Sugimoto Y, Nakagawa N, Yoshida H et al (2019) Identification of a novel BOC-PLAG1 fusion gene in a case of lipoblastoma. Biochem Biophys Res Commun 512:49–52

6.

Gisselsson D, Hibbard MK, Dal Cin P, Sciot R, Hsi B-L, Kozakewich HP et al (2001) PLAG1 alterations in lipoblastoma: involvement in varied mesenchymal cell types and evidence for alternative oncogenic mechanisms. Am J Pathol 159:955–962

7.

Toma R, Ferris S, Coombs CJ, Johnstone BR, McCombe DB (2010) Lipoblastoma: an important differential diagnosis of tumours of the hand in children. J Plast Surg Hand Surg 44:257–259

8.

López-Ferrer P, Jiménez-Heffernan JA, Yébenes L, Vicandi B, Viguer JM (2005) Fine-needle aspiration cytology of lipoblastoma: a report of two cases. Diagn Cytopathol 32:32–34

9.

Fallon SC, Brandt ML, Rodriguez JR, Vasudevan SA, Lopez ME, Hicks MJ et al (2013) Cytogenetic analysis in the diagnosis and management of lipoblastomas: results from a single institution. J Surg Res 184:341–346

10.

Kaneyama K, Yamataka A, Okazaki T, Lane GJ, Miyano T (2006) Magnetic resonance imaging in lipoblastoma: can it be a diagnostic modality? Asian J Surg 29:198–201

11.

Reiseter T, Nordshus T, Borthne A, Roald B, Naess P, Schistad O (1999) Lipoblastoma: MRI appearances of a rare paediatric soft tissue tumour. Pediatr Radiol 29:542–545

12.

Ching A, Lee S, Chan Y (2002) Diagnosing paediatric mediastinal lipoblastoma using ultrasound-guided percutaneous needle biopsy: review and report. Clin Imaging 26:23–26

13.

Kirkham YA, Yarbrough CM, Salle JLP, Allen LM (2013) A rare case of inguinolabial lipoblastoma in a 13-month-old female. J Pediatr Urol 9:e64–e67

14.

Mognato G, Cecchetto G, Carli M, Talenti E, d'Amore E, Pederzini F et al (2000) Is surgical treatment of lipoblastoma always necessary? J Pediatr Surg 35:1511–1513

15.

Pham NS, Poirier B, Fuller SC, Dublin AB, Tollefson TT (2010) Pediatric lipoblastoma in the head and neck: a systematic review of 48 reported cases. Int J Pediatr Otorhinolaryngol 74:723–728

16.

Moher D, Liberati A, Tetzlaff J, Altman DG (2009) Preferred reporting items for systematic reviews and meta-analyses: the PRISMA statement. Ann Intern Med 151:264–269

17.

Slim K, Nini E, Forestier D, Kwiatkowski F, Panis Y, Chipponi J (2003) Methodological index for non-randomized studies (MINORS): development and validation of a new instrument. ANZ J Surg 73:712–716

18.

Hashimoto S, Kikuta K, Sekita T, Nakayama R, Takayama S, Sasaki A et al (2017) A giant popliteal lipoblastoma in a 23-month-old girl: a case report. J Med Case Rep 11:338

19.

DerSimonian R, Laird N (1986) Meta-analysis in clinical trials. Control Clin Trials 7:177–188

20.

Cummings P (2009) The relative merits of risk ratios and odds ratios. Arch Pediatr Adolesc Med 163:438–445

21.

Hozo SP, Djulbegovic B, Hozo I (2005) Estimating the mean and variance from the median, range, and the size of a sample. BMC Med Res Methodol 5:13

22.

Hicks J, Dilley A, Patel D, Barrish J, Zhu SH, Brandt M (2001) Lipoblastoma and lipoblastomatosis in infancy and childhood: histopathologic, ultrastructural, and cytogenetic features. Ultrastruct Pathol 25:233–321

23.

Kok KY, Telisinghe P (2010) Lipoblastoma: clinical features, treatment, and outcome. World J Surg 34:1517–1522

24.

de Saint Aubain Somerhausen N, Coindre JM, Debiec-Rychter M, Delplace J, Sciot R (2008) Lipoblastoma in adolescents and young adults: report of six cases with FISH analysis. Histopathology 52:294–298

25.

Abdul-Ghafar J, Ahmad Z, Tariq MU, Kayani N, Uddin N (2018) Lipoblastoma: a clinicopathologic review of 23 cases from a major tertiary care center plus detailed review of literature. BMC Res Notes 11:42

26.

Cappellesso R, d'Amore ES, Dall'Igna P, Guzzardo V, Vassarotto E, Rugge M et al (2016) Immunohistochemical expression of p16 in lipoblastomas. Hum Pathol 47:64–69

27.

Chun YS, Kim WK, Park KW, Lee SC, Jung SE (2001) Lipoblastoma. J Pediatr Surg 36:905–907

28.

Chung E, Enzinger F (1973) Benign lipoblastomatosis. An analysis of 35 cases. Cancer 32:482–492

29.

Coffin CM, Lowichik A, Putnam A (2009) Lipoblastoma (LPB): a clinicopathologic and immunohistochemical analysis of 59 cases. Am J Surg Pathol 33:1705–1712

30.

Collins MH, Chatten J (1997) Lipoblastoma/lipoblastomatosis: a clinicopathologic study of 25 tumors. Am J Surg Pathol 21:1131–1137

31.

Dilley AV, Patel DL, Hicks MJ, Brandt ML (2001) Lipoblastoma: pathophysiology and surgical management. J Pediatr Surg 36:229–231

32.

Ferreira J, Esteves G, Fonseca R, Martins C, André S, Lemos MM (2017) Fine-needle aspiration of lipoblastoma: cytological, molecular, and clinical features. Cancer Cytopathol 125:934–939

33.

Han JW, Kim H, Youn JK, Oh C, Jung SE, Park KW et al (2017) Analysis of clinical features of lipoblastoma in children. Pediatr Hematol Oncol 34:212–220

34.

Jung S-M, Chang P-Y, Luo C-C, Huang C-S, Lai J-Y, Hsueh C (2005) Lipoblastoma/lipoblastomatosis: a clinicopathologic study of 16 cases in Taiwan. Pediatr Surg Int 21:809–812

35.

Kerkeni Y, Sahnoun L, Ksia A, Hidouri S, Chahed J, Krichen I et al (2014) Lipoblastoma in childhood: about 10 cases. Afr J Paediatr Surg 11:32–34

36.

McVay MR, Keller JE, Wagner CW, Jackson RJ, Smith SD (2006) Surgical management of lipoblastoma. J Pediatr Surg 41:1067–1071

37.

Mentzel T, Calonje E, Fletcher C (1993) Lipoblastoma and lipoblastomatosis: a clinicopathological study of 14 cases. Histopathology 23:527–533

38.

Miller GG, Yanchar NL, Magee JF, Blair GK (1998) Lipoblastoma and liposarcoma in children: an analysis of 9 cases and a review of the literature. Can J Surg 41:455–458

39.

Mo Z, Xie X, Wang H, Qin H, Wei H, Li X (2017) Analysis of diagnosis and treatment of lipoblastomatosis. Sci China Life Sci 60:778–780

40.

Moholkar S, Sebire NJ, Roebuck DJ (2006) Radiological–pathological correlation in lipoblastoma and lipoblastomatosis. Pediatr Radiol 36:851–856

41.

Séguier-Lipszyc E, Baazov A, Fichman S, Ash S, Freud E (2018) Current management of lipoblastoma. Eur J Pediatr 177:237–241

42.

Speer AL, Schofield DE, Wang KS, Shin CE, Stein JE, Shaul DB et al (2008) Contemporary management of lipoblastoma. J Pediatr Surg 43:1295–1300

43.

Susam-Sen H, Yalcin B, Kutluk T, Cahit Tanyel F, Haliloglu M, Orhan D et al (2017) Lipoblastoma in children: review of 12 cases. Pediatr Int 59:545–550

44.

Koo TK, Li MY (2016) A guideline of selecting and reporting intraclass correlation coefficients for reliability research. J Chiropr Med 15:155–163

45.

Patel RV, Zani A, Panteli C, Pierro A (2014) Giant gluteal lipoblastoma associated with hepatic haemangioma and bilateral nephromegaly. BMJ Case Rep. https://doi.org/10.1136/bcr-2013-200681

46.

Shi Y, Yang K, Zhang M, Yi C, Yu J (2019) Lipoblastoma of the left kidney: a case report and review of literature. Ann Transl Med 7:150

47.

Fanna M, Rougemont A-L, Arni D, Toso C, Anooshiravani-Dumont M, Wildhaber BE (2019) Giant intrahepatic lipoblastoma in a child. J Pediatr 210:235–236.e1
Acknowledgements
We would like to thank Cynthia J. Beeler, MLIS for her assistance with developing the electronic search strategy. We would also like to thank Dr. Suhail Zeineddin, MD for reviewing an early abstract of the manuscript.
Funding
None.
Ethics declarations
Conflict of interest
The authors have no conflicts of interest, financial or otherwise, to disclose. No grant funding was used to support this research. The study was presented at the Minnesota Surgical Society 2019 Fall Conference (Minneapolis, MN, October 4, 2019) as an oral presentation.
Additional information
Publisher's Note
Springer Nature remains neutral with regard to jurisdictional claims in published maps and institutional affiliations.
Electronic supplementary material
Below is the link to the electronic supplementary material.
About this article
Cite this article
Dao, D., Najor, A.J., Sun, P.Y. et al. Follow-up outcomes of pediatric patients who underwent surgical resection for lipoblastomas or lipoblastomatosis: a single-institution experience with a systematic review and meta-analysis. Pediatr Surg Int (2020) doi:10.1007/s00383-019-04612-z
Keywords
Lipoblastoma

Lipoblastomatosis

Recurrence

Pediatric surgery

Systematic review

Meta-analysis