Abstract
A cavernomatous transformation of the extrahepatic portion of the portal vein is a common cause of chronic portal hypertension in children. A few attempts at radiological interventions have been reported, but have rarely been successful. In this report, a surgical Meso-Rex bypass was performed to treat complicated prehepatic portal hypertension, after the insertion of an intrahepatic stent for portosystemic shunting had failed. The review of this case nicely illustrates how differently effective are these two shunting procedures—in terms of restoring hepatopetal flow, managing portal hypertension, and establishing—or not—portosystemic connections.
This is a preview of subscription content, log in to check access.
Access options
Buy single article
Instant unlimited access to the full article PDF.
US$ 39.95
Price includes VAT for USA
Subscribe to journal
Immediate online access to all issues from 2019. Subscription will auto renew annually.
US$ 199
This is the net price. Taxes to be calculated in checkout.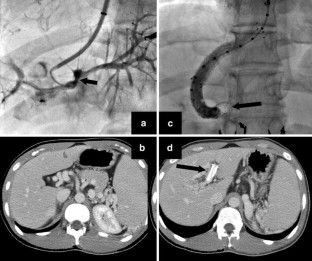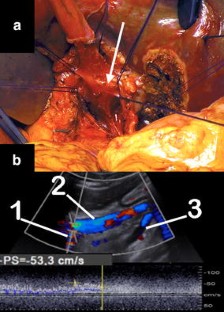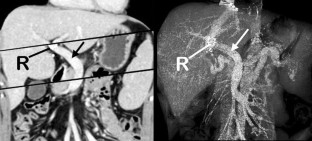 Abbreviations
USD:

Ultrasound Doppler

PV:

Portal vein

CT:

Computed tomography

MR:

Magnetic resonance

TIPSS:

Transjugular intrahepatic portosystemic stent shunting

WBC:

White cells count

INR:

International normalised ratio

PTT:

Partial thromboplastin time

PT:

Prothrombin time

MRB:

Meso-Rex bypass

PHPH:

Prehepatic portal hypertension

PSS:

Portosystemic shunts
References
1.

Japanese Research Society for Portal Hypertension (1980) The general rules for recording endoscopic findings on esophageal varices. Jpn J Surg 10:84–87

2.

di Francesco F, Grimaldi C, de Ville de Goyet J (2014) Meso-Rex bypass—a procedure to cure prehepatic portal hypertension: the insight and the inside. J Am Coll Surg 218:23–36

3.

de Ville de Goyet J, Clapuyt P, Otte JB (1992) Extrahilar mesenterico-left portal shunt to relieve extrahepatic portal hypertension after partial liver transplant. Transplantation 53:231–322

4.

de Ville de Goyet J, Alberti D, Clapuyt P et al (1998) Direct bypassing of extrahepatic portal venous obstruction in children: a new technique for combined hepatic portal revascularization and treatment of extrahepatic portal hypertension. J Pediatr Surg 33:597–601

5.

Sharif K, Mckiernan P, de Ville de Goyet J (2010) Mesoportal bypass for extrahepatic portalvein obstruction in children: close to a cure for most! J Pediatr Surg 45:272–276

6.

Lautz TB, Keys LA, Melvin JC et al (2013) Advantages of the Meso-Rex Bypass compared with portosystemic shunts in the management of extrahepatic portal vein obstruction in children. J Am Coll Surg 216:83–89

7.

Weiss B, Shteyer E, Vivante A, Berkowitz D, Reif S, Weizman Z, Bujanover Y, Shapiro R (2010) Etiology and long-term outcome of extrahepaticportal vein obstruction in children. World J Gastroenterol 16:4968–4972

8.

Bertocchini A, Falappa P, Grimaldi C et al (2014) Intrahepatic portal venous systems in children with non-cirrhotic pre-hepatic portal hypertension: anatomy and clinical relevance. J Pediatr Surg 49:1268–1275

9.

de Ville de Goyet J, d'Ambrosio G, Grimaldi C (2012) Surgical management of portal hypertension in children. Semin Pediatr Surg 21:219–232

10.

Gauthier F (2005) Recent concepts regarding extra-hepatic portal hypertension. Semin Pediatr Surg 14:216–225

11.

Cwikiel W, Keussen I, Larsson L, Solvig J, Kullendorff CM (2003) Interventional treatment of children with portal hypertension secondary to portal vein occlusion. Eur J Pediatr Surg 13:312–318

12.

Semiz-Oysu A, Keussen I, Cwikiel W (2007) Interventional radiological management of prehepatic obstruction the splanchnic venous system. Cardiovasc Interv Radiol 30:688–695

13.

Shneider BL, Bosch J, de Franchis R, Emre SH, Groszmann RJ, Ling SC et al (2012) Portal hypertension in children: expert pediatric opinion on the report of the Baveno v Consensus Workshop on Methodology of Diagnosis and Therapy in Portal Hypertension. Pediatr Transplant 16:426–437

14.

Superina R, Shneider B, Emre S, Sarin S, de Ville de Goyet J (2006) Surgical guidelines for the management of extra-hepatic portal vein obstruction. Pediatr Transplant 10:908–913

15.

Superina RA, de Ville de Goyet J (2014) Preemptive Meso-Rex bypass for children with idiopathic prehepatic portal hypertension: trick or treat? J Pediatr Gastroenterol Nutr 58:e41

16.

Gehrke I, John P, Blundell J, Pearson L, Williams A, de Ville de Goyet J (2003) Meso-portal bypass in children with portal vein thrombosis: rapid increase of the intrahepatic portal venous flow after direct portal hepatic reperfusion. J Pediatr Surg 38:1137–1140

17.

Mack CL, Superina RA, Whitington PF (2003) Surgical restoration of portal flow corrects procoagulant and anticoagulant deficiencies associated with extrahepatic portal vein thrombosis. J Pediatr 142:197–199
Conflict of interests
All of the authors contributed to this analysis, and to the manuscript, at various degrees of assistance. All approved the final manuscript, and all agreed to be associated as authors. The authors declare no conflict of interest.
Ethical standards
This study was conducted retrospectively, with the consent of the patient's family, and after the patient had been cared for, according to the standard rules of care, and in his best interest. Full information was given and a family consent was obtained, wherever it was necessary for the care. Because it was a retrospective collection of existing data, and because they were anonymised, no ethical committee approval was requested (as per the 1964 Declaration of Helsinki and its later amendments).
Electronic supplementary material
Below is the link to the electronic supplementary material.
Supplementary material 1 (MPG 30308 kb)
Supplementary material 2 (MPG 29756 kb)
Supplementary material 3 (MPG 29546 kb)
VIDEO ONLINE RESOURCES
ESM_1 Online Resource 1: Abdominal computer tomographic aspect, after thrombosis of the intrahepatic stent, and before the Meso-Rex Bypass (axial plane view).
ESM_2 Online Resource 2: Abdominal computer tomographic aspect, 4 years after the Meso-Rex Bypass (coronal plane view).
ESM_3 Online Resource 3: Abdominal computer tomographic aspect, 4 years after the Meso-Rex Bypass (axial plane view).
About this article
Cite this article
di Francesco, F., Monti, L., Grimaldi, C. et al. Meso-Rex bypass to manage prehepatic portal hypertension after the failure of an intrahepatic portosystemic stent shunting. Pediatr Surg Int 31, 101–105 (2015) doi:10.1007/s00383-014-3640-5
Accepted:

Published:

Issue Date:
Keywords
Extrahepatic portal hypertension

Transjugular intrahepatic portosystemic shunt

Complications

Surgical technique

Meso-Rex bypass