Abstract
Previous studies indicated that the spring Arctic Oscillation (AO) is an important extratropical forcing of the occurrence of El Niño-Southern Oscillation (ENSO) in the following winter. This study reveals an interdecadal weakening in the spring AO-winter ENSO connection around the early-1990s and investigates the reason of this change. Before the early-1990s, in association with the positive phase of the spring AO, an anomalous anticyclone appears over the mid-latitude North Pacific, accompanied by an anomalous cyclone over the subtropical North Pacific that is supported by the wave-mean flow interaction. Correspondingly, the sea surface temperature (SST) warming and its associated positive precipitation anomalies develop over the subtropical North Pacific, which play a crucial role in forming and maintaining the westerly wind anomalies over the tropical western Pacific (TWP) from spring to the following summer. The TWP westerly wind anomalies would induce the El Niño event in the following winter. After the early-1990s, by contrast, the Pacific component of the circulation anomalies related to the spring AO is weak and shifts northward. This is followed by weak anomalies of SST and precipitation over the subtropical North Pacific, as well as weak TWP westerly wind anomalies from spring to the following summer. Hence, the spring AO-winter ENSO connection is weak after the early-1990s. The change of the spring AO associated circulation anomalies over the North Pacific around the early-1990s tends to be related to the interdecadal change in the intensity of the Aleutian Low.
This is a preview of subscription content, log in to check access.
Access options
Buy single article
Instant unlimited access to the full article PDF.
US$ 39.95
Price includes VAT for USA
Subscribe to journal
Immediate online access to all issues from 2019. Subscription will auto renew annually.
US$ 199
This is the net price. Taxes to be calculated in checkout.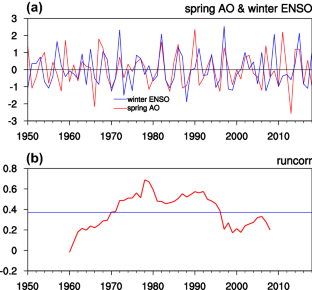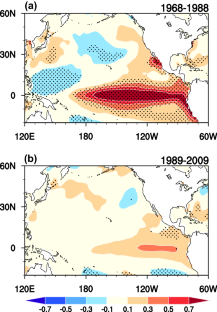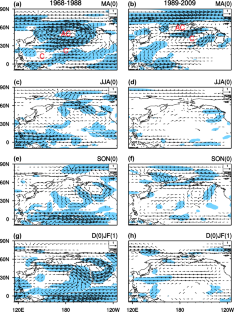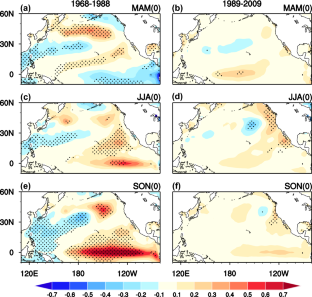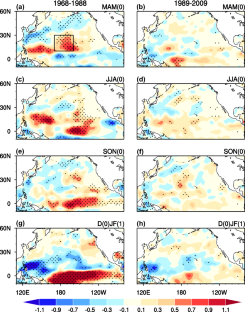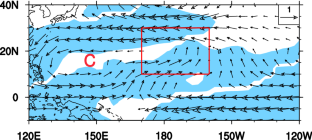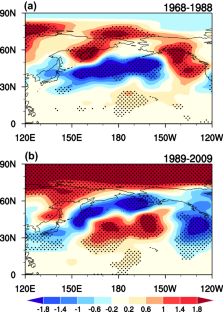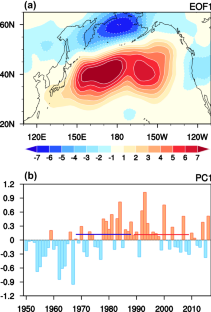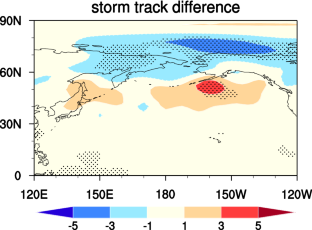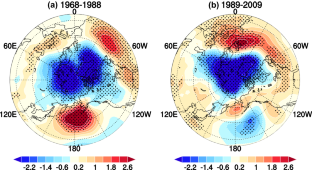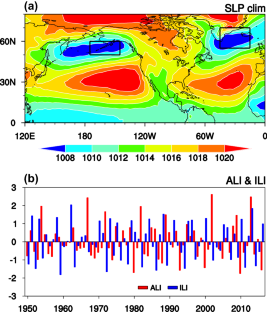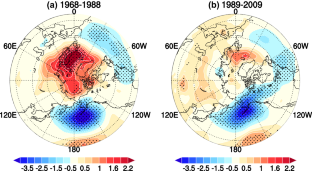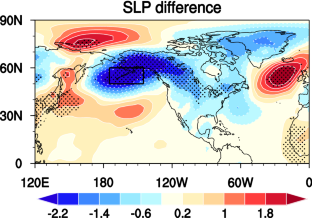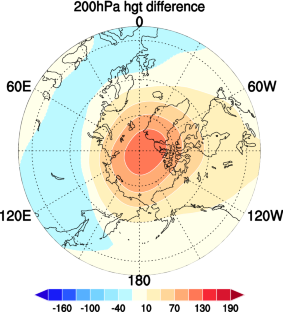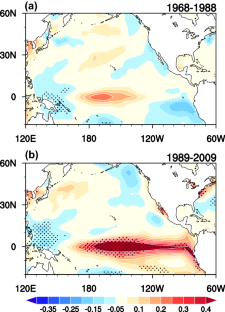 References
Alexander MA, Bladé I, Newman M, Lanzante JR, Lau N-C, Scott JD (2002) The atmospheric bridge: the influence of ENSO teleconnections on air–sea interaction over the global oceans. J Clim 15(16):2205–2231

Alexander MA, Vimont DJ, Chang P, Scott JD (2010) The impact of extratropical atmospheric variability on ENSO: testing the seasonal footprinting mechanism using coupled model experiments. J Clim 23:2885–2901

Barnett T (1983) Interaction of the monsoon and Pacific trade wind system at interannual time scales Part I: the equatorial zone. Monthly Weather Rev 111:756–773

Barnett T, Dümenil L, Schlese U, Roeckner E, Latif M (1989) The effect of Eurasian snow cover on regional and global climate variations. J Atmos Sci 46(5):661–686

Battisi DS, Hirst AG (1989) Interannual variability in a tropical atmosphere-ocean model: influence of the basic state, ocean geometry and nonlinearly. J Atmos Sci 46:1687–1712

Bjerknes J (1969) Atmospheric teleconnections from the equatorial Pacific. Monthly Weather Rev 97:163–172

Castanheira JM, Graf HF (2003) North Pacific-North Atlantic relationships under stratospheric control? J Geophys Res 108(D1):4036. https://doi.org/10.1029/2002JD002754

Chan JCL, Zhou W (2005) PDO, ENSO and the early summer monsoon rainfall over South China. Geophys Res Lett 32:L08810. https://doi.org/10.1029/2004GRL022015

Chen S, Song L (2018) The leading interannual variability modes of winter surface air temperature over Southeast Asia. Clim Dyn 52:4715–4734. https://doi.org/10.1007/s00382-018-4406-x

Chen W, Wei K (2009) Interannual variability of the winter stratospheric polar vortex in the Northern Hemisphere and their relations to QBO and ENSO. Adv Atmos Sci 26:855–863

Chen S, Chen W, Yu B, Graf HF (2013) Modulation of the seasonal footprinting mechanism by the boreal spring Arctic Oscillation. Geophys Res Lett 40:6384–6389. https://doi.org/10.1002/2013GL058628

Chen S, Yu B, Chen W (2014) An analysis on the physical process of the influence of AO on ENSO. Clim Dyn 42(3–4):973–989

Chen S, Yu B, Chen W (2015a) An interdecadal change in the influence of the spring Arctic Oscillation on the subsequent ENSO around the early 1970s. Clim Dyn 44(3–4):1109–1126

Chen S, Wu R, Chen W (2015b) The changing relationship between interannual variations of the North Atlantic Oscillation and northern tropical Atlantic SST. J Clim 28:485–504. https://doi.org/10.1175/JCLI-D-14-00422.1

Chen S, Wu R, Chen W, Yu B, Cao X (2016) Genesis of westerly wind bursts over the equatorial western Pacific during the onset of the strong 2015–2016 El Niño. Atmos Sci Lett. https://doi.org/10.1002/asl.669

Chen L, Tim L, Wang B, Wang L (2017a) Formation mechanism for 2015/16 super El Niño. Sci Rep 7:2975

Chen S, Chen W, Yu B (2017b) The influence of boreal spring Arctic Oscillation on the subsequent winter ENSO in CMIP5 models. Clim Dyn 48:2949–2965. https://doi.org/10.1007/s00382-016-3243-z

Chen S, Yu B, Chen W, Wu R (2018a) A review of atmosphere-ocean forcings outside the tropical Pacific on the El Nino-Southern Oscillation occurrence. Atmosphere 9:439. https://doi.org/10.3390/atmos9110439

Chen S, Chen W, Yu B (2018b) Modulation of the relationship between spring AO and the subsequent winter ENSO by the preceding November AO. Sci Rep 8:6943. https://doi.org/10.1038/s41598-018-25303-0

Cheung HN, Zhou W, Mok HY, Wu MC (2012) Relationship between Ural-Siberian blocking and East Asian winter monsoon in relation to Arctic oscillation and El Niño/Southern Oscillation. J Clim 25:4242–4257

Chiang JCH, Vimont DJ (2004) Analogous Pacific and Atlantic meridional modes of tropical atmosphere–ocean variability. J Clim 17:4143–4158

Ding RQ, Li JP, Tseng YH (2015) The impact of South Pacific extratropical forcing on ENSO and comparisons with the North Pacific. Clim Dyn 44:2017–2034. https://doi.org/10.1007/s00382-014-2303-5

Ding RQ, Li JP, Tseng YH, Ha KJ, Zhao S, Lee JY (2016) Interdecadal change in the lagged relationship between the Pacific-South American pattern and ENSO. Clim Dyn 47:2867–2884. https://doi.org/10.1007/s00382-016-3002-1

Duchon CE (1979) Lanczos filtering in one and two dimensions. J Appl Meteorol 18:1016–1022

Gill AE (1980) Some simple solutions for heat-induced tropical circulation. Quart J R Meteorol Soc 106:447–462

Gong DY, Yang J, Kim SJ, Gao YQ, Guo D, Zhou TJ, Hu M (2011) Spring Arctic Oscillation-East Asian summer monsoon connection through circulation changes over the western North Pacific. Clim Dyn 37:2199–2216

Honda M, Nakamura H (2001) Interannual seesaw between the Aleutian and Icelandic lows. Part II: its significance in the interannual variability over the wintertime Northern Hemisphere. J Clim 14:4512–4529. https://doi.org/10.1175/1520-0442(2001)014%3c4512:ISBTAA%3e2.0.CO;2

Hu M, Gong DY, Mao R (2013) Possible influence of February–April Arctic Oscillation on the ITCZ activity of western-central Pacific. J Trop Meteorol 29:55–65 (in Chinese)

Huang RH, Zhou L (2002) Research on the characteristics, formation mechanism and prediction of severe climate disasters in China (in Chinese). J Nat Disasters 11:1–9

Huang RH, Zhang R, Yan B (2001) Dynamical effect of the zonal wind anomalies over the tropical western Pacific on ENSO cycles. Sci Chin Ser D Earth Sci 44(12):1089–1098

Huang R, Chen W, Yang B, Zhang R (2004) Recent advances in studies of the interaction between the East Asian winter and summer monsoons and ENSO cycle. Adv Atmos Sci 21(3):407–424

Huang RP, Chen S, Chen W, Hu P (2018) Interannual variability of regional Hadley circulation intensity over western Pacific during boreal winter and its climatic impact over Asia- Australia region. J Geophys Res Atmos 123:344–366. https://doi.org/10.1002/2017JD027919

Jin FF (1997) An equatorial ocean recharge paradigm for ENSO. Part I: conceptual model. J Atmos Sci 54:811–829

Kalnay E, Kanamitsu M, Kistler R, Collins W, Deaven D, Gandin L, Iredell M, Saha S, White G, Woollen J (1996) The NCEP/NCAR 40-year reanalysis project. Bull Am Meteorol Soc 77:437–471

Lau NC (1988) Variability of the observed midlatitude storm tracks in relation to low- frequency changes in the circulation pattern. J Atmos Sci 45:2718–2743

Lee SS, Lee JY, Wang B, Ha KJ, Heo KY, Jin FF, Straus DM, Shukla J (2012) Interdecadal changes in the storm track activity over the North Pacific and North Atlantic. Clim Dyn 39:313–327

Lengaigne M, Guilyardi E, Boulanger JP, Menkes C, Delecluse P, InnessP CJ, Slingo J (2004) Triggering of El Niño by westerly wind events in a coupled general circulation model. Clim Dyn 23:601–620. https://doi.org/10.1007/s00382-004-0457-2

Li CY (1990) Interaction between anomalous winter monsoon in East Asia and EI Niño Events. Adv Atmos Sci 7:36. https://doi.org/10.1007/BF02919166

Limpasuvan V, Hartmann DL (1999) Eddies and the annular modes of climate variability. Geophys Res Lett 26:3133–3136

Limpasuvan V, Hartmann DL (2000) Wave-maintained annular modes of climate variability. j clim 13:4414–4429

Linkin ME, Nigam S (2008) The north pacific oscillation-west Pacific teleconnection pattern: mature-phase structure and winter impacts. J Clim 21:1979–1997

Lorenz DJ, Hartmann DL (2003) Eddy-zonal flow feedback in the Northern Hemisphere winter. J Clim 16:1212–1227

McPhaden MJ (2004) Evolution of the 2002–2003 El Niño. Bull Am Meteorol Soc 85:677–695

Nakamura T, Tachibana Y, Honda M, Yamane S (2006) Influence of the Northern Hemisphere annular mode on ENSO by modulating westerly wind bursts. Geophys Res Lett 33:L07709. https://doi.org/10.1029/2005GL025432

Nakamura T, Tachibana Y, Shimoda H (2007) Importance of cold and dry surges in substantiating the NAM and ENSO relationship. Geophys Res Lett 34:L22703. https://doi.org/10.1029/2007GL031220

Neelin JD, Battisti DS, Hirst AC, Jin FF, Wakata Y, Yamagata T, Zebiak SE (1998) ENSO theory. J Geophys Res 103:14261–14290

North GR, Moeng FJ, Bell TL, Cahalan RF (1982) The latitude dependence of the variance of zonally averaged quantities. Monthly Weather Rev 110:319–326. https://doi.org/10.1175/1520-0493(1982)110%3c0319:TL.V%3e2.0.CO;2

Philander SG (1990) El Niño, La Niña, and the Southern Oscillation. Academic Press, London

Schopf PS, Suarez MJ (1988) Vacillations in a coupled ocean-atmosphere model. J Atmos Sci 45:549–566

Shi N, Nakamura H (2014) Multi-decadal modulations in the Aleutian-Icelandic Low seesaw and the axial symmetry of the Arctic Oscillation signature, as revealed in the 20th century reanalysis. Tellus A Dyn Meteorol Oceanograph 66(1):22660. https://doi.org/10.3402/tellusa.v66.22660

Smith TM, Reynolds RW, Peterson TC, Lawrimore J (2008) Improvements to NOAA's historical merged land-ocean surface temperature analysis (1880–2006). J Clim 21:2283–2296

Sun J, Tan B (2013) Mechanism of the wintertime Aleutian low-Icelandic low seesaw. Geophys Res Lett 40(15):4103–4108. https://doi.org/10.1002/grl.50770

Thompson DW, Wallace JM (1998) The Arctic Oscillation signature in the wintertime geopotential height and temperature fields. Geophys Res Lett 25:1297–1300

Thompson DW, Wallace JM (2000) Annular modes in the extratropical circulation. Part I: month-to-month variability. J Clim 13:1000–1016

Thompson DW, Lee S, Baldwin MP (2003) Atmospheric processesgoverning the northern hemisphere annular mode/North Atlanticoscillation. Geophys Monogr Am Geophys Union 134:81–112

Trenberth KE, Branstator G, Karoly D, Kumar A, Lau N-C, Ropelewski C (1998) Progress during TOGA in understanding and modeling global teleconnections associated with tropical sea surface temperatures. J Geophys Res 103:14291–14324

van Loon H, Rogers JC (1978) The seesaw in winter temperatures between greenland and Northern Europe. Part I: general description. Mon Weather Rev 106(3):296–310

Vimont DJ, Battisti DS, Hirst AC (2001) Footprinting: a seasonal connection between the tropics and mid-latitudes. Geophys Res Lett 28:3923–3926

Vimont DJ, Wallace JM, Battisti DS (2003) The seasonal footprinting mechanism in the Pacific: implications for ENSO. J Clim 16:2668–2675

Wang B, Wu R, Fu X (2000) Pacific-East Asian teleconnection: how does ENSO affect East Asian climate? J Clim 13(9):1517–1536

Wang X, Wang C, Zhou W, Wang D, Song J (2011) Teleconnected influence of North Atlantic sea surface temperature on the El Niño onset. Clim Dyn 37:663–676

Wang X, Wang DX, Zhou W, Li CY (2012) Interdecadal modulation of the influence of La Niña events on Mei-yu rainfall over the Yangtze River Valley. Adv Atmos Sci 29:157–168

Wu R, Hu ZZ, Kirtman BP (2003) Evolution of ENSO-related rainfall anomalies in East Asia. J Clim 16:3742–3758

Wu W, Wen ZP, Wu RG, Wang TM (2011) Air-sea interaction over the subtropical North Pacific during the ENSO transition phase. J Clim 24:5772–5785

Xie SP, Philander SGH (1994) A coupled ocean-atmosphere model of relevance to the ITCZ in the eastern Pacific. Tellus A 46:340–350

Yu JY, Lu MM, Kim ST (2012) A change in the relationship between tropical central Pacific SST variability and the extratropical atmosphere around 1990. Environ Res Lett 7:034025

Zhang W, Wang Y, Jin FF, Stuecker MF, Turner AG (2015) Impact of different El Niño types on the El Niño/IOD relationship. Geophys Res Lett 42:8570–8576

Zhou P, Suo L, Yuan J, Tan B (2012) The East Pacific wave train: its variability and impact on the atmospheric circulation in the boreal winter. Adv Atmos Sci 29:471–483. https://doi.org/10.1007/s00376-011-0216-3
Acknowledgements
We thank two anonymous reviewers for their constructive suggestions, which helped to improve the paper. This study is jointly supported by the National Natural Science Foundation of China grants (41605050, 41530425, 41721004 and 41775080) and the Young Elite Scientists Sponsorship Program by CAST (2016QNRC001).
Additional information
Publisher's Note
Springer Nature remains neutral with regard to jurisdictional claims in published maps and institutional affiliations.
About this article
Cite this article
Chen, S., Wu, R., Chen, W. et al. Recent weakening of the linkage between the spring Arctic Oscillation and the following winter El Niño-Southern Oscillation. Clim Dyn 54, 53–67 (2020). https://doi.org/10.1007/s00382-019-04988-7
Received:

Accepted:

Published:

Issue Date:
Keywords
Spring Arctic Oscillation

ENSO

Interdecadal change

Early-1990s