Abstract
Background
Neurocysticercosis is the most frequent parasitic disease of the central nervous system, and its incidence in the developed countries is increasing due to immigration and travels from endemic areas. The intraventricular location has been found to involve up to 61.3% of the patients; moreover, only 22 cases of migrating intraventricular cyst have been reported so far. Despite the rarity of the condition in western countries, its occurrence generates some concerns and the aim of this paper is to update the information concerning pathogenesis, clinical presentation, diagnosis and management of this entity.
Methods and results
All the pertinent literature was analysed, focused on the cases of migrating intraventricular neurocysticercosis and its peculiar features. An illustrative case regarding a 14-year-old girl is also presented.
Conclusions
Migrating intraventricular neurocysticercosis is a pathognomonic entity usually presenting with hydrocephalus, and its treatment is mainly surgical, preferring an endoscopic approach. When the resection of the intraventricular cyst is not performed, an accurate follow-up is mandatory to detect clinical changes due to a recurrent hydrocephalus or to the effect of the dying cyst on the surrounding area. In case of permanent shunt placement, the cysticidal and steroid treatment is recommended to reduce the risk of shunt failure.
This is a preview of subscription content, log in to check access.
Access options
Buy single article
Instant unlimited access to the full article PDF.
US$ 39.95
Price includes VAT for USA
Subscribe to journal
Immediate online access to all issues from 2019. Subscription will auto renew annually.
US$ 199
This is the net price. Taxes to be calculated in checkout.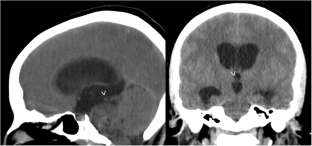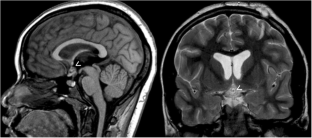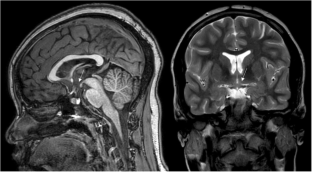 Abbreviations
CISS:

Constructive interference in steady-state

CSF:

Cerebrospinal fluid

CT:

Computed tomography

ETV:

Endoscopic third ventriculostomy

EVD:

External ventricular drain

FIESTA:

Fast imaging employing steady-state acquisition

GCS:

Glasgow Coma Scale

ICP:

Intracranial pressure

MRI:

Magnetic resonance imaging

VPS:

Ventriculoperitoneal shunt
References
1.

Apuzzo ML, Dobkin WR, Zee CS, Chan JC, Giannotta SL, Weiss MH (1984) Surgical considerations in treatment of intraventricular cysticercosis. J Neurosurg 60:400–407

2.

Bergsneider M, Holly LT, Lee JH, King WA, Frazee JG (2000) Endoscopic management of cysticercal cysts within the lateral and third ventricles. J Neurosurg 92:14–23

3.

Buxton N, Punt J (2000) Cerebral infarction after neuroendoscopic third ventriculostomy: case report. Neurosurg 46:99–1001

4.

Chowdhary A, Abel TJ, Gabikian P, Britz GW (2010) Resolution of acute hydrocephalus and migration of neurocysticercosis cyst with external ventricular drainage. Case Rep Med 2010:3–6

5.

Citow JS, Johnson JP, McBride DQ, Ammirati M (2002) Imaging features and surgery-related outcomes in intraventricular neurocysticercosis. Neurosurg Focus 12:e6

6.

Colli BO, Martelli N, Assirati JA, Machado HR, de Vergueiro FS (1986) Results of surgical treatment of neurocysticercosis in 69 cases. J Neurosurg 65:309–315

7.

Cuetter AC, Andrews RJ (2002) Intraventricular neurocysticercosis: 18 consecutive patients and review of the literature. Neurosurg Focus 12:e5

8.

Cuetter AC, Garcia-Bobadilla J, Guerra LG, Martinez FM, Kaim B (2002) Neurocysticercosis: focus on intraventricular disease. Clin Infect Dis 24:157–164

9.

De Araujo AL, Rodrigues RS, Marchiori E, Pinheiro RA, Flores M, Alves JRD et al (2008) Migrating intraventricular cysticercosis: magnetic resonance imaging findings. Arq Neuropsiquiatr 66:111–113

10.

Del Brutto OH, Sotelo J (1990) Albendazole therapy for subarachnoid and ventricular cysticercosis. Case report J Neurosurg 72:816–817

11.

Del Brutto OH, Nash TE, White AC, Rajshekhar V, Wilkins PP, Singh G et al (2017) Revised diagnostic criteria for neurocysticercosis. J Neurol Sci 372:202–210

12.

Dhiman R, Sharma M, Sethi A, Sharma S, Kumar A, Saxena R (2017) A rare case of Bruns syndrome with bilateral superior oblique palsy and dorsal midbrain syndrome. J AAPOS 21:167–170

13.

Estañol B, Kleriga E, Loyo M, Mateos H, Lombardo L, Gordon F et al (1983) Mechanisms of hydrocephalus in cerebral cysticercosis: implications for therapy. Neurosurg 13:119–123

14.

Garcia HH, Del Brutto OH, Nash TE, White AC, Tsang VC, Gilman RH (2005) New concepts in the diagnosis and management of neurocysticercosis (Taenia solium). Am J Trop Med Hyg 72:3–9

15.

Ghosh S, Al-Khalili R, Liu JK, Slasky SE (2014) Paradoxical migrating cyst: an unusual presentation of intraventricular neurocysticercosis with a coincidental pituitary adenoma. J Clin Neurosci 21:1066–1068

16.

Goel RK, Ahmad FU, Vellimana AK, Suri A, Chandra PS, Kumar R, Sharma BS, Mahapatra AK (2008) Endoscopic management of intraventricular neurocysticercosis. J Clin Neurosci 15:1096–1101

17.

Gupta A, Nadimpalli SPR, Cavallino RP (2002) Intraventricular neurocysticercosis mimicking colloid cyst. J Neurosurg 97:208–210

18.

Hajek J, Keystone J (2009) Intraventricular neurocysticercosis managed with albendazole and dexamethasone. Can J Neurol Sci 36:102–104

19.

Husain M, Jha DK, Rastogi M, Husain N, Gupta RK (2007) Neuro-endoscopic management of intraventricular neurocysticercosis (NCC). Acta Neurochir 149:341–346

20.

Jensen TO, Post JJ (2016) Intraventricular neurocysticercosis: presentation, diagnosis and management. Asian Pac J Trop Med 9:815–818

21.

Kelley R, Duong DH, Locke GE (2002) Characteristics of ventricular shunt malfunctions among patients with neurocysticercosis. Neurosurg 50:757–762

22.

Khalid S, Obaid A, Sharma R, Mahmood A, Narayanasamy S (2016) Intraventricular migration of an isolated fourth ventricular cysticercus following cerebrospinal fluid shunting. Surg Neurol Int 7:952

23.

Kotha VK (2013) Migration of intraventricular neurocysticercus after ventriculostomy. Asian J Neurosurg 8:54

24.

Kramer J, Carrazana EJ, Cosgrove GR, Kleefield J, Edelman RR (1992) Transaqueductal migration of a neurocysticercus cyst. J Neurosurg 77:956–958

25.

Lobato RD, Lamas E, Portillo JM, Roger R, Esparza J, Rivas JJ et al (1981) Hydrocephalus in cerebral cysticercosis. Pathogenic and therapeutic considerations. J Neurosurg 55:786–793

26.

Longatti P, Basaldella L, Feletti A, Fiorindi A, Billeci D (2005) Endoscopic navigation of the fourth ventricle. Technical note and preliminary experience. Neurosurg Focus 19:E12

27.

Longatti P, Fiorindi A, Perin A, Martinuzzi A (2007) Endoscopic anatomy of the cerebral aqueduct. Neurosurg 61:1–5

28.

Madrazo I, García-Rentería JA, Sandoval M, López Vega FJ (1983) Intraventricular cysticercosis. Neurosurg 12:148–152

29.

Martinez HR, Rangel-Guerra R, Arrendondo-Estrada JH, Marfil A, Onofre J (1995) Medical and surgical treatment in neurocysticercosis: a MR study in 161 cases. J Neurol Sci 130:25–34

30.

Matushita H, Pinto FCG, Cardeal DD, Teixeira MJ (2011) Hydrocephalus in neurocysticercosis. Childs Nerv Syst 27:1709–1721

31.

McCormick GF (1958) Cysticercosis-review of 230 patients. Bull Clin Neurosci 50:76–101

32.

McLaughlin MR, Wahlig JB, Kaufmann AM, Albright AL (1998) Traumatic basilar aneurysm after endoscopic third ventriculostomy: case report [2] (multiple letters). Neurosurg 43:647–648

33.

Medina MT, Degiorgio CM (2002) Introduction to neurocysticercosis: a worldwide epidemic. Neurosurg Focus 12:1–1

34.

Osborn AG, Hedlund G, Salzman KL (2017) Osborn's brain. Elsevier, pp 393–399

35.

Pittella JE (1997) Neurocysticercosis. Brain Pathol 693:681–693

36.

Proaño JV, Torres-Corzo J, Rodríguez-Della Vecchia R, Guizar-Sahagun G, Rangel-Castilla L (2009) Intraventricular and subarachnoid basal cisterns neurocysticercosis: a comparative study between traditional treatment versus neuroendoscopic surgery. Childs Nerv Syst 25:1467–1475

37.

Przybojewski SJ, Griffith-Richards SB, Strachan M, Vadachia Y, Kathan DL (2007) CASE REPORT ' migrating ' intraventricular neurocysticercus cyst. SA J Radiol 11:25–27

38.

Psarros TG, Krumerman J, Coimbra C (2003) Endoscopic management of supratentorial ventricular neurocysticercosis: case series and review of the literature. Minim Invasive Neurosurg 46:331–334

39.

Rana S, Prasad A, Brar R, Rathore DS, Dwivedi A (2018) Caught in the act: migrating intraventricular neurocysticercosis causing intermittent unilateral hydrocephalus due to foramen of Monro obstruction. Acta Neurol Belg 118:509–511

40.

Rangel Rangel-Guerra RA, Herrera J, Elizondo G, Gonzalez-Morantes J (1988) Neurocysticercosis. Arch Neurol 45:492

41.

Sandoval M, Madrazo I, García-Rentería JA, Maldonado JA, Lopez-Camacho O (1990) Obstruction of the ventricular catheter of a CSF shunt system due to the own cyst of Taenia solium. Arch Invest Med 21:95–98

42.

Shah A, Vutha R, Sankhe S, Goel A (2017) Transventricular migration of Neurocysticercosis. World Neurosurg 105:1043.e11–1043.e13

43.

Simão D, Teixeira JC, Campos AR, Coiteiro D, Santos MM (2018) Fourth ventricle neurocysticercosis: a case report. Surg Neurol Int 3:201

44.

Singhi P, Suthar R (2015) Neurocysticercosis. Indian J Pediatr 82:166–171

45.

Sinha S, Sharma BS (2012) Intraventricular neurocysticercosis: a review of current status and management issues. Br J Neurosurg 26:305–309

46.

Sotelo J, Marin C (1987) Hydrocephalus secondary to cysticercotic arachnoiditis. J Neurosurg 66:686–689

47.

Suri A, Goel RK, Ahmad FU, Vellimana AK, Sharma BS, Mahapatra AK (2008) Endoscopic excision of intraventricular neurocysticercosis in children: a series of six cases and review. Childs Nerv Syst 24:281–285

48.

Thomas B, Krishnamoorthy T (2005) Migrating intraventricular cysticercus during MRI. Neurol 65:1321

49.

Zee CS, Segall HD, Miller C, Tsai FY, Teal JS, Hieshima G et al (1980) Unusual neuroradiological features of intracranial cysticercosis. Radiol 137:397–407

50.

Zymberg ST, Paiva Neto MA, Gorgulho AA, Cavalheiro S (2003) Endoscopic approach to fourth ventricle cysticercosis. Arq Neuropsiquiatr 61:204–207
Ethics declarations
Conflict of interest
The authors declare that the article content was composed in the absence of any commercial or financial relationships that could be construed as a potential conflict of interest.
Additional information
Publisher's note
Springer Nature remains neutral with regard to jurisdictional claims in published maps and institutional affiliations.
About this article
Cite this article
Baro, V., Anglani, M., Martinolli, F. et al. The rolling cyst: migrating intraventricular neurocysticercosis—a case-based update. Childs Nerv Syst (2020). https://doi.org/10.1007/s00381-020-04505-w
Received:

Accepted:

Published:
Keywords
Neurocysticercosis

Ventricular cyst

Migrating cyst

Hydrocephalus