Abstract
Purpose
Purely endoscopic endonasal approaches to surgical resection of pediatric suprasellar craniopharyngiomas are uncommonly performed. The aim of the study is to assess the feasibility and to describe the short-term outcomes of endonasal endoscopic approaches for the gross total resection of suprasellar craniopharyngiomas in the pediatric population.
Methods
A combined neurosurgical–otolaryngologic team performed gross total resection of craniopharyngiomas in seven pediatric patients (mean age 9.6 years) at The Children's Hospital of Philadelphia over 2011–2012. Short-term outcomes were analyzed over a mean follow-up period of 6.3 months.
Results
All tumors involved the sellar and/or suprasellar space and contained some cystic component. The mean maximal tumor diameter was 31.5 mm (range 18.5–62.0 mm). Using a binostril approach, gross total tumor resection was obtained in all patients (100 %). All patients with preoperative visual dysfunction demonstrated improvement in visual acuity. New or stable panhypopituitarism was observed in all cases. All patients developed postoperative diabetes insipidus, and cerebrospinal fluid leak occurred in one patient (15 %).
Conclusions
Complete radiographic resection of pediatric craniopharyngioma can be achieved via a purely endoscopic endonasal approach. In particular, this approach can be performed safely using the "two-nostrils-four-hands" technique with intraoperative neuronavigation. This approach should be highly considered in patients with progressive visual dysfunction. Further studies are needed to characterize the long-term surgical and clinical outcome of pediatric patients treated with this surgical approach.
This is a preview of subscription content, log in to check access.
Access options
Buy single article
Instant unlimited access to the full article PDF.
US$ 39.95
Price includes VAT for USA
Subscribe to journal
Immediate online access to all issues from 2019. Subscription will auto renew annually.
US$ 199
This is the net price. Taxes to be calculated in checkout.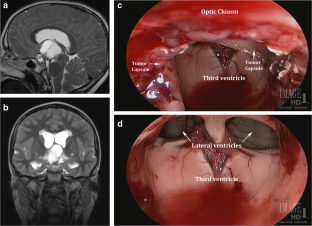 References
1.

Abe T, Ludecke DK (1999) Transnasal surgery for infradiaphragmatic craniopharyngiomas in pediatric patients. Neurosurgery 44:957–964, discussion 964–956

2.

Adappa ND, Learned KO, Palmer JN, Newman JG, Lee JY (2012) Radiographic enhancement of the nasoseptal flap does not predict postoperative cerebrospinal fluid leaks in endoscopic skull base reconstruction. Laryngoscope 122:1226–1234

3.

Briner HR, Simmen D, Jones N (2005) Endoscopic sinus surgery: advantages of the bimanual technique. Am J Rhinol 19:269–273

4.

Bunin GR, Surawicz TS, Witman PA, Preston-Martin S, Davis F, Bruner JM (1998) The descriptive epidemiology of craniopharyngioma. J Neurosurg 89:547–551

5.

Cappabianca P, Cavallo LM (2012) The evolving role of the transsphenoidal route in the management of craniopharyngiomas. World neurosurg 77:273–274

6.

Carmel PW, Antunes JL, Chang CH (1982) Craniopharyngiomas in children. Neurosurgery 11:382–389

7.

Castelnuovo P, Pistochini A, Locatelli D (2006) Different surgical approaches to the sellar region: focusing on the "two nostrils four hands technique". Rhinology 44:2–7

8.

Cavallo LM, de Divitiis O, Aydin S, Messina A, Esposito F, Iaconetta G, Talat K, Cappabianca P, Tschabitscher M (2007) Extended endoscopic endonasal transsphenoidal approach to the suprasellar area: anatomic considerations–part 1. Neurosurgery 61:24–33, discussion 33–24

9.

Chakrabarti I, Amar AP, Couldwell W, Weiss MH (2005) Long-term neurological, visual, and endocrine outcomes following transnasal resection of craniopharyngioma. J Neurosurg 102:650–657

10.

Chan DG, Francis IC (2004) Transsphenoidal diplopia. Surv Ophthalmol 49:618–619, author reply 619

11.

de Divitiis E, Cappabianca P, Gangemi M, Cavallo LM (2000) The role of the endoscopic transsphenoidal approach in pediatric neurosurgery. Child's Nerv Syst 16:692–696

12.

Di Rocco C, Caldarelli M, Tamburrini G, Massimi L (2006) Surgical management of craniopharyngiomas—experience with a pediatric series. J Pediatr Endocrinol Metab 19(Suppl 1):355–366

13.

Duff J, Meyer FB, Ilstrup DM, Laws ER Jr, Schleck CD, Scheithauer BW (2000) Long-term outcomes for surgically resected craniopharyngiomas. Neurosurgery 46:291–302, discussion 302–295

14.

Elliott RE, Hsieh K, Hochm T, Belitskaya-Levy I, Wisoff J, Wisoff JH (2010) Efficacy and safety of radical resection of primary and recurrent craniopharyngiomas in 86 children. J Neurosurg Pediatr 5:30–48

15.

Elliott RE, Sands SA, Strom RG, Wisoff JH (2010) Craniopharyngioma clinical status scale: a standardized metric of preoperative function and posttreatment outcome. Neurosurg Focus 28:E2

16.

Esposito F, Dusick JR, Fatemi N, Kelly DF (2007) Graded repair of cranial base defects and cerebrospinal fluid leaks in transsphenoidal surgery. Neurosurgery 60:295–303, discussion 303–294

17.

Frazier JL, Chaichana K, Jallo GI, Quinones-Hinojosa A (2008) Combined endoscopic and microscopic management of pediatric pituitary region tumors through one nostril: technical note with case illustrations. Child's Nerv Syst: ChNS: Off J Int Soc Pediatr Neurosurg 24:1469–1478

18.

Hadad G, Bassagasteguy L, Carrau RL, Mataza JC, Kassam A, Snyderman CH, Mintz A (2006) A novel reconstructive technique after endoscopic expanded endonasal approaches: vascular pedicle nasoseptal flap. Laryngoscope 116:1882–1886

19.

Im SH, Wang KC, Kim SK, Chung YN, Kim HS, Lee CH, Cho BK (2003) Transsphenoidal microsurgery for pediatric craniopharyngioma: special considerations regarding indications and method. Pediatr Neurosurg 39:97–103

20.

Jane JA Jr, Prevedello DM, Alden TD, Laws ER Jr (2010) The transsphenoidal resection of pediatric craniopharyngiomas: a case series. J Neurosurg Pediatr 5:49–60

21.

Jang YJ, Kim SC (2000) Pneumatization of the sphenoid sinus in children evaluated by magnetic resonance imaging. Am J Rhinol 14:181–185

22.

Kassam AB, Gardner PA, Snyderman CH, Carrau RL, Mintz AH, Prevedello DM (2008) Expanded endonasal approach, a fully endoscopic transnasal approach for the resection of midline suprasellar craniopharyngiomas: a new classification based on the infundibulum. J Neurosurg 108:715–728

23.

Kassam AB, Thomas A, Carrau RL, Snyderman CH, Vescan A, Prevedello D, Mintz A, Gardner P (2008) Endoscopic reconstruction of the cranial base using a pedicled nasoseptal flap. Neurosurgery 63: ONS44-52; discussion ONS52-43

24.

Laws ER Jr (1994) Transsphenoidal removal of craniopharyngioma. Pediatr Neurosurg 21(Suppl 1):57–63

25.

Laws ER Jr, Trautmann JC, Hollenhorst RW Jr (1977) Transsphenoidal decompression of the optic nerve and chiasm. Visual results in 62 patients. J Neurosurg 46:717–722

26.

Learned KO, Adappa ND, Loevner LA, Palmer JN, Newman JG, Lee JY (2012) MR imaging evaluation of endoscopic cranial base reconstruction with pedicled nasoseptal flap following endoscopic endonasal skull base surgery. Eur J Radiol

27.

Lee JM, Palmer JN (2011) Indications for the osteoplastic flap in the endoscopic era. Curr Opin Otolaryngol Head Neck Surg 19:11–15

28.

Locatelli D, Castelnuovo P, Santi L, Cerniglia M, Maghnie M, Infuso L (2000) Endoscopic approaches to the cranial base: perspectives and realities. Child's Nerv Syst: ChNS: Off J Int Soc Pediatr Neurosurg 16:686–691

29.

Locatelli D, Massimi L, Rigante M, Custodi V, Paludetti G, Castelnuovo P, Di Rocco C (2010) Endoscopic endonasal transsphenoidal surgery for sellar tumors in children. Int J Pediatr Otorhinolaryngol 74:1298–1302

30.

Maira G, Anile C, Rossi GF, Colosimo C (1995) Surgical treatment of craniopharyngiomas: an evaluation of the transsphenoidal and pterional approaches. Neurosurgery 36:715–724

31.

Rigante M, Massimi L, Parrilla C, Galli J, Caldarelli M, Di Rocco C, Paludetti G (2011) Endoscopic transsphenoidal approach versus microscopic approach in children. Int J Pediatr Otorhinolaryngol 75:1132–1136

32.

Tan HK, Ong YK, Teo MS, Fook-Chong SM (2003) The development of sphenoid sinus in Asian children. Int J Pediatr Otorhinolaryngol 67:1295–1302

33.

Teo C (2005) Application of endoscopy to the surgical management of craniopharyngiomas. Childs Nerv Syst 21:696–700
Conflict of interest
The authors have no conflicts of interest to disclose.
Electronic Supplementary Material
Below is the link to the electronic supplementary material.
About this article
Cite this article
Ali, Z.S., Lang, S., Kamat, A.R. et al. Suprasellar pediatric craniopharyngioma resection via endonasal endoscopic approach. Childs Nerv Syst 29, 2065–2070 (2013). https://doi.org/10.1007/s00381-013-2153-1
Received:

Accepted:

Published:

Issue Date:
Keywords
Craniopharyngioma

Pediatric

Endoscopic approaches

Endoscopic transsphenoidal