Abstract
We describe of a unique pattern of cardiac dyssynchrony in a patient with a biventricular physiology and systemic right ventricle (RV): the interventricular dyssynchrony due to a contraction delay between the left ventricle and RV. In the present case, the cineangiography and intracardiac electrocardiography of the RV did not reveal intraventricular dyssynchrony of the RV, but revealed interventricular dyssynchrony. In addition, the pressure curves of the ventricles exhibited time phase differences between the two ventricles. The cardiac resynchronization therapy determining the pacing lead positions based on the idea of interventricular dyssynchrony induced reverse cardiac remodeling in this patient with systemic RV dysfunction.
This is a preview of subscription content, log in to check access.
Access options
Buy single article
Instant unlimited access to the full article PDF.
US$ 39.95
Price includes VAT for USA
Subscribe to journal
Immediate online access to all issues from 2019. Subscription will auto renew annually.
US$ 99
This is the net price. Taxes to be calculated in checkout.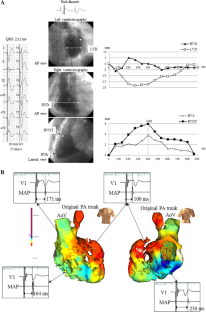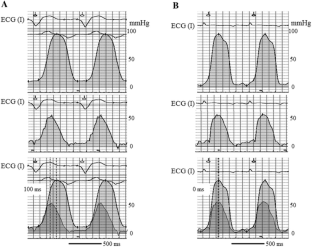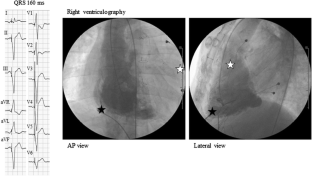 References
1.

Yu CM, Chau E, Sanderson JE, Fan K, Tang MO, Fung WH, Lin H, Kong SL, Lam YM, Hill MR, Lau CP (2002) Tissue Doppler echocardiographic evidence of reverse remodeling and improved synchronicity by simultaneously delaying regional contraction after biventricular pacing therapy in heart failure. Circulation 105:438–445

2.

Fujiwara S, Komamura K, Nakabo A, Masaki M, Fukui M, Sugahara M, Itohara K, Soyama Y, Goda A, Hirotani S, Mano T, Masuyama T (2016) The association between left ventricular twisting motion and mechanical dyssynchrony: a three-dimensional speckle tracking study. Heart Vessel 31:158–164

3.

Miyazaki A, Sakaguchi H, Kagisaki K, Tsujii N, Matsuoka M, Yamamoto T, Hoashi T, Noda T, Ohuchi H (2016) Optimal pacing sites for cardiac resynchronization therapy for patients with a systemic right ventricle with or without a rudimentary left ventricle. Europace 18:100–112

4.

Sheehan F, Redington A (2008) The right ventricle: anatomy, physiology and clinical imaging. Heart 94:1510–1515

5.

Haddad F, Hunt SA, Rosenthal DN, Murphy DJ (2008) Right ventricular function in cardiovascular disease, part I: anatomy, physiology, aging, and functional assessment of the right ventricle. Circulation 117:1436–1448

6.

Dell'Italia LJ (1991) The right ventricle: anatomy, physiology, and clinical importance. Curr Probl Cardiol 16:653–720

7.

Fogel MA, Weinberg PM, Fellows KE, Hoffman EA (1995) A study in ventricular-ventricular interaction. Single right ventricles compared with systemic right ventricles in a dual-chamber circulation. Circulation 92:219–230

8.

Diller GP, Radojevic J, Kempny A, Alonso-Gonzalez R, Emmanouil L, Orwat S, Swan L, Uebing A, Li W, Dimopoulos K, Gatzoulis MA, Baumgartner H (2012) Systemic right ventricular longitudinal strain is reduced in adults with transposition of the great arteries, relates to subpulmonary ventricular function, and predicts adverse clinical outcome. Am Heart J 163:859–866

9.

Chow PC, Liang XC, Cheung YF (2011) Diastolic ventricular interaction in patients after atrial switch for transposition of the great arteries: a speckle tracking echocardiographic study. Int J Cardiol 152:28–34

10.

Sakaguchi H, Miyazaki A, Yamada O, Kagisaki K, Hoashi T, Ichikawa H, Ohuchi H (2015) Cardiac resynchronization therapy for various systemic ventricular morphologies in patients with congenital heart disease. Circ J 79:649–655

11.

Pettersen E, Helle-Valle T, Edvardsen T, Lindberg H, Smith HJ, Smevik B, Smiseth OA, Andersen K (2007) Contraction pattern of the systemic right ventricle shift from longitudinal to circumferential shortening and absent global ventricular torsion. J Am Coll Cardiol 49:2450–2456

12.

Malecka B, Bednarek J, Tomkiewicz-Pajak L, Klimeczek P, Zabek A, Pasowicz M, Lelakowski J (2010) Resynchronization therapy transvenous approach in dextrocardia and congenitally corrected transposition of great arteries. Cardiol J 17:503–508

13.

Jauvert G, Rousseau-Paziaud J, Villain E, Iserin L, Hidden-Lucet F, Ladouceur M, Sidi D (2009) Effects of cardiac resynchronization therapy on echocardiographic indices, functional capacity, and clinical outcomes of patients with a systemic right ventricle. Europace 11:184–190

14.

Mackie AS, Therrien J (2009) Mechanisms of late systemic right ventricular failure. In: Redington AN, Van Arsdell GS, Anderson RH (eds) Congenital diseases in the right heart. Springer, London, pp 95–100

15.

Miyamoto K, Takeuchi D, Inai K, Shinohara T, Nakanishi T (2016) Prognostic value of multiple biomarkers for cardiovascular mortality in adult congenital heart disease: comparisons of single-/two-ventricle physiology, and systemic morphologically right/left ventricles. Heart Vessel. doi:10.1007/s00380-016-0807-0
Acknowledgments
The authors wish to express their gratitude to Mr. John Martin for his assistance in preparing the manuscript.
Ethics declarations
Ethical standards
All procedures contributing to this work were performed under given the informed consent, and were complied with the ethical standards of the relevant national guidelines on human experimentation (Japan) and with the Helsinki Declaration of 1975 (as revised in 2008). Also this study was approved by the institutional ethics committees (M25-021). The authors have no financial conflicts of interest to disclose concerning this study.
Electronic supplementary material
Below is the link to the electronic supplementary material.
Supplementary file 1A. The anteroposterior view of the right ventriculography before the cardiac resynchronization therapy (MPG 2675 kb)
Supplementary file 1B. The lateral view of the right ventriculography before the cardiac resynchronization therapy (MPG 2675 kb)
Supplementary file 2A. The anteroposterior view of the right ventriculography 6 months after the cardiac resynchronization therapy (MPG 2996 kb)
Supplementary file 2B. The lateral view of the right ventriculography 6 months after the cardiac resynchronization therapy (MPG 2996 kb)
About this article
Cite this article
Miyazaki, A., Sakaguchi, H., Noritake, K. et al. Interventricular dyssynchrony in a patient with a biventricular physiology and a systemic right ventricle. Heart Vessels 32, 234–239 (2017) doi:10.1007/s00380-016-0876-0
Received:

Accepted:

Published:

Issue Date:
Keywords
Congenital heart disease

Systemic right ventricle

Interventricular dyssynchrony

Cardiac resynchronization therapy

Atrioventricular discordance