Abstract
Recent advances in parallel architectures for numerical simulation of natural black oil reservoirs have allowed the use of very discretized domains. As a consequence, these simulations produce an unprecedented volume of data, which must be visualized in 3D environments for careful analysis and inspection. Conventional scientific visualization techniques are not viable on such large models, creating a demand for the development of scalable visualization solutions. In this paper, we propose a hierarchical multiresolution technique to render massively large black oil reservoir meshes. A new simplification algorithm specialized for such models is presented, which accurately represents boundary surfaces, while keeping the hexahedral mesh with good quality. Original model properties, wireframe and surface normals are mapped onto the simplified meshes through texture mapping. This allows the system to reuse the structure for different simulations that use the same geometry model. The viewer application is designed to guarantee a minimum refresh rate, allocating geometric detail where it is most needed, given the available hardware. Experimental results, considering up to 1.2 billion cell models, demonstrate the effectiveness of the proposed solution.
This is a preview of subscription content, log in to check access.
Access options
Buy single article
Instant unlimited access to the full article PDF.
US$ 39.95
Price includes VAT for USA
Subscribe to journal
Immediate online access to all issues from 2019. Subscription will auto renew annually.
US$ 199
This is the net price. Taxes to be calculated in checkout.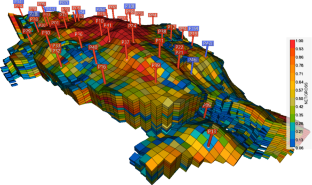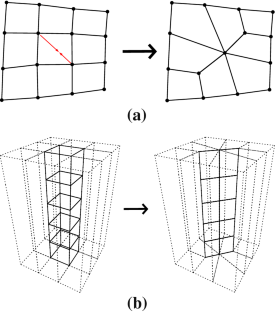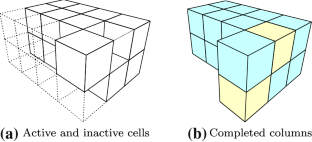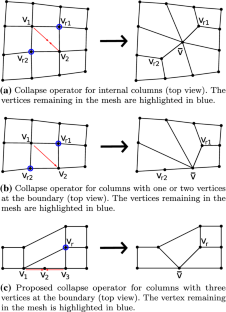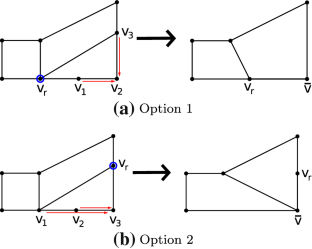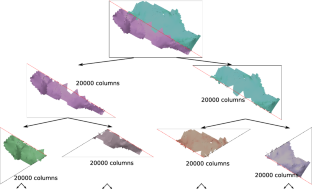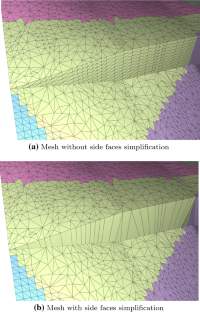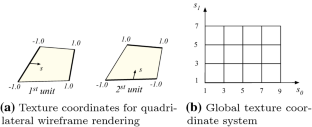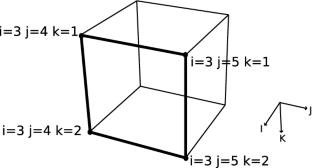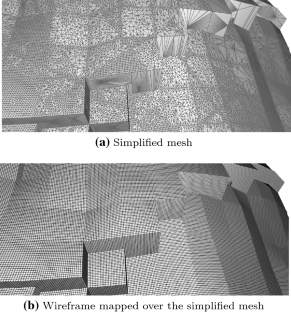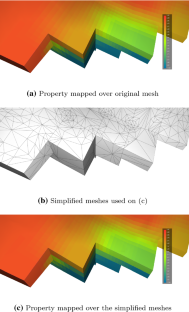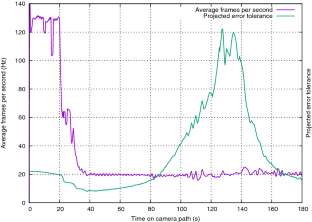 Notes
1.

We used a weight of 10,000 in our experiments.
References
1.

Abraham, F., Celes, W.: Distributed visualization of complex black oil reservoir models. In: Eurographics Symposium on Parallel Graphics and Visualization (EGPGV09), pp. 87–94. Eurographics Association (2009)

2.

Baptista, R.: Higher Accuracy Quantized Normals. https://www.gamedev.net/articles/programming/math-and-physics/higher-accuracy-quantized-normals-r1252. Accessed in Feb. 2019

3.

Blacker, T.D., Stephenson, M.B.: Paving: a new approach to automated quadrilateral mesh generation. Int. J. Numer. Methods Eng. 32(4), 811–847 (1991)

4.

Celes, W., Abraham, F.: Fast and versatile texture-based wireframe rendering. Vis. Comput. 27, 939–948 (2011)

5.

Cignoni, P., Ganovelli, F., Gobbetti, E., Marton, F., Ponchio, F., Scopigno, R.: Adaptive tetrapuzzles: efficient out-of-core construction and visualization of gigantic multiresolution polygonal models. In: SIGGRAPH'04: International Conference on Computer Graphics and Interactive Techniques, pp. 796–803. ACM Press (2004)

6.

Dake, L.P.: Fundamentals of Reservoir Engineering. Elsevier, Amsterdam (1978)

7.

Daniels, J., Silva, C.T., Shepherd, J., Cohen, E.: Quadrilateral mesh simplification. ACM Trans. Graphics 27, 148:1–148:9 (2008)

8.

Garland, M., Heckbert, P.S.: Surface simplification using quadric error metrics. In: SIGGRAPH'97: Proceedings of the 24th Annual Conference on Computer Graphics and Interactive Techniques, pp. 209–216. ACM Press, New York (1997)

9.

Lefebvre, S., Hoppe, H.: Perfect Spatial Hashing. ACM Trans. Graphics 25(3), 579–588 (2006)

10.

Lindstrom, P.: Out-of-core construction and visualization of multiresolution surfaces. In: Symposium on Interactive 3D Graphics, pp. 93–102. ACM Press, New York (2003)

11.

Liu, H., Chen, Z.: A scalable thermal reservoir simulator for giant models on parallel computers. CoRR (2018). arXiv:1812.03952

12.

Oberhumer, M.F.X.J.: LZO Data Compression Library. http://www.oberhumer.com/opensource/lzo. Accessed in Feb. 2019

13.

Saudi Aramco Completes First Giga-Cell Reservoir Simulation Run. http://www.rigzone.com/news/article.asp?a_id=70015. Accessed in Feb. 2019

14.

Shepherd, J.F., Dewey, M.W., Woodbury, A.C., Benzley, S.E., Staten, M.L., Owen, S.J.: Adaptive mesh coarsening for quadrilateral and hexahedral meshes. Finite Elem. Anal. Design 46(1–2), 17–32 (2009)

15.

Shirman, L., Abi-Ezzi, S.: The cone of normals technique for fast processing of curved patches. In: Eurographics, pp. 261–272. Eurographics Association (1993)

16.

Sousa, M.C., Vital Brazil, E., Sharlin, E.: Scalable and inter active visual computing in geosciences and reservoir engineering. Geol. Soc. 406(1), 447–466 (2015)

17.

Staten, M., Canann, S.A.: Post refinement element shape improvement for quadrilateral meshes. ASME Trends Unstruct. Mesh Gen. 220, 9–16 (1997)

18.

Staten, M.L., Benzley, S., Scott, M.: A methodology for quadrilateral finite element mesh coarsening. Eng. Comput. 24, 241–251 (2008)

19.

Tarini, M., Pietroni, N., Cignoni, P., Panozzo, D., Puppo, E.: Practical quad mesh simplification. Comput. Graph. Forum. (Special Issue of Eurographics 2010 Conference) 29(2), 407–418 (2010)

20.

Weiss, K., De Floriani, L.: Diamond hierarchies of arbitrary dimension. Comput. Graph. Forum 28(5), 1289–1300 (2009)

21.

Wu, J., Kobbelt, L.: Fast mesh decimation by multiple-choice techniques. In: Vision, Modeling and Visualization, pp. 241–248. IOS Press, Amsterdam (2002)
Acknowledgements
Tecgraf/PUC-Rio is a research institute mainly funded by Petrobras. This research was initiated during the Doctoral Program of the first author, financially supported by CNPq (Brazilian National Research and Development council).
Ethics declarations
Conflict of interest
The authors declare that they have no conflict of interest.
Additional information
Publisher's Note
Springer Nature remains neutral with regard to jurisdictional claims in published maps and institutional affiliations.
Electronic supplementary material
Below is the link to the electronic supplementary material.
Supplementary material 1 (avi 47813 KB)
About this article
Cite this article
Abraham, F., Celes, W. Multiresolution visualization of massive black oil reservoir models. Vis Comput 35, 837–848 (2019). https://doi.org/10.1007/s00371-019-01674-x
Keywords
Real-time rendering

Reservoir model rendering

Mesh simplification algorithm

Multiresolution rendering

Massive model visualization