Abstract
"Whisker specialists" such as rats, shrews, and seals actively employ their whiskers to explore their environments and extract object properties such as size, shape, and texture. It has been suggested that whiskers could be used to discriminate between different sized objects in one of two ways: (i) to use whisker positions, such as angular position, spread or amplitude to approximate size; or (ii) to calculate the number of whiskers that contact an object. This study describes in detail how two adult harbor seals use their whiskers to differentiate between three sizes of disk. The seals judged size very fast, taking <400 ms. In addition, they oriented their smaller, most rostral, ventral whiskers to the disks, so that more whiskers contacted the surface, complying to a maximal contact sensing strategy. Data from this study supports the suggestion that it is the number of whisker contacts that predict disk size, rather than how the whiskers are positioned (angular position), the degree to which they are moved (amplitude) or how spread out they are (angular spread).
This is a preview of subscription content, log in to check access.
Access options
Buy single article
Instant unlimited access to the full article PDF.
US$ 39.95
Price includes VAT for USA
Subscribe to journal
Immediate online access to all issues from 2019. Subscription will auto renew annually.
US$ 199
This is the net price. Taxes to be calculated in checkout.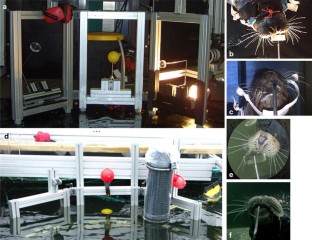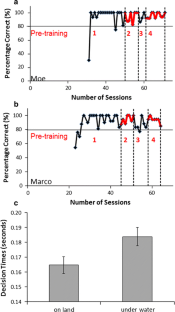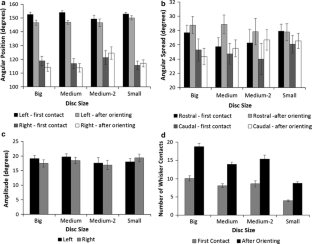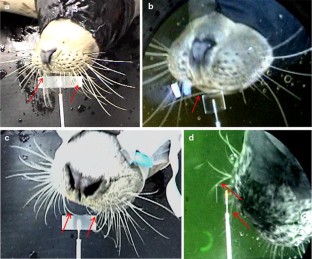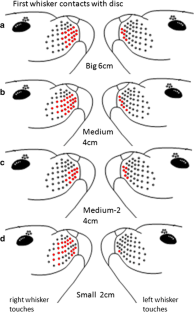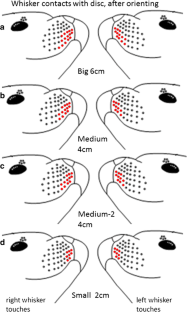 References
Ahl AS (1986) The role of vibrissae in behavior—a status review. Vet Res Comm 10:245–268

Brecht M, Preilowski B, Merzenich MM (1997) Functional architecture of the mystacial vibrissae. Behav Brain Res 84:81–97

Dehnhardt G (1990) Preliminary results from psychophysical studies on the tactile sensitivity in marine mammals. In: Thomas JA, Kastelein RA (eds) Sensory abilities of cetaceans. Plenum, New York, pp 435–446

Dehnhardt G (1994) Tactile size discrimination by a California sea lion (Zalophus californianus) using its mystacial vibrissae. J Comp Physiol A 175:791–800

Dehnhardt G, Dücker G (1996) Tactual discrimination of size and shape by a California sea lion (Zalophus californianus). Anim Learn Behav 24:366–374

Dehnhardt G, Kaminski A (1995) Sensitivity of the mystacial vibrissae of harbor seals (Phoca vitulina) for size difference of actively touched objects. J Exp Biol 198:2317–2323

Dehnhardt G, Sinder M, Sachser N (1997) Tactual discrimination of size by the means of mystacial vibrissae in Harbour seals: in air versus under water. Z Säugetierkd 62:40–43

Dehnhardt G, Mauck B, Hyvärinen H (1998) Ambient temperature does not affect the tactile sensitivity of mystacial vibrissae in harbour seals. J Exp Biol 201:3023–3029

Dehnhardt G, Mauck B, Hanke W, Bleckmann H (2001) Hydrodynamic trail-following in harbour seals (Phoca vitulina). Science 293:102–104

Dykes RW (1975) Afferent fibres from mystacial vibrissae of cats and seals. J Neurophysiol 38:650–662

Gellermann LW (1933) Chance orders of alternating stimuli in visual discrimination experiments. J Genet Psychol 42:206–208

Grant RA, Mitchinson B, Fox CW, Prescott TJ (2009) Active touch sensing in the rat: anticipatory and regulatory control of whisker movements during surface exploration. J Neurophysiol 101:862–874

Grant RA, Mitchinson B, Prescott TJ (2012a) The development of whisker control in rats in relation to locomotion. Dev Psychobio 54:151–168

Grant RA, Sperber A, Prescott TJ (2012b) The role of orienting in vibrissal touch sensing. Frontiers Behav Neurosci 6:39

Hartmann M (2001) Active sensing capabilities of the rat whisker system. Auton Robots 11:249–254

Harvey MA, Bermejo R, Zeigler PH (2001) Discriminative whisking in the head-fixed rat: optoelectronic monitoring during tactile detection and discrimination tasks. Som Mot Res 13:211–222

Horev G, Said A, Knutsen PM, Pietr M, Yu C, Ahissar E (2011) Motor-sensory convergence in object localization: a comparative study in rats and humans. Phil Trans Roy Soc B 366:3070–3076

Hyvärinen H (1989) Diving in darkness: whiskers as sense organs of the Ringed seal (Phoca hispida). J Zool Lond 218:663–678

John KT, Goodwin AW, Darian-Smith I (1989) Tactile discrimination of thickness. Exp Brain Res 78:62–68

Kastelein RA, Stevens S, Mosterd P (1990) The tactile sensitivity of the mystacial vibrissae of a Pacific walrus (Odobenus rosmarus divergens). Part 2: masking. Aquatic Mammals 16:78–87

Knutsen PM, Pietr E, Ahissar M (2006) Haptic object localization in the vibrissal system: behavior and performance. J Neurosci 26:8451–8464

Knutsen PM, Biess A, Ahissar E (2008) Vibrissal kinematics in 3D: tight coupling of azimuth, elevation, and torsion across different whisking modes. Neuron 59:35–42

Ladygina TF, Popov VV, Supin AY (1985) Somatotopic projections in the cerebral cortex of the fur seal (Callorhinus ursinus). Acad Sci Moskow 17:344–351

Ling JK (1977) Vibrissae of marine mammals. In: Harrison RJ (ed) Functional anatomy of marine mammals, vol 3. Academic Press, London, pp 387–415

Mitchinson B, Martin CJ, Grant RA, Prescott TJ (2007) Feedback control in active sensing: rat exploratory whisking is modulated by environmental contact. Proc Biol Sci 274:1035–1041

Mitchinson B, Grant RA, Arkley KP, Perkon I, Prescott TJ (2011) Active vibrissal sensing in rodents and marsupials. Phil Trans Roy Soc B 366:3037–3048

Santello M, Soechting JF (1997) Matching object size by controlling finger span and hand shape. Somatosens Motor Res 14:203–212

Segev R, Schneidman E, Goodhouse J, Berry MJ (2007) Role of eye movements in the retinal code for a size discrimination task. J Neurophysiol 98:1380–1391

Stevens S, Stone G (1959) Finger span: ratio scale, category scale and JND scale. J Exp Psychol 57:91–95

Towal RB, Hartmann MJ (2006) Right-left asymmetries in the whisking behavior of rats anticipate head movements. J Neurosci 26:8838–8846

Voigts J, Sakmann B, Celikel T (2008) Unsupervised whisker tracking in unrestrained behaving animals. J Neurophysiol 100:504–515

Watkins WA, Wartzok D (1985) Sensory biophysics of marine mammals. Mar Mammal Sci 1:219–260

Wieskotten S, Dehnhardt G, Mauck B, Miersch L, Hanke W (2010a) Hydrodynamic determination of the moving direction of an artificial fin by a harbor seal (Phoca vitulina). J Exp Biol 213:2194–2200

Wieskotten S, Dehnhardt G, Mauck B, Miersch L, Hanke W (2010b) The impact of glide phases on the trackability of hydrodynamic trails in harbour seals (Phoca vitulina). J Exp Biol 213:3734–3740

Wieskotten S, Mauck B, Miersch L, Dehnhardt G, Hanke W (2011) Hydrodynamic discrimination of wakes caused by objects of different size or shape in a harbour seal (Phoca vitulina). J Exp Biol 214:1922–1930
Acknowledgments
The authors would like to thank Lars Miersch and Dr. Federike Hanke for their help with designing and planning the set-up, also to Dr. Ben Mitchinson for his support with tracking software. Work for this study was funded as part of the BIOTACT FP7 Bio-ICT project, by a Research Stay Grant from the German Academic Exchange Service (DAAD) awarded to R. G., and also by the Volkswagen-Foundation. We thank three anonymous reviewers and Dr Wolf Hanke for helpful comments on the manuscript.
Electronic supplementary material
Below is the link to the electronic supplementary material.
Supplementary material 2 (AVI 1667 kb)
Supplementary material 3 (AVI 6056 kb)
About this article
Cite this article
Grant, R., Wieskotten, S., Wengst, N. et al. Vibrissal touch sensing in the harbor seal (Phoca vitulina): how do seals judge size?. J Comp Physiol A 199, 521–533 (2013) doi:10.1007/s00359-013-0797-7
Received:

Revised:

Accepted:

Published:

Issue Date:
Keywords
Whiskers

Haptic

Active touch

Aquatic

Maximal contact