Zusammenfassung
Hintergrund
Häufig werden in der Augenheilkunde die Daten beider Augen einer Person in die statistische Auswertung eingeschlossen. Dies verletzt die Voraussetzung der Unabhängigkeit der Daten für die klassischen statistischen Tests wie Student's t‑Test oder der Varianzanalyse (ANOVA), denn es handelt sich um korrelierte Daten.
Ziel der Arbeit
Es soll das linear gemischte Modell ("linear mixed model" [LMM]) als Möglichkeit zur Einbeziehung der Daten beider Augen in die statistische Auswertung genutzt werden.
Methode
Das LMM ist in diversen Statistikprogrammen wie SPSS oder R verfügbar und gestattet die Einbeziehung der Messdaten beider Augen einer Person in die statistische Analyse. Die Anwendung soll anhand der Daten einer biomechanischen Charakterisierung der Hornhaut mittels dynamischen Scheimpflug-Analyzers (Corvis ST; Oculus, Wetzlar, Deutschland) bei gesunden Probanden angewendet werden.
Ergebnisse
In die Studie wurden 158 Augen von 79 Probanden eingeschlossen. Zwischen beiden Augen der Probanden lag eine hohe Korrelation der untersuchten Corvis-ST-Parameter vor. Der Vergleich zwischen den Altersgruppen zeigte, dass sich bei Anwendung des LMM im Vergleich zur ANOVA die p-Werte erhöhten und teilweise Signifikanzen entfielen. Die Altersgruppe der 56- bis 79-Jährigen zeigte im LMM eine signifikant kürzere Zeit bis zur 2. Applanation (p = 0,002), eine signifikant höhere Bewegung des Augapfels während der Deformation (p = 0,001) sowie eine signifikant höhere Steifigkeit an der 1. Applanation (p = 0,006) im Vergleich zur jüngeren Probandengruppe (18–35 Jahre).
Schlussfolgerung
Die Auswertung von Messdaten beider Augen ohne Berücksichtigung ihrer Korrelation, mittels klassischer statistischer Tests, führt zu einer Überschätzung des statistischen Effekts, die durch Verwendung des LMM vermieden werden kann.
Abstract
Background
In ophthalmology data from both eyes of a person are frequently included in statistical analyses. As correlated data are used this procedure contradicts the independency principle for classical statistical tests, such as Student's t‑test and analysis of variance (ANOVA). In this tutorial a new possibility is presented in which data from both eyes can be used for statistical analysis.
Objective
The statistical approach of linear mixed models (LMM) was used to take correlated data of both eyes of patients into account.
Methods
The LMM is available in several statistical software packages, e.g. SPSS and R, and allows the inclusion of measurement data from both eyes of a person in the statistical analysis. The application was tested on data from a biomechanical characterization of the cornea from healthy participants assessed with the dynamic Scheimpflug analyzer (Corvis ST; Oculus, Wetzlar, Germany).
Results
A total of 158 eyes from 79 healthy participants were included. A strong correlation between the right and left eyes of the participants could be observed with respect to the analyzed parameters. Comparison of the biomechanical parameters between the different age groups showed that P-values were increased when using the LMM compared to the ANOVA. Older participants (56–79 years) showed a significantly shorter time to the second applanation (P = 0.002), a significantly increased eyeball movement during the deformation (P = 0.001) and a significantly higher stiffness at the first applanation (P = 0.006) compared to younger participants (18–35 years).
Conclusion
The analysis of measurement data from both eyes using classical statistical tests, without the consideration of the correlation, leads to an overestimation of the statistical power. This can be avoided by implementation of the LMM.
This is a preview of subscription content, log in to check access.
Access options
Buy single article
Instant unlimited access to the full article PDF.
US$ 39.95
Price includes VAT for USA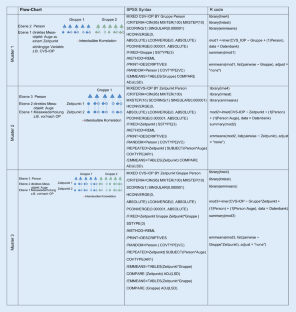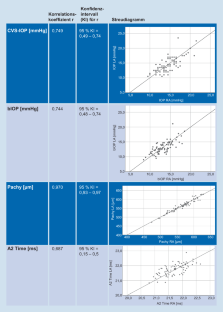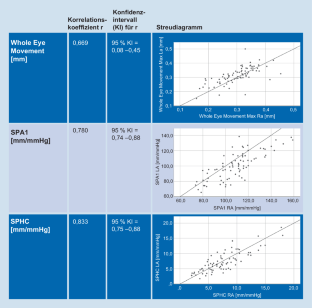 Literatur
1.

Armstrong RA (2013) Statistical guidelines for the analysis of data obtained from one or both eyes. Ophthalmic Physiol Opt 33:7–14

2.

Atalay E, Nongpiur ME, Baskaran M et al (2016) Biometric factors associated with acute primary angle closure: comparison of the affected and fellow eye. Invest Ophthalmol Vis Sci 57:5320–5325

3.

Bak-Nielsen S, Pedersen IB, Ivarsen A et al (2015) Repeatability, reproducibility, and age dependency of dynamic Scheimpflug-based pneumotonometer and its correlation with a dynamic bidirectional pneumotonometry device. Cornea 34:71–77

4.

Barbeito R, Herse PR (1991) Problem of between-eye correlation for statistical hypothesis testing: rabbit corneal thickness. Optom Vis Sci 68:73–76

5.

Brettl S, Zeitz PF, Fuchsluger TA (2018) Evaluation of corneal biomechanics in keratoconus using dynamic ultra-high-speed Scheimpflug measurements. Ophthalmologe 115(8):644–648. https://doi.org/10.1007/s00347-018-0753-6

6.

Bunce C, Patel KV, Xing W et al (2014) Ophthalmic statistics note 1: unit of analysis. Br J Ophthalmol 98:408–412

7.

Davoudi S, Ebrahimiadib N, Yasa C et al (2017) Outcomes in Autoimmune Retinopathy patients treated with Rituximab. Am J Ophthalmol 180:124–132

8.

Elsheikh A, Wang D, Brown M et al (2007) Assessment of corneal biomechanical properties and their variation with age. Curr Eye Res 32:11–19

9.

Everitt BS, Skrondal A (2011) The Cambridge dictionary of statistics. Cambridge University Press, Cambridge

10.

Feiler DL, Srivastava SK, Pichi F et al (2017) Resolution of noninfectious uveitic cystoid macular edema with topical difluprednate. Retina 37:844–850

11.

Herber R, Terai N, Pillunat KR et al (2018) Dynamic Scheimpflug Analyzer (Corvis ST) for measurement of corneal biomechanical parameters : a praxis-related overview. Ophthalmologe 115(8):635–643. https://doi.org/10.1007/s00347-018-0716-y

12.

IQWiG (2016) Bewertung zum Nutzen von CXL bei Keratokonus. Augenspiegel http://www.augenspiegel.com/zeitschrift.php/auge/blog/iqwig-bewertung-zum-nutzen-von-cxl-bei-keratokonus/. Zugegriffen: 07.05.2019

13.

Karakosta A, Vassilaki M, Plainis S et al (2012) Choice of analytic approach for eye-specific outcomes: one eye or two? Am J Ophthalmol 153:571–579 (e571)

14.

Knox Cartwright NE, Tyrer JR, Marshall J (2011) Age-related differences in the elasticity of the human cornea. Invest Ophthalmol Vis Sci 52:4324–4329

15.

Leszczynska A, Moehler K, Spoerl E et al (2018) Measurement of orbital biomechanical properties in patients with thyroid orbitopathy using the Dynamic Scheimpflug Analyzer (Corvis ST). Curr Eye Res 43:289–292

16.

Miki A, Maeda N, Ikuno Y et al (2017) Factors associated with corneal deformation responses measured with a Dynamic Scheimpflug Analyzer. Invest Ophthalmol Vis Sci 58:538–544

17.

Murdoch IE, Morris SS, Cousens SN (1998) People and eyes: statistical approaches in ophthalmology. Br J Ophthalmol 82:971–973

18.

Roberts CJ, Mahmoud AM, Bons JP et al (2017) Introduction of two novel stiffness parameters and interpretation of air puff-induced biomechanical deformation parameters with a Dynamic Scheimpflug Analyzer. J Refract Surg 33:266–273

19.

Seiler TG, Shao P, Eltony A et al (2019) Brillouin spectroscopy of normal and keratoconus corneas. Am J Ophthalmol pii:S0002-9394(19)30061-3. https://doi.org/10.1016/j.ajo.2019.02.010

20.

Vinciguerra R, Elsheikh A, Roberts CJ et al (2016) Influence of pachymetry and Intraocular pressure on dynamic corneal response parameters in healthy patients. J Refract Surg 32:550–561

21.

West BT (2009) Analyzing longitudinal data with the linear mixed models procedure in SPSS. Eval Health Prof 32:207–228

22.

West BT, Welch KB, Glecki AT (2007) Linear mixed models—a practical guide using statistical software. Chapman&Hall, Boca Raton

23.

Yanagisawa M, Yamashita T, Matsuura M et al (2018) Changes in axial length and progression of visual field damage in glaucoma. Invest Ophthalmol Vis Sci 59:407–417

24.

Ying GS, Maguire MG, Glynn R et al (2017) Tutorial on biostatistics: linear regression analysis of continuous correlated eye data. Ophthalmic Epidemiol 24:130–140

25.

Ying GS, Maguire MG, Glynn R et al (2017) Tutorial on biostatistics: statistical analysis for correlated binary eye data. Ophthalmic Epidemiol 25(1):1–12. https://doi.org/10.1080/09286586.2017.1320413

26.

Zeitz PF, Fuchsluger TA (2018) Biomechanics in ophthalmology. Ophthalmologe 115:634

27.

Zhang HG, Ying G (2018) Statistical approaches in published ophthalmic clinical science papers: a comparison to statistical practice two decades ago. Br J Ophthalmol 102(9):1188–1191. https://doi.org/10.1136/bjophthalmol-2017-311529
Ethics declarations
Interessenkonflikt
R. Herber, A. Kaiser, X. Grählert, U. Range, F. Raiskup, L. E. Pillunat und E. Spörl geben an, dass kein Interessenkonflikt besteht.
Alle beschriebenen Untersuchungen am Menschen oder an menschlichem Gewebe wurden mit Zustimmung der zuständigen Ethikkommission, im Einklang mit nationalem Recht sowie gemäß der Deklaration von Helsinki von 1975 (in der aktuellen, überarbeiteten Fassung) durchgeführt. Von allen beteiligten Patienten liegt eine Einverständniserklärung vor.
About this article
Cite this article
Herber, R., Kaiser, A., Grählert, X. et al. Statistische Auswertung korrelierter Messdaten in der Augenheilkunde. Ophthalmologe 117, 27–35 (2020). https://doi.org/10.1007/s00347-019-0904-4
Schlüsselwörter
Alter

Linear gemischtes Modell

Beide Augen

SPSS

R Statistik

Korneale Biomechanik
Keywords
Age

Linear mixed model

Both eyes

SPSS

R statstics

Corneal biomechanics