This is a preview of subscription content, log in to check access.
Access options
Buy single article
Instant access to the full article PDF.
US$ 39.95
Price includes VAT for USA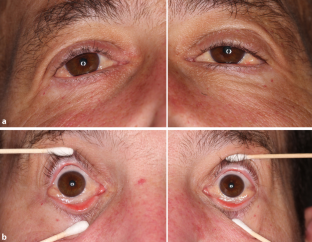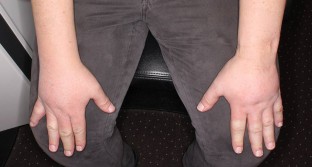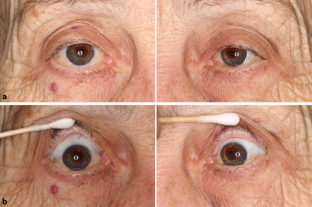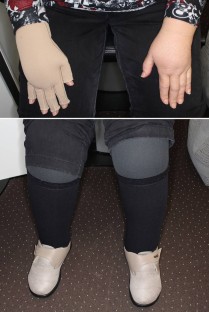 Literatur
1.

Nonne M (1891) Vier Fälle von Elephantiasis congenita hereditaria. Virchows Arch Pathol Anat Physiol Klin Med 125:189. https://doi.org/10.1007/BF01970303

2.

Milroy W (1892) An undescribed variety of herditary edema. N Y Med J 56:505–508

3.

Meige H (1898) Dystrophie oedematose hereditaire. Presse Med 6:341–343

4.

Brice GW, Mansour S, Ostergaard P et al (2014) Milroy disease. In: Adam MP, Ardinger HH, Pagon RA et al (Hrsg) GeneReviews. University of Washington, Seattle

5.

Bader C, Detmar M (2006) Hereditary lymphedema. medgen 18(4):349–354

6.

Albert DM et al (2008) Albert & Jakobiec's principles & practice of ophthalmology Bd. 1, S 436–437

7.

Tabbara KF, Baghdassarian SA (1972) Chronic hereditary lymphedema of the legs with congenital conjunctival lymphedema. Am J Ophthalmol 73(4):531–532. https://doi.org/10.1016/0002-9394(72)90004-9

8.

Perry HD, Cossari AJ (1986) Chronic lymphangiectasis in Turner's syndrome. Br J Ophthalmol 70(5):396–399. https://doi.org/10.1136/bjo.70.5.396
Ethics declarations
Interessenkonflikt
M. Schargus, K.A. Brückner, V.G. Frings und A. Frings geben an, dass kein Interessenkonflikt besteht.
Für diesen Beitrag wurden von den Autoren keine Studien an Menschen oder Tieren durchgeführt. Für die aufgeführten Studien gelten die jeweils dort angegebenen ethischen Richtlinien. Für Bildmaterial oder anderweitige Angaben innerhalb des Manuskripts, über die Patienten zu identifizieren sind, liegt von ihnen und/oder ihren gesetzlichen Vertretern eine schriftliche Einwilligung vor.
About this article
Cite this article
Schargus, M., Brückner, K.A., Frings, V.G. et al. Beidseitige Bindehautchemosis. Ophthalmologe 117, 154–157 (2020). https://doi.org/10.1007/s00347-019-00960-2