Abstract
Objectives
To construct a three-dimensional (3D) model of renal stones to facilitate comprehensive planning for percutaneous nephrolithotomy (PCNL) and to assist in surgery.
Methods
Fifteen patients with complex renal stones, including one patient with a horseshoe kidney, eight patients with partial/complete staghorn, and six patients with multiple renal stones, participated in our study. Computed tomography images of the unenhanced, arterial, venous, and excretory phases were obtained before surgery. Image segmentation and 3D reconstruction of the renal stones were performed using Mimics 12.1 software. A virtual safe and reliable percutaneous renal access route were established for each patient by comprehensive planning based on the 3D model of renal stones. PCNL was subsequently performed with the assistance of the 3D model. Patient demographics, surgical details, and postoperative treatment parameters were recorded.
Results
The 3D models of renal stones accurately represented the interrelationships between the intrarenal arteries and veins, collecting system, stones, and adjacent anatomical structures. PCNL was completed successfully in all 15 patients. The mean operating time was 75.6 ± 13.4 min. The change in hemoglobin concentration was 1.2 ± 0.3 g/l. The one-stage stone-free rate was 93.3 %, and the final stone-free rate was 100 %. No major postoperative complications were noted, except for postoperative pain in one case.
Conclusion
Construction of a 3D model of renal stones with the aim of minimizing the risks of percutaneous procedures and achieving higher one-stage stone-free rates is feasible for comprehensive PCNL planning and assistance in patients with complex renal stones.
This is a preview of subscription content, log in to check access.
Access options
Buy single article
Instant unlimited access to the full article PDF.
US$ 39.95
Price includes VAT for USA
Subscribe to journal
Immediate online access to all issues from 2019. Subscription will auto renew annually.
US$ 199
This is the net price. Taxes to be calculated in checkout.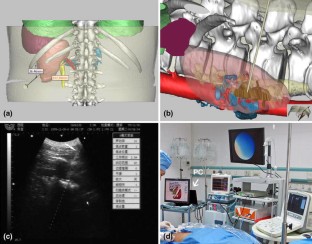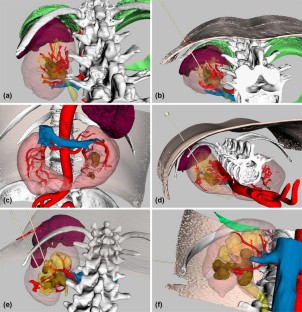 References
1.

Al-Kohlany KM, Shokeir AA, Mosbah A, Mohsen T, Shoma AM, Eraky I, El-Kenawy M, El-Kappany HA (2005) Treatment of complete staghorn stones: a prospective randomized comparison of open surgery versus percutaneous nephrolithotomy. J Urol 173(2):469–473

2.

Watterson JD, Soon S, Jana K (2006) Access related complications during percutaneous nephrolithotomy: urology versus radiology at a single academic institution. J Urol 176(1):142–145

3.

Mishra S, Sabnis RB, Desai M (2012) Staghorn morphometry: a new tool for clinical classification and prediction model for percutaneous nephrolithotomy monotherapy. J Endourol 26(1):6–14

4.

Turna B, Nazli O, Demiryoguran S, Mammadov R, Cal C (2007) Percutaneous nephrolithotomy: variables that influence hemorrhage. Urology 69(4):603–607

5.

Muslumanoglu AY, Tefekli A, Karadag MA, Tok A, Sari E, Berberoglu Y (2006) Impact of percutaneous access point number and location on complication and success rates in percutaneous nephrolithotomy. Urol Int 77(4):340–346

6.

de la Rosette J, Assimos D, Desai M, Gutierrez J, Lingeman J, Scarpa R, Tefekli A (2011) The clinical research office of the endourological society percutaneous nephrolithotomy global study: indications, complications, and outcomes in 5803 patients. J Endourol 25(1):11–17

7.

El-Assmy AM, Shokeir AA, El-Nahas AR, Shoma AM, Eraky I, El-Kenawy MR, El-Kappany HA (2007) Outcome of percutaneous nephrolithotomy: effect of body mass index. Eur Urol 52(1):199–204

8.

Tanriverdi O, Boylu U, Kendirci M, Kadihasanoglu M, Horasanli K, Miroglu C (2007) The learning curve in the training of percutaneous nephrolithotomy. Eur Urol 52(1):206–211

9.

Jang WS, Choi KH, Yang SC, Han WK (2011) The learning curve for flank percutaneous nephrolithotomy for kidney calculi: a single surgeon's experience. Korean J Urol 52(4):284–288

10.

Thiruchelvam N, Mostafid H, Ubhayakar G (2005) Planning percutaneous nephrolithotomy using multidetector computed tomography urography, multiplanar reconstruction and three-dimensional reformatting. BJU Int 95(9):1280–1284

11.

Ghani KR, Rintoul M, Patel U, Anson K (2005) Three-dimensional planning of percutaneous renal stone surgery in a horseshoe kidney using 16-slice CT and volume-rendered movies. J Endourol 19(4):461–463

12.

Soria F, Delgado MI, Sanchez FM, Allona A, Jimenez Cruz JF, Morell E, Uson J (2009) Effectiveness of three-dimensional fluoroscopy in percutaneous nephrostomy: an animal model study. Urology 73(3):649–652 discussion 652-644

13.

Dalela D, Gupta A, Ahmed S, Goel A (2009) Three-dimensional synchronized multidirectional renal pyelo-angiography: a new imaging concept to facilitate percutaneous nephrolithotomy in technically challenging cases. J Endourol 23(12):1937–1939

14.

Ukimura O (2010) Image-guided surgery in minimally invasive urology. Curr Opin Urol 20(2):136–140

15.

Teber D, Guven S, Simpfendorfer T, Baumhauer M, Guven EO, Yencilek F, Gozen AS, Rassweiler J (2009) Augmented reality: a new tool to improve surgical accuracy during laparoscopic partial nephrectomy? Preliminary in vitro and in vivo results. Eur Urol 56(2):332–338

16.

Simpfendorfer T, Baumhauer M, Muller M, Gutt CN, Meinzer HP, Rassweiler JJ, Guven S, Teber D (2011) Augmented reality visualization during laparoscopic radical prostatectomy. J Endourol 25(12):1841–1845

17.

Ritter M, Rassweiler MC, Hacker A, Michel MS (2012) Laser-guided percutaneous kidney access with the Uro Dyna-CT: first experience of three-dimensional puncture planning with an ex vivo model. World J Urol [Epub ahead of print]

18.

Rassweiler JJ, Muller M, Fangerau M, Klein J, Goezen AS, Pereira P, Meinzer HP, Teber D (2012) iPad-assisted percutaneous access to the kidney using marker-based navigation: initial clinical experience. Eur Urol 61(3):628–631

19.

Mei J, Yin Z, Zhang J, Lui KW, Hu S, Peng Z, Chen S, Tang M (2010) A mini pig model for visualization of perforator flap by using angiography and MIMICS. Surg Radiol Anat 32(5):477–484

20.

Ukimura O, Nakamoto M, Gill IS (2012) Three-dimensional reconstruction of renovascular-tumor anatomy to facilitate zero-ischemia partial nephrectomy. Eur Urol 61(1):211–217

21.

Rastinehad AR, Andonian S, Smith AD, Siegel DN (2009) Management of hemorrhagic complications associated with percutaneous nephrolithotomy. J Endourol 23(10):1763–1767

22.

Richstone L, Reggio E, Ost MC, Seideman C, Fossett LK, Okeke Z, Rastinehad AR, Lobko I, Siegel DN, Smith AD (2008) First Prize (tie): hemorrhage following percutaneous renal surgery: characterization of angiographic findings. J Endourol 22(6):1129–1135

23.

Munver R, Delvecchio FC, Newman GE, Preminger GM (2001) Critical analysis of supracostal access for percutaneous renal surgery. J Urol 166(4):1242–1246

24.

Walsh RM, Kelly CR, Gupta M (2009) Percutaneous renal surgery: use of flexible nephroscopy and treatment of infundibular stenoses. J Endourol 23(10):1679–1685

25.

Williams SK, Leveillee RJ (2008) A single percutaneous access and flexible nephroscopy is the best treatment for a full staghorn calculus. J Endourol 22(9):1835–1837 discussion 1839
Acknowledgments
This study was supported by a Guangdong Science and Technology Plan project (2009B030801215).
Conflict of interest
The authors have no conflict of financial interest to declare.
Additional information
Hulin Li and Yuanbo Chen contributed equally to this study and should be considered co-first authors.
Electronic supplementary material
Below is the link to the electronic supplementary material.
Supplementary material 1 (MPG 109504 kb)
Supplementary material 2 (MPG 12390 kb)
About this article
Cite this article
Li, H., Chen, Y., Liu, C. et al. Construction of a three-dimensional model of renal stones: comprehensive planning for percutaneous nephrolithotomy and assistance in surgery. World J Urol 31, 1587–1592 (2013) doi:10.1007/s00345-012-0998-7
Received:

Accepted:

Published:

Issue Date:
Keywords
Complex renal stone

Three-dimensional model

Percutaneous nephrolithotomy

Comprehensive planning

Minimally invasive