Synthesis of a novel magnetic–luminescent bifunctional imaging materials by introducing WO3–x interlayer
Abstract
A novel Fe3O4@WO3–x@YF3:Ce3+, Tb3+ imaging material was prepared by two-step method. Compared with the YF3:Ce3+, Tb3+, the luminescence intensity of Fe3O4@WO3–x@YF3:Ce3+,Tb3+ is obviously boosted. It showed that the protect effect and LSPR of WO3–x shielding layer play a role in enhancing the luminescence properties of the YF3: Ce3+, Tb3+. MTT assays showed that biomaterials have no poisonousness or harmful after-effects in cells. The magnetic saturation intensity is not obviously weakened by inserting WO3–x layer. The method can boost the luminescent property of the magnetic–luminescent material and stimulate its applications in cell imaging, targeting delivery, and thermotherapy.
Graphic abstract
In this study, Fe
3
O
4
@WO
3–x
@YF
3
:Ce
3+
,Tb
3+
magnetic-luminescent bi-functional nanocomposites with best luminescent performance were synthesized by a simple direct precipitation method. Furthermore, the enhancement mechanism has been found as LSPR of WO
3−x
. The nanocomposites are potential application in tumor imaging and tumor precise surgery.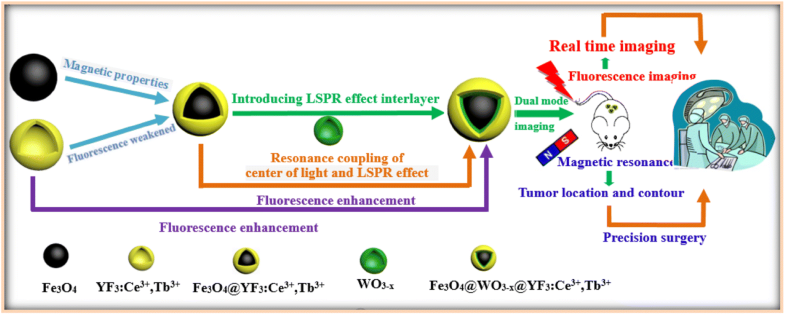 Notes
Acknowledgements
This work was funded by national natural science foundation of china (Grant Number 51704116), hunan province natural science foundation of china (Grant Number 2018JJ3252), the planned science and technology project of hunan province, china (Grant Number 2016TP1028), Loudi science and technology project and china postdoctoral science foundation (Grant Number 2017M612582).
Compliance with ethical standards
Conflict of interest
The authors declare that they have no conflict of interest.
Copyright information
© Springer-Verlag GmbH Germany, part of Springer Nature 2019