Development of silicon nitride-based nanocomposites with multicolour photoluminescence
Abstract
Silicon-rich nitride nanocomposites with stable multicolour photoluminescence (PL) are developed in this work. Firstly, a single PL band can be adjusted in the visible spectral range. Secondly, simultaneous emission of an additional PL band is achieved due to boron-doping of the nanocomposites. Impact of thermal annealing of the silicon nitride films in different atmospheres at various temperatures on their PL spectra is studied. Processes responsible for multicolour emission in the boron-doped nanocomposites are discussed. The developed nanocomposites can be further applied for nanothermometry or biosensing applications. They can be also used for synthesis of silicon nanoparticles with multicolour PL.
Graphic abstract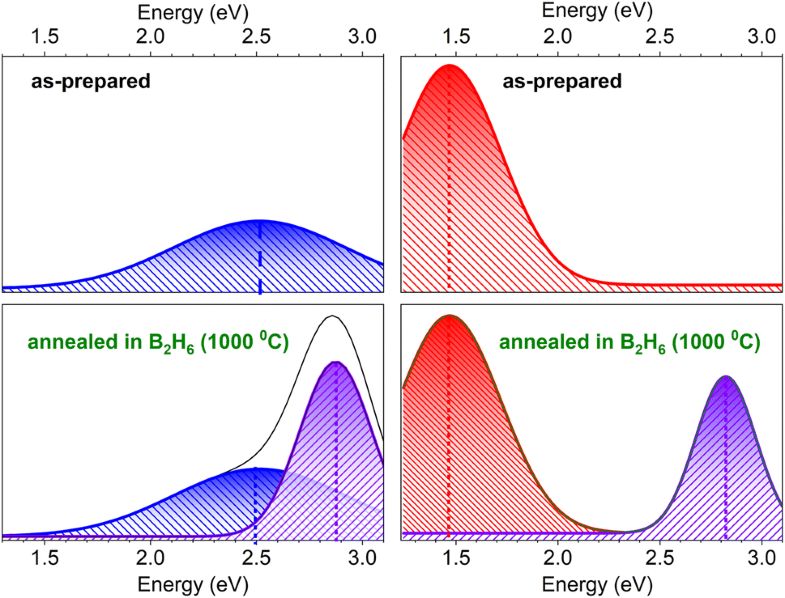 Intense violet-based multicolour photoluminescence of silicon nitride nanocomposite with tunable emission position is achieved.
Notes
Acknowledgements
Yu.V.R. acknowledges the European Regional Development Fund and the state budget of the Czech Republic (Project BIATRI: CZ.02.1.01/0.0/0.0/15_003/0000445) and the Ministry of Education, Youth and Sports (Programs NPU I-Project no. LO1602).
Copyright information
© Springer-Verlag GmbH Germany, part of Springer Nature 2019