Abstract
Entacmaea quadricolor is a geographically widespread species of sea anemone that forms a three-way symbiosis with anemonefish and Symbiodinium. This species dominates the reef substrata at North Solitary Island, Australia, which is located in a region identified as a climate change hot spot. Their geographic location places these anemones under significant threat from rising ocean temperatures, although their upper thermal limit and risk of bleaching are unknown. To address this knowledge gap, anemones were exposed to one of four temperatures (23, 25, 27, or 29°C) and one of two irradiance treatments (high or low light) over 6 days. At moderate temperatures (27°C, 1°C above summer average), anemone bleaching was characterised by symbiont expulsion, while extreme temperatures (29°C) resulted in an additional loss of photosynthetic pigments from within symbionts, and in some cases, host mortality. Irradiance influenced the susceptibility to thermal stress with high light promoting the bleaching response, along with significant reductions in the effective quantum yield of anemone symbionts. The long-term loss of photosystem II photochemical efficiency within in hospite symbionts was observed during exposure to temperatures exceeding the summer average, indicating photosynthetic damage. The resident Symbiodinium, identified as clade C using 28S rRNA gene sequences, therefore represents the partner within the symbiosis that is likely to be most vulnerable to rising seawater temperatures. Results suggest that E. quadricolor is living within approximately 1°C of the upper thermal maximum at the Solitary Islands, and given the predictions for rising seawater temperature on Australia's east coast, the thermal threshold at which bleaching will occur is expected to be reached and exceeded more frequently in the future.
This is a preview of subscription content, log in to check access.
Access options
Buy single article
Instant unlimited access to the full article PDF.
US$ 39.95
Price includes VAT for USA
Subscribe to journal
Immediate online access to all issues from 2019. Subscription will auto renew annually.
US$ 199
This is the net price. Taxes to be calculated in checkout.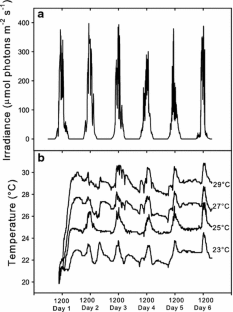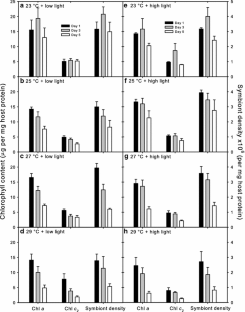 References
Abrego D, Ulstrup K, Willis B, van Oppen M (2008) Species-specific interactions between algal endosymbionts and coral hosts define their bleaching response to heat and light stress. Proc R Soc B 275:2273–2282

AOAC (2000) Official methods of analysis of AOAC International. Association of Official Analytical Chemists, USA

APHA (2005) Standard methods for the examination of water and wastewater. American Public Health Association, Washington

Berkelmans R, van Oppen MJH (2006) The role of zooxanthellae in the thermal tolerance of corals: a 'nugget of hope' for coral reefs in an era of climate change. Proc R Soc B 273:2305–2312

Brown BE (1997) Coral bleaching: causes and consequences. Coral Reefs 16:129–138

Coles SL, Brown BE (2003) Coral bleaching—capacity for acclimatization and adaptation. Adv Mar Biol 46:183–223

Dalton SJ (2010) Stressors of eastern Australian subtropical corals: Australian subtropical white syndrome and coral bleaching. Ph.D. thesis, University of New England, Armidale, p 190

Dunn DF (1981) The clownfish sea anemones: Stichodactylidae (Coelenterata: Actiniaria) and other sea anemones symbiotic with pomacentrid fishes. Trans Am Philos Soc 71:3–115

Dunn SR, Bythell JC, Le Tissier MDA, Burnett WJ, Thomason JC (2002) Programmed cell death and cell necrosis activity during hyperthermic stress-induced bleaching of the symbiotic sea anemone Aiptasia sp. J Exp Mar Biol Ecol 272:29–53

Dunn SR, Thomason JC, Le Tissier MDA, Bythell JC (2004) Heat stress induces different forms of cell death in sea anemones and their endosymbiotic algae depending on temperature and duration. Cell Death Differ 11:1213–1222

Dykens JA, Shick JM (1984) Photobiology of the symbiotic sea anemone, Anthopleura elegantissima: defences against photodynamic effects, and seasonal photoacclimatization. Biol Bull 167:683–697

Fautin DG, Allen GR (1997) Anemonefishes and their host sea anemones: a guide for aquarists and divers. Western Australian Museum, Perth

Fitt WK, Brown BE, Warner ME, Dunne RP (2001) Coral bleaching: interpretation of thermal tolerance limits and thermal thresholds in tropical corals. Coral Reefs 20:51–65

Franklin DJ, Hoegh-Guldberg O, Jones RJ, Berges JA (2004) Cell death and degeneration in the symbiotic dinoflagellates of the coral Stylophora pistillata during bleaching. Mar Ecol Prog Ser 272:117–130

Frisch AJ, Hobbs JA (2009) Rapid assessment of anemone and anemonefish populations at the Keppel Islands: a report to the Great Barrier Reef Marine Park Authority. Research publication No. 94. Great Barrier Reef Marine Park Authority, Townsville. http://www.gbrmpa.gov.au/__data/assets/pdf_file/0005/5594/gbrmpa_RP94_Rapid_Assessment_Of_Anemone_2009.pdf

Grafen A, Hails R (2002) Modern statistics for the life sciences. Oxford University Press, Oxford

Hattori A (2002) Small and large anemonefishes can coexist using the same patchy resources on a coral reef, before habitat destruction. J Anim Ecol 71:824–831

Hill R, Ralph PJ (2005) Diel and seasonal changes in fluorescence rise kinetics of three scleractinian corals. Funct Plant Biol 32:549–559

Hill R, Larkum AWD, Frankart C, Kühl M, Ralph PJ (2004) Loss of functional photosystem II reaction centres in zooxanthellae of corals exposed to bleaching conditions: using fluorescence rise kinetics. Photosyn Res 82:59–72

Hill R, Ulstrup KE, Ralph PJ (2009) Temperature induced changes in thylakoid membrane thermostability of cultured, freshly isolated, and expelled zooxanthellae from scleractinian corals. Bull Mar Sci 85:223–244

Hobday AJ, Okey TA, Poloczanska ES, Kunz TJ, Richardson AJ (2006) Impacts of climate change on Australian marine life—part B: technical report. CSIRO Marine and Atmospheric Research, Canberra

Hoegh-Guldberg O (1999) Climate change, coral bleaching and the future of the world's coral reefs. Mar Freshw Res 50:839–866

Hoegh-Guldberg O, Jones RJ (1999) Photoinhibition and photoprotection in symbiotic dinoflagellates from reef building corals. Mar Ecol Prog Ser 183:73–86

Hoegh-Guldberg O, Smith GJ (1989) The effect of sudden changes in temperature, light and salinity of the population-density and export of zooxanthellae from the reef corals Stylophora pistillata Esper and Seriatopora hystrix Dana. J Exp Mar Biol Ecol 129:279–303

Houghton J (2009) Global warming: the complete briefing, 4th edn. Cambridge University Press, Cambridge

Hughes TP, Baird AH, Bellwood DR, Card M, Connolly SR, Folke C, Grosberg R, Hoegh-Guldberg O, Jackson JBC, Kleypas J, Lough JM, Marshall P, Nyström M, Palumbi SR, Pandolfi JM, Rosen B, Roughgarden J (2003) Climate change, human impacts, and the resilience of coral reefs. Science 301:929–933

Jantzen C, Wild C, El-Zibdah M, Roa-Quiaoit AA, Haacke C, Richter C (2008) Photosynthetic performance of giant clams, Tridacna maxima and T. squamosa, Red Sea. Mar Biol 155:211–221

Jeffrey SW, Humphrey GF (1975) New spectrophotometric equations for determining chlorophylls a, b, c 1 and c 2 in higher plants, algae and natural phytoplankton. Biochemie und Physiologie der Pflanzen 167:191–194

Jones RJ, Hoegh-Guldberg O, Larkum AWD, Schreiber U (1998) Temperature-induced bleaching of corals begins with impairment of the CO2 fixation metabolism in zooxanthellae. Plant Cell Environ 21:1219–1230

Jones RJ, Ward S, Yang AA, Hoegh-Guldberg O (2000) Changes in quantum efficiency of photosystem II of symbiotic dinoflagellates of corals after heat stress, and of bleached corals sampled after the 1998 Great Barrier Reef mass bleaching event. Mar Freshw Res 50:839–866

Jones AM, Gardner S, Sinclair W (2008) Losing 'Nemo': bleaching and collection appear to reduce inshore populations of anemonefishes. J Fish Biol 73:753–761

Lesser MP, Farrell JH (2004) Exposure to solar radiation increases damage to both host tissues and algal symbionts of corals during thermal stress. Coral Reefs 23:367–377

Lesser MP, Stochaj WR, Tapley DW, Shick JM (1990) Bleaching in coral reef anthozoans: effects of irradiance, ultraviolet radiation, and temperature on the activities of protective enzymes against active oxygen. Coral Reefs 8:225–232

Loya Y, Sakai K, Yamazato K, Nakano Y, Sambali H, van Woesik R (2001) Coral bleaching: the winners and the losers. Ecol Lett 4:122–131

Marshall PA, Baird AH (2000) Bleaching of corals on the Great Barrier Reef: differential susceptibilities among taxa. Coral Reefs 19:155–163

McClanahan TR, Weil E, Cortés J, Baird AH, Ateweberhan M (2009) Consequences of coral bleaching for sessile reef organisms. In: van Oppen MJH, Lough JM (eds) Coral bleaching. Springer, Berlin, pp 121–138

Muller-Parker G (1987) Seasonal variation in light-shade adaptation of natural populations of the symbiotic sea anemone Aiptasia pulchella (Carlgren, 1943) in Hawaii. J Exp Mar Biol Ecol 112:165–183

Ollerton J, McCollin D, Fautin D, Allen G (2007) Finding NEMO: nestedness engendered by mutualistic organization in anemonefish and their hosts. Proc R Soc B 274:591–598

Perez SF, Cook CB, Brooks WR (2001) The role of symbiotic dinoflagellates in the temperature induced bleaching response of the subtropical sea anemone Aiptasia pallida. J Exp Mar Biol Ecol 256:1–14

Poloczanska ES, Babcock RC, Butler A, Hobday AJ, Hoegh-Guldberg O, Kunz TJ, Matear R, Milton DA, Okey TA, Richardson AJ (2007) Climate change and Australian marine life. Oceanogr Mar Biol Annu Rev 45:407–478

Porter JW, Muscatine L, Dubisky Z, Falkowski PG (1984) Primary production and photoadaptation in light- and shade-adapted colonies of the symbiotic coral, Stylophora pistillata. Proc R Soc B 222:161–180

Richardson DL (1996) Aspects of the ecology of anemonefishes (Pomacentridae: Amphiprion) and giant sea anemones (Actinaria) within sub-tropical eastern Australian waters. Ph.D. thesis, Southern Cross University, p 200

Richardson DL, Harriott VJ, Harrison PL (1997) Distribution and abundance of giant sea anemones (Actiniaria) in subtropical eastern Australian waters. Mar Freshw Res 48:59–66

Ridgway KR (2007) Long-term trend and decadal variability of the southward penetration of the East Australian Current. Geophys Res Lett 34:L13613

Roopin M, Thornhill DJ, Santos SR, Chadwick NE (2011) Ammonia flux, physiological parameters, and Symbiodinium diversity in the anemonefish symbiosis on Red Sea coral reefs. Symbiosis 53:63–74

Rowan R (2004) Thermal adaptation in coral symbionts. Nature 430:742

Saenz-Agudelo P, Jones G, Thorrold S, Planes S (2011) Detrimental effects of host anemone bleaching on anemonefish populations. Coral Reefs 30:497–506

Saragosti E, Tchernov D, Katsir A, Shaked Y (2010) Extracellular production and degradation of superoxide in the coral Stylophora pistillata and cultured Symbiodinium. PLoS One 5:e12508

Schreiber U (2004) Pulse-amplitude-modulation (PAM) fluorometry and saturation pulse method: an overview. In: Papageorgiou GC, Govindjee (eds) Chlorophyll fluorescence: a signature of photosynthesis. Kluwer Academic Publishers, Dordrecht, pp 279–319

Scott A, Harrison PL (2007) Embryonic and larval development of the host sea anemones Entacmaea quadricolor and Heteractis crispa. Biol Bull 213:110–121

Scott A, Malcolm HA, Damiano C, Richardson DL (2011) Long-term increases in abundance of anemonefish and their host sea anemones in an Australian marine protected area. Mar Freshw Res 62:187–196

Takahashi S, Whitney S, Itoh S, Maruyama T, Badger M (2008) Heat stress causes inhibition of the de novo synthesis of antenna proteins and photobleaching in cultured Symbiodinium. Proc Natl Acad Sci USA 105:4203–4208

Ulstrup KE, Berkelmans R, Ralph PJ, van Oppen MJH (2006) Variation in bleaching sensitivity of two coral species across a latitudinal gradient on the Great Barrier Reef: the role of zooxanthellae. Mar Ecol Prog Ser 314:135–148

Venn AA, Wilson MA, Trapido-Rosenthal HG, Keely BJ, Douglas AE (2006) The impact of coral bleaching on the pigment profile of the symbiotic alga, Symbiodinium. Plant Cell Environ 29:2133–2142

Venn AA, Loram JE, Douglas AE (2008) Photosynthetic symbioses in animals. J Exp Bot 59:1069–1080

Warner ME, Fitt WK, Schmidt GW (1999) Damage to Photosystem II in symbiotic dinoflagellates: a determinant of coral bleaching. Proc Natl Acad Sci USA 96:8007–8012

Zardoya R, Costas E, Lopez-Rodas V, Garrido-Pertierra A, Bautista JM (1995) Revised dinoflagellate phylogeny inferred from molecular analysis of large-subunit ribosomal RNA gene sequences. J Mol Evol 41:637–645
Acknowledgments
We would like to thank K. Cowden, S. Soule, and G. Shipley for technical support, L. Brooks for help with statistical analyses, E. Deschaseaux for laboratory assistance, P. Ralph for the use of the Mini-PAM fluorometer, D. Carter and T. Bui for performing Symbiodinium clade analyses, and C. Damiano for help with anemone collection. This project was supported by a grant from the Sydney Aquarium Conservation Foundation and was done under the conditions specified by NSW Fisheries Permit P09/0100-1.0.
Additional information
Communicated by Biology Editor Dr. Mark Warner
Electronic supplementary material
Below is the link to the electronic supplementary material.
ESM 1 Entacmaea quadricolor expelling a large mass of endosymbionts after two days of exposure to the 29°C high-light treatment. Supplementary material 1 (AVI 39907 kb)
About this article
Cite this article
Hill, R., Scott, A. The influence of irradiance on the severity of thermal bleaching in sea anemones that host anemonefish. Coral Reefs 31, 273–284 (2012) doi:10.1007/s00338-011-0848-x
Received:

Accepted:

Published:

Issue Date:
Keywords
Chlorophyll a fluorescence
Symbiodinium

Symbiosis

Bleaching

Climate change

Entacmaea quadricolor