Zusammenfassung
Die sonographische Darstellung abdomineller Organe sowie ihrer bindegewebigen und muskulären Umgebung erlaubt mit vertretbarem apparativen Aufwand und ohne Anwendung von Röntgenstrahlung die räumliche Echtzeitdarstellung der Mobilität der Organe und ihres anatomischen Umfelds, insbesondere im Zusammenhang mit der Atmung und der Aktivität des Bauchmuskelverbands. Weiterhin ist die Beobachtung der Peristaltik und des Füllungszustands von Hohlorganen möglich. Die Visualisierung topographischer Beziehungen und deren Variation während der Atmung sowie vor, nach und mit gewissen Einschränkungen während der Therapie wird hierdurch überhaupt erst praktikabel bzw. im Vergleich zu Röntgen-, CT- und MRT-Untersuchungen erheblich erleichtert. Die Untersuchungsmethodik unterscheidet sich prinzipiell nicht von der konventionellen Sonographie, die Bewertung allerdings wird hier auf einige in der konventionellen Diagnostik üblicherweise nicht routinemäßig verwendete Kriterien fokussiert.
Abstract
Ultrasonographic imaging of abdominal organs and structures of connective tissue as well as the surrounding muscles enables spatial real-time imaging of organ mobility and the mobility of the anatomical environment by justifiable technical expenditure and without X-rays, especially in relation to breathing and the structure and contractile state of abdominal muscles. Furthermore it allows observation of peristalsis and the filling state of hollow organs. The visualization of topographic relationships and the variation during breathing, as well as before, after and somewhat limited during therapy, has become practically possible and is markedly simplified in comparison to X-ray, computed tomography and magnetic resonance examinations. The methodology of examination is principally the same as conventional ultrasonography although the interpretation focuses on some criteria not usually used in conventional ultrasonographic diagnostics. Because of the permanent mobility of organs, muscles and connective tissue during breathing, peristalsis, body movements and changes of body position, the online version of this paper also contains some essential video clips. These provide a more precise impression of the variability of anatomical structures.
This is a preview of subscription content, log in to check access.
Access options
Buy single article
Instant unlimited access to the full article PDF.
US$ 39.95
Price includes VAT for USA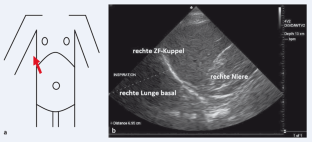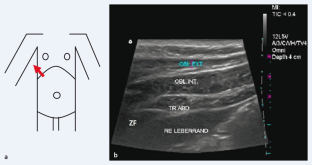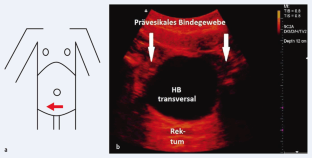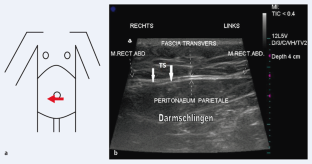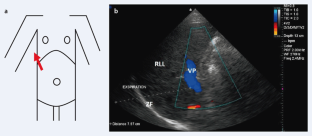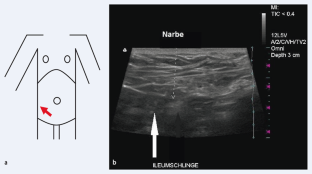 Literatur
1.

Ayoub J, Cohendy R, Priuoux J et al (2001) Diaphragm movement before and after cholecystectomy: a sonographic study. Anest Analg 92:755–761

2.

Bih LI, Wu YT, Tsai SJ et al (2004) Comparison of ultrasonographic renal excursion to fluoroscopic diaphragmatic excursion for the assessment of diaphragmatic function in patients with high cervical cord injury. Arch Phys Med Rehabil 85:65–69

3.

Drummond GB, Allan PL, Logan MR (1986) Changes in diaphragmatic position in association with the induction of anaesthesia. Br J Anaesth 58:1246–1251

4.

Jousela I, Tahvanainen J, Mäkeläinen A et al (1994) Diaphragmatic movement studied with ultrasound during spontaneous breathing and mechanical ventilation with intermittent positive pressure ventilation (IPPV) and airway pressure release ventilation (APRV) in man. Anaesthesiol Reanim 19(2): 43–47

5.

Mannion AF, Pulkovski N, Gubler D et al (2008) Muscle thickness changes during abdominal hollowing: an assessment of betweeen-day measurement error in controls and patients with chronic low ack pain. Eur Spine J 17:494–501

6.

Weskott HP (2007) Niere und ableitende Harnwege. In: Gross M (Hrsg) Sonographie. Elsevier, Urban & Fischer, München, S 181–220

7.

Yamaguti WP, Paulin E, Shibao S et al. (2007) Ultrasound evaluation of diaphragmatic mobility in different postures in healthy subjects. J Bras Pneumol 33(4): 407–413
Interessenkonflikt
Der korrespondierende Autor gibt an, dass kein Interessenkonflikt besteht.
Zusatzmaterial online
Video 1: Wasserfüllung Magenperistaltik (AVI 178 MB)
Video 2: Exkursion rechtes Zwerchfell bei Atmung (AVI 144 MB)
Video 7: prä- und paravesikales Bindegewebe vor Mobilisation rechts (AVI 196 MB)
Video 8: prä- und paravesikales Bindegewebe nach Mobilisation rechts (AVI 197 MB)
About this article
Cite this article
Alt, S., Alt, B. Sonographie in der manuellen Medizin im Kontext osteopathischer viszerofaszialer Techniken. Manuelle Medizin 49, 226 (2011) doi:10.1007/s00337-011-0851-x
Schlüsselwörter
Ultraschall

Abdomen

Osteopathische Behandlung

Viszerofasziale Behandlung

Krankheitsmanagement
Keywords
Ultrasonography

Abdomen

Manipulation, osteopathic

Viscerofascial treatment

Disease management