Abstract
Objectives
To evaluate the implications of hepatic subcapsular and capsular flows using ultrasonography (US) in children after Kasai operation.
Methods
Children who underwent liver US including color Doppler US and microvascular imaging (MVI) from May 2017 to October 2017 were retrospectively included. Children who underwent the Kasai operation for biliary atresia were included in the Kasai group and children with normal liver were included in the control group. Using US results, the number of intrahepatic biliary cysts and the maximum diameter of the spleen were evaluated in the Kasai group. Liver stiffness values were included when patients in the Kasai group had transient elastography (TE) or shear wave elastography (SWE) results. Hepatic subcapsular and capsular flows on color Doppler US and MVI were compared between the two groups using the following scores: 0, no flow reaching the hepatic capsule; 1, any flow reaching the hepatic capsule; and 2, contiguous hepatic capsular flow. The logistic regression test was used to identify associations between age, intrahepatic biliary cysts, spleen size, SWV, TE results, and flow scores measured on Doppler US and MVI in the Kasai group using the odds ratio (OR) and 95% confidence interval (CI).
Result
A total of 65 children (mean 7.6 ± 5.3 years), 44 in the Kasai group and 21 in the control group, were included. In the control group, one child had score 1 on MVI and others had score 0 on both Doppler US and MVI. Among the Kasai group, 28 children (63.6%) had score 1, while others had score 0 using Doppler US. Using MVI, 24 children (54.5%) had score 2, 18 children had score 1, and one child had score 0. In the Kasai group, increased liver stiffness on TE was the only factor significantly associated with the presence of subcapsular flow on color Doppler US (OR 1.225, 95% CI 1.020–1.470) and increased spleen size was the only factor significantly associated with increased flow scores on MVI (OR 1.397, 95% CI 1.002–2.724).
Conclusion
Detection of hepatic subcapsular, capsular flows on US would be meaningful for children after receiving the Kasai operation.
Key Points
• Hepatic subcapsular or capsular flows can be useful not only for the diagnosis but also for the postoperative follow-up in patients with biliary atresia.
• Increased liver stiffness and splenomegaly after the Kasai operation were associated with presence of subcapsular or capsular flow on ultrasonography.
• Evaluation of hepatic subcapsular and capsular flows could be needed to assess disease progression after receiving the Kasai operation.
This is a preview of subscription content, log in to check access.
Access options
Buy single article
Instant access to the full article PDF.
US$ 39.95
Price includes VAT for USA
Subscribe to journal
Immediate online access to all issues from 2019. Subscription will auto renew annually.
US$ 199
This is the net price. Taxes to be calculated in checkout.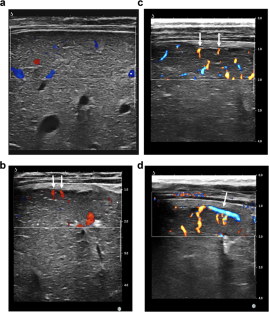 Abbreviations
BA:

Biliary atresia

CI:

Confidence interval

kPa:

Liver stiffness values

MVI:

Microvascular imaging

OR:

Odds ratio

ROI:

Region-of-interest

SSI:

Supersonic shear wave imaging

SWE:

Shear wave elastography

SWV:

Shear wave velocity

TE:

Transient elastography

US:

Ultrasonography
References
1.

Hartley JL, Davenport M, Kelly DA (2009) Biliary atresia. Lancet 374:1704–1713

2.

Iwatsuki S, Shaw BW Jr, Starzl TE (1984) Liver transplantation for biliary atresia. World J Surg 8:51–56

3.

Utterson EC, Shepherd RW, Sokol RJ et al (2005) Biliary atresia: clinical profiles, risk factors, and outcomes of 755 patients listed for liver transplantation. J Pediatr 147:180–185

4.

Chung PH, Wong KK, Tam PK (2015) Predictors for failure after Kasai operation. J Pediatr Surg 50:293–296

5.

Wildhaber BE, Coran AG, Drongowski RA et al (2003) The Kasai portoenterostomy for biliary atresia: a review of a 27-year experience with 81 patients. J Pediatr Surg 38:1480–1485

6.

Lee MS, Kim MJ, Lee MJ et al (2009) Biliary atresia: color Doppler US findings in neonates and infants. Radiology 252:282–289

7.

El-Guindi MA, Sira MM, Konsowa HA, El-Abd OL, Salem TA (2013) Value of hepatic subcapsular flow by color Doppler ultrasonography in the diagnosis of biliary atresia. J Gastroenterol Hepatol 28:867–872

8.

Kim SS, Kim MJ, Lee MJ, Yoon CS, Han SJ, Koh H (2014) Ultrasonographic findings of type IIIa biliary atresia. Ultrasonography 33:267–274

9.

Machado P, Segal S, Lyshchik A, Forsberg F (2016) A novel microvascular flow technique: initial results in thyroids. Ultrasound Q 32:67–74

10.

Lee DH, Lee JY, Han JK (2016) Superb microvascular imaging technology for ultrasound examinations: initial experiences for hepatic tumors. Eur J Radiol 85:2090–2095

11.

Ma Y, Li G, Li J, Ren WD (2015) The diagnostic value of superb microvascular imaging (SMI) in detecting blood flow signals of breast lesions: a preliminary study comparing SMI to color Doppler flow imaging. Medicine (Baltimore) 94:e1502

12.

Lim AKP, Satchithananda K, Dick EA, Abraham S, Cosgrove DO (2018) Microflow imaging: new Doppler technology to detect low-grade inflammation in patients with arthritis. Eur Radiol 28:1046–1053

13.

Shin HJ, Kim MJ, Kim HY, Roh YH, Lee MJ (2016) Optimal acquisition number for hepatic shear wave velocity measurements in children. PLoS One 11:e0168758

14.

Hwang SM, Jeon TY, Yoo SY, Choe YH, Lee SK, Kim JH (2018) Early US findings of biliary atresia in infants younger than 30 days. Eur Radiol 28:1771–1777

15.

Weng Z, Zhou L, Wu Q et al (2019) Enlarged hepatic hilar lymph node: an additional ultrasonographic feature that may be helpful in the diagnosis of biliary atresia. Eur Radiol. https://doi.org/10.1007/s00330-019-06339-w

16.

El-Guindi MA, Sira MM, Sira AM et al (2014) Design and validation of a diagnostic score for biliary atresia. J Hepatol 61:116–123

17.

Hahn SM, Kim S, Park KI, Han SJ, Koh H (2013) Clinical benefit of liver stiffness measurement at 3 months after Kasai hepatoportoenterostomy to predict the liver related events in biliary atresia. PLoS One 8:e80652

18.

Yoon H, Shin HJ, Kim MJ, Lee MJ (2019) Quantitative imaging in pediatric hepatobiliary disease. Korean J Radiol 20:1342–1357

19.

Dietrich CF, Ferraioli G, Sirli R et al (2019) General advice in ultrasound based elastography of pediatric patients. Med Ultrason 21:315–326

20.

Hwang M, Piskunowicz M, Darge K (2019) Advanced ultrasound techniques for pediatric imaging. Pediatrics:143

21.

Chen S, Liao B, Zhong Z et al (2016) Supersonic shearwave elastography in the assessment of liver fibrosis for postoperative patients with biliary atresia. Sci Rep 6:31057

22.

Shima H, Igarashi G, Wakisaka M et al (2012) Noninvasive acoustic radiation force impulse (ARFI) elastography for assessing the severity of fibrosis in the post-operative patients with biliary atresia. Pediatr Surg Int 28:869–872

23.

Chongsrisawat V, Vejapipat P, Siripon N, Poovorawan Y (2011) Transient elastography for predicting esophageal/gastric varices in children with biliary atresia. BMC Gastroenterol 11:41

24.

Zhou LY, Jiang H, Shan QY et al (2017) Liver stiffness measurements with supersonic shear wave elastography in the diagnosis of biliary atresia: a comparative study with grey-scale US. Eur Radiol 27:3474–3484

25.

Asai A, Miethke A, Bezerra JA (2015) Pathogenesis of biliary atresia: defining biology to understand clinical phenotypes. Nat Rev Gastroenterol Hepatol 12:342–352

26.

Itai Y, Matsui O (1997) Blood flow and liver imaging. Radiology 202:306–314

27.

Gulberg V, Haag K, Rossle M, Gerbes AL (2002) Hepatic arterial buffer response in patients with advanced cirrhosis. Hepatology 35:630–634

28.

Kim WS, Cheon JE, Youn BJ et al (2007) Hepatic arterial diameter measured with US: adjunct for US diagnosis of biliary atresia. Radiology 245:549–555

29.

Lee JW, Kim S, Kwack SW et al (2008) Hepatic capsular and subcapsular pathologic conditions: demonstration with CT and MR imaging. Radiographics 28:1307–1323

30.

Kuroda H, Abe T, Kakisaka K et al (2016) Visualizing the hepatic vascular architecture using superb microvascular imaging in patients with hepatitis C virus: a novel technique. World J Gastroenterol 22:6057–6064
Funding
The authors state that this work has not received any funding.
Ethics declarations
Guarantor
The scientific guarantor of this publication is Hyun Joo Shin.
Conflict of interest
The authors of this manuscript declare no relationships with any companies whose products or services may be related to the subject matter of the article.
Statistics and biometry
The statistical methods of this study were reviewed by Kyunghwa Han, PhD, who is a biostatistician and research assistant professor in the Center for Clinical Imaging Data Science, Department of Radiology, Yonsei University College of Medicine.
Informed consent
Written informed consent was waived by the Institutional Review Board.
Ethical approval
Institutional Review Board approval was obtained.
Methodology
• Retrospective
• Diagnostic or prognostic study
• Performed at one institution
Additional information
Publisher's note
Springer Nature remains neutral with regard to jurisdictional claims in published maps and institutional affiliations.
About this article
Cite this article
Lee, S., Kim, M., Lee, M. et al. Hepatic subcapsular or capsular flow in biliary atresia: is it useful imaging feature after the Kasai operation?. Eur Radiol (2020). https://doi.org/10.1007/s00330-020-06656-5
Received:

Revised:

Accepted:

Published:
Keywords
Biliary atresia

Child

Ultrasonography

Liver

Splenomegaly