Abstract
Objectives
To propose a follow-up strategy for desmoid-type fibromatosis (DF) based on tumor growth behavior and the signal on T2-weighted MRI.
Methods
We retrospectively reviewed 296 MRI studies of 34 patients with histologically proven DF. In each study, tumor volume and T2 signal relatively normal striated muscle were assessed. Volume variation and monthly growth rates were analyzed to determine lesion growth behavior (progressing versus stable/regressing lesions). Growth behavior was correlated with T2 signal, tumor location, β-catenin status, treatment strategy, and follow-up duration. Interobserver variability of volume measurements and interobserver measurement variation ratio were assessed.
Results
There were 25 women and 9 men with a mean age of 39.9 ± 19 (4–73) years. Mean follow-up time in the patients included was 55 ± 41 (12–148) months. In progressing lesions, the mean average monthly growth ratio was 10.9 ± 9.2 (1.1–42.5) %. Interobserver variability of volume measurements was excellent (ICC = 0.96). Mean interobserver measurement variation ratio was 20.4 ± 23.6%. The only factor correlated with tumor growth behavior was T2 signal ratio (p < 0.0001). Seventeen out of 34 (50%) patients presented a signal change over the threshold of 1 during follow-up. There were five occurrences of secondary growth after a period of stability with a mean delay until growth of 38.2 ± 44.2 (17–116) months.
Conclusion
DF growth rate was quantitatively assessed. A threshold for volume variation detection was established. DF growth behavior was significantly related to T2 signal. An evidence-based follow-up strategy is proposed.
Key Points
• In progressing desmoid fibromatosis, the mean average monthly growth ratio was 10.9 ± 9.2%.
• Lesions with muscle/tumor T2 signal ratios lower than 1 tended to be stable or regress over time.
• Given the interobserver measurement variability and MRI in-plane spatial resolution, a variation higher than 42.6% in tumor volume is required to confirm punctual progression.
This is a preview of subscription content, log in to check access.
Access options
Buy single article
Instant unlimited access to the full article PDF.
US$ 39.95
Price includes VAT for USA
Subscribe to journal
Immediate online access to all issues from 2019. Subscription will auto renew annually.
US$ 199
This is the net price. Taxes to be calculated in checkout.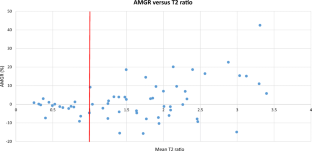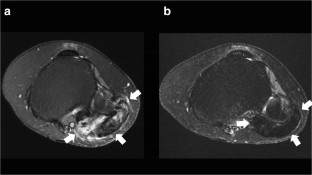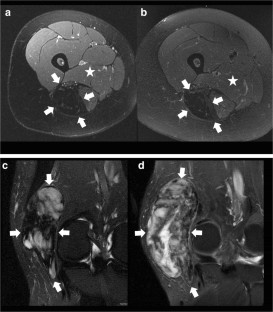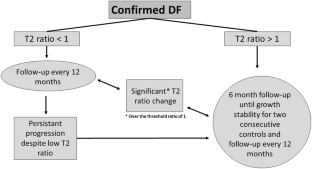 Abbreviations
AMGR:

Average monthly growth rate

CI:

Confidence intervals

DF:

Desmoid-type fibromatosis

ETL:

Echo train length

FOV:

Field-of-view

ICC:

Intraclass correlation coefficients

MRI:

Magnetic resonance imaging

NEX:

Number of excitations

TE:

Echo time

TR:

Repetition time
References
1.

Fletcher CDM, Unni KK, Mertens F (2002) Pathology and genetics of tumours of soft tissue and bone. IARC Press, Lyon, France, April 24 - 28, 2002. IARC Press, Lyon

2.

Salas S, Dufresne A, Bui B et al (2011) Prognostic factors influencing progression-free survival determined from a series of sporadic desmoid tumors: a wait-and-see policy according to tumor presentation. J Clin Oncol 29:3553–3558 https://doi.org/10.1200/JCO.2010.33.5489

3.

Shields CJ, Winter DC, Kirwan WO, Redmond HP (2001) Desmoid tumours. Eur J Surg Oncol 27:701–706 https://doi.org/10.1053/ejso.2001.1169

4.

Gronchi A, Colombo C, Le Péchoux C et al (2014) Sporadic desmoid-type fibromatosis: a stepwise approach to a non-metastasising neoplasm—a position paper from the Italian and the French Sarcoma Group. Ann Oncol 25:578–583 https://doi.org/10.1093/annonc/mdt485

5.

Bonvalot S, Desai A, Coppola S et al (2012) The treatment of desmoid tumors: a stepwise clinical approach. Ann Oncol 23:x158–x166 https://doi.org/10.1093/annonc/mds298

6.

Bonvalot S, Rimareix F, Causeret S et al (2009) Hyperthermic isolated limb perfusion in locally advanced soft tissue sarcoma and progressive desmoid-type fibromatosis with TNF 1 mg and melphalan (T1-M HILP) is safe and efficient. Ann Surg Oncol 16:3350–3357 https://doi.org/10.1245/s10434-009-0733-9

7.

Shinagare AB, Ramaiya NH, Jagannathan JP et al (2011) A to Z of desmoid tumors. AJR Am J Roentgenol 197:W1008–W1014 https://doi.org/10.2214/AJR.11.6657

8.

Kujak JL, Liu PT, Johnson GB, Callstrom MR (2010) Early experience with percutaneous cryoablation of extra-abdominal desmoid tumors. Skeletal Radiol 39:175–182 https://doi.org/10.1007/s00256-009-0801-z

9.

Grimer R, Judson I, Peake D, Seddon B (2010) Guidelines for the management of soft tissue sarcomas. Sarcoma 2010:1–15 https://doi.org/10.1155/2010/506182

10.

Kasper B, Baumgarten C, Bonvalot S et al (2015) Management of sporadic desmoid-type fibromatosis: a European consensus approach based on patients' and professionals' expertise – a Sarcoma Patients EuroNet and European Organisation for Research and Treatment of Cancer/Soft Tissue and Bone Sarcoma Group initiative. Eur J Cancer 51:127–136 https://doi.org/10.1016/j.ejca.2014.11.005

11.

Eastley N, Hennig IM, Esler CP, Ashford RU (2014) 99. Nationwide trends in the current management of desmoid (aggressive) fibromatosis. Eur J Surg Oncol 40:S47 https://doi.org/10.1016/j.ejso.2014.08.095

12.

Gondim Teixeira PA, Chanson A, Verhaeghe JL et al (2019) Correlation between tumor growth and hormonal therapy with MR signal characteristics of desmoid-type fibromatosis: a preliminary study. Diagn Interv Imaging 100:47–55 https://doi.org/10.1016/j.diii.2018.06.007

13.

Castellazzi G, Vanel D, Le Cesne A et al (2009) Can the MRI signal of aggressive fibromatosis be used to predict its behavior? Eur J Radiol 69:222–229 https://doi.org/10.1016/j.ejrad.2008.10.012

14.

de Camargo VP, Keohan ML, D'Adamo DR, et al (2010) Clinical outcomes of systemic therapy for patients with deep fibromatosis (desmoid tumor). Cancer 116:2258–2265 https://doi.org/10.1002/cncr.25089

15.

Aghighi M, Boe J, Rosenberg J et al (2016) Three-dimensional radiologic assessment of chemotherapy response in Ewing sarcoma can be used to predict clinical outcome. Radiology 280:905–915 https://doi.org/10.1148/radiol.2016151301

16.

Stacchiotti S, Collini P, Messina A et al (2009) High-grade soft-tissue sarcomas: tumor response assessment—pilot study to assess the correlation between radiologic and pathologic response by using RECIST and Choi criteria. Radiology 251:447–456 https://doi.org/10.1148/radiol.2512081403

17.

Cassidy MR, Lefkowitz RA, Long N et al (2018) Association of MRI T2 signal intensity with desmoid tumor progression during active observation: a retrospective cohort study. Ann Surg:1 https://doi.org/10.1097/SLA.0000000000003073

18.

Mozley PD, Bendtsen C, Zhao B et al (2012) Measurement of tumor volumes improves RECIST-based response assessments in advanced lung cancer. Transl Oncol 5:19–25 https://doi.org/10.1593/tlo.11232

19.

Krajewski KM, Nishino M, Franchetti Y, Ramaiya NH, Van den Abbeele AD, Choueiri TK (2014) Intraobserver and interobserver variability in computed tomography size and attenuation measurements in patients with renal cell carcinoma receiving antiangiogenic therapy. Cancer 120:711–721 https://doi.org/10.1002/cncr.28493

20.

Schwartz LH, Litière S, de Vries E, et al (2016) RECIST 1.1 – update and clarification: from the RECIST committee. Eur J Cancer 62:132–137. https://doi.org/10.1016/j.ejca.2016.03.081

21.

Sheth PJ, del Moral S, Wilky BA et al (2016) Desmoid fibromatosis: MRI features of response to systemic therapy. Skeletal Radiol 45:1365–1373 https://doi.org/10.1007/s00256-016-2439-y

22.

Burke M, Anderson JR, Kao SC et al (2007) Assessment of response to induction therapy and its influence on 5-year failure-free survival in group III rhabdomyosarcoma: the Intergroup Rhabdomyosarcoma Study-IV experience—a report from the Soft Tissue Sarcoma Committee of the Children's Oncology Group. J Clin Oncol 25:4909–4913 https://doi.org/10.1200/JCO.2006.10.4257

23.

Bissler JJ, McCormack FX, Young LR et al (2008) Sirolimus for angiomyolipoma in tuberous sclerosis complex or lymphangioleiomyomatosis. N Engl J Med 358:140–151

24.

Dangoor A, Seddon B, Gerrand C, Grimer R, Whelan J, Judson I (2016) UK guidelines for the management of soft tissue sarcomas. Clin Sarcoma Res 6. https://doi.org/10.1186/s13569-016-0060-4

25.

Havaei M, Davy A, Warde-Farley D et al (2017) Brain tumor segmentation with deep neural networks. Med Image Anal 35:18–31 https://doi.org/10.1016/j.media.2016.05.004
Acknowledgements
We are indebted to Dr. Jean-Luc Verhaeghe for the support in the preparation of this work.
Funding
The authors state that this work has not received any funding.
Ethics declarations
Guarantor
The scientific guarantor of this publication is Professor Alain Blum.
Conflict of interest
The authors of this manuscript declare no relationships with any companies, whose products or services may be related to the subject matter of the article.
Statistics and biometry
One of the authors has significant statistical expertise.
Informed consent
Written informed consent was waived by the Institutional Review Board.
Ethical approval
Institutional Review Board approval was not required because retrospective studies with fully anonymized patient data do not require ethics committee approval.
Methodology
• retrospective
• observational
• performed at one institution
Additional information
Publisher's note
Springer Nature remains neutral with regard to jurisdictional claims in published maps and institutional affiliations.
About this article
Cite this article
Gondim Teixeira, P.A., Biouichi, H., Abou Arab, W. et al. Evidence-based MR imaging follow-up strategy for desmoid-type fibromatosis. Eur Radiol 30, 895–902 (2020). https://doi.org/10.1007/s00330-019-06404-4
Received:

Revised:

Accepted:

Published:

Issue Date:
Keywords
Aggressive fibromatosis

Follow-up studies

Magnetic resonance imaging

Evidence-based practice

Interobserver variability