Abstract
Objectives
Prediction of progression-free survival (PFS) and overall survival (OS) and early identification of molecular biomarkers with prognostic information are clinically important in glioblastoma (GBM) patients. We aimed to explore the utility of arterial spin labeling perfusion-weighted imaging (ASL-PWI) in the prediction of molecular biomarkers and survival in GBM patients.
Methods
We retrospectively analyzed 149 consecutive GBM patients, who had undergone maximal surgical resection or biopsy followed by concurrent chemoradiotherapy and adjuvant chemotherapy using temozolomide between November 2010 and June 2016. On preoperative ASL-PWI, cerebral blood flow (CBF) within contrast-enhancing (CE) and nonenhancing (NE) portions were evaluated both qualitatively (perfusion pattern[CE] and perfusion pattern[NE]) and quantitatively (nCBFCE and nCBFNE). ASL-PWI findings were correlated with molecular biomarkers, including isocitrate dehydrogenase (IDH) and O6-methylguanine-DNA methyltransferase (MGMT) methylation statuses, and survival, using the Mann-Whitney U-test, Spearman rank correlation, Kaplan-Meier analysis, and receiver operating characteristics analysis.
Results
nCBFCE was significantly higher in the IDH wild-type group than in the IDH mutant group (p = .013) and in the MGMT unmethylated group than in the methylated group (p = .047). Areas under the receiver operating characteristic curve were 0.678 for IDH mutation (p = .022) and 0.601 for MGMT promoter methylation (p = .043). Hyperperfusion was associated with the shortest median PFS for both perfusion pattern[CE] (7.6 months) and perfusion pattern[NE] (4.0 months). The perfusion pattern[NE] remained an independent predictor for PFS and OS even after adjusting for clinical and molecular predictors, unlike perfusion pattern[CE].
Conclusions
ASL-PWI can aid to predict survival and molecular biomarkers including IDH mutation and MGMT promoter methylation statuses in GBM patients.
Key Points
• ASL-PWI can aid to predict survival in GBM patients.
• ASL-PWI can aid to predict IDH and MGMT promoter methylation statuses in GBM.
This is a preview of subscription content, log in to check access.
Access options
Buy single article
Instant unlimited access to the full article PDF.
US$ 39.95
Price includes VAT for USA
Subscribe to journal
Immediate online access to all issues from 2019. Subscription will auto renew annually.
US$ 199
This is the net price. Taxes to be calculated in checkout.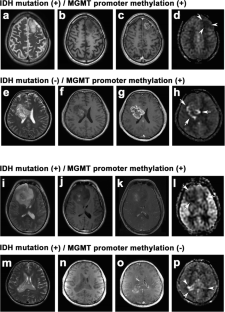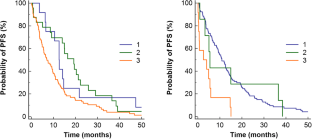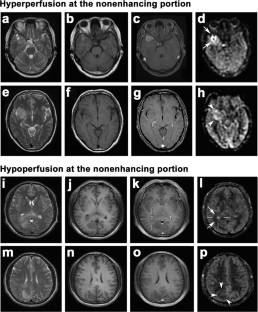 Abbreviations
ASL:

Arterial spin labeling

ATRX:

Alpha thalassemia/mental retardation syndrome x-linked gene

CBF:

Cerebral blood flow

CBV:

Cerebral blood volume

CCRT:

Concurrent chemo- and radiation therapy

DSC:

Dynamic susceptibility contrast-enhanced

EGFR:

Epidermal growth factor receptor

FLAIR:

Fluid-attenuated inversion recovery

GBM:

Glioblastomas

HIF-1α:

Hypoxia-inducible factor 1-alpha

HR:

Hazard ratio

IDH:

Isocitrate dehydrogenase

IQR:

Interquartile range

KPS:

Karnofsky performance score

MGMT:

O6-methylguanine-DNA methyltransferase

OS:

Overall survival

PFS:

Progression-free survival

PWI:

Perfusion-weighted imaging

RANO:

Response assessment in neuro-oncology

TMZ:

Temozolomide

VEGF:

Vascular endothelial growth factor
References
1.

Cancer Genome Atlas Research N (2008) Comprehensive genomic characterization defines human glioblastoma genes and core pathways. Nature 455:1061–1068

2.

Frattini V, Trifonov V, Chan JM et al (2013) The integrated landscape of driver genomic alterations in glioblastoma. Nat Genet 45:1141–1149

3.

Parsons DW, Jones S, Zhang X et al (2008) An integrated genomic analysis of human glioblastoma multiforme. Science 321:1807–1812

4.

Verhaak RG, Hoadley KA, Purdom E et al (2010) Integrated genomic analysis identifies clinically relevant subtypes of glioblastoma characterized by abnormalities in PDGFRA, IDH1, EGFR, and NF1. Cancer Cell 17:98–110

5.

Belden CJ, Valdes PA, Ran C et al (2011) Genetics of glioblastoma: a window into its imaging and histopathologic variability. Radiographics 31:1717–1740

6.

Esteller M, Garcia-Foncillas J, Andion E et al (2000) Inactivation of the DNA-repair gene MGMT and the clinical response of gliomas to alkylating agents. N Engl J Med 343:1350–1354

7.

Hegi ME, Diserens AC, Gorlia T et al (2005) MGMT gene silencing and benefit from temozolomide in glioblastoma. N Engl J Med 352:997–1003

8.

Hong EK, Choi SH, Shin DJ et al (2018) Radiogenomics correlation between MR imaging features and major genetic profiles in glioblastoma. Eur Radiol. https://doi.org/10.1007/s00330-018-5400-8

9.

Yamashita K, Hiwatashi A, Togao O et al (2016) MR imaging-based analysis of glioblastoma multiforme: estimation of IDH1 mutation status. AJNR Am J Neuroradiol 37:58–65

10.

Heiland DH, Demerath T, Kellner E et al (2017) Molecular differences between cerebral blood volume and vessel size in glioblastoma multiforme. Oncotarget 8:11083–11093

11.

Gupta A, Young RJ, Shah AD et al (2015) Pretreatment dynamic susceptibility contrast MRI perfusion in glioblastoma: prediction of EGFR gene amplification. Clin Neuroradiol 25:143–150

12.

Ryoo I, Choi SH, Kim JH et al (2013) Cerebral blood volume calculated by dynamic susceptibility contrast-enhanced perfusion MR imaging: preliminary correlation study with glioblastoma genetic profiles. PLoS One 8:e71704

13.

Qiao XJ, Ellingson BM, Kim HJ et al (2015) Arterial spin-labeling perfusion MRI stratifies progression-free survival and correlates with epidermal growth factor receptor status in glioblastoma. AJNR Am J Neuroradiol 36:672–677

14.

Yoo RE, Choi SH, Cho HR et al (2013) Tumor blood flow from arterial spin labeling perfusion MRI: a key parameter in distinguishing high-grade gliomas from primary cerebral lymphomas, and in predicting genetic biomarkers in high-grade gliomas. J Magn Reson Imaging 38:852–860

15.

Jain R, Poisson L, Narang J et al (2013) Genomic mapping and survival prediction in glioblastoma: molecular subclassification strengthened by hemodynamic imaging biomarkers. Radiology 267:212–220

16.

Jain R, Poisson LM, Gutman D et al (2014) Outcome prediction in patients with glioblastoma by using imaging, clinical, and genomic biomarkers: focus on the nonenhancing component of the tumor. Radiology 272:484–493

17.

Law M, Young RJ, Babb JS et al (2008) Gliomas: predicting time to progression or survival with cerebral blood volume measurements at dynamic susceptibility-weighted contrast-enhanced perfusion MR imaging. Radiology 247:490–498

18.

Wen PY, Macdonald DR, Reardon DA et al (2010) Updated response assessment criteria for high-grade gliomas: response assessment in neuro-oncology working group. J Clin Oncol 28:1963–1972

19.

Man MZ, Dyson G, Johnson K, Liao B (2004) Evaluating methods for classifying expression data. J Biopharm Stat 14:1065–1084

20.

Ducray F, Marie Y, Sanson M (2009) IDH1 and IDH2 mutations in gliomas. N Engl J Med 360:2248–2249 author reply 2249

21.

Ichimura K, Pearson DM, Kocialkowski S et al (2009) IDH1 mutations are present in the majority of common adult gliomas but rare in primary glioblastomas. Neuro Oncol 11:341–347

22.

Myung JK, Cho HJ, Park CK, Kim SK, Phi JH, Park SH (2012) IDH1 mutation of gliomas with long-term survival analysis. Oncol Rep 28:1639–1644

23.

Kickingereder P, Sahm F, Radbruch A et al (2015) IDH mutation status is associated with a distinct hypoxia/angiogenesis transcriptome signature which is non-invasively predictable with rCBV imaging in human glioma. Sci Rep 5:16238

24.

Chahal M, Xu Y, Lesniak D et al (2010) MGMT modulates glioblastoma angiogenesis and response to the tyrosine kinase inhibitor sunitinib. Neuro Oncol 12:822–833

25.

Burger PC, Heinz ER, Shibata T, Kleihues P (1988) Topographic anatomy and CT correlations in the untreated glioblastoma multiforme. J Neurosurg 68:698–704

26.

Parsa AT, Wachhorst S, Lamborn KR et al (2005) Prognostic significance of intracranial dissemination of glioblastoma multiforme in adults. J Neurosurg 102:622–628

27.

Oh J, Sahgal A, Sanghera P et al (2011) Glioblastoma: patterns of recurrence and efficacy of salvage treatments. Can J Neurol Sci 38:621–625

28.

Wick W, Stupp R, Beule AC et al (2008) A novel tool to analyze MRI recurrence patterns in glioblastoma. Neuro Oncol 10:1019–1024

29.

Warmuth C, Gunther M, Zimmer C (2003) Quantification of blood flow in brain tumors: comparison of arterial spin labeling and dynamic susceptibility-weighted contrast-enhanced MR imaging. Radiology 228:523–532

30.

Detre JA, Leigh JS, Williams DS, Koretsky AP (1992) Perfusion imaging. Magn Reson Med 23:37–45

31.

Williams DS, Detre JA, Leigh JS, Koretsky AP (1992) Magnetic resonance imaging of perfusion using spin inversion of arterial water. Proc Natl Acad Sci U S A 89:212–216
Ethics declarations
Guarantor
The scientific guarantor of this publication is Tae Jin Yun.
Conflict of interest
The authors of this manuscript declare no relationships with any companies, whose products or services may be related to the subject matter of the article.
Statistics and biometry
One of the authors (R.E.Y.) has significant statistical expertise.
Informed consent
Requirement for informed consent was waived due to its retrospective nature.
Ethical approval
Institutional Review Board approval was obtained.
Study subjects or cohorts overlap
Part of the patient population in this study (n = 132) overlaps with those in a previous study (Hong EK, Choi SH, Shin DJ et al (2018) Radiogenomics correlation between MR imaging features and major genetic profiles in glioblastoma. Eur Radiol. https://doi.org/10.1007/s00330-018-5400-8). The current study differs from the previous study in that we used ASL-PWI to conduct rigorous radiogenomics and survival analyses, focusing on both enhancing and nonenhancing portions of tumors. Moreover, the current study expands on the prior study by having a larger patient number and includes a more in-depth survival analysis using a multivariable survival model based on various imaging, molecular, and clinical predictors.
Methodology
• retrospective
• diagnostic or prognostic study
• performed at one institution
Additional information
Publisher's note
Springer Nature remains neutral with regard to jurisdictional claims in published maps and institutional affiliations.
Electronic supplementary material
About this article
Cite this article
Yoo, R., Yun, T.J., Hwang, I. et al. Arterial spin labeling perfusion-weighted imaging aids in prediction of molecular biomarkers and survival in glioblastomas. Eur Radiol 30, 1202–1211 (2020). https://doi.org/10.1007/s00330-019-06379-2
Received:

Revised:

Accepted:

Published:

Issue Date:
Keywords
Glioblastoma

Isocitrate dehydrogenase

Perfusion-weighted imaging

Progression-free survival

Overall survival