Abstract
Objective
To prospectively evaluate the technical feasibility of percutaneous real-time contrast-enhanced ultrasound (CEUS) guided biopsy of focal hepatic lesions that are not confidently localised on B-mode US.
Methods
The study included 44 patients (mean age, 61.3 years) whose biopsy target could not be confidently localised on B-mode US performed by two independent radiologists. Biopsy was attempted under the guidance of both CEUS and B-mode US simultaneously displayed on a single monitor. Final diagnosis was established based on the pathological examination of the biopsy specimen as well as on clinical and radiological follow-up.
Results
The size and depth of the target lesions were 18.0 ± 9.0 mm (mean ± SD) and 41.8 ± 17.2 mm respectively. Five patients with negative or indistinct CEUS findings did not undergo biopsy, while 39 patients completed the biopsy. In 38 of the 39 patients, the biopsy result was concordant with the final diagnosis. In the remaining one patient, the biopsy failed to prove metastasis. As there were six cases of technical failure, the technical success rate was 86% (38/44). The sensitivity in diagnosing malignancy was 88% (30/34).
Conclusion
Real-time CEUS-guided biopsy is technically feasible for hepatic focal lesions that are not confidently localised on B-mode US.
This is a preview of subscription content, log in to check access.
Access options
Buy single article
Instant unlimited access to the full article PDF.
US$ 39.95
Price includes VAT for USA
Subscribe to journal
Immediate online access to all issues from 2019. Subscription will auto renew annually.
US$ 199
This is the net price. Taxes to be calculated in checkout.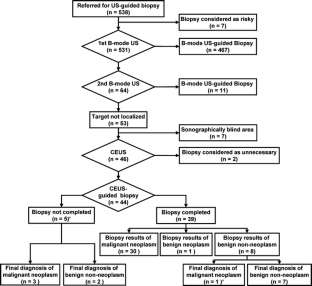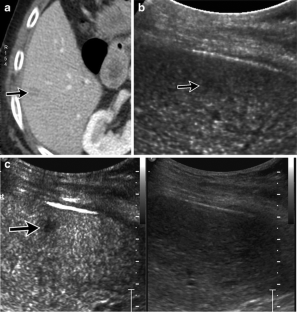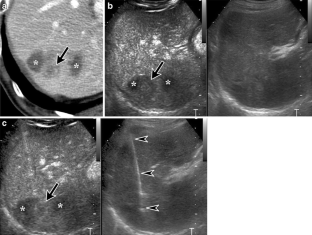 References
1.

Bravo AA, Sheth SG, Chopra S (2001) Liver biopsy. N Engl J Med 344:495–500

2.

Kinkel K, Lu Y, Both M, Warren RS, Thoeni RF (2002) Detection of hepatic metastases from cancers of the gastrointestinal tract by using noninvasive imaging methods (US, CT, MR Imaging, PET): a meta-analysis. Radiology 224:748–756

3.

Teefey SA, Hildeboldt CC, Dehdashti F, Siegel BA, Peters MG, Heiken JP, Brown JJ, McFarland EG, Middleton WD, Balfe DM, Ritter JH (2003) Detection of primary hepatic malignancy in liver transplant candidates: prospective comparison of CT, MR imaging, US, and PET. Radiology 226:533–542

4.

Rhim H, Lee MH, Kim YS, Choi D, Lee WJ, Lim HK (2008) Planning sonography to assess the feasibility of percutaneous radiofrequency ablation of hepatocellular carcinomas. Am J Roentgenol 190:1324–1330

5.

Albrecht T, Blomley MJ, Burns PN, Wilson S, Harvey CJ, Leen E, Claudon M, Calliada F, Correas JM, LaFortune M, Campani R, Hoffmann CW, Cosgrove DO, LeFevre F (2003) Improved detection of hepatic metastases with pulse-inversion US during the liver-specific phase of SHU 508A: multicenter study. Radiology 227:361–370

6.

Chami L, Lassau N, Malka D, Ducreux M, Bidault S, Roche A, Elias D (2008) Benefits of contrast-enhanced sonography for the detection of liver lesions: comparison with histologic findings. Am J Roentgenol 190:683–690

7.

Catalano O, Nunziata A, Lobianco R, Siani A (2005) Real-time harmonic contrast material-specific US of focal liver lesions. Radiographics 25:333–349

8.

Minami Y, Kudo M, Chung H, Kawasaki T, Yagyu Y, Shimono T, Shiozaki H (2007) Contrast harmonic sonography-guided radiofrequency ablation therapy versus B-mode sonography in hepatocellular carcinoma: prospective randomized controlled trial. Am J Roentgenol 188:489–494

9.

Minami Y, Kudo M, Kawasaki T, Chung H, Ogawa C, Shiozaki H (2004) Treatment of hepatocellular carcinoma with percutaneous radiofrequency ablation: usefulness of contrast harmonic sonography for lesions poorly defined with B-mode sonography. Am J Roentgenol 183:153–156

10.

Bang N, Bachmann Nielsen M, Vejborg I, Mellon Mogensen A (2000) Clinical report: contrast enhancement of tumor perfusion as a guidance for biopsy. Eur J Ultrasound 12:159–161

11.

Schlottmann K, Klebl F, Zorger N, Feuerbach S, Scholmerich J (2004) Contrast-enhanced ultrasound allows for interventions of hepatic lesions which are invisible on conventional B-mode. Z Gastroenterol 42:303–310

12.

Newcombe RG (1998) Two-sided confidence intervals for the single proportion: comparison of seven methods. Stat Med 17:857–872

13.

Bruix J, Sherman M (2005) Management of hepatocellular carcinoma. Hepatology 42:1208–1236

14.

Lencioni R (2006) Impact of European Federation of Societies for Ultrasound in Medicine and Biology (EFSUMB) guidelines on the use of contrast agents in liver ultrasound. Eur Radiol 16:1610–1613

15.

Chojniak R, Isberner RK, Viana LM, Yu LS, Aita AA, Soares FA (2006) Computed tomography guided needle biopsy: experience from 1,300 procedures. Sao Paulo Med J 124:10–14

16.

Stattaus J, Maderwald S, Baba HA, Gerken G, Barkhausen J, Forsting M, Ladd ME (2008) MR-guided liver biopsy within a short, wide-bore 1.5 Tesla MR system. Eur Radiol 18:2865–2873

17.

Wu W, Chen MH, Yin SS, Yan K, Fan ZH, Yang W, Dai Y, Huo L, Li JY (2006) The role of contrast-enhanced sonography of focal liver lesions before percutaneous biopsy. Am J Roentgenol 187:752–761
Acknowledgements
This work was supported by the Korea Science and Engineering Foundation (KOSEF) grant funded by Ministry of Science and Technology (MOST), Republic of Korea (no. R01–2008–000–10055–0).
Electronic supplementary material
Below is the link to the Electronic supplementary material
Hepatic eosinophilic abscess in a 70-year-old man with melanoma. Under the guidance of oblique intercostal contrast-enhanced ultrasound (left) and B-mode ultrasound (right), a biopsy needle was successfully placed for the target lesion (MOV 4.36 MB)
Marginal recurrence following radiofrequency ablation of hepatic metastases from gastric cancer in a 72-year-old man. On transverse subcostal B-mode ultrasound, the target lesion (viable tumor) and the surrounding previously ablated tumours appear as a single conglomerate mass (MOV 2.57 MB)
Hepatic eosinophilic abscess in a 70-year-old man with melanoma. Under the guidance of oblique intercostal contrast-enhanced ultrasound (left) and B-mode ultrasound (right), a biopsy needle was successfully placed for the target lesion (MOV 4.36 MB)
Hepatic metastasis from glottic cancer in a 57-year-old man. The target lesion is invisible on oblique intercostal B-mode ultrasound (MOV 3.18 MB)
Marginal recurrence following radiofrequency ablation of hepatic metastases from gastric cancer in a 72-year-old man. On transverse subcostal B-mode ultrasound, the target lesion (viable tumor) and the surrounding previously ablated tumours appear as a single conglomerate mass (MOV 2.57 MB)
Appendix. Questionnaire for B-mode ultrasound findings
Appendix. Questionnaire for B-mode ultrasound findings
If a target lesion was never visible, choose one of the following reasons:
(a)

Isoechoic in comparison to the surrounding hepatic parenchyma

(b)

Located in a sonographically blind area

(c)

Poor ultrasound penetration due to severe fatty liver or large body habitus

(d)

Others. Describe ______
If any target lesion was visible with any confidence, choose one of the following reasons:
(e)

Too indistinct to guide a needle or to be verified as a true lesion

(f)

Unable to discriminate non-necrotic portion from necrotic portion in the lesion

(g)

Others. Describe ______
About this article
Cite this article
Yoon, S.H., Lee, K.H., Kim, S.Y. et al. Real-time contrast-enhanced ultrasound-guided biopsy of focal hepatic lesions not localised on B-mode ultrasound. Eur Radiol 20, 2047–2056 (2010) doi:10.1007/s00330-010-1757-z
Received:

Revised:

Accepted:

Published:

Issue Date:
Keywords
Contrast-enhanced ultrasound

Harmonic imaging

Biopsy