Abstract
The purpose of this study was to assess tendon compressibility with sonography in extensor tendinopathy and in asymptomatic extensor tendons of the elbow. Sonography of both elbows was performed in eight patients with a clinical diagnosis of unilateral lateral epicondylitis. Tendons were assessed for compressibility by measuring their thickness before and after compression with the transducer. The same manoeuvre was performed while tendon vascularity was assessed with colour Doppler. All eight cases showed increased compressibility of the common extensor tendon on the painful side compared to the asymptomatic side, as well as increased vascularity with compressible vessels on colour Doppler. Other signs of tendinopathy were hypoechogenicity (n = 8), loss of fibrillar pattern (n = 8), intratendinous calcifications (n = 1), partial tears (n = 3), and enthesophytes (n = 5). Increased tendon compressibility indicative of tendon softening or "tenomalacia" is a new sonographic sign of common extensor tendinopathy.
This is a preview of subscription content, log in to check access.
Access options
Buy single article
Instant unlimited access to the full article PDF.
US$ 39.95
Price includes VAT for USA
Subscribe to journal
Immediate online access to all issues from 2019. Subscription will auto renew annually.
US$ 199
This is the net price. Taxes to be calculated in checkout.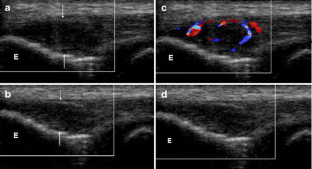 References
1.

Fornage BD, Rifkin MD (1988) Ultrasound examination of tendons. Radiol Clin North Am 26:87–107

2.

van Holsbeek M, Intracaso J (1991) Musculoskeletal ultrasound. Mosby Yearbook, St-Louis, pp 57–90

3.

Levin D, Nazarian LN, Miller TT et al (2005) Lateral epicondylitis of the elbow: US findings. Radiology 237:230–234

4.

Connell D, Burke F, Coombes P et al (2001) Sonographic examination of lateral epicondylitis. AJR Am J Roentgenol 176:777–782

5.

Newman JS, Adler RS (1998) Power Doppler Sonography: Applications in Musculoskeletal Imaging. Semin Musculoskelet Radiol 2:331–340

6.

Khan KM, Cook JL, Bonar F, Harcourt P, Astrom M (1999) Histopathology of common tendinopathies. Update and implications for clinical management. Sports Med 27:393–408

7.

Khoury V, Cardinal E (2007) Dynamic sonography of joints and soft tisúes. Ultrasound Clinics 2(4):699–709

8.

Su BW, Protopsaltis TS, Koff MF, Chang BA, Strauch RJ, Crow SA, Rosenwasser MP (2005) The biomechanical analysis of a tendon fixation device for flexor tendon repair. J Hand Surg (A) 30:237–245
Electronic supplementary material
Below is the link to the electronic supplementary material.
Coronal sonogram of common extensor tendon of the elbow. With graded transducer compression, there is reduction in the tendon thickness (arrows) (AVI 1.05 MB)
Coronal sonogram shows common extensor tendinopathy with a small focal hypoechoic intrasubstance tear (hypoechoic region on left of image). With graded compression, there is reduction in tendon thickness. Note that areas of the tendon other than the tear also show a reduction in thickness (AVI 1.18 MB)
Coronal sonogram shows tendinopathy of common extensor tendon with hypervascularity. With graded compression, there is reduction in tendon thickness. Note that areas of the tendon other than the vessels also show compressibility (AVI 1.60 MB)
Coronal sonogram of common extensor tendon of the elbow. With graded transducer compression, there is reduction in the tendon thickness (arrows) (AVI 1.05 MB)
Coronal sonogram shows common extensor tendinopathy with a small focal hypoechoic intrasubstance tear (hypoechoic region on left of image). With graded compression, there is reduction in tendon thickness. Note that areas of the tendon other than the tear also show a reduction in thickness (AVI 1.18 MB)
Coronal sonogram shows tendinopathy of common extensor tendon with hypervascularity. With graded compression, there is reduction in tendon thickness. Note that areas of the tendon other than the vessels also show compressibility (AVI 1.60 MB)
About this article
Cite this article
Khoury, V., Cardinal, É. "Tenomalacia": a new sonographic sign of tendinopathy?. Eur Radiol 19, 144 (2009) doi:10.1007/s00330-008-1112-9
Received:

Revised:

Accepted:

Published:
Keywords
Sonography

Tendinopathy

Epicondylitis

Dynamic sonography

Tendon softening