Keep moving and stay in a good shape to find your homologous recombination partner
Abstract
Genomic DNA is constantly exposed to damage. Among the lesion in DNA, double-strand breaks (DSB), because they disrupt the two strands of the DNA double helix, are the more dangerous. DSB are repaired through two evolutionary conserved mechanisms: Non-Homologous End Joining (NHEJ) and Homologous Recombination (HR). Whereas NHEJ simply reseals the double helix with no or minimal processing, HR necessitates the formation of a 3′ssDNA through the processing of DSB ends by the resection machinery and relies on the recognition and pairing of this 3′ssDNA tails with an intact homologous sequence. Despite years of active research on HR, the manner by which the two homologous sequences find each other in the crowded nucleus, and how this modulates HR efficiency, only recently emerges. Here, we review recent advances in our understanding of the factors limiting the search of a homologous sequence during HR.
Keywords
Homologous recombination 
Homology search 
DSB 
Resection 
Heterochromatin 
Nuclear organization 
Introduction
Genome stability implies that DNA damage, arising from either environmental stress or from endogenous events is robustly dealt with. Among DNA lesions, DNA double-strand breaks (DSB) are particularly deleterious. A single DSB can be lethal if unrepaired, particularly in a haploid organism such as yeast, and may lead to loss of genetic information and chromosome rearrangements if repaired improperly. Consequently, failure to repair DNA damages accurately leads to cancer and other diseases of ageing. From yeast to human, two conserved pathways for DSB repair are active: Non-Homologous End Joining (NHEJ) that simply religates DSB extremities, and Homologous Recombination (HR) that needs to copy an intact homologous sequence to reconstitute the broken site.
DNA DSBs are initially sensed and independently bound by the KU heterodimer and the MRX complex (Mre11–Rad50–Xrs2; Mre11-Rad50-Nbs1, MRN in humans). This initial binding helps recruit the NHEJ ligase, Lig4 which ligates DSB extremities even in the absence of significant homology. If not ligated by NHEJ, DSB is processed to generate 3′ single strand overhangs by partially redundant nucleases, which include Mre11/Sae2, Dna2 and Exo1 (Mimitou and Symington 2008; Cejka 2015; Symington 2016). The resulting 3′ss overhangs generated by the concerted action of MRX/Sae2, Exo1 and Sgs1/Dna2 proteins are rapidly stabilized by RPA. RPA, in turn, recruits proteins of the Rad52 epistasis group, such as Rad51, and these carry out strand invasion of the homologous template (Shinohara et al. 1992; Sung 1994; Baumann et al. 1996; Fortin and Symington 2002). New DNA synthesis copying the invaded duplex seals the DSB and after the resolution of the recombination intermediate structures, two intact DNA duplexes are restored (Symington et al. 2014; Wright et al. 2018).
HR can be separated into various sub-pathways that have different consequences for genome stability. HR is often considered to be an error-free mechanism for the repair of DSBs, as two-ended breaks are repaired primarily by Gene Conversion (GC) using a homologous duplex as template. However, if the donor sequence is not entirely homologous, GC can lead to loss of heterozygosity (LOH). Following HR repair, LOH is usually restrained to a small region surrounding the DSB but can be more extensive if HR occurs by Break Induced Replication (BIR). Indeed, during BIR repair the initial Displacement loop (D-loop) strand invasion event is followed by the establishment of a processive replication fork. This DNA synthesis can continue for hundreds of kb to the end of the chromosome, resulting in a long track of LOH (Llorente et al. 2008; Kramara et al. 2018). BIR is the repair of choice when only one DSB end is available for strand invasion, but is also thought to be at play to restart collapsed replication forks and to elongate telomeres that are lost in the absence of telomerase or when telomeres are uncapped (Lundblad and Blackburn 1993; McEachern and Haber 2006; Llorente et al. 2008).
In all cases, a prerequisite to HR repair is the encounter of the broken and homologous sequences. Although the sister chromatid, which shares perfect homology and is held in close proximity by the cohesin complex is the evident template for recombination, homologous sequences present on either the homologous chromosome (allelic recombination) or on a non-homologous chromosome (ectopic recombination) can also be used. Then, two scenarios can be envisioned, one in which the homologous sequences are in proximity before DNA damage and a second in which the homologous sequence is actively searched by the broken molecule. Recent results indicate that the truth lies in between with a post damage pairing resulting from both diffusion and chance of encounters limited by pre-existing distance. As a consequence, the homology search process is largely impacted by chromatin mobility and chromosomes position in the nucleus. However, recent evidence indicates that mobility and distance between homologous loci are not the sole limiting factors for HR.
Here, we review recent advances in our understanding of the factors limiting the search of a homologous sequence during HR. We focus on the molecular steps that have been shown to limit the homology search process and present recent advances in our understanding of how the chromosomal context of the DSB, its nuclear localization and its chromatin status impact on the success of recombination processes.
Conclusions
The recent examination of DSB repair taking into account nuclear and chromatin organization, now allows an integrated picture of the steps limiting HR. Although the first limitation has long been known to be the search for a distant homologous matrix to copy (Barzel and Kupiec 2008), it now appears that the distance between the DSB and its repair template is not the sole limiting factor. Indeed, depending on the chromosomal context, resection may act as a countdown that limits the time for the break to explore the entire nucleus (Fig. 1). Soon after DSB occurrence, a race is engaged to cover the distance toward a homologous sequence prior the vanishing of its surrounding sequences. Along the way, unproductive invasions of homologous sequences followed by flap endonuclease processing or the resection machinery itself are ticking the clock. In that instance, both limiting resection and increasing the mobility of the genome may be successful tools to win the homology search race. Chromatin structure, more than being a simple obstacle to DNA repair now appears as a major regulator of HR. Heterochromatin acts at several levels ranging from resection regulation to the control of recombination filament assembly. Although this predicts that not all sequences will be equal in this race, how the mobility varies with chromatin structure and modulate HR efficiency remains to be deciphered.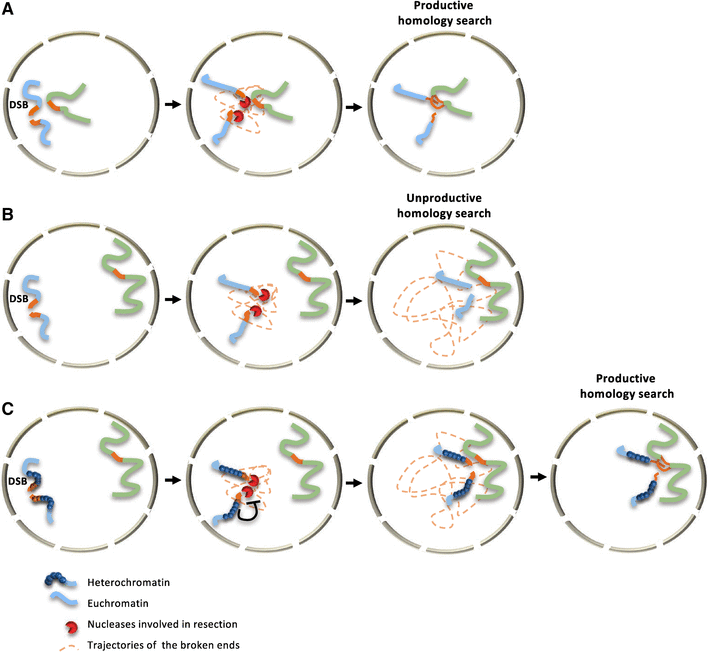 These new concepts have been and will be key to improve genome-editing strategies. The notion that homology search is limited by the distance between the DSB site and the recombination donor was at the basis of the tethering of the donor DNA to Cas9 and more recently of the targeting of the donor to Cas9 breaks by the Fkh1 protein from S. cerevisiae, two approaches that significantly increased genome-editing efficiency (Ma et al. 2017; Gu et al. 2017; Savic et al. 2017; Roy et al. 2018). In some cases, modulating mobility and/or resection efficiency may also be key to successful Cas9 editing (Charpentier et al. 2018).
Notes
Acknowledgements
We thank Stephane Marcand, Pascale Bertrand and Pablo Radicella for critical reading of the manuscript. Due to space limitations, we apologize to colleagues whose work is not cited here. This work was supported by grants from the Fondation pour la recherche médicale (DEP20131128535), and from the European Research Council under the European Community's Seventh Framework Program (FP7/2007 2013/European Research Council Grant Agreement 281287). HB was supported by a fellowship from the CEA-IRTELIS PhD program.
Compliance with ethical standards
Conflict of interest
The authors declare that they have no conflict of interest.
Copyright information
© The Author(s) 2018
Open AccessThis article is distributed under the terms of the Creative Commons Attribution 4.0 International License (http://creativecommons.org/licenses/by/4.0/), which permits unrestricted use, distribution, and reproduction in any medium, provided you give appropriate credit to the original author(s) and the source, provide a link to the Creative Commons license, and indicate if changes were made.