Zusammenfassung
Ewing-Sarkome stellen hochmaligne Tumoren dar, die hauptsächlich bei Kindern und Jugendlichen anzutreffen sind. Neben einer frühen klinischen Diagnostik stellt die korrekte histopathologische und molekulargenetische Klassifizierung den wichtigsten Schritt dar. Zwar stellt die EWSR1-FLI1-Fusion die mit Abstand häufigste nachweisbare Veränderung dar, aber es gibt auch weitere, histopathologisch und immunhistochemisch nicht von klassischen Ewing-Sarkomen zu unterscheidende Vertreter der Ewing-Sarkom-Familie, welche andere molekulargenetische Profile aufweisen. Aus einer genauen molekulargenetischen Differenzierung der verschiedenen Vertreter der klein-rund-blauzelligen Tumoren ergibt sich zum heutigen Zeitpunkt zwar noch keine Änderung der standardmäßig angewandten Chemotherapie und chirurgischen Versorgung, erlaubt aber eine Abschätzung der Prognose und wird in Zukunft mit hoher Wahrscheinlichkeit dazu beitragen, Ewing-Sarkome im Rahmen der personalisierten Medizin noch individueller zu therapieren.
Abstract
Ewing sarcomas are highly malignant tumors that are mainly found in children and adolescents. In addition to early clinical diagnosis, correct histopathological and molecular genetic classification is the most important step. Although EWSR1-FLI1 fusion is by far the most common detectable change, there are also other representatives of the Ewing sarcoma family that cannot be distinguished histopathologically and immunohistochemically from classical Ewing sarcomas and that have different molecular genetic profiles. Although a precise molecular genetic differentiation of the various representatives of small round blue cell tumors does not yet lead to any change in the standard chemotherapy and surgical treatment applied, it does allow an estimation of the prognosis and will probably contribute in the future to an even more individualized treatment of Ewing sarcomas within the framework of personalized medicine.
This is a preview of subscription content, log in to check access.
Access options
Buy single article
Instant access to the full article PDF.
US$ 39.95
Price includes VAT for USA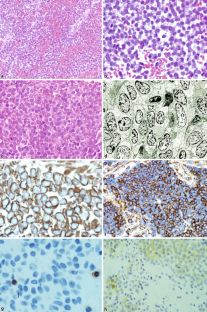 Literatur
1.

Choi EY, Gardner JM, Lucas DR, McHugh JB, Patel RM (2014) Ewing sarcoma. Semin Diagn Pathol 31(1):39–47

2.

Balamuth NJ, Womer RB (2010) Ewing's sarcoma. Lancet Oncol 11(2):184–192

3.

Esiashvili N, Goodman M, Marcus RB Jr. (2008) Changes in incidence and survival of ewing sarcoma patients over the past 3 decades: surveillance epidemiology and end results data. J Pediatr Hematol Oncol 30(6):425–430

4.

Jawad MU, Cheung MC, Min ES, Schneiderbauer MM, Koniaris LG, Scully SP (2009) Ewing sarcoma demonstrates racial disparities in incidence-related and sex-related differences in outcome: an analysis of 1631 cases from the SEER database, 1973–2005. Cancer 115(15):3526–3536

5.

Widhe B, Widhe T (2000) Initial symptoms and clinical features in osteosarcoma and Ewing sarcoma. J Bone Joint Surg Am 82(5):667–674

6.

Marino-Enriquez A, Fletcher CD (2014) Round cell sarcomas—biologically important refinements in subclassification. Int J Biochem Cell Biol 53:493–504

7.

Antonescu C (2014) Round cell sarcomas beyond Ewing: emerging entities. Histopathology 64(1):26–37

8.

Fellinger EJ, Garin-Chesa P, Triche TJ, Huvos AG, Rettig WJ (1991) Immunohistochemical analysis of Ewing's sarcoma cell surface antigen p30/32MIC2. Am J Pathol 139(2):317–325

9.

Gu M, Antonescu CR, Guiter G, Huvos AG, Ladanyi M, Zakowski MF (2000) Cytokeratin immunoreactivity in Ewing's sarcoma: prevalence in 50 cases confirmed by molecular diagnostic studies. Am J Surg Pathol 24(3):410–416

10.

Delattre O, Zucman J, Plougastel B, Desmaze C, Melot T, Peter M et al (1992) Gene fusion with an ETS DNA-binding domain caused by chromosome translocation in human tumours. Nature 359(6391):162–165

11.

May WA, Gishizky ML, Lessnick SL, Lunsford LB, Lewis BC, Delattre O et al (1993) Ewing sarcoma 11;22 translocation produces a chimeric transcription factor that requires the DNA-binding domain encoded by FLI1 for transformation. Proc Natl Acad Sci U S A 90(12):5752–5756

12.

Sorensen PH, Lessnick SL, Lopez-Terreda D (1994) A second Ewing's sarcoma translocation, t(21;22), fuses the EWS gene to another ETS-family transcription factor, ERG. Nat Genet 6:146–151

13.

Arvand A, Denny CT (2001) Biology of EWS/ETS fusions in Ewing's family tumors. Oncogene 20:5747–5754

14.

Szymczyna BR, Arrowsmith CH (2000) DNA binding specificity studies of four ETS proteins support an indirect read-out mechanism of protein–DNA recognition. J Biol Chem 275:28363–28370

15.

Lin PP, Brody RI, Hamelin AC (1999) Differential transactivation by alternative EWS-FLI1 fusion proteins correlates with clinical heterogeneity in Ewing's sarcoma. Cancer Res 59:1428–1432

16.

Riggi N, Suva ML, Suva D, Cironi L, Provero P, Tercier S et al (2008) EWS-FLI‑1 expression triggers a Ewing's sarcoma initiation program in primary human mesenchymal stem cells. Cancer Res 68(7):2176–2185

17.

Diaz-Perez JA, Nielsen GP, Antonescu C, Taylor MS, Lozano-Calderon SA, Rosenberg AE (2019) EWSR1/FUS-NFATc2 rearranged round cell sarcoma: clinicopathological series of 4 cases and literature review. Hum Pathol 90:45–53

18.

Cohen JN, Sabnis AJ, Krings G, Cho SJ, Horvai AE, Davis JL (2018) EWSR1-NFATC2 gene fusion in a soft tissue tumor with epithelioid round cell morphology and abundant stroma: a case report and review of the literature. Hum Pathol 81:281–290

19.

Shing DC, McMullan DJ, Roberts P, Smith K, Chin SF, Nicholson J et al (2003) FUS/ERG gene fusions in Ewing's tumors. Cancer Res 63(15):4568–4576

20.

Crozat A, Aman P, Mandahl N, Ron D (1993) Fusion of CHOP to a novel RNA-binding protein in human myxoid liposarcoma. Nature 363(6430):640–644

21.

Ng TL, O'Sullivan MJ, Pallen CJ, Hayes M, Clarkson PW, Winstanley M et al (2007) Ewing sarcoma with novel translocation t(2;16) producing an in-frame fusion of FUS and FEV. J Mol Diagn 9(4):459–463

22.

Carter CS, Patel RM (2019) Important recently characterized non-ewing small round cell tumors. Surg Pathol Clin 12:191–215

23.

Italiano A, Sung YS, Zhang L, Singer S, Maki RG, Coindre JM et al (2012) High prevalence of CIC fusion with double-homeobox (DUX4) transcription factors in EWSR1-negative undifferentiated small blue round cell sarcomas. Genes Chromosomes Cancer 51(3):207–218

24.

Lemmers RJ, van der Vliet PJ, Klooster R, Sacconi S, Camano P, Dauwerse JG et al (2010) A unifying genetic model for facioscapulohumeral muscular dystrophy. Science 329(5999):1650–1653

25.

Smith SC, Buehler D, Choi EY (2015) CIC-DUX sarcomas demonstrate frequent MYC amplifcation and ETS-family transcription factor expression. Mod Pathol 28(1):57–68

26.

Italiano A, Sung YS, Zhang L (2012) High prevalence of CIC fusion with double-homeobox (DUX4) transcription factors in EWSR1-negative undifferentiated small blue round cell sarcomas. Genes Chromosomes Cancer 51(3):207–218

27.

Hung YP, Fletcher CD, Hornick JL (2016) Evaluation of ETV4 and WT1 expression in CIC-rearranged sarcomas and histologic mimics. Mod Pathol 29(11):1324–1334

28.

Pierron G, Tirode F, Lucchesi C (2012) A new subtype of bone sarcoma defined by BCOR-CCNB3 gene fusion. Nat Genet 44:461–466

29.

Toomey EC, Schiffmann JD, Lesnick SL (2010) Recent advances in the molecular pathogenesis of Ewing's sarcoma. Oncogene 29(32):4504–4516. https://doi.org/10.1038/onc.2010.205

30.

Nguyen TB, Manova K, Capodieci P (2002) Characterization and expression of mammalian cyclin b3, a prepachytene meiotic cyclin. J Biol Chem 277:41960–41969

31.

Kao YC, Owosho AA, Sung YS (2018) BCOR-CCNB3 fusion positive sarcomas: a clinicopathologic and molecular analysis of 36 cases with comparison to morphologic spectrum and clinical behavior of other round cell sarcomas. Am J Surg Pathol 42(5):604–615

32.

Puls F, Niblett A, Marland G (2014) BCOR-CCNB3 (Ewing-like) sarcoma: a clinicopathologic analysis of 10 cases, in comparison with conventional Ewing sarcoma. Am J Surg Pathol 38(10):1037–1018

33.

Yamada Y, Kuda M, Kohashi K (2017) Histological and immunohistochemical characteristics of undifferentiated small round cell sarcomas associated with CIC-DUX4 and BCOR-CCNB3 fusion genes. Virchows Arch 470(4):373–380

34.

Rodriguez E, Sreekantaiah C, Gerald W (1993) A recurring translocation, t(11;22)(p13;q11.2), characterizes intra-abdominal desmoplastic small round-cell tumors. Cancer Genet Cytogenet 69:17–21

35.

Gerald WL, Ladanyi M, de Alava E (1998) Clinical, pathologic, and molecular spectrum of tumors associated with t(11;22)(p13;q12): desmoplastic small round-cell tumor and its variants. J Clin Oncol 16:3028–3036

36.

Cummings OW, Ulbright TM, Young RH (1997) Desmoplastic small round cell tumors of the paratesticular region. A report of six cases. Am J Surg Pathol 21:219–225

37.

Fletcher CD (2008) Undifferentiated sarcomas: what to do? And does it matter? A surgical pathology perspective. Ultrastruct Pathol 32(2):31–36. https://doi.org/10.1080/01913120801896945

38.

Pawel BR, Hamoudi AB, Asmar L (1997) Undifferentiated sarcomas of children: pathology and clinical behavior—an intergroup rhabdomyosarcoma study. Med Pediatr Oncol 29:170–180

39.

Alaggio R, Bisogno G, Rosato A (2009) Undifferentiated sarcoma: does it exist? A clinicopathologic study of 7 pediatric cases and review of literature. Hum Pathol 40:1600–1610

40.

Whelan J, Le Deley MC, Dirksen U, Le Teuff G, Brennan B, Gaspar N et al (2018) High-dose chemotherapy and blood autologous stem-cell rescue compared with standard chemotherapy in localized high-risk ewing sarcoma: results of Euro‑E.W.I.N.G.99 and ewing-2008. J Clin Oncol. https://doi.org/10.1200/JCO.2018.78.2516

41.

Gaspar N, Hawkins DS, Dirksen U, Lewis IJ, Ferrari S, Le Deley MC et al (2015) Ewing sarcoma: current management and future approaches through collaboration. J Clin Oncol 33(27):3036–3046

42.

Brenner JC, Feng FY, Han S, Patel S, Goyal SV, Bou-Maroun LM et al (2012) PARP‑1 inhibition as a targeted strategy to treat Ewing's sarcoma. Cancer Res 72(7):1608–1613
Ethics declarations
Interessenkonflikt
J. Haybaeck und A. Roessner geben an, dass kein Interessenkonflikt besteht.
Für diesen Beitrag wurden von den Autoren keine Studien an Menschen oder Tieren durchgeführt. Für die aufgeführten Studien gelten die jeweils dort angegebenen ethischen Richtlinien.
Additional information
Schwerpunktherausgeber
A. Roessner, Magdeburg
J. Haybaek, Magdeburg
About this article
Cite this article
Haybaeck, J., Roessner, A. Maligne Rundzelltumoren. Pathologe (2020). https://doi.org/10.1007/s00292-020-00759-y
Schlüsselwörter
Ewing-Sarkom

Atypische Varianten

Molekulare Genetik

Neue Therapieansätze

Fusionsonkoprotein
Keywords
Ewing sarcoma

Atypical variants

Molecular genetics

New therapy approaches

Fusion oncoprotein