Zusammenfassung
Prädiktive Biomarker sind ein integraler Bestandteil in der Diagnostik von Lungenkarzinomen. Neben molekularen Analysen spielt die Immunhistochemie eine bleibende und offenbar auch zunehmende Rolle. Die Bedeutung liegt hier vorrangig in der Selektion von Tumoren, die weiterführend molekularpathologisch untersucht werden. Bei niedriger Prävalenz molekularer Subtypen kann die Immunhistochemie somit einen wertvollen Beitrag zur ressourcensparenden Diagnostik leisten. Einige Assays erlauben auch eine unmittelbare, nur auf Immunhistochemie beruhende prädiktive Einordnung. Mit neuen Medikamentenzulassungen für Lungenkarzinome kommen weitere immunhistochemiebasierte prädiktive Biomarker hinzu. Durch die Auswahl geeigneter diagnostischer Primärantikörper, die sorgfältige Validierung der Färbeprotokolle und standardisierte Auswertungen muss eine hohe Sensitivität der Assays sichergestellt werden.
Abstract
Predictive biomarkers play an important role in the diagnosis of lung cancer. Applied methods and technologies include molecular tests and immunohistochemistry. The latter is predominantly dedicated to the preselection of tumors for subsequent molecular analyses. Given the low prevalence of certain molecular subtypes, immunohistochemistry can contribute to a high efficacy of lung cancer diagnosis. Thus, immunohistochemistry plays a lasting and even increasing role in this context. Some assays allow a definitive predictive classification based on immunohistochemistry alone. Approval of novel therapeutics increases the number of immunohistochemistry-based predictive biomarkers. The high sensitivity of assays must be ensured by careful selection of diagnostic primary antibodies, thorough validation of staining protocols, and standardized evaluation and scoring.
This is a preview of subscription content, log in to check access.
Access options
Buy single article
Instant access to the full article PDF.
US$ 39.95
Price includes VAT for USA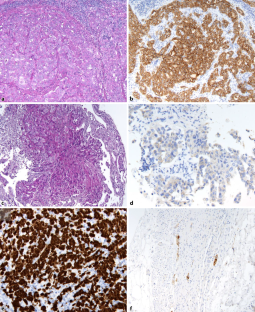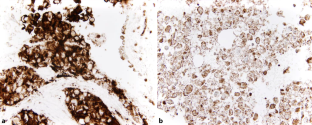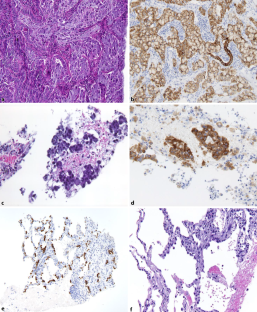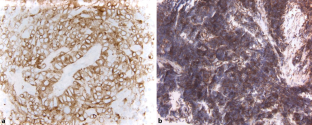 Literatur
1.

(2018) S3-Leitlinie Lungenkarzinome. https://www.leitlinienprogramm-onkologie.de/fileadmin/user_upload/Downloads/Leitlinien/Lungenkarzinom/LL_Lungenkarzinom_Langversion_1.0.pdf. Zugegriffen: 1.12.2019

2.

Onkopedia (2019) Lungenkarzinom, nicht-kleinzellig (NSCLC). https://www.onkopedia.com/de/onkopedia/guidelines/lungenkarzinom-nicht-kleinzellig-nsclc/@@guideline/html/index.html. Zugegriffen: 1.12.2019

3.

Scheel AH, Dietel M, Heukamp LC, Jöhrens K, Kirchner T, Reu S, Rüschoff J, Schildhaus HU, Schirmacher P, Tiemann M, Warth A, Weichert W, Fischer RN, Wolf J, Büttner R (2016) Predictive PD-L1 immunohistochemistry for non-small cell lung cancer: current state of the art and experiences of the first German harmonization study. Pathologe 37(6):557–567

4.

Schildhaus HU (2018) Predictive value of PD-L1 diagnostics. Pathologe 39(6):498–519

5.

Scheel AH, Baenfer G, Baretton G, Dietel M, Diezko R, Henkel T, Heukamp LC, Jasani B, Jöhrens K, Kirchner T, Lasitschka F, Petersen I, Reu S, Schildhaus HU, Schirmacher P, Schwamborn K, Sommer U, Stoss O, Tiemann M, Warth A, Weichert W, Wolf J, Büttner R, Rüschoff J (2018) Interlaboratory concordance of PD-L1 immunohistochemistry for non-small-cell lung cancer. Histopathology 72(3):449–459

6.

Koppel C, Schwellenbach H, Zielinski D, Eckstein S, Martin-Ortega M, D'Arrigo C, Schildhaus HU, Rüschoff J, Jasani B (2018) Optimization and validation of PD-L1 immunohistochemistry staining protocols using the antibody clone 28‑8 on different staining platforms. Mod Pathol 31(11):1630–1644

7.

Kassenärztliche Bundesvereinigung (2016) Mitteilung der kassenärztlichen Bundesvereinigung über den Beschluss des Gemeinsamen Bundesausschusses zu Necitumumab. https://www.kbv.de/html/25261.php. Zugegriffen: 1.12.2019

8.

Lindeman NI, Cagle PT, Aisner DL, Arcila ME, Beasley MB, Bernicker EH, Colasacco C, Dacic S, Hirsch FR, Kerr K, Kwiatkowski DJ, Ladanyi M, Nowak JA, Sholl L, Temple-Smolkin R, Solomon B, Souter LH, Thunnissen E, Tsao MS, Ventura CB, Wynes MW, Yatabe Y (2018) Updated molecular testing guideline for the selection of lung cancer patients for treatment with targeted tyrosine kinase inhibitors: guideline from the College of American Pathologists, the International Association for the Study of Lung Cancer, and the Association for Molecular Pathology. Arch Pathol Lab Med 142(3):321–346

9.

Schildhaus HU, Deml KF, Schmitz K, Meiboom M, Binot E, Hauke S, Merkelbach-Bruse S, Büttner R (2013) Chromogenic in situ hybridization is a reliable assay for detection of ALK rearrangements in adenocarcinomas of the lung. Mod Pathol 26(11):1468–1477

10.

Clinical Lung Cancer Genome Project (CLCGP), Network Genomic Medicine (NGM) (2013) A genomics-based classification of human lung tumors. Sci Transl Med 5(209):209ra153

11.

NordiQC (2019) ALK-IHC Assessment. https://nordiqc.org/downloads/assessments/122_14.pdf. Zugegriffen: 1.12.2019

12.

Takeuchi K, Soda M, Togashi Y, Suzuki R, Sakata S, Hatano S, Asaka R, Hamanaka W, Ninomiya H, Uehara H, Lim Choi Y, Satoh Y, Okumura S, Nakagawa K, Mano H, Ishikawa Y (2012) RET, ROS1 and ALK fusions in lung cancer. Nat Med 18(3):378–381

13.

Bos M, Gardizi M, Schildhaus HU, Buettner R, Wolf J (2013) Activated RET and ROS: two new driver mutations in lung adenocarcinoma. Transl Lung Cancer Res 2(2):112–121

14.

Scheffler M, Schultheis A, Teixido C, Michels S, Morales-Espinosa D, Viteri S, Hartmann W, Merkelbach-Bruse S, Fischer R, Schildhaus HU, Fassunke J, Sebastian M, Serke M, Kaminsky B, Randerath W, Gerigk U, Ko YD, Krüger S, Schnell R, Rothe A, Kropf-Sanchen C, Heukamp L, Rosell R, Büttner R, Wolf J (2015) ROS1 rearrangements in lung adenocarcinoma: prognostic impact, therapeutic options and genetic variability. Oncotarget 6(12):10577–10585

15.

Michels S, Massutí B, Schildhaus HU, Franklin J, Sebastian M, Felip E, Grohé C, Rodriguez-Abreu D, Abdulla DSY, Bischoff H, Brandts C, Carcereny E, Corral J, Dingemans AC, Pereira E, Fassunke J, Fischer RN, Gardizi M, Heukamp L, Insa A, Kron A, Menon R, Persigehl T, Reck M, Riedel R, Rothschild SI, Scheel AH, Scheffler M, Schmalz P, Smit EF, Limburg M, Provencio M, Karachaliou N, Merkelbach-Bruse S, Hellmich M, Nogova L, Büttner R, Rosell R, Wolf J (2019) Safety and efficacy of crizotinib in patients with advanced or metastatic ROS1-rearranged lung cancer (EUCROSS): a European phase II clinical trial. J Thorac Oncol 14(7):1266–1276

16.

Bos M, Gardizi M, Schildhaus HU, Heukamp LC, Geist T, Kaminsky B, Zander T, Nogova L, Scheffler M, Dietlein M, Kobe C, Holstein A, Maintz D, Büttner R, Wolf J (2013) Complete metabolic response in a patient with repeatedly relapsed non-small cell lung cancer harboring ROS1 gene rearrangement after treatment with crizotinib. Lung Cancer 81(1):142–143

17.

Overbeck TR, Schmitz K, Engelke C, Sahlmann CO, Hugo S, Kellner L, Trümper L, Schildhaus HU (2016) Partial response to first-line Crizotinib in an elderly male patient with ROS1 translocation-positive lung cancer. Case Rep Oncol 9(1):158–163

18.

Bubendorf L, Büttner R, Al-Dayel F, Dietel M, Elmberger G, Kerr K, López-Ríos F, Marchetti A, Öz B, Pauwels P, Penault-Llorca F, Rossi G, Ryška A, Thunnissen E (2016) Testing for ROS1 in non-small cell lung cancer: a review with recommendations. Virchows Arch 469(5):489–503

19.

Hechtman JF, Benayed R, Hyman DM, Drilon A, Zehir A, Frosina D, Arcila ME, Dogan S, Klimstra DS, Ladanyi M, Jungbluth AA (2017) Pan-Trk immunohistochemistry is an efficient and reliable screen for the detection of NTRK fusions. Am J Surg Pathol 41(11):1547–1551

20.

Solomon JP, Linkov I, Rosado A, Mullaney K, Rosen EY, Frosina D, Jungbluth AA, Zehir A, Benayed R, Drilon A, Hyman DM, Ladanyi M, Sireci AN, Hechtman JF (2019) NTRK fusion detection across multiple assays and 33,997 cases: diagnostic implications and pitfalls. Mod Pathol. https://doi.org/10.1038/s41379-019-0324-7

21.

Solomon JP, Hechtman JF (2019) Detection of NTRK fusions: merits and limitations of current diagnostic platforms. Cancer Res 79(13):3163–3168

22.

Marchio C, Scaltriti M, Ladanyi M et al (2019) ESMO recommendations on the standard methods to detect NTRK fusions in daily practice and clinical research. Ann Oncol. https://doi.org/10.1093/annonc/mdz204

23.

Pfarr N, Kirchner M, Lehmann U, Leichsenring J, Merkelbach-Bruse S, Glade J, Hummel M, Stögbauer F, Lehmann A, Trautmann M, Kumbrink J, Jung A, Dietmaier W, Endris V, Kazdal D, Evert M, Horst D, Kreipe H, Kirchner T, Wardelmann E, Lassen U, Büttner R, Weichert W, Dietel M, Schirmacher P, Stenzinger A (2019) Testing NTRK testing: wet-lab and in silico comparison of RNA-based targeted sequencing assays. Genes Chromosom Cancer. https://doi.org/10.1002/gcc.22819
Ethics declarations
Interessenkonflikt
H.-U. Schildhaus erhielt Honorare von MSD, BMS, Abbvie, ZytoVision, Zytomed, Pfizer, Abbott Molecular, Novartis Oncology und Roche. Der Autor ist Board Member bzw. Assessor bei QuIP, NordiQC und UKNEQAS sowie Angestellter der Targos Molecular Pathology.
Für diesen Beitrag wurden vom Autor keine Studien an Menschen oder Tieren durchgeführt. Für die aufgeführten Studien gelten die jeweils dort angegebenen ethischen Richtlinien.
Additional information
Schwerpunktherausgeber
R. Büttner, Köln
S. Schäfer, Köln
About this article
Cite this article
Schildhaus, H. Immunhistochemiebasierte prädiktive Biomarker bei Lungenkarzinomen. Pathologe 41, 21–31 (2020). https://doi.org/10.1007/s00292-020-00750-7
Schlüsselwörter
Lungenkrebs

Biomarker

ALK

ROS1

NTRK
Keywords
Lung cancer

Biomarker

ALK

ROS1

NTRK