Abstract
A bacterium, designated HX2-24 T, was isolated from activated sludge treating pesticide-manufacturing wastewater. Colonies of the strain on nutrient agar were circular, transparent, and colorless. Strain HX2-24 T shared 98.1% 16S rRNA gene sequence similarity with Extensimonas vulgaris S4T, and less than 97% similarities with other type strains. Phylogenetic analysis based on 16S rRNA gene sequences revealed that the strain formed a clade with E. vulgaris S4T. The major cellular fatty acids were C16:0, summed feature 3 (C16:1ω7c and/or C16:1ω6c) and C17:0 cyclo, the major polar lipids were phosphatidylethanolamine (PE), phosphatidylglycerol (PG), diphosphatidylglycerol (DPG), aminophospholipid (APL), glycophospholipid (GPL), and aminoglycolipid (AGL). The average nucleotide identity (ANI) and digital DNA-DNA hybridization (dDDH) values between HX2-24 T and E. vulgaris S4T were 92% and 41%, respectively. The G + C content of strain HX2-24 T was 64.4 mol%. Thus, based on the phenotypic, chemotaxonomic, and genotypic characteristics, strain HX2-24 T represents a novel species in the genus Extensimonas, for which the name Extensimonas perlucida HX2-24 T sp. nov. is proposed. The type strain is HX2-24 T (= KCTC 72472 T = CCTCC AB 2019178 T).
This is a preview of subscription content, log in to check access.
Access options
Buy single article
Instant access to the full article PDF.
US$ 39.95
Price includes VAT for USA
Subscribe to journal
Immediate online access to all issues from 2019. Subscription will auto renew annually.
US$ 199
This is the net price. Taxes to be calculated in checkout.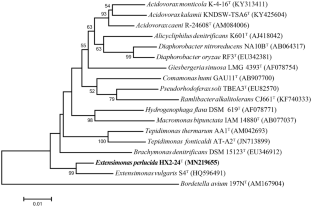 References
1.

Willems A, De ley J, Gillis M, Kersters K (1991) Comamonadaceae, a new family encompassing the Acidovorans. Int J Syst Evol Microbiol 41:445–450

2.

Zhang W-Y, Fang M-X, Zhang W-W, Xiao C, Zhang X-Q et al (2013) Extensimonas vulgaris gen. nov., sp. nov., a member of the family Comamonadaceae. Int J Syst Evol Microbiol 63:2062–2068

3.

Hetharua, MD, Liao H, Xu H, Tian Y. Litorivita pollutaquae gen. nov., sp. nov., a marine bacterium in the family Rhodobacteraceae isolated from surface seawater of Xiamen Port, China. Int J Syst Evol Microbiol 68:3908–3913

4.

Frank JA, Reich CI, Sharma S, Weisbaum JS, Wilson BA et al (2008) Critical evaluation of two primers commonly used for amplification of bacterial 16S rRNA genes. Appl Environ Microbiol 74:2461–2470

5.

Yoon SH, Ha SM, Kwin S, Lim J, Kim Y et al (2017) Introducing EzBioCloud: a taxonomically united database of 16S rRNA gene sequences and whole-genome assemblies. Int J Syst Evol Microbiol 67:613–1617

6.

Saitou N, Nei M (1987) The neighbor-joining method: a new method for reconstructing phylogenetic trees. Mol Biol Evol 4:406–425

7.

Felsenstein J (1981) Evolutionary trees from DNA sequences: a maximum likelihood approach. J Mol Evol 17:368–376

8.

Fitch WM (1971) Toward defining the course of evolution: minimum change for a specific tree topology. Syst Zool 20:406–416

9.

Kimura M (1980) Evolutionary rates models. J Mol Evol 16:111–120

10.

Joseph F (1985) Confidence limits on phylogenies: an approach using the bootstrap. Evolution 39:783–791

11.

Huo YY, Xu XW, Cui HL, Wu M (2010) Gracilibacillus ureilyticus sp. nov., a halotolerant bacterium from a saline-alkaline soil. Int J Syst Evol Microbiol 60:1383–1386

12.

Burdash NM, Bennett CE, Glassman AB (1977) Bacterial gram staining by conventional and strip methods. Health Lab Sci 14:282–283

13.

Bassil NM, Bryan N, Lloyd JR (2015) Microbial degradation of isosac charinic acid at high pH. Isme J 9:310–320

14.

MIDI. Sasser M. Identification of Bacteria by Gas Chromatography of Cellular Fatty Acids, MIDI Technical Note 101. Newark, DE: MIDI Inc; 1990

15.

Collins MD, Pirouz T, Goodfellow M, Minnikin DE (1977) Distribution of menaquinones in actinomycetes and corynebacteria.. J Gen Microbiol 100:221–230

16.

Hiraishi A, Ueda YJ, Mori T (2006) Comparative lipoquinone analysis of influent sewage and activated sludge by high-performance liquid chromatography and photodiode array detection. J Gen Microbiol 42:457–469

17.

Collins MD, Goodfellow M, Minnikin DE (1980) Fatty acid isoprenoid quinone and polar lipid composition in the classification of Curtobacterium and related taxa. J Gen Microbiol 118:29–37

18.

Kates M, Work TS (1972) Techniques of lipidology; isolation, analysis and identification of lipids. Lab Tech Biochem Mol Biol 3:267

19.

Tel-Zur N, Abbo S, Myslabodski D, Mizrahi Y (1999) Modified CTAB procedure for DNA isolation from epiphytic cacti of the genera hylocereus and selenicereus (Cactaceae). Plant Mol Biol Report 17:249–254

20.

Li R, Zhu H, Ruan J, Qian W, Fang X et al (2010) De novo assembly of human genomes with massively parallel short read sequencing. Genome Res 20:265–272

21.

Richter M, Rosselló-Móra R (2009) Shifting the genomic gold standard for the prokaryotic species definition. Proc Natl Acad Sci USA 106:19126–19131
Acknowledgements
This work was supported by the National Science and Technology Major Project (2018ZX0800907B-002), the National Natural Science Foundation of China (41701307 and 31871782).
Ethics declarations
Conflict of interest
All authors declare that they have no conflict of interest.
Additional information
Publisher's Note
Springer Nature remains neutral with regard to jurisdictional claims in published maps and institutional affiliations.
Electronic supplementary material
Below is the link to the electronic supplementary material.
About this article
Cite this article
Peng, Q., Sheng, M., Yang, Z. et al. Extensimonas perlucida sp. nov., a Novel Bacterium Isolated from Sludge. Curr Microbiol (2020). https://doi.org/10.1007/s00284-020-01911-w
Received:

Accepted:

Published: