Abstract
Rice wine, a traditional fermented alcoholic beverage in China, is produced with grains such as rice, which are fermented with saccharifying starter-koji. Its flavor quality is closely associated to the starter culture-koji, which is made by mixing botanical materials with high-class glutinous rice in certain ecological context. However, there are few reports on the microbial community structure of rice wine koji. In this paper, bacterial community structures of rice wine koji were analyzed using 16S rRNA gene sequencing based on Illumina MiSeq high-throughput technology in 20 samples collected from Xiaogan area, Hubei province and Dazhu area, Sichuan province (10 from each area). We found rice wine koji flora mainly consisted of Weissella, Lactobacillus, Lactococcus, Bacillus, Enterococcus, and Cronobacter, with relative abundances of 29.49%, 10.93%, 8.85%, 4.75%, 1.16% and 1.15%, respectively, as well as an accumulative average relative abundance of 58.71%. They all belonged to Firmicutes and Proteobacteria—the two known dominant genus. Genus-level PCA (Principal component analysis) and OTU-level PCoA (Principal coordinates analysis) based on unweighted UniFrac distances showed that the bacterial community structure differed significantly between the samples from the 2 areas. 7 OTUs were detected in all samples, accounting for 4.4% of the total qualified assembly. Among the 7 OTUs, 3 OTUs were identified as Enterococcus, 2 OTUs were identified as Cronobacter, 1 OTU was identified as Bacillus and 1 OTU was identified as Alkaliphilus. Fifty-eight lactic acid bacteria (LAB) strains were isolated from the 20 koji samples with traditional microbial methods. Among them, Enterococcus faecium and Pediococcus pentosaceus were the dominant LAB isolates, with relative abundances of 51.72% and 31.03%. Despite the differences, a large number of shared bacteria were detected in samples from the two areas.
This is a preview of subscription content, log in to check access.
Access options
Buy single article
Instant unlimited access to the full article PDF.
US$ 39.95
Price includes VAT for USA
Subscribe to journal
Immediate online access to all issues from 2019. Subscription will auto renew annually.
US$ 199
This is the net price. Taxes to be calculated in checkout.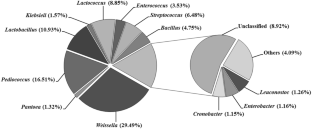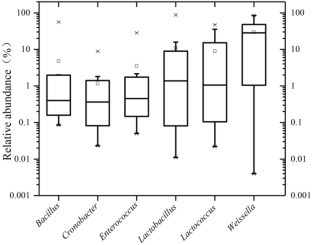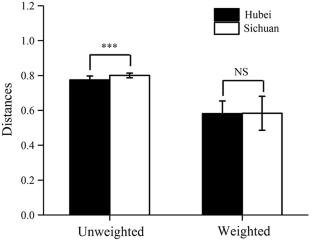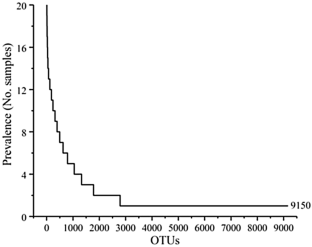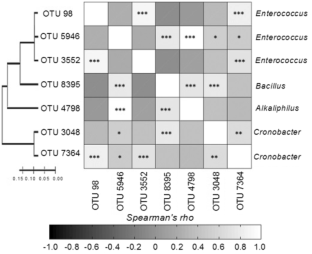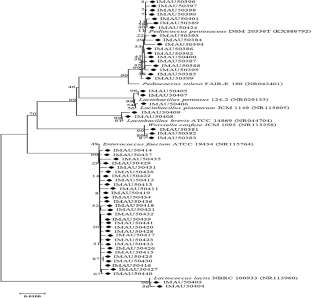 Data Availability
The sequence data reported have been deposited in the MG-RAST database under the project number mgp89736.
References
1.

Kim NH, Jun SH, Lee SH et al (2018) Microbial diversities and potential hazards of Korean turbid rice wines (makgeolli): Multivariate analyses. Food Microbiol 76:466–472

2.

Caporaso JG, Bittinger K, Bushman FD et al (2009) PyNAST: a flexible tool for aligning sequences to a template alignment. Bioinformatics 26:266–267

3.

Cai H, Zhang Q, Shen L et al (2019) Phenolic profile and antioxidant activity of Chinese rice wine fermented with different rice materials and starters. LWT 111:226–234

4.

Wang Y, Zhang J, Hu X (2015) Effect of rice wine koji collected from different regions on the taste of rice wine. Food Sci 36:207–210

5.

Yang Y (2019) Study on Geographical Indications Protection. Adm Law:77–85

6.

Wu X-H, Luo Z, Yu L, Ren F-Z, Han B-Z, Nout MR (2009) A survey on composition and microbiota of fresh and fermented yak milk at different Tibetan altitudes. Dairy Sci Technol 89(2):201–209

7.

Bechman A, Phillips RD, Chen J (2012) Changes in selected physical property and enzyme activity of rice and barley koji during fermentation and storage. J Food Sci 77:M318–M322

8.

Park KH, Liu Z, Park C-S et al (2016) Microbiota associated with the starter cultures and brewing process of traditional Hong Qu glutinous rice wine. Food Sci Biotechnol 25:649–658

9.

Bora SS, Keot J, Das S et al (2016) Metagenomics analysis of microbial communities associated with a traditional rice wine starter culture (Xaj-pitha) of Assam. India. Biotech 6:153

10.

Nallapareddy SR, Wenxiang H, Weinstock GM et al (2005) Molecular characterization of a widespread, pathogenic, and antibiotic resistance-receptive Enterococcus faecalis lineage and dissemination of its putative pathogenicity island. J Bacteriol 187:5709–5718

11.

Soon WW, Hariharan M, Snyder MP (2013) High-throughput sequencing for biology and medicine. Mol Syst Biol 9:640

12.

Cocolin L, Alessandria V, Dolci P et al (2013) Culture independent methods to assess the diversity and dynamics of microbiota during food fermentation. Special SI 167:29–43

13.

Hu X, Du H, Ren C et al (2016) Illuminating anaerobic microbial community and cooccurrence patterns across a quality gradient in Chinese liquor fermentation pit muds. Appl Environ Microbiol 82:2506–2515

14.

Yang H, Wu H, Gao L et al (2016) Effects of Lactobacillus curvatus and Leuconostoc mesenteroides on suan cai fermentation in Northeast China. J Microbiol Biotechnol 26:2148–2158

15.

Zhou S, Xi X, Dong Y et al (2018) Diversity of bacterial microflora in Suanjiangmian Jiangshui of Juwan. China Brewing 37:49–53

16.

Caporaso JG, Kuczynski J, Stombaugh J et al (2010) QIIME allows analysis of high-throughput community sequencing data. Nat Methods 7:335

17.

Edgar RCJB (2010) Search and clustering orders of magnitude faster than BLAST. Bioinformatics 26:2460–2461

18.

Cole JR, Chai B, Farris RJ et al (2006) The ribosomal database project (RDP-II): introducing myRDP space and quality controlled public data. Nucleic Acids Res 35:D169–D172

19.

DeSantis TZ, Hugenholtz P, Larsen N et al (2006) Greengenes, a chimera-checked 16S rRNA gene database and workbenchcompatible with ARB. Appl Environ Microbiol 72:5069–5072

20.

Price MN, Dehal PS, Arkin AP et al (2009) FastTree: computing large minimum evolution trees with profiles instead of a distance matrix. Mol Biol Evol 26:1641–1650

21.

Cominacini L, Garbin U, Davoli A et al (1991) A simple test for predisposition to LDL oxidation based on the fluorescence development during copper-catalyzed oxidative modification. J Lipid Res 32:349–358

22.

Lozupone C, Lladser ME, Knights D et al (2011) UniFrac: an effective distance metric for microbial community comparison. The ISME Journal 5:169

23.

Sun X, Chen X, Deng Z et al (2003) A CTAB-assisted hydrothermal orientation growth of ZnO nanorods. Mater Chem Phys 78:99–104

24.

Lu Y, Gong Y, Li Y et al (2017) Characterization of microbial communities in Chinese rice wine collected at Yichang city and Suzhou city in China. J Microbiol Biotechnol 27:1409–1418

25.

Kim S, Yun S, Jeon S et al (2015) Microbial composition of turbid rice wine (Makgeolli) at different stages of production in a real processing line. Food Control 53:1–8

26.

Holý O, Forsythe S (2014) Cronobacter spp. as emerging causes of healthcare-associated infection. J Hosp Infect 86:169–177

27.

Sani NA, Odeyemi OAJS (2015) Occurrence and prevalence of Cronobacter spp in plant and animal derived food sources: a systematic review and meta-analysis. Springerplus 4:545

28.

Hirayama K, Rafter JJM (2000) The role of probiotic bacteria in cancer prevention. Microbes Infect 2:681–686

29.

Jiao J, Zhang L, Yi H (2016) Isolation and characterization of lactic acid bacteria from fresh Chinese traditional rice wines using denaturing gradient gel electrophoresis. Food Science and Biotechnology 25:173–178

30.

Zhang Y, Zhu X, Li X et al (2017) The process-related dynamics of microbial community during a simulated fermentation of Chinese strong-flavored liquor. BMC Microbiol 17:196

31.

Sun J, Hu XL, Le GW et al (2010) Lactobacilli prevent hydroxy radical production and inhibit Escherichia coli and Enterococcus growth in system mimicking colon fermentation. Lett Appl Microbiol 50:264–269

32.

Poornachandra Rao K, Chennappa G, Suraj U et al (2015) Probiotic potential of lactobacillus strains isolated from sorghum-based traditional fermented food. Probiotics and Antimicrob Proteins 7:146–156

33.

Kumari A, Angmo K, Bhalla TC (2016) Probiotic attributes of indigenous Lactobacillus spp. isolated from traditional fermented foods and beverages of north-western Himalayas using in vitro screening and principal component analysis. J Food Sci Technol 53:2463–2475

34.

Ren D, Zhu J, Gong S et al (2018) Antimicrobial characteristics of lactic acid bacteria isolated from homemade fermented foods. Biomed Res Int 2018:5416725
Acknowledgements
We would like to express our gratitude to Professor Chunhui Shan for his support, particularly for providing facilities to perform this work. Never forget why you started, and your mission can be accomplished.
Funding
This work was supported by Xinjiang Production and Construction Corps Innovation Team Building Projects in Key Areas (2017CB012) and Projects of Innovation and Development Pillar Program for Key Industries in Southern Xinjiang of Xinjiang Production and Construction Corps (2018DB002).
Ethics declarations
Conflict of interest
The authors declare that they have no conflicts of interest.
Additional information
Publisher's Note
Springer Nature remains neutral with regard to jurisdictional claims in published maps and institutional affiliations.
Electronic supplementary material
Below is the link to the electronic supplementary material.
About this article
Cite this article
Zhao, X., Wang, Y., Cai, W. et al. High-throughput Sequencing-based Analysis of Microbial Diversity in Rice Wine Koji from Different Areas. Curr Microbiol (2020) doi:10.1007/s00284-020-01877-9
Received:

Accepted:

Published: