Abstract
Purpose
Lapatinib is a small molecule tyrosine kinase inhibitor used to treat breast cancer, often in combination with chemotherapy. Diarrhoea commonly occurs in up to 78% of patients undertaking lapatinib treatment. The mechanism of this diarrhoea is currently unknown. Elsiglutide is a GLP-2 analogue known to increase cell proliferation and reduce apoptosis in the intestine.
Methods
We used a previously developed rat model of lapatinib-induced diarrhoea to determine if co-treatment with elsiglutide was able to reduce diarrhoea caused by lapatinib. Additionally, we analysed the caecal microbiome of these rats to assess changes in the microbiome due to lapatinib.
Results
Rats treated with lapatinib and elsiglutide had less severe diarrhoea than rats treated with lapatinib alone. Serum lapatinib levels, blood biochemistry, myeloperoxidase levels and serum limulus amebocyte lysate levels were not significantly different between groups. Rats treated with lapatinib alone had significantly higher histopathological damage in the ileum than vehicle controls. This increase was not seen in rats also receiving elsiglutide. Rats receiving lapatinib alone had lower microbial diversity than rats who also received elsiglutide.
Conclusions
Elsiglutide was able to reduce diarrhoea from lapatinib treatment. This does not appear to be via reduction in inflammation or barrier permeability, and may be due to thickening of mucosa, leading to increased surface area for fluid absorption in the distal small intestine. Microbial changes seen in this study require further research to fully elucidate their role in the development of diarrhoea.
This is a preview of subscription content, log in to check access.
Access options
Buy single article
Instant access to the full article PDF.
US$ 39.95
Price includes VAT for USA
Subscribe to journal
Immediate online access to all issues from 2019. Subscription will auto renew annually.
US$ 199
This is the net price. Taxes to be calculated in checkout.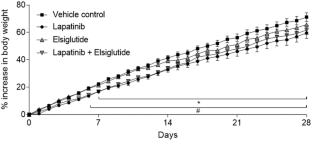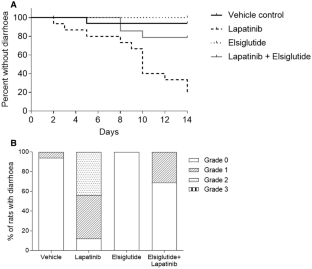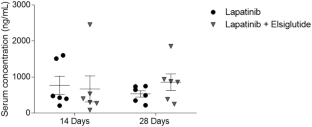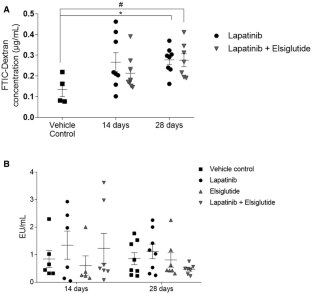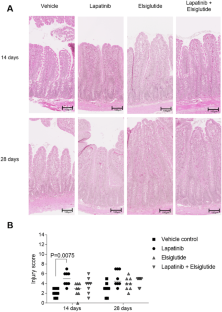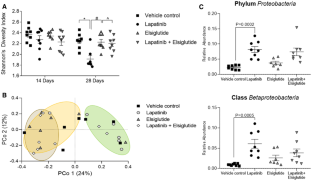 References
1.

Ryan Q, Ibrahim A, Cohen MH, Johnson J, Ko CW, Sridhara R, Justice R, Pazdur R (2008) FDA drug approval summary: lapatinib in combination with capecitabine for previously treated metastatic breast cancer that overexpresses HER-2. Oncologist 13(10):1114–1119. https://doi.org/10.1634/theoncologist.2008-0816

2.

Azim HA Jr, Agbor-Tarh D, Bradbury I, Dinh P, Baselga J, Di Cosimo S, Greger JG Jr, Smith I, Jackisch C, Kim SB, Aktas B, Huang CS, Vuylsteke P, Hsieh RK, Dreosti L, Eidtmann H, Piccart M, de Azambuja E (2013) Pattern of rash, diarrhea, and hepatic toxicities secondary to lapatinib and their association with age and response to neoadjuvant therapy: analysis from the NeoALTTO trial. J Clin Oncol 31(36):4504–4511. https://doi.org/10.1200/jco.2013.50.9448

3.

Piccart-Gebhart M, Holmes E, Baselga J, de Azambuja E, Dueck AC, Viale G, Zujewski JA, Goldhirsch A, Armour A, Pritchard KI, McCullough AE, Dolci S, McFadden E, Holmes AP, Tonghua L, Eidtmann H, Dinh P, Di Cosimo S, Harbeck N, Tjulandin S, Im YH, Huang CS, Dieras V, Hillman DW, Wolff AC, Jackisch C, Lang I, Untch M, Smith I, Boyle F, Xu B, Gomez H, Suter T, Gelber RD, Perez EA (2016) Adjuvant lapatinib and trastuzumab for early human epidermal growth factor receptor 2-positive breast cancer: results from the randomized phase III adjuvant lapatinib and/or trastuzumab treatment optimization trial. J Clin Oncol 34(10):1034–1042. https://doi.org/10.1200/jco.2015.62.1797

4.

Voigtlaender M, Schneider-Merck T, Trepel M (2018) Lapatinib. Recent Results Cancer Res 211:19–44. https://doi.org/10.1007/978-3-319-91442-8_2

5.

Crown JP, Burris HA 3rd, Boyle F, Jones S, Koehler M, Newstat BO, Parikh R, Oliva C, Preston A, Byrne J, Chan S (2008) Pooled analysis of diarrhea events in patients with cancer treated with lapatinib. Breast Cancer Res Treat 112(2):317–325. https://doi.org/10.1007/s10549-007-9860-9

6.

Xu ZQ, Zhang Y, Li N, Liu PJ, Gao L, Gao X, Tie XJ (2017) Efficacy and safety of lapatinib and trastuzumab for HER2-positive breast cancer: a systematic review and meta-analysis of randomised controlled trials. BMJ Open 7(3):e013053. https://doi.org/10.1136/bmjopen-2016-013053

7.

Dranitsaris G, Lacouture ME (2014) Development of prediction tools for diarrhea and rash in breast cancer patients receiving lapatinib in combination with capecitabine. Breast Cancer Res Treat 147(3):631–638. https://doi.org/10.1007/s10549-014-3126-0

8.

Goss PE, Smith IE, O'Shaughnessy J, Ejlertsen B, Kaufmann M, Boyle F, Buzdar AU, Fumoleau P, Gradishar W, Martin M, Moy B, Piccart-Gebhart M, Pritchard KI, Lindquist D, Chavarri-Guerra Y, Aktan G, Rappold E, Williams LS, Finkelstein DM (2013) Adjuvant lapatinib for women with early-stage HER2-positive breast cancer: a randomised, controlled, phase 3 trial. Lancet Oncol 14(1):88–96. https://doi.org/10.1016/s1470-2045(12)70508-9

9.

Xing H, Zhang L, Ma J, Liu Z, Song C, Liu Y (2018) Fructus mume extracts alleviate diarrhea in breast cancer patients receiving the combination therapy of lapatinib and capecitabine. Front Pharmacol 9:516. https://doi.org/10.3389/fphar.2018.00516

10.

Bowen JM, Mayo BJ, Plews E, Bateman E, Wignall A, Stringer AM, Boyle FM, Keefe DM (2014) Determining the mechanisms of lapatinib-induced diarrhoea using a rat model. Cancer Chemother Pharmacol 74(3):617–627. https://doi.org/10.1007/s00280-014-2519-4

11.

Rugo HS, Di Palma JA, Tripathy D, Bryce R, Moran S, Olek E, Bosserman L (2019) The characterization, management, and future considerations for ErbB-family TKI-associated diarrhea. Breast Cancer Res Treat. https://doi.org/10.1007/s10549-018-05102-x

12.

Jamil MO, Rizwan M, Carpenter JT (2015) Prophylactic use of antidiarrheal agents to control diarrhea associated with lapatinib therapy in breast cancer patients. J Clin Oncol 33(29_suppl):205–205. https://doi.org/10.1200/jco.2015.33.29_suppl.205

13.

Esteva FJ, Franco SX, Hagan MK, Brewster AM, Somer RA, Williams W, Florance AM, Turner S, Stein S, Perez A (2013) An open-label safety study of lapatinib plus trastuzumab plus paclitaxel in first-line HER2-positive metastatic breast cancer. Oncologist 18(6):661–666. https://doi.org/10.1634/theoncologist.2012-0129

14.

McQuade RM, Stojanovska V, Abalo R, Bornstein JC, Nurgali K (2016) Chemotherapy-Induced Constipation and Diarrhea: Pathophysiology Current and Emerging Treatments. Front Pharmacol 7:414. https://doi.org/10.3389/fphar.2016.00414

15.

Upadhyay A, Bodar V, Malekzadegan M, Singh S, Frumkin W, Mangla A, Doshi K (2016) Loperamide Induced Life Threatening Ventricular Arrhythmia. Case Rep Cardiol 2016:5040176. https://doi.org/10.1155/2016/5040176

16.

Marraffa JM, Holland MG, Sullivan RW, Morgan BW, Oakes JA, Wiegand TJ, Hodgman MJ (2014) Cardiac conduction disturbance after loperamide abuse. Clin Toxicol 52(9):952–957. https://doi.org/10.3109/15563650.2014.969371

17.

Bowen JM, Mayo BJ, Plews E, Bateman E, Stringer AM, Boyle FM, Finnie JW, Keefe DM (2012) Development of a rat model of oral small molecule receptor tyrosine kinase inhibitor-induced diarrhea. Cancer Biol Ther 13(13):1269–1275. https://doi.org/10.4161/cbt.21783

18.

Amato A, Baldassano S, Mule F (2016) GLP2: an underestimated signal for improving glycaemic control and insulin sensitivity. J Endocrinol 229(2):R57–66. https://doi.org/10.1530/joe-16-0035

19.

Mayo BJ, Stringer AM, Bowen JM, Bateman EH, Keefe DM (2017) Irinotecan-induced mucositis: the interactions and potential role of GLP-2 analogues. Cancer Chemother Pharmacol 79(2):233–249. https://doi.org/10.1007/s00280-016-3165-9

20.

Iturrino J, Camilleri M, Acosta A, O'Neill J, Burton D, Edakkanambeth Varayil J, Carlson PJ, Zinsmeister AR, Hurt R (2016) Acute Effects of a glucagon-like peptide 2 analogue, teduglutide, on gastrointestinal motor function and permeability in adult patients with short bowel syndrome on home parenteral nutrition. JPEN 40(8):1089–1095. https://doi.org/10.1177/0148607115597644

21.

Kissow H, Viby NE, Hartmann B, Holst JJ, Timm M, Thim L, Poulsen SS (2012) Exogenous glucagon-like peptide-2 (GLP-2) prevents chemotherapy-induced mucositis in rat small intestine. Cancer Chemother Pharmacol 70(1):39–48. https://doi.org/10.1007/s00280-012-1882-2

22.

Hare KJ, Hartmann B, Kissow H, Holst JJ, Poulsen SS (2007) The intestinotrophic peptide, glp-2, counteracts intestinal atrophy in mice induced by the epidermal growth factor receptor inhibitor, gefitinib. Clin Cancer Res 13(17):5170–5175. https://doi.org/10.1158/1078-0432.ccr-07-0574

23.

Mayo B, Bateman E, Stringer A, Plews E, Wignall A, Wozniak B, White I, Pietra C, Cantoreggi S, Keefe D (2014) The new selective glp-2 receptor agonist, elsiglutide, improves irinotecan-induced diarrhoea and mucositis in the rat. Asia-Pacific J Clin Oncol 10(Supplement 8):134

24.

Pal SK, Li SM, Wu X, Qin H, Kortylewski M, Hsu J, Carmichael C, Frankel P (2015) Stool Bacteriomic Profiling in Patients with Metastatic Renal Cell Carcinoma Receiving Vascular Endothelial Growth Factor-Tyrosine Kinase Inhibitors. Clin Cancer Res 21(23):5286–5293. https://doi.org/10.1158/1078-0432.ccr-15-0724

25.

Krawisz JE, Sharon P, Stenson WF (1984) Quantitative assay for acute intestinal inflammation based on myeloperoxidase activity. Assessment of inflammation in rat and hamster models. Gastroenterology 87(6):1344–1350

26.

Gibson RJ, Bowen JM, Inglis MR, Cummins AG, Keefe DM (2003) Irinotecan causes severe small intestinal damage, as well as colonic damage, in the rat with implanted breast cancer. J Gastroenterol Hepatol 18(9):1095–1100

27.

Stringer AM, Gibson RJ, Bowen JM, Logan RM, Ashton K, Yeoh AS, Al-Dasooqi N, Keefe DM (2009) Irinotecan-induced mucositis manifesting as diarrhoea corresponds with an amended intestinal flora and mucin profile. Int J Exp Pathol 90(5):489–499. https://doi.org/10.1111/j.1365-2613.2009.00671.x

28.

Caporaso JG, Kuczynski J, Stombaugh J, Bittinger K, Bushman FD, Costello EK, Fierer N, Pena AG, Goodrich JK, Gordon JI, Huttley GA, Kelley ST, Knights D, Koenig JE, Ley RE, Lozupone CA, McDonald D, Muegge BD, Pirrung M, Reeder J, Sevinsky JR, Turnbaugh PJ, Walters WA, Widmann J, Yatsunenko T, Zaneveld J, Knight R (2010) QIIME allows analysis of high-throughput community sequencing data. Nat Methods 7(5):335–336. https://doi.org/10.1038/nmeth.f.303

29.

Chen J, Bittinger K, Charlson ES, Hoffmann C, Lewis J, Wu GD, Collman RG, Bushman FD, Li H (2012) Associating microbiome composition with environmental covariates using generalized UniFrac distances. Bioinformatics 28(16):2106–2113. https://doi.org/10.1093/bioinformatics/bts342

30.

Tucker MJ (1997) Diseases of the wistar rat. Taylor & Francis, London, Bristol

31.

Wardill HR, Gibson RJ, Van Sebille YZ, Secombe KR, Coller JK, White IA, Manavis J, Hutchinson MR, Staikopoulos V, Logan RM, Bowen JM (2016) Irinotecan-Induced Gastrointestinal Dysfunction and Pain Are Mediated by Common TLR4-Dependent Mechanisms. Mol Cancer Ther 15(6):1376–1386. https://doi.org/10.1158/1535-7163.mct-15-0990

32.

Slim GM, Lansing M, Wizzard P, Nation PN, Wheeler SE, Brubaker PL, Jeppesen PB, Wales PW, Turner JM (2019) Novel Long-Acting GLP2 Analogue, Apraglutide, Enhances Adaptation and Linear Intestinal Growth in a Neonatal Piglet Model of Short Bowel Syndrome with Total Resection of the Ileum. JPEN J Parenter Enteral Nutr. https://doi.org/10.1002/jpen.1500

33.

Sorensen LB, Flint A, Raben A, Hartmann B, Holst JJ, Astrup A (2003) No effect of physiological concentrations of glucagon-like peptide-2 on appetite and energy intake in normal weight subjects. Int J Obes Relat Metabol Disord 27(4):450–456. https://doi.org/10.1038/sj.ijo.0802247

34.

Van Sebille YZA, Gibson RJ, Wardill HR, Secombe KR, Ball IA, Keefe DMK, Finnie JW, Bowen JM (2017) Dacomitinib-induced diarrhoea is associated with altered gastrointestinal permeability and disruption in ileal histology in rats. Int J Cancer J Int Cancer 140(12):2820–2829. https://doi.org/10.1002/ijc.30699

35.

Blijlevens N, Sonis S (2007) Palifermin (recombinant keratinocyte growth factor-1): a pleiotropic growth factor with multiple biological activities in preventing chemotherapy- and radiotherapy-induced mucositis. Ann Oncol 18(5):817–826. https://doi.org/10.1093/annonc/mdl332

36.

Gibson RJ, Bowen JM, Keefe DM (2005) Palifermin reduces diarrhea and increases survival following irinotecan treatment in tumor-bearing DA rats. Int J Cancer J Int Cancer 116(3):464–470. https://doi.org/10.1002/ijc.21082

37.

Vadhan-Raj S, Goldberg JD, Perales MA, Berger DP, van den Brink MR (2013) Clinical applications of palifermin: amelioration of oral mucositis and other potential indications. J Cell Mol Med 17(11):1371–1384. https://doi.org/10.1111/jcmm.12169

38.

Forsgard RA, Marrachelli VG, Korpela K, Frias R, Collado MC, Korpela R, Monleon D, Spillmann T, Osterlund P (2017) Chemotherapy-induced gastrointestinal toxicity is associated with changes in serum and urine metabolome and fecal microbiota in male Sprague-Dawley rats. Cancer Chemother Pharmacol 80(2):317–332. https://doi.org/10.1007/s00280-017-3364-z
Acknowledgements
Funding for this project was provided by Helsinn Healthcare in the form of an unrestricted educational grant. Mr Joseph Shirren and Mrs Imogen Ball provided technical assistance. Dr Hannah Wardill assisted with CLC Genomics Workbench software. Dr Sergio Cantoreggi from Helsinn Healthcare provided assistance in planning the study.
Funding
This study was funded by Helsinn Healthcare Inc. Joanne Bowen has received research funding from Puma Biotechnology, AstraZeneca and Pfizer. Dorothy Keefe is a consultant for and owns stock in Entrinsic Health Solutions. Claudio Pietra is an employee of Helsinn Healthcare Inc.
Ethics declarations
Conflict of interest
Bronwen Mayo, Kate Secombe, Anthony Wignall, Emma Bateman and Daniel Thorpe declare that they have no conflicts of interest.
Ethical approval
All applicable international, national, and/or institutional guidelines for the care and use of animals were followed. All procedures performed in studies involving animals were in accordance with the ethical standards of the institution or practice at which the studies were conducted (SA Pathology and The University of Adelaide). This article does not contain any studies with human participants performed by any of the authors.
Additional information
Publisher's Note
Springer Nature remains neutral with regard to jurisdictional claims in published maps and institutional affiliations.
Electronic supplementary material
Below is the link to the electronic supplementary material.
About this article
Cite this article
Mayo, B.J., Secombe, K.R., Wignall, A.D. et al. The GLP-2 analogue elsiglutide reduces diarrhoea caused by the tyrosine kinase inhibitor lapatinib in rats. Cancer Chemother Pharmacol (2020). https://doi.org/10.1007/s00280-020-04040-0
Received:

Accepted:

Published:
Keywords
Lapatinib

Elsiglutide

Diarrhoea

Breast cancer

Tyrosine kinase inhibitor