This is a preview of subscription content, log in to check access.
Access options
Buy single article
Instant access to the full article PDF.
US$ 39.95
Price includes VAT for USA
Subscribe to journal
Immediate online access to all issues from 2019. Subscription will auto renew annually.
US$ 199
This is the net price. Taxes to be calculated in checkout.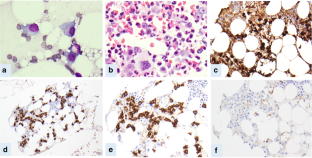 References
1.

Kyle RA, Gertz MA, Witzig TE, Lust JA, Lacy MQ, Dispenzieri A, Fonseca R, Rajkumar SV, Offord JR, Larson DR, Plevak ME, Therneau TM, Greipp PR (2003) Review of 1027 patients with newly diagnosed multiple myeloma. Mayo Clin Proc 78(1):21–33

2.

Schuster SR et al (2010) IgM multiple myeloma: disease definition, prognosis, and differentiation from Waldenstrom's macroglobulinemia. Am J Hematol 85(11):853–855

3.

Bhatt VR, Murukutla S, Naqi M, Pant S, Kedia S, Terjanian T (2014) IgM myeloma or Waldenstrom's macroglobulinemia is the big question? Maedica (Buchar) 9(1):72–75

4.

Greipp PR, San Miguel J, Durie BG, Crowley JJ, Barlogie B, Bladé J, Boccadoro M, Child JA, Avet-Loiseau H, Kyle RA, Lahuerta JJ, Ludwig H, Morgan G, Powles R, Shimizu K, Shustik C, Sonneveld P, Tosi P, Turesson I, Westin J (2005) International staging system for multiple myeloma. J Clin Oncol 23(15):3412–3420

5.

Greipp PR, Raymond NM, Kyle RA, O'Fallon WM (1985) Multiple myeloma: significance of plasmablastic subtype in morphological classification. Blood 65(2):305–310

6.

Moller HE et al (2015) Clinicopathological features of plasmablastic multiple myeloma: a population-based cohort. APMIS 123(8):652–658
Ethics declarations
Conflict of interest
The authors declare that they have no conflict of interest.
Ethical approval
This article does not contain any studies with animals performed by any of the authors. All procedures performed in the patient were in accordance with the ethical standards of the institutional and with the 1964 Helsinki declaration and its later amendments or comparable ethical standards.
Informed consent
The patient has given his informed consent for each diagnostic and therapeutic step presented in this case report as part of the routine clinical workup. He has also given informed consent for publication.
Additional information
Publisher's note
Springer Nature remains neutral with regard to jurisdictional claims in published maps and institutional affiliations.
About this article
Cite this article
Arter, Z.L., Miles, D., Mignano, S. et al. Plasmablastic IgM multiple myeloma with hypocellular bone marrow. Ann Hematol (2020). https://doi.org/10.1007/s00277-020-03959-x
Received:

Accepted:

Published: