This is a preview of subscription content, log in to check access.
Access options
Buy single article
Instant access to the full article PDF.
US$ 39.95
Price includes VAT for USA
Subscribe to journal
Immediate online access to all issues from 2019. Subscription will auto renew annually.
US$ 199
This is the net price. Taxes to be calculated in checkout.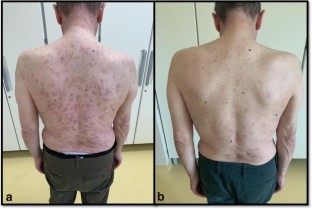 References
1.

Sullivan JM, Rizzieri DA (2016) Treatment of blastic plasmacytoid dendritic cell neoplasm. Hematology 2016:16–23

2.

Ulrickson ML, Puri A, Lindstrom S, Cassaday RD, De Padova N, Becker PS (2017) Gemcitabine and docetaxel as a novel treatment regimen for blastic plasmacytoid dendritic cell neoplasm. Am J Hematol 92:E75–E77

3.

Pemmaraju N, Lane AA, Sweet KL, Stein AS, Vasu S, Blum W, Rizzieri DA, Wang ES, Duvic M, Sloan JM, Spence S, Shemesh S et al (2019) Tagraxofusp in Blastic Plasmacytoid Dendritic-Cell Neoplasm. N Engl J Med 380:1628–1637

4.

Montero J, Stephansky J, Cai T, Griffin GK, Cabal-Hierro L, Togami K, Hogdal LJ, Galinsky I, Morgan EA, Aster JC, Davids MS, LeBoeuf NR, Stone RM, Konopleva M, Pemmaraju N, Letai A, Lane AA (2017 February) Blastic plasmacytoid dendritic cell neoplasm is dependent on BCL-2 and sensitive to venetoclax. Cancer Discov 7(2):156–164

5.

DiNardo CD, Rausch CR et al (2018) Clinical experience with the BCL2-inhibitor venetoclax in combination therapy for relapsed and refractory acute myeloid leukemia and related myeloid malignancies. Am J Hematol 93:401–407

6.

Loscocco GG, Piccini M, Vergoni F, Vannucchi AM, Bosi A (2018 Nov) A case of disseminated blastic plasmocytoid dendritic cell neoplasm. Am J Hematol 93(11):1433–1434
Ethics declarations
Conflict of interest
The authors declare that they have no conflict of interest.
Ethical approval
All procedures performed in studies involving human participants were in accordance with the ethical standards of the institutional and/or national research committee and with the 1964 Helsinki declaration and its later amendments or comparable ethical standards.Informed consent.
Informed consent
Informed consent was obtained from all individual participants included in the study.
Additional information
Publisher's note
Springer Nature remains neutral with regard to jurisdictional claims in published maps and institutional affiliations.
About this article
Cite this article
Piccini, M., Loscocco, G.G., Gianfaldoni, G. et al. Quick complete response achievement with venetoclax and azacitidine in a case of relapsed disseminated blastic plasmacytoid dendritic cell neoplasm. Ann Hematol (2020). https://doi.org/10.1007/s00277-020-03939-1
Received:

Accepted:

Published: