Abstract
Bone marrow WT1 mRNA levels assessed by the ELN method are useful to establish prognostic correlations in myeloid malignancies treated with chemotherapy or hematopoietic stem cell transplantation (HCT). Those patients with WT1 levels below ten copies have a good outcome. However, some of these patients relapse. To further characterize this group of cases, we applied a new and sensitive digital (ddPCR) WT1 method. A consecutive series of 49 patients with treated myeloid malignancies and with an ELN WT1 quantitation of < 10 copies were included in the study. All cases (47 AML and 2 MDS) have received intensive chemotherapy or HCT. One to four micrograms of total RNA were retrotranscribed to obtain ≥ 10,000 ABL1 copies using the ELN protocol. Only those cases with a good quality cDNA were used in the ddPCR WT1 test. The ddPCR Gene Expression WT1 Assay of Bio-Rad© was used to perform the PCR amplification, and the microdroplets were quantified in the Bio-Rad's QX200 droplet reader. Eighteen patients showed a negative WT1 ddPCR assay (0 copies/μl), whereas 31 cases were positive (results ranged from 1 to 15.2 copies/μl). Survival analysis showed statistically significant differences in terms of OS between both groups, 83 ± 8% vs. 46 ± 9% (p = 0.024). A statistically significant correlation was also found between ddPCRWT1 results and CD123+ cell number detected by flow cytometry (p = 0.024). Larger series of patients tested with the current ddPCRWT1 method will solve whether it could be used to stratify patients with myeloid malignancies achieving deep WT1 molecular response (< 10 copies).
This is a preview of subscription content, log in to check access.
Access options
Buy single article
Instant access to the full article PDF.
US$ 39.95
Price includes VAT for USA
Subscribe to journal
Immediate online access to all issues from 2019. Subscription will auto renew annually.
US$ 199
This is the net price. Taxes to be calculated in checkout.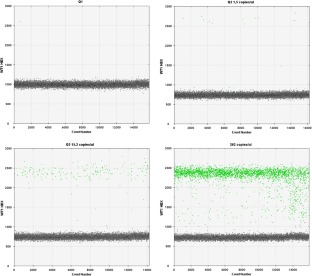 References
1.

Maurillo L, Buccisano F, Del Principe MI et al (2008) Toward optimization of postremission therapy for residual disease-positive patients with acute myeloid leukemia. J Clin Oncol 26:4944–4951

2.

Buccisano F, Maurillo L, Del Principe MI et al (2012) Prognostic and therapeutic implications of minimal residual disease detection in acute myeloid leukemia. Blood 119:332–341

3.

Schuurhuis GJ, Heuser M, Freeman S et al (2018) Minimal/measurable residual disease in AML: a consensus document from the European LeukemiaNet MRD Working Party. Blood 13:1275–1291

4.

Perea G, Lasa A, Aventin A et al (2006) Prognostic value of minimal residual disease (MRD) in acute myeloid leukemia (AML) with favorable cytogenetics [t(8;21) and inv(16)]. Leukemia 20:87–94

5.

Hohenstein P, Hastie ND (2006) The many facets of the Wilms' tumour gene, WT1. Hum Mol Genet 15(2):R196–R201

6.

Huff V (2011) Wilms' tumours: about tumour suppressor genes, an oncogene and a chameleon gene. Nat Rev Cancer 11:111–121

7.

Chau YY, Hastie ND (2012) The role of Wt1 in regulating mesenchyme in cancer, development, and tissue homeostasis. Trends Genet 28:515–524

8.

Ostergaard M, Olesen LH, Hasle H et al (2004) WT1 gene expression: an excellent tool for monitoring minimal residual disease in 70% of acute myeloid leukaemia patients - results from a single-centre study. Br J Haematol 125:590–600

9.

Cilloni D, Renneville A, Hermitte F, Hills RK, Daly S, Jovanovic JV, Gottardi E, Fava M, Schnittger S, Weiss T, Izzo B, Nomdedeu J, van der Heijden A, van der Reijden B, Jansen JH, van der Velden V, Ommen H, Preudhomme C, Saglio G, Grimwade D (2009) Real-time quantitative polymerase chain reaction detection of minimal residual disease by standardized WT1 assay to enhance risk stratification in acute myeloid leukemia: a European LeukemiaNet study. J Clin Oncol 27:5195–5201

10.

Nomdedéu JF, Hoyos M, Carricondo M, Bussaglia E, Estivill C, Esteve J, Tormo M, Duarte R, Salamero O, de Llano MP, García A, Bargay J, Heras I, Martí-Tutusaus JM, Llorente A, Ribera JM, Gallardo D, Aventin A, Brunet S, Sierra J, CETLAM Group (2013) Bone marrow WT1 levels at diagnosis, post-induction and post-intensification in adult de novo AML. Leukemia 27:2157–2164

11.

Nomdedéu JF, Esquirol A, Carricondo M, Pratcorona M, Hoyos M, Garrido A, Rubio M, Bussaglia E, García-Cadenas I, Estivill C, Brunet S, Martino R, Sierra J (2018) Bone marrow WT1 levels in allogeneic hematopoietic stem cell transplantation for acute myelogenous leukemia and myelodysplasia: clinically relevant time points and 100 copies threshold value. Biol Blood Marrow Transplant 24:55–63

12.

Nomdedeu J, Bussaglia E, Villamor N et al (2010) Immunophenotype of acute myeloid leukemia with NPM mutations: prognostic impact of the leukemic compartment size. Leuk Res 35:163–168

13.

Mallett S, Timmer A, Sauerbrei W et al (2009) Reporting of prognostic studies of tumour markers: a review of published articles in relation to REMARK guidelines. Br J Cancer 102:173–180

14.

Jordan CT, Upchurch D, Szilvassy SJ et al (2000) The interleukin-3 receptor alpha chain is a unique marker for human acute myelogenous leukemia stem cells. Leukemia 14:1777–1784

15.

Muñoz L, Nomdedéu JF, López O, Carnicer MJ, Bellido M, Aventín A, Brunet S, Sierra J (2001) Interleukin-3 receptor alpha chain (CD123) is widely expressed in hematologic malignancies. Haematologica 86:1261–1269

16.

Stevens BM, Khan N, D'Alessandro A et al (2018) Characterization and targeting of malignant stem cells in patients with advanced myelodysplastic syndromes. Nat Commun 12(9):3694

17.

Lin J, Lee EM, Ramshaw H et al (2009) Monoclonal antibody-mediated targeting of CD123, IL-3 receptor a chain, eliminates acute myeloid leukemic stem cells. Cell Stem Cell 5:31–42

18.

Hosen N, Shirakata T, Nishida S, Yanagihara M, Tsuboi A, Kawakami M, Oji Y, Oka Y, Okabe M, Tan B, Sugiyama H, Weissman IL (2007) The Wilms' tumor gene WT1-GFP knock-in mouse reveals the dynamic regulation of WT1 expression in normal and leukemic hematopoiesis. Leukemia 21:1783–1791

19.

Ye M, Zhang H, Yang H, Koche R, Staber PB, Cusan M, Levantini E, Welner RS, Bach CS, Zhang J, Krivtsov AV, Armstrong SA, Tenen DG (2015) Hematopoietic differentiation is required for initiation of acute myeloid leukemia. Cell Stem Cell 17:611–623

20.

Pinheiro L, Emslie KR (2018) Basics concepts and validation of digital PCR measurements. In: Karlin-Neumann G, Bizouarn F (eds) Digital PCR: Methods and Protocols, Methods in Molecular Biology, vol. 1768. Springer Nature

21.

Quan PL, Sauzade M, Brouzes E (2018) dPCR: a technology review. Sensors 18:1271

22.

Chen Y, George AM, Olsson E, Saal LH (2018) Identification and use of personalized genomic markers for monitoring circulating tumor DNA. In: Karlin-Neumann G, Bizouarn F (eds) Digital PCR: Methods and Protocols, Methods in Molecular Biology,vol. 1768. Springer Nature

23.

Ono Y, Sugitani A, Karasaki H, Ogata M et al (2017) An improved digital polymerase chain reaction protocol to capture low-copy KRAS mutations in plasma cell-free DNA by resolving 'subsampling' issues. Mol Oncol 11:1448–1458

24.

Waterhouse M, Pfeifer D, Duque-Afonso J et al (2019) Droplet digital PCR for the simultaneous analysis of minimal residual disease and hematopoietic chimerism after allogeneic cell transplantation. Clin Chem Lab Med 57:641–647

25.

Koizumi Y, Furuya D, Endo T, Asanuma K, Yanagihara N, Takahashi S (2018) Quantification of Wilms´ tumor 1 mRNA by digital polymerase chain reaction. Int J Hematol 107:230–234
Funding
The following grants funded this work: Fundación Mutua Madrileña 08/FMMA; PI13/2729, PI16/094 from the Instituto de Salud Carlos III, Ministerio de Economía y Competitividad, Spain; 2014-SGR-383, 2017-SGR-1395, PERIS SLT 002/16/0043 from Plà de Recerca de Catalunya; and a grant from Fundacion Josep Carreras and "Obra Social La Caixa" Barcelona Spain.
Ethics declarations
Conflict of interest
Josep Nomdedeu (JN) received honoraria from Novartis. The rest of the authors (EB, MP, MC, LS, MAR, AM, AB, IB, JE, MA, CT, MT, AG, FV, XO, CP, JB, SB, and JS) had nothing to disclose.
Ethical approval
All procedures were following the ethical standards of the Hospital de Sant Pau research committee, followed the SEHH recommendations, and were in accordance with the 1964 Helsinki declaration and its later amendments.
Statement of informed consent
Informed consent was obtained from all individual participants included in the study.
Additional information
Publisher's note
Springer Nature remains neutral with regard to jurisdictional claims in published maps and institutional affiliations.
Electronic supplementary material
About this article
Cite this article
Bussaglia, E., Pratcorona, M., Carricondo, M. et al. Application of a digital PCR method for WT1 to myeloid neoplasms in CR and deep ELN WT1 molecular response (< 10 copies). Ann Hematol (2020). https://doi.org/10.1007/s00277-020-03910-0
Received:

Accepted:

Published:
Keywords
Leukemia

WT1

Molecular diagnostics

Minimal residual disease

Digital PCR