Abstract
Purpose
The emissary veins (EVs) passing through the foramen ovale (FO) are not well understood. The aim of this study was to characterize these veins using contrast magnetic resonance imaging (MRI).
Methods
In total, 85 patients underwent thin-sliced, contrast MRI. Coronal and sagittal images were used for the analysis.
Results
The EVs of the FO were well delineated in 100% on sagittal and 97% on coronal images. On the sagittal images, these veins could be classified into the lateral, medial, and perineural types in association with the mandibular division of the trigeminal nerve (V3) segment in the FO. In 22% of the slides, the medial EV was more predominant than lateral one, while in 64% of the slides, the latter was more predominant. On the coronal images, the identified EVs of the FO coursed medially to the V3 in 68% and laterally in 72% of 165 sides. The perineural EVs most frequently coursed along both the lateral and medial surfaces of the V3. On the sagittal images, the angles formed by the midline of the V3 segment in the FO and lower margin of the FO were 81.5 ± 11.9° on the left side and 80.0 ± 12.2° on the right, while on the coronal images, they were 61.5 ± 12.1° on the left side and 64.8 ± 11.3° on the right.
Conclusions
The EVs of the FO are structures that may be characterized by a well-developed venous channel in the lateral aspect of the V3 and nearly symmetrical orientation of both V3s lying in the FO.
This is a preview of subscription content, log in to check access.
Access options
Buy single article
Instant access to the full article PDF.
US$ 39.95
Price includes VAT for USA
Subscribe to journal
Immediate online access to all issues from 2019. Subscription will auto renew annually.
US$ 99
This is the net price. Taxes to be calculated in checkout.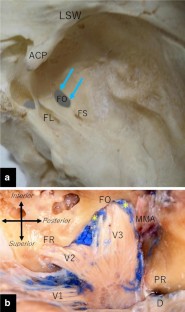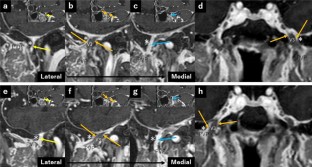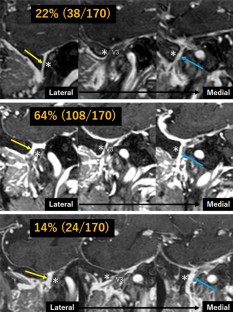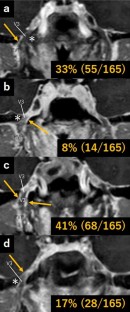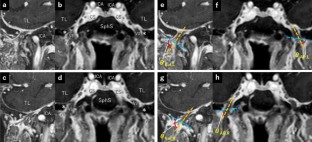 References
1.

Abd-Latiff A, Das S, Sulaiman IM, Hlaing KP, Suhaimi FH, Othman F (2009) The accessory foramen ovale of the skull: an osteological study. Clin Ter 160:291–293

2.

Baltsavias G, Parthasarathi V, Aydin E, Al Schameri RA, Valavanis A (2015) Cranial dural arteriovenous shunts: part 1. Anatomy and embryology of the bridging and emissary veins. Neurosurg Rev 38:253–264

3.

Cabral De Andrade G, Alves HP, Parente R, Salvarani CP, Clímaco VM, Pereira ER (2010) Spontaneous isolated dural arteriovenous fistula of the cavernous sinus: endovascular approach via the foramen ovale. A technical note. Interv Neuroradiol 18:458–462

4.

Gailloud P, San Millán Ruíz D, Muster M, Murphy KJ, Fasel JH, Rüfenacht DA (2000) Angiographic anatomy of the laterocavernous sinus. AJNR Am J Neuroradiol 21:1923–1929

5.

Ginsberg LE, Pruett SW, Chen MY, Elaster AD (1994) Skull-base foramina of the middle cranial fossa: reassessment of normal variation with high-resolution CT. AJNR Am J Neuroradiol 15:283–291

6.

Henderson WR (1966) A note on the relationship of the human maxillary nerve to the cavernous sinus and to an emissary sinus passing through the foramen ovale. J Anat 100:905–908

7.

Kakizawa Y, Abe H, Fukushima Y, Hongo K, El-Khouly H, Jr RA (2007) The course of the lesser petrosal nerve on the middle cranial fossa. Neurosurgery 61:15–23

8.

Krayenbühl N, Isolan GR, Al-Mefty O (2008) The foramen spinosum: a landmark in middle fossa surgery. Neurosurg Rev 31:397–402

9.

Lanzieri CF, Duchesneau PM, Rosenbloom SA, Smith AS, Rosenbaum AE (1988) The significance of asymmetry of the foramen of Vesalius. AJNR Am J Neuroradiol 9:1201–1204

10.

Leonel LCPC, de Sousa SDG, Liberti EA (2018) Topographic and microscopic anatomical description of the emissary sinus of foramen ovale in adult humans. Clin Neurol Neurosurg 169:77–85

11.

Leonel LCPC, Peris-Celda M, de Sousa SDG, Haetinger RG, Liberti EA (2019) The sphenoidal emissary foramen and the emissary vein: anatomy and clinical relevance. Clin Anat. https://doi.org/10.1002/ca.23504(Epub ahead of print)

12.

Mizutani K, Akiyama T, Yoshida K, Toda M (2018) Skull base venous anatomy associated with endoscopic skull base neurosurgery: a literature review. World Neurosurg 120:405–414

13.

Mortazavi MM, Tubbs RS, Riech S, Verma K, Shoja MM, Zurada A, Benninger B, Loukas M, Cohen Gadol AA (2012) Anatomy and pathology of the cranial emissary veins: a review with surgical implications. Neurosurgery 70:1312–1319

14.

Natsis K, Piagkou M, Repousi E, Tegos T, Gkioka A, Loukas M (2018) The size of the foramen ovale regarding to the presence and absence of the emissary sphenoidal foramen: is there any relationship between them? Folia Morphol (Warsz) 77:90–98

15.

Ozer MA, Govsa F (2014) Measurement accuracy of the foramen of vesalius for safe percutaneous techniques using computer-assisted three-dimensional landmarks. Surg Radiol Anat 36:147–154

16.

Peris-Celda M, Graziano F, Russo V, Mericle RA, Ulm AJ (2013) Foramen ovale puncture, lesioning accuracy, and avoiding complications: microsurgical anatomy study with clinical implications. J Neurosurg 119:1176–1193

17.

Rhoton AL Jr (2002) The anterior and middle cranial base. Neurosurgery 51:S273–S302

18.

Rhoton AL Jr (2002) The sellar region. Neurosurgery 51:S335–S374

19.

Scranton RA, Cohen-Gadol AA (2019) Techniques to improve the efficacy of percutaneous biopsy procedures for cavernous sinus lesions. Oper Neurosurg (Hagerstown). https://doi.org/10.1093/ons/opz130(Epub ahead of print)

20.

Shinohara AL, de Souza Melo CG, Silveira EM, Lauris JR, Andreo JC, de Castro RA (2010) Incidence, morphology and morphometry of the foramen of Vesalius: complimentary study for a safer planning and execution of the trigeminal rhizotomy technique. Surg Radiol Anat 32:159–164

21.

Tubbs RS, Dixon J, Loukas M, Cohen-Gadol AA (2010) Regional vascular relationships to the foramen ovale: an anatomical study with application to approaches to the external skull base with an emphasis on transcutaneous procedures for the treatment of trigeminal neuralgia. J Neurosurg 113:493–497

22.

Watanabe K, Kakeda S, Watanabe R, Ohnari N, Korogi Y (2013) Normal flow signal of the pterygoid plexus on 3T MRA in patients without DAVF of the cavernous sinus. AJNR Am J Neuroradiol 34:1232–1236

23.

Yi W, Ohman K, Brännström T, Bergenheim AT (2009) Percutaneous biopsy of cavernous sinus tumour via the foramen ovale. Acta Neurochir (Wien) 151:401–407

24.

Zdilla MJ, Hatfield SA, McLean KA, Laslo JM, Cyrus LM, Lambert HW (2016) Orientation of the foramen ovale: an anatomic study with neurosurgical considerations. J Craniofac Surg 27:234–237

25.

Zdilla MJ, Fijalkowski KM (2017) The shape of the foramen ovale: a visualization aid for cannulation procedures. J Craniofac Surg 28:548–551
Funding
No funding was received for this study.
Ethics declarations
Conflict of interest
The authors have no conflict of interest to declare regarding the materials or methods used in this study or the findings presented in this paper.
Ethical approval
All procedures performed in the studies involving human participants were in accordance with the ethical standards of the institutional and/or national research committee, and with the 1964 Helsinki Declaration and its later amendments or comparable ethical standards.
Informed consent
Informed consent was obtained from all involved participants included in the study.
Additional information
Publisher's Note
Springer Nature remains neutral with regard to jurisdictional claims in published maps and institutional affiliations.
About this article
Cite this article
Tsutsumi, S., Ono, H. & Ishii, H. The emissary veins of the foramen ovale: an anatomical study using magnetic resonance imaging. Surg Radiol Anat (2020). https://doi.org/10.1007/s00276-020-02432-8
Received:

Accepted:

Published:
Keywords
Emissary vein

Foramen ovale

Anatomy

MRI