Abstract
The anterior maxilla is characterized by the nasopalatine canal that originates bilaterally from the anterior nasal floor, subsequently fuses, and terminates at the incisive foramen in the anterior palate. Embryologically, this structure forms within the primary palate, and contains the neurovascular bundle, but also continuous epithelialized bands. The latter, termed nasopalatine ducts, usually degenerate and/or obliterate before birth. However, in some individuals, the ducts may remain partially or completely patent. The present case report describes for the first time in the literature a rare finding of air inclusions within the anatomical area of the nasopalatine canal indicating the presence of a nasopalatine duct as visualized with cone beam computed tomography. The patient was asymptomatic and the radiographic findings were seen incidentally. An endoscopic inspection of the anterior nasal cavities confirmed the presence of the nasal openings of the partially patent nasopalatine ducts.
This is a preview of subscription content, log in to check access.
Access options
Buy single article
Instant access to the full article PDF.
US$ 39.95
Price includes VAT for USA
Subscribe to journal
Immediate online access to all issues from 2019. Subscription will auto renew annually.
US$ 99
This is the net price. Taxes to be calculated in checkout.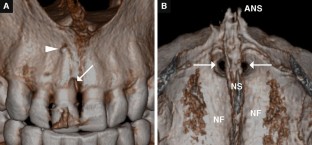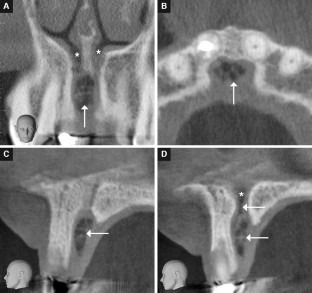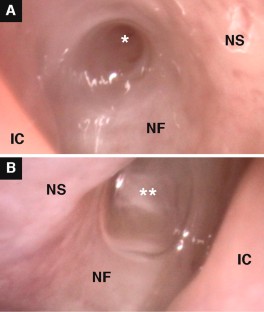 References
1.

Abrams AM, Howell FV, Bullock WK (1963) Nasopalatine cysts. Oral Surg Oral Med Oral Pathol 16:306–332

2.

Allard RH, van der Kwast WA, van der Waal I (1981) Nasopalatine duct cyst. Review of the literature and report of 22 cases. Int J Oral Surg 10:447–461

3.

Bornstein MM, Balsiger R, Sendi P, von Arx T (2011) Morphology of the nasopalatine canal and dental implant surgery: a radiographic analysis of 100 consecutive patients using limited cone beam computed tomography. Clin Oral Implants Res 22:295–301

4.

Falci SGM, Verli FD, Consolaro A, dos Santos CRR (2013) Morphological characterization of the nasopalatine region in human fetuses and its association to pathologies. J Appl Oral Sci 21:250–255

5.

Jacob S, Zelano B, Gungor A, Abbott D, Naclerio R, McClintock MK (2000) Location and gross morphology of the nasopalatine duct in human adults. Arch Otolaryngol Head Neck Surg 126:741–748

6.

Kim JH, Oka K, Jin ZW, Murakami G, Rodriguez-Vazquez JF, Ahn SW, Hwang HP (2017) Fetal development of the incisive canal, especially of the delayed closure due to the nasopalatine duct: a study using serial sections of human fetuses. Anat Rec (Hoboken) 300:1093–1103

7.

Knecht M, Kittner T, Beleites T, Hüttenbrink KB, Hummel T, Witt M (2005) Morphological and radiologic evaluation of the human nasopalatine duct. Ann Otol Rhinol Laryngol 114:229–232

8.

Leboucq H (1881) Le canal naso-palatin chez l'homme (in French). Arch Biol Paris 2:386–397

9.

Main DM (1970) Epithelial jaw cysts: a clinicopathological reappraisal. Br J Oral Surg 8:114–125

10.

Moss HD, Hellstein JW, Johnson JD (2000) Endodontic considerations of the nasopalatine duct region. J Endod 26:107–110

11.

Radlanski RJ, Emmerich S, Renz H (2004) Prenatal morphogenesis of the human incisive canal. Anat Embryol 208:265–271

12.

Shimp KL, Bhatnagar KP, Bonar CJ, Smith TD (2003) Ontogeny of the nasopalatine duct in primates. Anat Rec A Discov Mol Cell Evol Biol 274:862–869

13.

Smith TD, Bhatnagar KP, Shimp KL, Kinzinger JH, Bonar CJ, Burrows AM, Mooney MP, Siegel MI (2002) Histological definition of the vomeronasal organ in humans and chimpanzees, with a comparison to other primates. Anat Rec 267:166–176

14.

Trotier D (2011) Vomeronasal organ and human pheromones. Eur Ann Otorhinolaryngol Head Neck Dis 128:184–190

15.

Valstar MH, van den Akker HP (2008) Patent nasopalatine duct: a diagnostic pitfall. Br J Oral Maxillofac Surg 46:304–305

16.

von Arx T, Lozanoff S (2017) Clinical oral anatomy—a comprehensive review for dental practitioners and researchers, 1st edn. Springer International, Switzerland, pp 103–131

17.

von Arx T, Schaffner M, Bornstein MM (2018) Patent nasopalatine ducts: an update of the literature and a series of new cases. Surg Radiol Anat 40:165–177

18.

Wessels Q, Hoogland PVJM, Vorster W (2014) Anatomical evidence for an endocrine activity of the vomeronasal organ in humans. Clin Anat 27:856–860
Acknowledgements
The authors thank the patient for the permission to publish her case.
Ethics declarations
Conflict of interest
The authors declare that there are no conflicts of interest related to this report.
Additional information
Publisher's Note
Springer Nature remains neutral with regard to jurisdictional claims in published maps and institutional affiliations.
About this article
Cite this article
von Arx, T., Bornstein, M.M. & Janner, S.F.M. Unique air inclusions within the nasopalatine duct indicating its presence radiographically: a case presentation. Surg Radiol Anat (2020). https://doi.org/10.1007/s00276-020-02428-4
Received:

Accepted:

Published:
Keywords
Anterior maxilla

Nasopalatine canal

Nasopalatine duct

Case report

Anterior nasal floor