Abstract
Purpose
The purpose of this study was to evaluate the antithrombogenic effects of poly-2-methoxyethylacrylate (PMEA) coating applied to the internal surfaces of the port-catheter system to prevent thrombotic occlusion.
Materials and Methods
PMEA coating was applied to the inner surfaces of the entire system, including the chamber, catheter, and connecting stem. PMEA-coated and uncoated port-catheter systems were each filled with fresh human blood for 1 or 3 h and then flushed with saline. Volumes of residual thrombi in the system and protein in the catheter were then compared.
Results
Saline flushing of the PMEA-coated port-catheter system expelled all visually recognizable thrombi, leaving no unremovable adhesions. In contrast, the uncoated port showed thrombi adherent to the inner surfaces and incomplete expulsion with flushing. Mean (± standard deviation) residual thrombus mass was significantly lower in PMEA-coated port-catheter systems (20.5 ± 6.2 mg) than in uncoated systems (230.3 ± 92.5 mg; p < 0.01). Mean residual protein was likewise significantly lower in PMEA-coated systems (20.5 ± 6.2 mg) than in uncoated systems (230.3 ± 92.5 mg; p < 0.01).
Conclusions
PMEA coating on a central venous port-catheter system decreased accumulation and facilitated flushing of thrombi from the system by flushing, as compared with the uncoated system. PMEA-coated central venous port-catheter systems appear relatively antithrombotic compared to uncoated systems.
This is a preview of subscription content, log in to check access.
Access options
Buy single article
Instant access to the full article PDF.
US$ 39.95
Price includes VAT for USA
Subscribe to journal
Immediate online access to all issues from 2019. Subscription will auto renew annually.
US$ 99
This is the net price. Taxes to be calculated in checkout.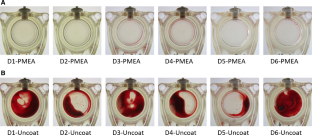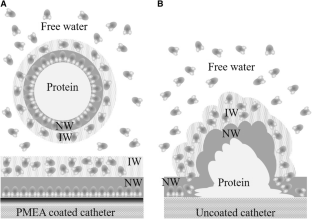 References
1.

Craus W, Di Giacomo A, Tommasino U, Frezza A, Festa G, Cricri AM. Totally implantable central venous access: 15 years' experience in a single unit. J Vasc Access. 2001;2:161–7.

2.

Kim DH, Ryu DY, Jung HJ, Lee SS. Evaluation of complications of totally implantable central venous port system insertion. Exp Ther Med. 2019;17:2013–8.

3.

Goltz JP, Scholl A, Ritter CO, Wittenberg G, Hahn D, Kickuth R. Peripherally placed totally implantable venous-access port systems of the forearm: clinical experience in 763 consecutive patients. Cardiovasc Intervent Radiol. 2010;33:1159–67.

4.

Hsieh CC, Weng HH, Huang WS, Wang WK, Kao CL, Lu MS, Wang CS. Analysis of risk factors for central venous port failure in cancer patients. World J Gastroenterol. 2009;15:4709–14.

5.

Asif S, Asawa K, Inoue Y, Ishihara K, Lindell B, Holmgren R, Nilsson B, Ryden A, Jensen-Waern M, Teramura Y, Ekdahl KN. Validation of an MPC polymer coating to attenuate surface-induced crosstalk between the complement and coagulation systems in whole blood in in vitro and in vivo models. Macromol Biosci. 2019;19:e1800485.

6.

Randolph AG, Cook DJ, Gonzales CA, Andrew M. Benefit of heparin in central venous and pulmonary artery catheters: a meta-analysis of randomized controlled trials. Chest. 1998;113:165–71.

7.

Arnander C, Bagger-Sjoback D, Frebelius S, Larsson R, Swedenborg J. Long-term stability in vivo of a thromboresistant heparinized surface. Biomaterials. 1987;8:496–9.

8.

Pierce CM, Wade A, Mok Q. Heparin-bonded central venous lines reduce thrombotic and infective complications in critically ill children. Intensive Care Med. 2000;26:967–72.

9.

Vang SN, Brady CP, Christensen KA, Isler JR, Allen KR. Clinical evaluation of poly(2-methoxyethylacrylate) in primary coronary artery bypass grafting. J Extra Corpor Technol. 2005;37:23–31.

10.

Tanaka M, Motomura T, Kawada M, Anzai T, Kasori Y, Shiroya T, Shimura K, Onishi M, Mochizuki A. Blood compatible aspects of poly(2-methoxyethylacrylate) (PMEA)-relationship between protein adsorption and platelet adhesion on PMEA surface. Biomaterials. 2000;21:1471–81.

11.

Cohen M, Jeske WP, Nicolau JC, Montalescot G, Fareed J. US Food and Drug Administration approval of generic versions of complex biologics: implications for the practicing physician using low molecular weight heparins. J Thromb Thrombolysis. 2012;33:230–8.

12.

Cuker A, Arepally GM, Chong BH, Cines DB, Greinacher A, Gruel Y, Linkins LA, Rodner SB, Selleng S, Warkentin TE, Wex A, Mustafa RA, Morgan RL, Santesso N. American Society of Hematology 2018 guidelines for management of venous thromboembolism: heparin-induced thrombocytopenia. Blood Adv. 2018;2:3360–92.

13.

Suhara H, Sawa Y, Nishimura M, Oshiyama H, Yokoyama K, Saito N, et al. Efficacy of a new coating material, PMEA, for cardiopulmonary bypass circuits in a porcine model. Ann Thorac Surg. 2001;71(5):1603–8.

14.

Hazlewood CF, Nichols BL, Chamberlain NF. Evidence for the existence of a minimum of two phases of ordered water in skeletal muscle. Nature. 1969;222:747–50.

15.

Tanaka M, Mochizuki A. Effect of water structure on blood compatibility–thermal analysis of water in poly(meth)acrylate. J Biomed Mater Res A. 2004;68(4):684–95.

16.

Sato K, Kobayashi S, Kusakari M, Watahiki S, Oikawa M, Hoshiba T, et al. The relationship between water structure and blood compatibility in poly(2-methoxyethyl acrylate) (PMEA) analogues. Macromol Biosci. 2015;15(9):1296–303.

17.

Schiffer CA, Mangu PB, Wade JC, Camp-Sorrell D, Cope DG, El-Rayes BF, Gorman M, Ligibel J, Mansfield P, Levine M. Central venous catheter care for the patient with cancer: American Society of Clinical Oncology clinical practice guideline. J Clin Oncol. 2013;31:1357–70.
Ethics declarations
Conflict of interest
The authors declare that they have no conflict of interest.
Ethical Approval
Our institutional review board approved the study (Approval No. #2017110). Six healthy volunteers participated in this study. The study protocols for this retrospective analysis were approved by our institutional review board.
Informed Consent
Informed consent was obtained from each volunteer prior to participation in the study.
Additional information
Publisher's Note
Springer Nature remains neutral with regard to jurisdictional claims in published maps and institutional affiliations.
Electronic supplementary material
Below is the link to the electronic supplementary material.
Supplementary file1 (WMV 17466 kb)
About this article
Cite this article
Kariya, S., Nakatani, M., Ono, Y. et al. Assessment of the Antithrombogenicity of a Poly-2-Methoxyethylacrylate-Coated Central Venous Port-Catheter System. Cardiovasc Intervent Radiol (2020). https://doi.org/10.1007/s00270-020-02408-6
Received:

Accepted:

Published:
Keywords
Port

Poly-2-methoxyethylacrylate

Antithrombogenicity

Complication

Thrombosis

Coating