Abstract
Aims
To investigate laboratory parameters as predictors of overall survival (OS) for hepatocellular carcinoma (HCC) treated with radioembolization and develop/validate a scoring system.
Methods
With IRB approval, we included all patients with baseline alpha-fetoprotein (AFP) > 100 ng/dL from our prospectively acquired HCC radioembolization database. Neutrophil–lymphocyte ratio, albumin–bilirubin (ALBI), and AFP were measured at baseline and at 1-, 3-, and 6-month post-radioembolization Landmarks. OS was assessed from these Landmarks. Univariate/multivariate analyses were performed to evaluate OS predictability of these parameters. Baseline Imaging, Laboratory, and Combination scoring systems were developed. Developing/validating groups were created to investigate/validate the score's OS predictability. Time-dependent receiver operating characteristics (ROC) were evaluated. Patients were stratified into groups I, II, and III by using 25th and 75th percentile cutoffs according to change in Laboratory Score from baseline.
Results
345/401 (86%), 238/401 (59%), and 167/401 (42%) patients had laboratory parameters available at the 1-, 3-, and 6-month Landmarks, respectively. ALBI and AFP were significant OS prognosticators at all Landmarks. The Laboratory Score [ALBI + (0.3 × LnAFP)] was developed/internally validated to predict OS from these Landmarks. Areas under the curve of time-dependent ROCs of the Baseline Imaging vs. Laboratory scores in predicting patient OS post 3 and 6 months Landmarks were 0.56 versus 0.82 and 0.57 versus 0.77, respectively. OS differences in groups I, II, and III according to change in Laboratory Score from baseline were significant (p < 0.001).
Conclusions
Post-radioembolization AFP and ALBI scores were significant OS prognosticators. A decrease in post-therapeutic Laboratory Score, which combines AFP and ALBI, correlates with an improved OS.
This is a preview of subscription content, log in to check access.
Access options
Buy single article
Instant access to the full article PDF.
US$ 39.95
Price includes VAT for USA
Subscribe to journal
Immediate online access to all issues from 2019. Subscription will auto renew annually.
US$ 99
This is the net price. Taxes to be calculated in checkout.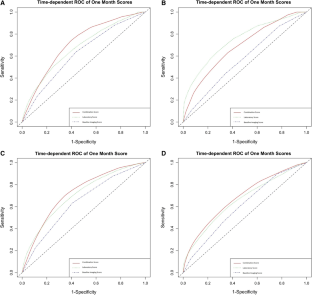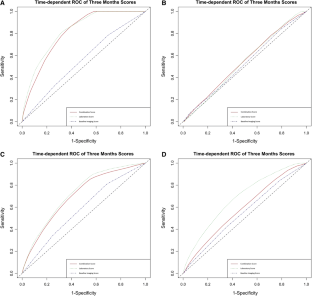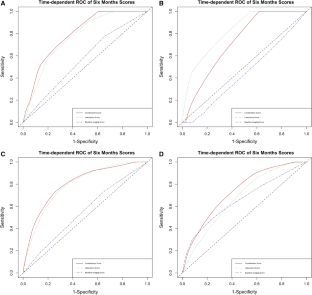 References
1.

Schutte K, Bornschein J, Malfertheiner P. Hepatocellular carcinoma–epidemiological trends and risk factors. Dig Dis. 2009;27(2):80–92.

2.

Mgaieth S, Kemp W, Gow P, Fink M, Lubel J, Nicoll A, et al. Impact of viral hepatitis aetiology on survival outcomes in hepatocellular carcinoma: a large multicentre cohort study. J Viral Hepat. 2017;24(11):982–9.

3.

Varghese J, Kedarisetty C, Venkataraman J, Srinivasan V, Deepashree T, Uthappa M, et al. Combination of TACE and sorafenib improves outcomes in BCLC stages B/C of hepatocellular carcinoma: a single centre experience. Ann Hepatol. 2017;16(2):247–54.

4.

Richani M, Kolly P, Knoepfli M, Herrmann E, Zweifel M, von Tengg-Kobligk H, et al. Treatment allocation in hepatocellular carcinoma: assessment of the BCLC algorithm. Ann Hepatol. 2016;15(1):82–90.

5.

Avanzas P, Quiles J, Lopez de Sa E, Sanchez A, Rubio R, Garcia E, et al. Neutrophil count and infarct size in patients with acute myocardial infarction. Int J Cardiol. 2004;97(1):155–6.

6.

Ommen SR, Hodge DO, Rodeheffer RJ, McGregor CG, Thomson SP, Gibbons RJ. Predictive power of the relative lymphocyte concentration in patients with advanced heart failure. Circulation. 1998;97(1):19–22.

7.

Walsh SR, Cook EJ, Goulder F, Justin TA, Keeling NJ. Neutrophil-lymphocyte ratio as a prognostic factor in colorectal cancer. J Surg Oncol. 2005;91(3):181–4.

8.

Gibson PH, Cuthbertson BH, Croal BL, Rae D, El-Shafei H, Gibson G, et al. Usefulness of neutrophil/lymphocyte ratio as predictor of new-onset atrial fibrillation after coronary artery bypass grafting. Am J Cardiol. 2010;105(2):186–91.

9.

Duffy BK, Gurm HS, Rajagopal V, Gupta R, Ellis SG, Bhatt DL. Usefulness of an elevated neutrophil to lymphocyte ratio in predicting long-term mortality after percutaneous coronary intervention. Am J Cardiol. 2006;97(7):993–6.

10.

Halazun KJ, Hardy MA, Rana AA, Woodland DCT, Luyten EJ, Mahadev S, et al. Negative impact of neutrophil-lymphocyte ratio on outcome after liver transplantation for hepatocellular carcinoma. Ann Surg. 2009;250(1):141–51.

11.

Sukato DC, Tohme S, Chalhoub D, Han K, Zajko A, Amesur N, et al. The prognostic role of neutrophil-to-lymphocyte ratio in patients with unresectable hepatocellular carcinoma treated with radioembolization. J Vasc Interv Radiol JVIR. 2015;26(6):816–24.

12.

Johnson PJ, Berhane S, Kagebayashi C, Satomura S, Teng M, Reeves HL, et al. Assessment of liver function in patients with hepatocellular carcinoma: a new evidence-based approach-the ALBI grade. J Clin Oncol Off J Am Soc Clin Oncol. 2015;33(6):550–8.

13.

Pinato DJ, Sharma R, Allara E, Yen C, Arizumi T, Kubota K, et al. The ALBI grade provides objective hepatic reserve estimation across each BCLC stage of hepatocellular carcinoma. J Hepatol. 2017;66(2):338–46.

14.

Carr BI, Kanke F, Wise M, Satomura S. Clinical evaluation of Lens culinaris agglutinin-reactive alpha-fetoprotein and des-gamma-carboxy prothrombin in histologically proven hepatocellular carcinoma in the United States. Dig Dis Sci. 2007;52(3):776–82.

15.

Okuda H, Nakanishi T, Takatsu K, Saito A, Hayashi N, Takasaki K, et al. Serum levels of des-gamma-carboxy prothrombin measured using the revised enzyme immunoassay kit with increased sensitivity in relation to clinicopathologic features of solitary hepatocellular carcinoma. Cancer. 2000;88(3):544–9.

16.

Yamamoto K, Imamura H, Matsuyama Y, Hasegawa K, Beck Y, Sugawara Y, et al. Significance of alpha-fetoprotein and des-gamma-carboxy prothrombin in patients with hepatocellular carcinoma undergoing hepatectomy. Ann Surg Oncol. 2009;16(10):2795–804.

17.

Wang CS, Lin CL, Lee HC, Chen KY, Chiang MF, Chen HS, et al. Usefulness of serum des-gamma-carboxy prothrombin in detection of hepatocellular carcinoma. World J Gastroenterol. 2005;11(39):6115–9.

18.

Saffroy R, Pham P, Reffas M, Takka M, Lemoine A, Debuire B. New perspectives and strategy research biomarkers for hepatocellular carcinoma. Clin Chem Lab Med. 2007;45(9):1169–79.

19.

Sakata J, Shirai Y, Wakai T, Kaneko K, Nagahashi M, Hatakeyama K. Preoperative predictors of vascular invasion in hepatocellular carcinoma. Eur J Surg Oncol. 2008;34(8):900–5.

20.

Liu C, Xiao GQ, Yan LN, Li B, Jiang L, Wen TF, et al. Value of alpha-fetoprotein in association with clinicopathological features of hepatocellular carcinoma. World J Gastroenterol. 2013;19(11):1811–9.

21.

Riaz A, Ryu RK, Kulik LM, Mulcahy MF, Lewandowski RJ, Minocha J, et al. Alpha-fetoprotein response after locoregional therapy for hepatocellular carcinoma: oncologic marker of radiologic response, progression, and survival. J Clin Oncol. 2009;27(34):5734–42.

22.

Yang JD, Addissie BD, Mara KC, Harmsen WS, Dai J, Zhang N, et al. GALAD score for hepatocellular carcinoma detection in comparison to liver ultrasound and proposal of GALADUS score. Cancer Epidemiol Biomark Prev. 2018. http://cebp.aacrjournals.org/content/cebp/early/2019/02/21/1055-9965.EPI-18-0281.full.pdf.

23.

Spreafico C, Sposito C, Vaiani M, Cascella T, Bhoori S, Morosi C, et al. Development of a prognostic score to predict response to yttrium-90 radioembolization for hepatocellular carcinoma with portal vein invasion. J Hepatol. 2018;68(4):724–32.

24.

Llovet JM, Di Bisceglie AM, Bruix J, Kramer BS, Lencioni R, Zhu AX, et al. Design and endpoints of clinical trials in hepatocellular carcinoma. J Natl Cancer Inst. 2008;100(10):698–711.

25.

Tateishi R, Shiina S, Yoshida H, Teratani T, Obi S, Yamashiki N, et al. Prediction of recurrence of hepatocellular carcinoma after curative ablation using three tumor markers. Hepatology. 2006;44(6):1518–27.

26.

Salem R, Thurston KG. Radioembolization with 90Yttrium microspheres: a state-of-the-art brachytherapy treatment for primary and secondary liver malignancies. Part 1: Technical and methodologic considerations. J Vasc Interv Radiol. 2006;17(8):1251–78.

27.

Salem R, Lewandowski RJ, Gates VL, Nutting CW, Murthy R, Rose SC, et al. Research reporting standards for radioembolization of hepatic malignancies. J Vasc Interv Radiol JVIR. 2011;22(3):265–78.

28.

Bruix J, Cheng AL, Meinhardt G, Nakajima K, De Sanctis Y, Llovet J. Prognostic factors and predictors of sorafenib benefit in patients with hepatocellular carcinoma: analysis of two phase III studies. J Hepatol. 2017;67(5):999–1008.

29.

Riaz A, Miller FH, Kulik LM, Nikolaidis P, Yaghmai V, Lewandowski RJ, et al. Imaging response in the primary index lesion and clinical outcomes following transarterial locoregional therapy for hepatocellular carcinoma. JAMA. 2010;303(11):1062–9.

30.

Giobbie-Hurder A, Gelber RD, Regan MM. Challenges of guarantee-time bias. J Clin Oncol. 2013;31(23):2963–9.

31.

Anderson JR, Cain KC, Gelber RD. Analysis of survival by tumor response. J Clin Oncol. 1983;1(11):710–9.

32.

Alkhouri N, Morris-Stiff G, Campbell C, Lopez R, Tamimi TA, Yerian L, et al. Neutrophil to lymphocyte ratio: a new marker for predicting steatohepatitis and fibrosis in patients with nonalcoholic fatty liver disease. Liver Int. 2012;32(2):297–302.

33.

Schmidt H, Bastholt L, Geertsen P, Christensen IJ, Larsen S, Gehl J, et al. Elevated neutrophil and monocyte counts in peripheral blood are associated with poor survival in patients with metastatic melanoma: a prognostic model. Br J Cancer. 2005;93(3):273–8.

34.

Teramukai S, Kitano T, Kishida Y, Kawahara M, Kubota K, Komuta K, et al. Pretreatment neutrophil count as an independent prognostic factor in advanced non-small-cell lung cancer: an analysis of Japan Multinational Trial Organisation LC00-03. Eur J Cancer. 2009;45(11):1950–8.

35.

Jemal A, Siegel R, Xu J, Ward E. Cancer statistics, 2010. CA Cancer J Clin. 2010;60(5):277–300.

36.

Llovet JM, Bruix J. Novel advancements in the management of hepatocellular carcinoma in 2008. J Hepatol. 2008;48(Suppl 1):S20–37.

37.

Durand F, Valla D. Assessment of prognosis of cirrhosis. Semin Liver Dis. 2008;28(1):110–22.

38.

Li MX, Zhao H, Bi XY, Li ZY, Huang Z, Han Y, et al. Prognostic value of the albumin–bilirubin grade in patients with hepatocellular carcinoma: validation in a Chinese cohort. Hepatol Res. 2017;47(8):731–41.

39.

Hickey R, Mouli S, Kulik L, Desai K, Thornburg B, Ganger D, et al. Independent analysis of albumin–bilirubin grade in a 765-patient cohort treated with transarterial locoregional therapy for hepatocellular carcinoma. J Vasc Interv Radiol. 2016;27(6):795–802.

40.

de Lope CR, Tremosini S, Forner A, Reig M, Bruix J. Management of HCC. J Hepatol. 2012;56(Suppl 1):S75–87.

41.

Trevisani F, De Notariis S, Rossi C, Bernardi M. Randomized control trials on chemoembolization for hepatocellular carcinoma: Is there room for new studies? J Clin Gastroenterol. 2001;32(5):383–9.

42.

Nomura F, Ohnishi K, Tanabe Y. Clinical features and prognosis of hepatocellular carcinoma with reference to serum alpha-fetoprotein levels. Analysis of 606 patients. Cancer. 1989;64(8):1700–7.

43.

Lok AS, Lai CL. alpha-Fetoprotein monitoring in Chinese patients with chronic hepatitis B virus infection: role in the early detection of hepatocellular carcinoma. Hepatology. 1989;9(1):110–5.

44.

Chan SL, Mo FK, Johnson PJ, Hui EP, Ma BB, Ho WM, et al. New utility of an old marker: serial alpha-fetoprotein measurement in predicting radiologic response and survival of patients with hepatocellular carcinoma undergoing systemic chemotherapy. J Clin Oncol. 2009;27(3):446–52.

45.

Memon K, Kulik L, Lewandowski RJ, Wang E, Ryu RK, Riaz A, et al. Alpha-fetoprotein response correlates with EASL response and survival in solitary hepatocellular carcinoma treated with transarterial therapies: a subgroup analysis. J Hepatol. 2012;56(5):1112–20.
Ethics declarations
Conflict of interest
RS, RJL and LK are advisors to BTG. None of the other co-authors report any conflict of interest.
Additional information
Publisher's Note
Springer Nature remains neutral with regard to jurisdictional claims in published maps and institutional affiliations.
Electronic supplementary material
Below is the link to the electronic supplementary material.
About this article
Cite this article
Ali, R., Yang, Y., Antkowiak, M. et al. Prognosticating Survival in Hepatocellular Carcinoma with Elevated Baseline Alpha-fetoprotein Treated with Radioembolization Using a Novel Laboratory Scoring System: Initial Development and Validation. Cardiovasc Intervent Radiol 42, 700–711 (2019). https://doi.org/10.1007/s00270-019-02191-z
Received:

Accepted:

Published:

Issue Date:
Keywords
Hepatocellular carcinoma (HCC)

Alpha-fetoprotein (AFP)

TARE

Radioembolization

HCC survival

Laboratory prognosticators for HCC survival