Abstract
Purpose
To evaluate the additional value of three-dimensional rotational angiography (3DRA) of the foot compared with digital subtraction angiography (DSA) in patients with critical limb ischemia (CLI).
Technique
For 3DRA, the C-arm was placed in the propeller position with the foot in an isocentric position. The patient's unaffected foot was positioned in a footrest outside the field of view. For correct timing of 3DRA, the delay from contrast injection in the popliteal artery at the level of knee joint to complete pedal arterial enhancement was assessed using DSA. With this delay, 3DRA was started after injection of 15 ml contrast. Imaging of the 3DRA could directly be reconstructed and visualized.
Materials and Methods
Patients undergoing 3DRA of the foot were prospectively registered. DSA and 3DRA images were scored separately for arterial patency and presence of collaterals. Treatment strategies were proposed based on DSA with and without the availability of 3DRA.
Results
Eleven patients underwent 3DRA of the foot. One 3DRA was not included because the acquisition was focused on the heel instead of the entire foot. Diagnostic quality of 3DRA was good in all ten patients. 3DRA compared with DSA showed additional patent arteries in six patients, patent plantar arch in three patients, and collaterals between the pedal arteries in five patients. Additional information from 3DRA resulted in a change of treatment strategy in six patients.
Conclusion
3DRA of the foot contains valuable additional real-time information to better guide peripheral vascular interventions in patients with CLI and nonhealing tissue lesions.
This is a preview of subscription content, log in to check access.
Access options
Buy single article
Instant unlimited access to the full article PDF.
US$ 39.95
Price includes VAT for USA
Subscribe to journal
Immediate online access to all issues from 2019. Subscription will auto renew annually.
US$ 99
This is the net price. Taxes to be calculated in checkout.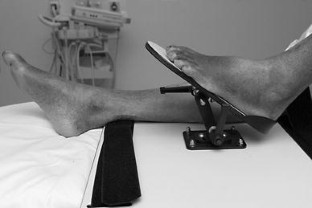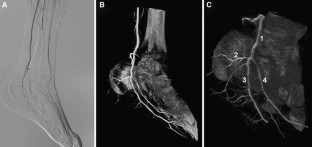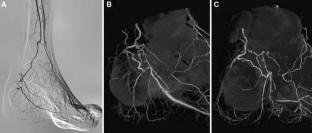 References
1.

Fusaro M, Dalla PL, Biondi-Zoccai G (2007) Pedal-plantar loop technique for a challenging below-the-knee chronic total occlusion: A novel approach to percutaneous revascularization in critical lower limb ischemia. J Invasive Cardiol 19(2):E34–E37

2.

Manzi M, Fusaro M, Ceccacci T et al (2009) Clinical results of below-the knee intervention using pedal-plantar loop technique for the revascularization of foot arteries. J Cardiovasc Surg (Torino) 50(3):331–337

3.

Manzi M, Cester G, Palena LM et al (2011) Vascular imaging of the foot: the first step toward endovascular recanalization. Radiographics 31(6):1623–1636

4.

Gandini R, Uccioli L, Spinelli A et al (2012) Alternative techniques for treatment of complex below-the knee arterial occlusions in diabetic patients with critical limb ischemia. Cardiovasc Interv Radiol. doi:10.1007/s00270-012-0344-x

5.

Varela C, Acin F, de HJ et al (2010) The role of foot collateral vessels on ulcer healing and limb salvage after successful endovascular and surgical distal procedures according to an angiosome model. Vasc Endovasc Surg 44(8):654–660

6.

Reekers JA, Lammer J (2012) Diabetic foot and PAD: the endovascular approach. Diabetes Metab Res Rev 28(Suppl 1):36–39

7.

Attinger CE, Evans KK, Bulan E et al (2006) Angiosomes of the foot and ankle and clinical implications for limb salvage: reconstruction, incisions, and revascularization. Plast Reconstr Surg 117(Suppl 7):261S–293S

8.

Taylor GI, Palmer JH (1987) The vascular territories (angiosomes) of the body: experimental study and clinical applications. Br J Plast Surg 40(2):113–141

9.

Abe T, Hirohata M, Tanaka N et al (2002) Clinical benefits of rotational 3D angiography in endovascular treatment of ruptured cerebral aneurysm. AJNR Am J Neuroradiol 23(4):686–688

10.

Hochmuth A, Spetzger U, Schumacher M (2002) Comparison of three-dimensional rotational angiography with digital subtraction angiography in the assessment of ruptured cerebral aneurysms. AJNR Am J Neuroradiol 23(7):1199–1205

11.

Lu L, Zhang LJ, Poon CS et al (2012) Digital subtraction CT angiography for detection of intracranial aneurysms: comparison with three-dimensional digital subtraction angiography. Radiology 262(2):605–612

12.

Tu RK, Cohen WA, Maravilla KR et al (1996) Digital subtraction rotational angiography for aneurysms of the intracranial anterior circulation: injection method and optimization. AJNR Am J Neuroradiol 17(6):1127–1136

13.

Garcia JA, Agostoni P, Green NE et al (2009) Rotational versus standard coronary angiography: an image content analysis. Catheter Cardiovasc Interv 73(6):753–761

14.

Raman SV, Morford R, Neff M et al (2004) Rotational X-ray coronary angiography. Catheter Cardiovasc Interv 63(2):201–207

15.

Klein AJ, Garcia JA, Hudson PA et al (2011) Safety and efficacy of dual-axis rotational coronary angiography versus standard coronary angiography. Catheter Cardiovasc Interv 77(6):820–827

16.

Kamran M, Nagaraja S, Byrne JV (2010) C-arm flat detector computed tomography: the technique and its applications in interventional neuroradiology. Neuroradiology 52(4):319–327

17.

Struffert T, Doerfler A (2009) Flat-detector computed tomography in diagnostic and interventional neuroradiology. Radiologe 49(9):820–829

18.

Yamada T, Gloviczki P, Bower TC et al (1993) Variations of the arterial anatomy of the foot. Am J Surg 166(2):130–135

19.

Henckel J, Richards R, Lozhkin K et al (2006) Very low-dose computed tomography for planning and outcome measurement in knee replacement: the imperial knee protocol. J Bone Joint Surg Br 88(11):1513–1518
Acknowledgments
There was no grant support for this article.
Conflict of interest
The authors have no conflicts of interest to disclose.
Electronic supplementary material
Below is the link to the electronic supplementary material.
Total rotational view of 3DRA without and with subtraction in a 70-year-old patient. (MP4 1301 kb)
About this article
Cite this article
Jens, S., Lucatelli, P., Koelemay, M.J.W. et al. Three-Dimensional Rotational Angiography of the Foot in Critical Limb Ischemia: A New Dimension in Revascularization Strategy. Cardiovasc Intervent Radiol 36, 797–802 (2013). https://doi.org/10.1007/s00270-012-0541-7
Received:

Accepted:

Published:

Issue Date:
Keywords
Critical limb ischemia

Rotational angiography

Three-dimensional imaging