Abstract
Background
Risks of thyroidectomy for multinodular goiter (MNG) in older and frail patients are unclear, particularly regarding hematoma and recurrent laryngeal nerve (RLN) palsy.
Methods
MNG patients undergoing total thyroidectomy were reviewed in the ACS-NSQIP procedure-targeted database (2016–2017). Outcomes were analyzed between adult (age <65), older-adult (age ≥65 and <80), and oldest-old (age ≥80) patients. Five-factor modified frailty index (mFI-5) was calculated based on functional status, diabetes, COPD, CHF, and hypertension, and used in comparative analyses.
Results
A total of 2189 adult, 635 older-adult, and 59 oldest-old patients were included. Compared to adult patients, older-adult and oldest-old patients had higher mFI-5 ≥0.4 rates (14% vs. 22% vs. 31%, respectively, p < 0.001). The overall complication rate was 17.0% and similar between groups; however, oldest-old patients had higher rates of surgical site infection (3.4% vs. 0.3% vs. 0.4%), pneumonia (5.1% vs. 0.3% vs. 0.2%), and readmission (10.2% vs. 2.4% vs. 2.6%) compared to older-adult and adult patients, respectively (p < 0.05). On multivariable analyses of thyroidectomy-specific complications, mFI-5 ≥0.4 (OR 2.5, 95%-CI 1.4–4.4) and bleeding disorder (OR 4.6, 95%-CI 1.3–16.3) were predictive of hematoma, whereas vessel-sealant device usage (OR 0.4, 95%-CI 0.3–0.7) was protective. mFI-5 ≥ 0.4 (OR 1.5, 95%-CI 1.1–2.2), bleeding disorder (OR 2.8, 95%-CI 1.04–7.8), parathyroid autotransplantation (OR 1.7, 95%-CI 1.2–2.6), and prolonged operative time (OR 1.4, 95%-CI 1.02–1.8) were predictive of RLN palsy. Age was not a significant predictor of hematoma or RLN palsy.
Conclusions
Patients ≥80 years old are at increased risk for systemic complications and readmission after thyroidectomy for MNG. Frailty index better risk-stratifies patients than age for thyroidectomy-specific complications.
This is a preview of subscription content, log in to check access.
Access options
Buy single article
Instant access to the full article PDF.
US$ 39.95
Price includes VAT for USA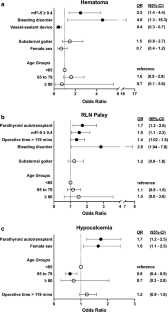 References
1.

Hurley DL, Gharib H (1996) Evaluation and management of multinodular goiter. Otolaryngol Clin N Am 29:527–540

2.

Berghout A, Wiersinga WM, Smits NJ et al (1990) Interrelationships between age, thyroid volume, thyroid nodularity, and thyroid function in patients with sporadic nontoxic goiter. Am J Med 89:602–608

3.

Sorensen JR, Watt T, Cramon P et al (2017) Quality of life after thyroidectomy in patients with nontoxic nodular goiter: a prospective cohort study. Head Neck 39:2232–2240

4.

Subramaniam S, Aalberg JJ, Divino CM (2019) Age stratified analysis of pre-operative factors impacting unplanned thirty day readmission in geriatric general surgery. Am J Surg 218:77–81

5.

Bur AM, Brant JA, Mulvey CL et al (2016) Association of clinical risk factors and postoperative complications with unplanned hospital readmission after head and neck cancer surgery. JAMA Otolaryngol Head Neck Surg 142:1184–1190

6.

Robinson TN, Walston JD, Brummel NE et al (2015) Frailty for surgeons: review of a National Institute on Aging Conference on Frailty for Specialists. J Am Coll Surg 221:1083–1092

7.

Grubey J, Raji Y, Duke W et al (2018) Outpatient thyroidectomy is safe in the elderly and super-elderly. Laryngoscope 128:290–294

8.

Wong EH, Smith M, Fish B et al (2019) Thyroidectomy in octogenarians is not associated with poorer postoperative outcomes. Head Neck 41:2500–2506

9.

Caulley L, Johnson-Obaseki S, Luo L et al (2017) Risk factors for postoperative complications in total thyroidectomy: a retrospective, risk-adjusted analysis from the National Surgical Quality Improvement Program. Medicine (Baltimore) 96:e5752

10.

Sahli Z, Ansari G, Gurakar M et al (2018) Thyroidectomy in older adults: an American College of Surgeons National Surgical Quality Improvement Program study of outcomes. J Surg Res 229:20–27

11.

American College of Surgeons (2019) National surgical quality improvement program national surgical quality improvement program. https://www.facs.org/quality-programs/acs-nsqip. Accessed 4 Feb 2019

12.

Subramaniam S, Aalberg JJ, Soriano RP et al (2018) New 5-factor modified frailty index using American College of Surgeons NSQIP data. J Am Coll Surg 226:173–181

13.

Mekel M, Stephen AE, Gaz RD et al (2009) Thyroid surgery in octogenarians is associated with higher complication rates. Surgery 146:913–921

14.

Seib CD, Rochefort H, Chomsky-Higgins K et al (2018) Association of patient frailty with increased morbidity after common ambulatory general surgery operations. JAMA Surg 153:160–168

15.

Ehlert BA, Najafian A, Orion KC et al (2016) Validation of a modified Frailty Index to predict mortality in vascular surgery patients. J Vasc Surg 63:1595–1601

16.

Traven SA, Reeves RA, Althoff AD et al (2019) New five-factor modified frailty index predicts morbidity and mortality in geriatric hip fractures. J Orthop Trauma 33:319–323

17.

Seib CD, Chomsky-Higgins K, Gosnell JE et al (2018) Patient frailty should be used to individualize treatment decisions in primary hyperparathyroidism. World J Surg 42:3215–3222. https://doi.org/10.1007/s00268-018-4629-3

18.

Anderson J, Seib C, Campbell M (2018) Association of patient frailty with increased risk of complications after adrenalectomy. JAMA Surg 153:966–967

19.

Siu J, McCarty J, Gadkaree S et al (2019) Association of vessel-sealant devices vs conventional hemostasis with postoperative neck hematoma after thyroid operations. JAMA Surg 154:e193146

20.

Sitges-Serra A, Lorente-Poch L, Sancho J (2018) Parathyroid autotransplantation in thyroid surgery. Langenbecks Arch Surg 403:309–315

21.

Danan D, Shonka DC (2017) Preoperative vitamin D level as predictor of post-thyroidectomy hypocalcemia in patients sustaining transient parathyroid injury. Head Neck 39:1378–1381

22.

Edafe O, Antakia R, Laskar N et al (2014) Systematic review and meta-analysis of predictors of post-thyroidectomy hypocalcaemia. Br J Surg 101:307–320

23.

Cesareo R, Palermo A, Pasqualini V et al (2017) Radiofrequency ablation for the management of thyroid nodules: a critical appraisal of the literature. Clin Endocrinol (Oxf) 87:639–648

24.

Cui R, Yu J, Han ZY et al (2019) Ultrasound-guided percutaneous microwave ablation for substernal goiter: initial experience. J Ultrasound Med 38:2883–2891. https://doi.org/10.1002/jum.14992

25.

Rockwood K, Song X, MacKnight C et al (2005) A global clinical measure of fitness and frailty in elderly people. CMAJ 173:489–495
Acknowledgements
We have no further acknowledgements. This research did not receive any financial support from extramural sources.
Ethics declarations
Conflict of interest
All authors declare that they have no conflict of interest.
Informed consent
This study was deemed exempt from review by the Weill Cornell Medicine Institutional Review Board due to the use of nationally available de-identified data. Thus, informed consent is not applicable using this established database.
Additional information
Publisher's Note
Springer Nature remains neutral with regard to jurisdictional claims in published maps and institutional affiliations.
About this article
Cite this article
Finnerty, B.M., Gray, K.D., Ullmann, T.M. et al. Frailty is More Predictive than Age for Complications After Thyroidectomy for Multinodular Goiter. World J Surg (2020). https://doi.org/10.1007/s00268-020-05422-4