Abstract
Background
There is a paucity of data on the presentation and surgical management of pheochromocytoma in developing nations, particularly in Africa.
Methods
This study was a retrospective review, which included all patients managed by the Groote Schuur Hospital/University of Cape Town Endocrine Surgery unit for pheochromocytoma and abdominal paragangliomas, from January 2002 to June 2019.
Results
Sixty patients were included in the study, of which 33% were male and 67% female. The mean age was 47 years (range 14–81). The median tumor size was 6 cm, with 45% larger than 6 cm. 92% were located in the adrenal gland (87% unilateral, 5% bilateral), and 8% were extra-adrenal. The conversion rate for laparoscopic cases was 20%, with 55% of cases overall completed laparoscopically. Eleven patients with tumors > 6 cm were initially attempted laparoscopically, of which 3 were converted to open, without any associated increased morbidity. A major adverse event was recorded for 5 cases (8%), including 1 mortality. Overall morbidity, blood loss, operating time and hospital stay were all significantly reduced in the laparoscopic group. There were 5 patients with malignant disease (8%).
Conclusion
This large series, from an established academic endocrine surgery unit in Africa, can serve as a benchmark for units with similar settings and resource limitations, to compare their surgical management and perioperative outcomes.
This is a preview of subscription content, log in to check access.
Access options
Buy single article
Instant access to the full article PDF.
US$ 39.95
Price includes VAT for USA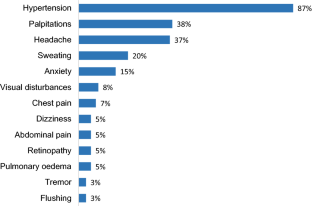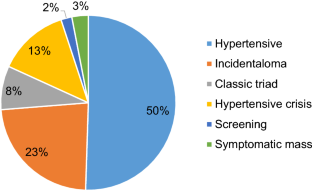 References
1.

Conzo G, Pasquali D, Colantuoni V et al (2014) Current concepts of pheochromocytoma. Int J Surg 12:469–474

2.

Hodin R, Lubitz C, Phitayakorn R et al (2014) Diagnosis and management of pheochromocytoma. Curr Probl Surg 51:151–187

3.

Lenders JW, Eisenhofer G, Mannelli M et al (2005) Phaeochromocytoma. Lancet 366:665–675

4.

Lenders JW, Duh QY, Eisenhofer G et al (2014) Pheochromocytoma and paraganglioma: an endocrine society clinical practice guideline. J Clin Endocrinol Metab 99:1915–1942

5.

Plouin PF, Amar L, Dekkers OM et al (2016) European society of endocrinology clinical practice guideline for long-term follow-up of patients operated on for a phaeochromocytoma or a paraganglioma. Eur J Endocrinol 174:G1–G10

6.

Kazaryan AM, Kuznetsov NS, Shulutko AM et al (2004) Evaluation of endoscopic and traditional open approaches to pheochromocytoma. Surg Endosc 18:937–941

7.

Thomson BN, Moulton CA, Davies M et al (2004) Laparoscopic adrenalectomy for phaeochromocytoma: with caution. ANZ J Surg 74:429–433

8.

Solorzano CC, Lew JI, Wilhelm SM et al (2007) Outcomes of pheochromocytoma management in the laparoscopic era. Ann Surg Oncol 14:3004–3010

9.

Wilhelm SM, Prinz RA, Barbu AM et al (2006) Analysis of large versus small pheochromocytomas: operative approaches and patient outcomes. Surgery 140:553–560

10.

Humphrey R, Gray D, Pautler S et al (2008) Laparoscopic compared with open adrenalectomy for resection of pheochromocytoma: a review of 47 cases. Can J Surg 51:276–280

11.

Cotesta D, Petramala L, Serra V et al (2009) Clinical experience with pheochromocytoma in a single centre over 16 years. High Blood Press Cardiovasc Prev 16:183–193

12.

Kercher KW, Novitsky YW, Park A et al (2005) Laparoscopic curative resection of pheochromocytomas. Ann Surg 241:919–926

13.

Walz MK, Peitgen K, Neumann HP et al (2002) Endoscopic treatment of solitary, bilateral, multiple, and recurrent pheochromocytomas and paragangliomas. World J Surg 26:1005–1012. https://doi.org/10.1007/s00268-002-6632-x

14.

Huddle KR (2011) Phaeochromocytoma in black South Africans–a 30-year audit. S Afr Med J 101:184–188

15.

Zorgani AE, Pirie FJ, Motala AA (2018) Characteristics and outcome of patients with pheochromocytoma at a tertiary endocrinology clinic in Durban, South Africa over 14 years. J Endocrinol Metab Diabetes S Afr 23:52–58

16.

Johnson O (2004) Phaeochromocytoma: experience with 12 cases in Tikur Anbessa, Addis Ababa, Ethiopia. East Cent Afr J Surg 9:71–75

17.

Leye A, Ndiaye N, Leye YM et al (2018) Management of Pheochromocytoma in Dakar: diagnostic and Therapeutic Advances throughout 16 Cases. Open J Endocr Metab Dis 8:19–28

18.

Agarwal G, Sadacharan D, Aggarwal V et al (2012) Surgical management of organ-contained unilateral pheochromocytoma: comparative outcomes of laparoscopic and conventional open surgical procedures in a large single-institution series. Langenbeck's Arch Surg 397:1109–1116

19.

Kopetschke R, Slisko M, Kilisli A et al (2009) Frequent incidental discovery of phaeochromocytoma: data from a German cohort of 201 phaeochromocytoma. Eur J Endocrinol 161:355–361

20.

Baguet JP, Hammer L, Mazzuco TL et al (2004) Circumstances of discovery of phaeochromocytoma: a retrospective study of 41 consecutive patients. Eur J Endocrinol 150:681–686

21.

Shen WT, Grogan R, Vriens M et al (2010) One hundred two patients with pheochromocytoma treated at a single institution since the introduction of laparoscopic adrenalectomy. Arch Surg 145:893–897

22.

Agarwal A, Mehrotra PK, Jain M et al (2010) Size of the tumor and pheochromocytoma of the adrenal gland scaled score (PASS): can they predict malignancy? World J Surg 34:3022–3028. https://doi.org/10.1007/s00268-010-0744-5

23.

Lorenz K, Langer P, Niederle B et al (2019) Surgical therapy of adrenal tumors: guidelines from the German Association of Endocrine Surgeons. Langenbeck's Arch Surg 404:385–401

24.

Li ML, Fitzgerald PA, Price DC et al (2001) Iatrogenic pheochromocytomatosis: a previously unreported result of laparoscopic adrenalectomy. Surgery 130:1072–1077
Ethics declarations
Conflict of interest
The authors declare that they have no conflict of interest.
Additional information
Publisher's Note
Springer Nature remains neutral with regard to jurisdictional claims in published maps and institutional affiliations.
About this article
Cite this article
Nel, D., Panieri, E., Malherbe, F. et al. Surgery for Pheochromocytoma: A Single-Center Review of 60 Cases from South Africa. World J Surg (2020). https://doi.org/10.1007/s00268-020-05420-6