Abstract
Background
The impact of immunosuppression on the outcomes of emergent surgery remains poorly described. We aimed to quantify the impact of chronic immunosuppression on outcomes of patients undergoing emergent colectomy (EC).
Methods
The Colectomy-Targeted ACS-NSQIP database 2012–2016 was queried for patients who underwent colectomy for an emergent indication. As per NSQIP, chronic immunosuppression was defined as the use of corticosteroid or immunosuppressant medication within the prior 30 days. Patients undergoing EC for any indication were divided into two groups: immunosuppressant use (IMS) and no immunosuppressant use (NIS). Patients were propensity-score-matched on demographics, comorbidities, preoperative laboratory values, and operative variables in a 1:1 ratio to control for confounding factors. The primary outcome was 30-day mortality. Secondary outcomes included overall 30-day morbidity, individual postoperative complications (e.g., wound dehiscence, anastomotic leak, and sepsis), and hospital length of stay.
Results
Out of a total of 130,963 patients, 17,707 patients underwent an EC, of which 15,422 were NIS and 2285 were IMS. Totally, 2882 patients were matched (1441 NIS; 1441 IMS). The median age was 66 [IQR 56–76]; 56.8% were female; patients more frequently underwent a diversion procedure rather than primary anastomosis (68.4% vs 31.6%). Overall, as compared to NIS, IMS patients had higher 30-day mortality (21.4% vs 18.5%, p = 0.045) and overall morbidity (79.7% vs 75.7%, p = 0.011). Particularly, IMS patients had increased rates of unplanned intubations (11.5% vs 7.9%, p = 0.001), wound dehiscence (5.7% vs 3.5%, p = 0.006), progressive renal insufficiency 2.2% vs 1.2%, p = 0.042), pneumonia (12.6% vs 10.0%, p = 0.029), and longer median hospital length of stay [12.0 (8.0–21.0) vs 11.0 (7.0–19.0), p < 0.001] as compared to NIS patients.
Conclusions
Chronic immunosuppression is independently associated with a significant and quantifiable increase in 30-day mortality and complications for patients undergoing EC. Our results provide the emergency surgeon with quantifiable risk estimates that can help guide better patient counseling while setting reasonable expectations.
This is a preview of subscription content, log in to check access.
Access options
Buy single article
Instant unlimited access to the full article PDF.
US$ 39.95
Price includes VAT for USA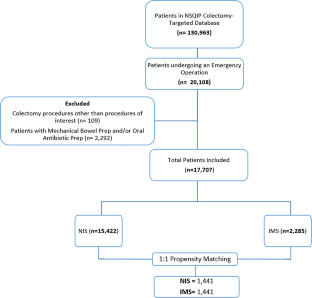 References
1.

Harpaz R, Dahl RM, Dooling KL (2016) Prevalence of immunosuppression among US adults, 2013. JAMA 316(23):2547–2548

2.

Al-Khamis A, Abou Khalil J, Demian M, Morin N, Vasilevsky CA, Gordon PH et al (2016) Sigmoid colectomy for acute diverticulitis in immunosuppressed vs immunocompetent patients: outcomes from the ACS-NSQIP database. Dis Colon Rectum 59(2):101–109

3.

de'Angelis N, Esposito F, Memeo R, Lizzi V, Martinez-Perez A, Landi F et al (2016) Emergency abdominal surgery after solid organ transplantation: a systematic review. World J Emerg Surg 11(1):43

4.

Biondo S, Borao JL, Kreisler E, Golda T, Millan M, Frago R et al (2012) Recurrence and virulence of colonic diverticulitis in immunocompromised patients. Am J Surg 204(2):172–179

5.

Golda T, Kreisler E, Mercader C, Frago R, Trenti L, Biondo S (2014) Emergency surgery for perforated diverticulitis in the immunosuppressed patient. Colorectal Dis 16(9):723–731

6.

Benchimol EI, Smeeth L, Guttmann A, Harron K, Moher D, Petersen I et al (2015) The REporting of studies Conducted using Observational Routinely-collected health Data (RECORD) statement. PLoS Med 12(10):e1001885

7.

Tam SF, Au JT, Chung PJ, Duncan A, Alfonso AE, Sugiyama G (2015) Is it time to rethink our management of dialysis patients undergoing elective ventral hernia repair? Analysis of the ACS NSQIP database. Hernia 19(5):827–833

8.

Lee JM, Chang JBP, El Hechi M, Kongkaewpaisan N, Bonde A, Mendoza AE et al (2019) Hartmann's procedure vs primary anastomosis with diverting loop ileostomy for acute diverticulitis: nationwide analysis of 2,729 emergency surgery patients. J Am Coll Surg 229:48–55

9.

Achanta A, Nordestgaard A, Kongkaewpaisan N, Han K, Mendoza A, Saillant N et al (2019) Most of the variation in length of stay in emergency general surgery is not related to clinical factors of patient care. J Trauma Acute Care Surg 87(2):408–412

10.

Meier K, Nordestgaard AT, Eid AI, Kongkaewpaisan N, Lee JM, Kongwibulwut M et al (2019) Obesity as protective against, rather than a risk factor for, postoperative Clostridium difficile infection: a nationwide retrospective analysis of 1,426,807 surgical patients. J Trauma Acute Care Surg 86(6):1001–1009

11.

De Jong A, Calvet L, Lemiale V, Demoule A, Mokart D, Darmon M et al (2018) The challenge of avoiding intubation in immunocompromised patients with acute respiratory failure. Expert Rev Respir Med 12(10):867–880

12.

Alvarez MP, Samayoa-Mendez AX, Naglak MC, Yuschak JV, Murayama KM (2015) Risk factors for postoperative unplanned intubation: analysis of a national database. Am Surg 81(8):820–825

13.

Huang HB, Xu B, Liu GY, Lin JD, Du B (2017) Use of noninvasive ventilation in immunocompromised patients with acute respiratory failure: a systematic review and meta-analysis. Crit Care (Lond Engl) 21(1):4

14.

Hilbert G, Gruson D, Vargas F, Valentino R, Gbikpi-Benissan G, Dupon M et al (2001) Noninvasive ventilation in immunosuppressed patients with pulmonary infiltrates, fever, and acute respiratory failure. N Engl J Med 344(7):481–487

15.

Benjamin E, Siboni S, Haltmeier T, Inaba K, Lam L, Demetriades D (2015) Deep organ space infection after emergency bowel resection and anastomosis: the anatomic site does not matter. J Trauma Acute Care Surg 79(5):805–811

16.

Midura EF, Hanseman D, Davis BR, Atkinson SJ, Abbott DE, Shah SA et al (2015) Risk factors and consequences of anastomotic leak after colectomy: a national analysis. Dis Colon Rectum 58(3):333–338

17.

Lightner AL, Raffals LE, Mathis KL, Cima RR, Tse CS, Pemberton JH et al (2017) Postoperative outcomes in vedolizumab-treated patients undergoing abdominal operations for inflammatory bowel disease. J Crohns Colitis 11(2):185–190

18.

Lightner AL, Mathis KL, Tse CS, Pemberton JH, Shen B, Kochlar G et al (2018) Postoperative outcomes in vedolizumab-treated patients undergoing major abdominal operations for inflammatory bowel disease: retrospective multicenter cohort study. Inflamm Bowel Dis 24(4):871–876

19.

Brandl A, Kratzer T, Kafka-Ritsch R, Braunwarth E, Denecke C, Weiss S et al (2016) Diverticulitis in immunosuppressed patients: a fatal outcome requiring a new approach? Can J Surg J 59(4):254–261

20.

Reshef A, Stocchi L, Kiran RP, Flechner S, Budev M, Quintini C et al (2012) Case-matched comparison of perioperative outcomes after surgical treatment of sigmoid diverticulitis in solid organ transplant recipients versus immunocompetent patients. Colorectal Dis 14(12):1546–1552
Ethics declarations
Conflict of interest
The authors report no proprietary or commercial interest in any concept discussed in this article.
Ethical oversight
The Partners Human Research Committee Institutional Review Board reviewed and ruled this study exempt as the NSQIP database contains de-identified data only.
Additional information
Publisher's Note
Springer Nature remains neutral with regard to jurisdictional claims in published maps and institutional affiliations.
Appendix 1
Appendix 1
See Table 5.
About this article
Cite this article
El Hechi, M.W., Lee, J.M., Naar, L. et al. The Effect of Immunosuppression on Emergency Colectomy Outcomes: A Nationwide Retrospective Analysis. World J Surg (2020). https://doi.org/10.1007/s00268-020-05378-5