Abstract
Background
Access to timely and safe emergency general surgery remains a challenge in sub-Saharan Africa due to issues such as insufficient human capacity and infrastructure. This study has the following objectives: (1) to compare the actual time to surgery (aTTS) to the ideal time to surgery among patients undergoing emergency surgery and (2) to explore the use of home to emergency department time (HET) as a new measurement indicator for time from symptoms onset to admission at ED at a referral hospital.
Methods
We performed a retrospective review of emergency general surgery cases performed at the Centre Hospitalier Universitaire de Kigali in Rwanda between June 1 and November 31, 2016. Our primary outcomes included actual time to surgery (aTTS) in hours (defined as time from admission at ED to induction of anesthesia) and actual home to emergency department (ED) time (aHET) in days (defined as time from onset of symptoms to admission at ED). Our secondary outcome was the overall in-hospital mortality rate.
Results
During the study period, 148 emergency surgeries were performed. Most of the patients were male (80%), aged between 15 and 65 (69%), from outside Kigali (72%), and with insurance (80%). The most common diagnosis was abdominal trauma (24%), followed by peritonitis (20%), and intestinal obstruction (16%). The median aTTS was 7.8 h, and the median aHET was 2.43 days. Most patients (77%) experienced delays in timely surgery after admission to ED, and aTTS was 15.5 h for Fournier's gangrene, 10.8 h for abdominal trauma, 11.3 h for appendicitis, 10.5 h for intestinal obstructions, and 12.3 h for peritonitis. Likewise, most patients (52%) experienced delays in reaching the ED, especially those with appendicitis (15.2 days), peritonitis (8.5 days), testicular torsion (7.2 days), Fournier's gangrene (5 days), and intestinal obstruction (3.7 days). The case fatality rate by diagnosis was highest for polytrauma (100%) and peritonitis (60%); the overall in-hospital mortality rate was 23%. Some of the poor outcomes associated with in-hospital delay include reoperation and death. Factors to consider in triage for referral include age, diagnosis, and high risk of death.
Conclusion
Our study found that the median aTTS was 7.8 h and most patients (77%) were delayed in having timely surgery after admission at ED. In addition, the median aHET was 2.5 days and most patients (52%) were delayed in reaching the ED. Improving processes to facilitate access and to perform timely emergency surgery through the referral system has a potential to decrease delay and improve outcomes.
This is a preview of subscription content, log in to check access.
Access options
Buy single article
Instant unlimited access to the full article PDF.
US$ 39.95
Price includes VAT for USA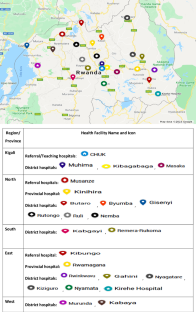 Availability of data and materials
The datasets used and/or analyzed during the current study are available from the corresponding author on reasonable request.
Abbreviations
CHUK:

Centre Hospitalier Universitaire de Kigali

aTTS:

Actual time to surgery

iTTS:

Ideal time to surgery

ED:

Emergency department

aHET:

Actual home to emergency department time

iHET:

Ideal home to emergency department time

POMR:

Perioperative mortality rate

WSES:

World Society of Emergency Surgeons

TACS:

Timing of acute care surgery classification

ENT:

Ear–nose–throat

CMHS/IRB:

College of Medicine and Health Sciences Institutional Review Board
References
1.

Davis P, Hayden J, Springer J et al (2014) Prognostic factors for morbidity and mortality in elderly patients undergoing acute gastrointestinal surgery: a systematic review. Can J Surg 57:E44–E52

2.

Eze JC (2004) Obstructed inguinal hernia: role of technical Aid program. JNMA 96:850–852

3.

Ahmed A (2006) Fibrous stricture of the small intestine following strangulated inguinal hernia: report of two cases. Ann Afr Med 5:56–58

4.

Wong Evan G, Georges Ntakiyiruta MD, Rousseau Mathieu C et al (2015) Acute care surgery in Rwanda: operative epidemiology and geographic variations in access to care. Ann Thorac Surg. https://doi.org/10.1016/j.surg.2015.04.012

5.

POMRC 2011, Perioperative Mortality in New Zealand. Inaugural report of the perioperative mortality review committee, Wellington, Health Quality and Safety Commission. http://www.hqsc.govt.nz/assets/POMRC/Publications/POMRC-2011-Report-Lkd.pdf. Accessed April 2016

6.

Kluger et al (2013) World society of emergency surgery study group initiative on timing of acute care surgery classification (TACS). World J Emerg Surg 8:17

7.

Petroze RT, Nzayisenga A, Rusanganwa V et al (2012) Comprehensive national analysis of emergency and essential surgical capacity in Rwanda. Br J Surg 99:436–443

8.

Population and Housing Census (Provisional Results). Available from: http://statistics.gov.rw/publications/2012-population-and-housing-census-provisional-results

9.

Nkurunziza T, Gabriel T, Odhiambo J, Maine R, Riviello R, Gupta N et al (2016) Referral patterns and predictors of referral delays for patients with traumatic injuries in rural Rwanda. Surgery 160(6):1636–1644

10.

Shah AA, Latif A, Zogg CK, Zafar SN, Riviello R, Halim MS et al (2014) Global medicine emergency general surgery in a low-middle income health care setting: determinants of outcomes. Surgery 159(2):641–649

11.

Memon AA, Bhutto AA, Shaihk GS, Jokhio A, Soomro Q (2008) Spectrum of diseases in patients with non-traumatic acute abdomen. J Liaquat Uni Med Health Sci 7(3):180–183

12.

Thorsen K, Søreide JA, Søreide K (2013) Scoring systems for outcome prediction in patients with perforated peptic ulcer. Scand J Trauma Resusc Emerg Med 21:25

13.

Fukuda N, Wada J, Niki M, Sugiyama Y, Mushiake H (2012) Factors predicting mortality in emergency abdominal surgery in the elderly. World J Emerg Surg 7:12

14.

Long C, Tagang ETN, Popat RA, Lawong EK, Brown JA, Wren SM (2015) Factors associated with delays to surgical presentation in north-west. Surgery 158(3):756–763

15.

Kisitu DK, Eyler LE, Kajja I, Waiswa G, Beyeza T, Feldhaus I et al (2016) A pilot orthopedic trauma registry in Ugandan district hospitals. J Surg Res 202(2):481–488

16.

Ng-Kamstra JS, Arya S, Greenberg SLM et al (2018) Perioperative mortality rates in low-income and middle-income countries: a systematic review and metaanalysis. BMJ Glob Health 3:e000810. https://doi.org/10.1136/bmjgh-2018-000810
Acknowledgements
The authors would like to thank the administration of CHUK which allowed the research team to conduct this research project.
Funding
There was no funding for this study.
Ethics declarations
Conflict of interest
The authors declare that they have no conflict of interest.
Ethics approval
Ethical approval was obtained from the University of Rwanda College of Medicine and Health Sciences Institutional Review Board (Reference No. 329/CMHS IRB/2016).
Informed consents
No informed consents were necessary as this was a retrospective study.
Consent for publication
Not applicable.
Additional information
Publisher's Note
Springer Nature remains neutral with regard to jurisdictional claims in published maps and institutional affiliations.
About this article
Cite this article
Tuyishime, E., Banguti, P.R., Mvukiyehe, J.P. et al. Using the World Society of Emergency Surgery (WSES) Triage Tool to Evaluate Timing of Emergency Surgery in Rwanda. World J Surg (2020). https://doi.org/10.1007/s00268-020-05372-x